Around the country, parents, students, and teachers are looking forward to getting back to in-person classes. This means brands have a huge opportunity to increase brand awareness and drive sales with creative back-to-school campaigns.
Back-to-school shopping season is longer than ever this year, and all kinds of businesses can share in the profits. Whether it's a marketing campaign for college students or a middle school promotion idea, here are a few fresh strategies and campaign ideas to power your back-to-school campaigns.
4 New Back-to-School Marketing Strategies for Your Small Business
If your back-to-school marketing strategy is the same as last year, it's time to try something new. Marketing is constantly evolving. If you want to win in today's competitive market, try these new strategies.
Segment Your Audience
It's time to stop treating all your customers the same. Back to school doesn't mean the same thing for college kids versus preschool. In fact, tons of factors can impact what messages drive your users to make a purchase.
Start by segmenting your email campaigns to send more relevant messages. For example, customers with school-aged children might be interested in basic supplies and children's clothing. At the same time, college-age kids are more likely to be interested in dorm supplies and electronics.
Also, consider creating targeted landing pages for different audiences, like Walmart does on their back to school page:

Try Marketing Personalization
Marketing personalization is a strategy that leverages data to deliver individualized marketing campaigns. For example, an electronics brand might send an email suggesting computer accessories to a shopper who purchased a laptop. Creating tailored messages increases conversions and helps build a stronger relationship with your customer base.
Personalization is highly effective and, even more importantly, customers expect it. In fact, 72 percent of shoppers say they only engage with marketing messages customized to their interests.
Marketing personalization isn't a one-size-fits-all solution. You can gather data about page visits, purchases, past customers, even how long they looked at a specific page. This means you can design a campaign that works for your audience–and it all starts with data.
Here is an example of a personalized home page from a local bank. The first version is for a current customer who is interested in financing a car or mortgage.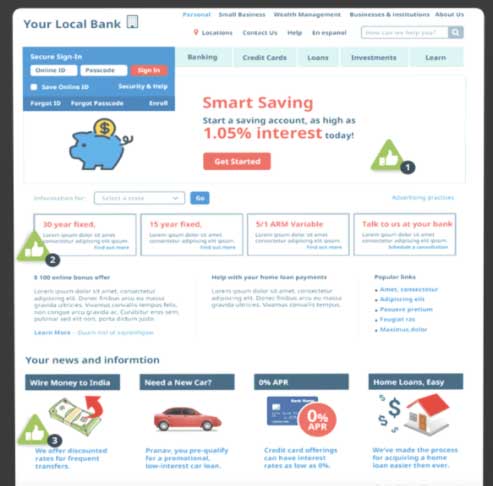 Notice how the page gives her an area to sign in and shares information about getting financing. The second version is for a new visitor who expressed interest in a checking account.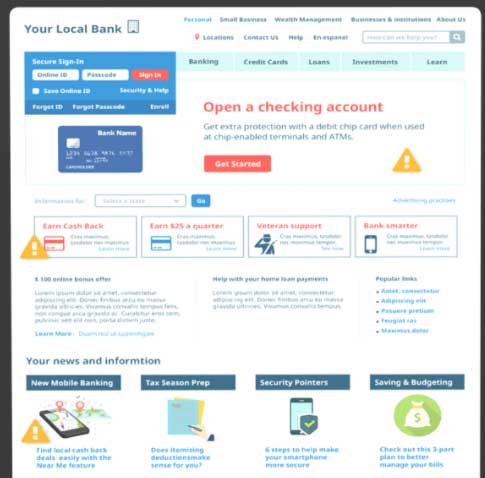 Rather than sharing information about financing, this page highlights the benefits of a checking account, including cashback and smart banking.
Use personalized data to suggest college supplies to college students and kids back-to-school outfits to parents with school-aged children.
Keep Your Offers Relevant
Back to school season doesn't look the same as it did in 2019. This year there's likely to be more interest in electronics, safety equipment, and cleaning supplies than usual, for example. The way we shopped has changed as well. Online shopping has grown in recent years, but it exploded as people stayed home due to the pandemic.
What does this mean for your back-to-school campaign? You need to get to know your customers again. What offers are they interested in? What are they worried about? What new problems can you address? Run a survey to learn what matters to your customers this year.
Here are a few back-to-school trends to pay attention to:
New fashion styles
Smart technology
Remote learning technology
Larger budgets
Less price comparison
Back to school has changed. Pay attention to the latest insights to maximize your back-to-school promotions and marketing campaigns for 2021.
Get Creative with Back-to-School Season
Don't expect the same old campaigns to work this year. Gen Z, the largest portion of back-to-school consumers, are digital natives. They've never known a world without social media and the internet. They're also less receptive to traditional marketing strategies.
Which means brands need to get creative. Here are a few examples of creative campaigns for inspiration.
Target actually allowed kids to steer their entire campaign by directing commercials, overseeing production, and even creating the illustrations used in their ad campaigns.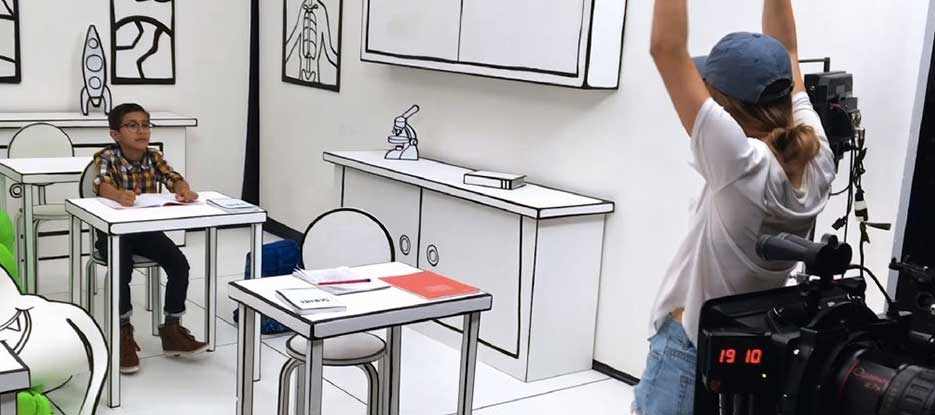 This strategy increased buy-in from kids and ensured their campaigns hit the mark.
Last year, Walmart focused on addressing the differences in the school year. Some kids were back in person; some were in remote classrooms, others were dipping their toes into homeschooling for the first time. Walmart met customers where ever they were with helpful tools for back to school at home, including videos on how to build a sailboat and create home crafts.

To get creative with your own campaign, consider leveraging new and creative strategies like Instagram contests, photo contests, and interactive content like videos and tutorials. Brands that want to stand out should try new campaigns–not rely solely on paid ads to reach their audiences.
11 Back-to-School Marketing Campaign Ideas for Small Businesses
Need help coming up with a creative back-to-school campaign? Here is a list of ideas to get your wheels turning.
Give away back-to-school wardrobe: Run an online contest and gift the winner a free back-to-school outfit — or an entire wardrobe.
Shopping spree: Create an Instagram photo contest, with the winner earning a shopping spree in your store or a gift card to a big-box store.
Sponsor a teacher: Most teachers spend hundreds of dollars of their own cash to create a welcoming classroom. Ask people to nominate their favorite teacher and offer the deserving winner a gift card or shopping spree.
Discounts: Discounts are always a great idea, but discounts can actually reduce sales if they aren't used strategically. Rather than discounting everything, offer doorbuster deals to bring customers to your site or store or popups to reward customers who provide contact information.
Buy one, give one: Help customers do good while shopping. Offer to donate supplies for every purchase over a specific amount.
Back-to-school fashion photo contest: Ask kids (or teachers!) to show off their latest style on Instagram for a chance to win a prize for their classroom.
Best classroom design contest: Host an Instagram photo contest of the best classroom designs by teachers. Ask followers to vote for the winner.
Photo caption contest: Post a funny or silly photo and ask followers to create the most creative caption. Choose the winner by vote or select a winner randomly.
Creative quiz: Get people back into the swing of school with a creative quiz. Ask participants which celebrities or characters would be better teachers (Elsa or Olaf?), or what is in their backpacks for the first day of school.
Training or educational videos: Share fun or educational videos about topics your audience cares about. An electronics shop, for example, might share cool shortcuts that can save college students time.
Interview with an expert: Not all campaigns need to be about your products. Share interviews with experts on your team and how they got into their careers. For example, a brewpub might interview their brewmaster; a restaurant could interview their chef.
Final Thoughts
Is your brand ready for back-to-school? Try new strategies, like segmenting your audience, personalized marketing, and using relevant offers to drive sales this year. Then, use the ideas above to design a creative campaign that connects with users and encourages engagement.
Sign up for a free Woobox account and start designing your back-to-school contest or quiz today. Need help? Woobox Support is available from 9 am to 5 pm PST, Mon. through Fri at 1-360-450-5200 and support@woobox.com.