User-generated content is any type of content — including images, text, videos, reviews, and social media posts — created by real people rather than brands.
And it is incredibly powerful.
Let's say you are looking for a new yoga studio. Would you be more likely to trust a yoga studio ad that says they have the best classes in the city — or a friend's Instagram post about how much she loves the studio she goes to?
Most of us trust our friends and even internet strangers more than brands. In fact, research shows that more than 70% of consumers trust other people more than they trust brands. The best way to make the most of that trust is to encourage user-generated content.
For brands, UGC is a powerful tool — but is it worth the effort?
What Are The Benefits of User-Generated Content?
We've already covered how users trust user-generated content more than they trust content from actual brands. But, there are several other benefits to consider.
For example, UGC is more affordable for brands. In fact, if you do it right, you might not have to pay anything at all to leverage the power of user-generated content. At most, you might use a paid campaign or contest to encourage users to share it. After that, however, it's all up to your users.
Here are a few more ways UGC can help your business:
Drive more engagement on most social media platforms (Thanks to algorithms that favor organic posts over brand posts.)
Increases personalization by showing consumers content they can better relate to.
Boosts your SEO by increasing backlinks to your website, social accounts, and blog posts.
Gives you insights into how your audience feels about your product or service.
User-generated content is the holy grail of online marketing. But how do you encourage users to share this valuable content?
4 Contest Ideas to Drive User-Generated Content
Ready to give user-generated content a try? You could sit back and wait for your audience to create it for you — or you could create a campaign to encourage them to create and share unique, original content about your brand. Here are four campaigns your brand can use to increase UGC — and have a bit of fun!
Brackets
Brackets are an online contest where users compete in an online contest to name the winner of a series — just like when you play fantasy football or enter a SuperBowl bracket contest. They are fun, easy to create, and (best of all) they help drive user engagement far more than just posting about how awesome your brand is.
Use a tool like Woobox to create a custom bracket contest, set participation limits, and even create participant leaderboards to get players excited.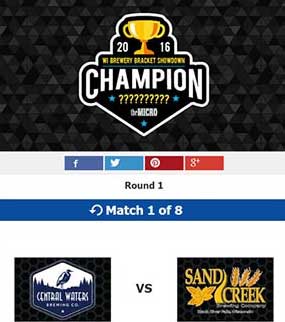 Bracket contests can be used to track professional sports teams, local sports, karaoke contests, and any other type of contest where multiple individuals or teams compete in a tournament-style competition.
Quizzes
Quizzes are a simple way to engage users and create user-generated content without much effort. You don't have to select a prize (unless you want to!), you just have to make the quiz appealing to your users and fun!
Oh My Disney created a quiz titled "Which Disney Princess are You?"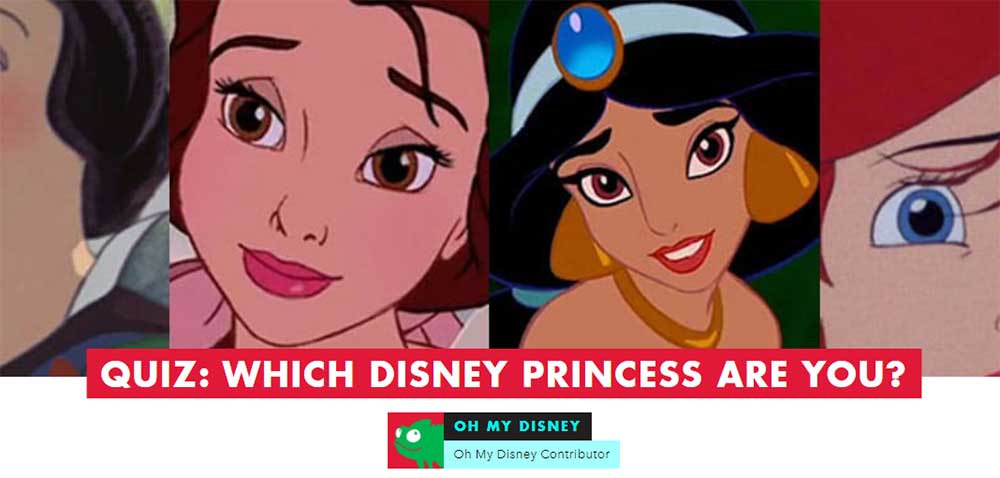 The quiz asks questions like "My favorite weekend activity is…" and "The animal who will lead my (inevitable) royal parade is.." At the end of the quiz, users are told which princess they are and prompted to share the results on social media.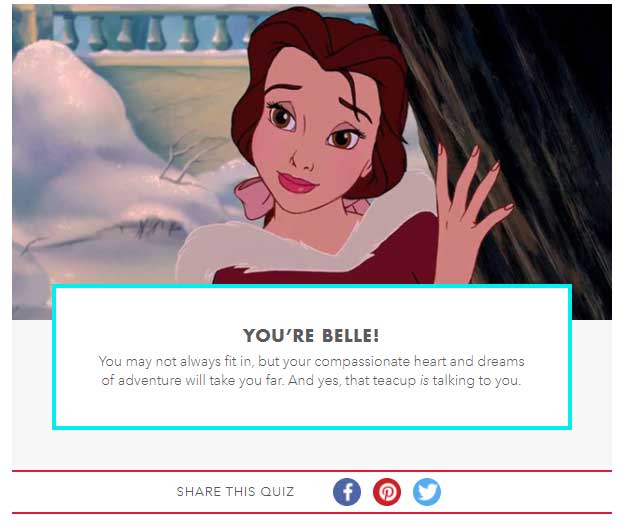 This quiz is related to the brand, fun, and is easy and quick to do — all qualities of a great quiz!
The quiz can be closely related to your brand or just for fun. For example, a music store might create a fun "What 80's hairband are you?" quiz or host a quiz to see who has the most obscure music knowledge with a grand prize.
Photo Contests
Photo contests can take many shapes, but there is one thing they all have in common — pictures! A brand asks audience members to share a photo (usually on social media) on a specific topic. Like quizzes, this can be closely related to your brand or just a bit of fun.
Here's an example, from My Canadian Life, which asked users to share a photo of themselves having fun at home to win a $50 gift card. The contest doesn't focus on the brand, but rather on the users themselves. As users share their photos, they expand the brand's reach.

Alternatively, your photo contest could be closely related to your brand, such as the most creative way to wear a wrap dress you sell or photos of your travel bag all over the world.
Hashtag Contests
Hashtag contests are campaigns that ask users to post on social media using a specific hashtag to enter. This type of campaign is easy to manage from a brand perspective because the hashtag makes it easier to track entries. Hashtag contests are a simple way to gather user-generated content in the form of videos, photos, or text.
Here's an example from Warheads. Users were asked to share photos of their candy on Instagram and use a specific hashtag.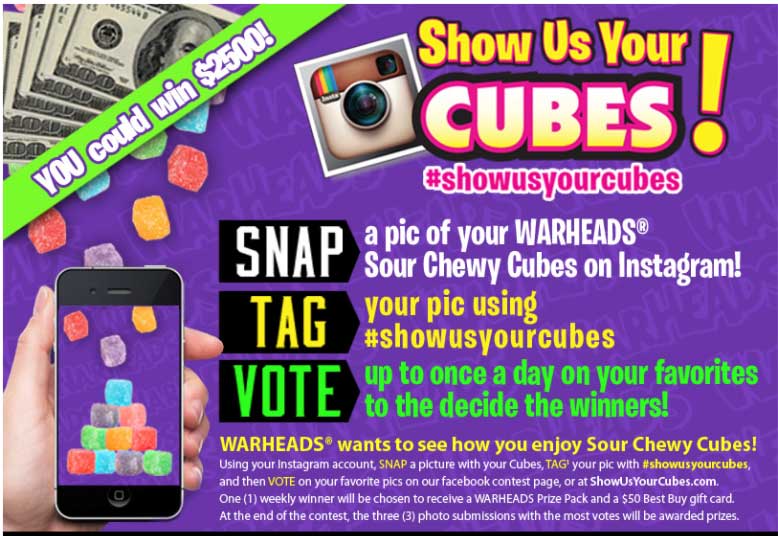 The winner was chosen by vote, which encourages entrants to share their post widely and ask friends and family to vote. Hashtag contests can be hosted on Facebook, Instagram, and even Twitter.
Conclusion
User-generated content is powerful for brands looking to reach a wider audience and better connect with consumers online. By leveraging content created by consumers, rather than your own brand, you can increase social media engagement, improve SEO, and increase brand trust. Contests are a simple way to encourage users to create more user-generated contests.
If you are ready to drive more UGC, try one of the campaigns we discussed above, including:
Bracket contest
Quiz
Photo contest
Hashtag contest
Feel free to combine contests! For example, you could host a hashtag photo contest. When possible, let your audience vote on the winner to encourage users to share their content. Once the contest is over, share that content with your audience (just remember to ask permission and tag the original poster.)
Ready to create your own user-generated content campaign? Woobox Support is here to help from 8 am to 5 pm PST Monday through Friday at 1-360-450-5200 and support@woobox.com.