Today it's all about what's fast and easy. What's trending? What do we do to get our videos and our photos to go viral? How do we get more likes and followers? The answer is simple: Hashtags! The reality is, Hashtags are everything. Hashtags have become the way we search, tag, and organize everything online. To create a promotion that will be trending and that will go viral (#fingerscrossed), you'll first need to understand the Do's and Do Not's of using Hashtags.
DO create a unique Hashtag:
There's nothing more confusing and frustrating than accidentally receiving inappropriate or irrelevant content. By using a Hashtag that's already being often utilized, you will find yourself sifting through a lot of videos and/or photos, making it a longer process to approve and block entries.
DO consider using multiple hashtags:
If you really want to use a generic Hashtag, then consider combining another Hashtag with it. Pair up a simple Hashtag such as #selfie along with your brand, (e.g. #brandnamecontest). This will make it much easier for you to manage your entries. Keep in mind, although Woobox allows you to choose as many Hashtags as you'd like, at this moment ALL Hashtags you create in your settings must be used by an entrant for us to pull those photos.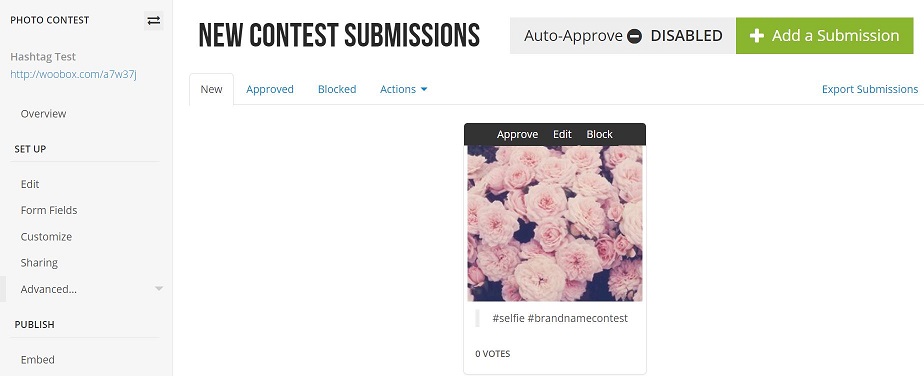 DO understand how each Social Media platform works:
Not every platform is created equal. Let's be real, Facebook has a lot of policies. Lucky for you, we make it easy to follow those policies because… Well.. WE follow them! For our app to pull Hashtags from Facebook, they must be posted directly to your business timeline. Why? Because their policy is that you cannot require a user to share content on their personal timeline to participate in a promotion. They can upload a photo straight to your timeline using the Hashtag(s) you set up, and it's as simple as that. They're entered. No need to worry about their privacy settings either! Twitter and Instagram are different because as long as a user has a public account, they can upload their photo using your Hashtag(s) straight to their own feed, and we'll be able to pull their entry into your contest.
DO use the right language when promoting your contest:
If you tell users they can use #awesome OR #fantastic and you have both of those Hashtags in your settings, we won't be pulling one or the other, even though that's how you advertised it. We will only be drawing entries that use all of the Hashtags you have set up.

DO NOT expect instant results:
We all love instant gratification, and knowing that the platform you're putting so much work into actually works, but patience is truly a virtue. It can take as little as five minutes or as long as an hour for each source to push the first Hashtags out from your contests. If you do not see it right away, give it some time… As long as the user has done the easy and necessary steps, it will show up as an entry. The key there is "the first Hashtags"… after we receive the first hashtag entries, they will start pulling in within 15 minutes max. And the more the has hashtag is used, the faster they pull in!
DO NOT start using the hashtag on Twitter before you enter it into your settings:
Any photo posted a week or more before being entered into your promotion settings will not be pulled into submissions from Twitter. We can only pull back as far as each platform allows us to. Instagram will pull all old entries, so keep that in mind when choosing hashtags as mentioned above in the "Do's" on choosing what Hashtag term to track.
DO NOT encourage or instruct users to comment a photo with the Hashtag on Facebook:
If not clearly stated, you may start getting users who upload a photo in the comments section of a post on your timeline. In the copy, try just saying something along the lines of "Enter via your public Instagram or Twitter account, or post it directly to our Brand timeline using #Awesome and #Fantastic for a chance to win!" A sentence like that lets them know they need to have a public account on Instagram and Twitter and, most importantly, explains that they need to post their entry to your business timeline as a post.
Bonus: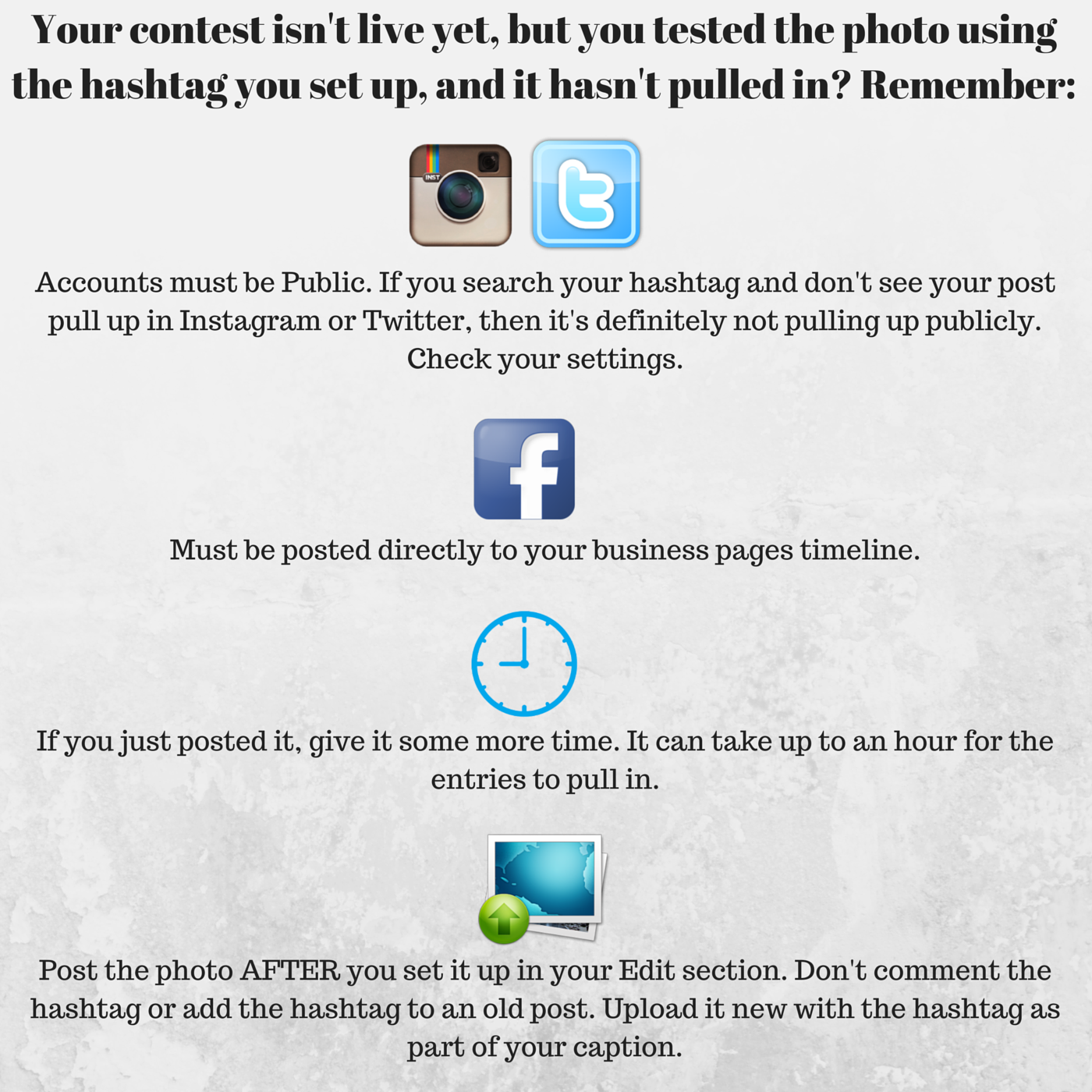 What would you like to see next in the Hashtag world? Leave us your ideas below. If you haven't already, Sign up for a Free account and get your own Video or Photo Contest started today! Have Questions? Leave them in the comments or drop us a line at support@woobox.com.