In the 1970s, Pippins' Tavern opened its doors for the first time. Housed in a historic building on Chicago's famous Rush Street, the eclectic tavern served up drinks and hotdogs for locals, celebrities, and tourists alike for more than 40 years. Today, the storefront sits stripped of its sign and many of its fixtures.
The cause? Like most other restaurants and bars, they were forced to close by COVID-19.
The coronavirus (and the subsequent stay at home orders) have hit restaurants particularly hard. Unlike retail stores, restaurants can't rely on ecommerce sales — and to-go orders aren't often not enough to keep them afloat.
As a restaurant owner or manager, you may be looking to cut back on marketing costs. Now, however, is not the time to give up on marketing entirely. Instead, look for affordable strategies you can implement on your own.
Giveaways can be a cost-effective way to keep your restaurant visible and drive revenue. Why giveaways? People love a chance to win something for free, and many are looking for ways to support their favorite businesses.
5 Unique Restaurant Giveaway Prize Ideas (besides a free meal!)
The first step in creating an effective restaurant giveaway is selecting a prize your audience actually wants. Free meals or gift cards are great, but a more enticing prize will draw in more entries — and extend the reach of the giveaway.
Here are five unique restaurant giveaway prize ideas to consider.
Partner Prize Packages
What is better than one prize? How about two or three?
Consider partnering with another business to offer a prize package. For example, offer dinner and tickets to a movie (or a drive-in movie during COVID!), opera, or other local show. If your restaurant often hosts parties, consider partnering with a bakery to offer a free party with cake, or a character company to entertain at a kids' birthday party.
Partnering with another business can also increase the reach of your giveaway, as the other company will promote the contest to their audience as well.
Personal Cooking Class
Offer cooking class where the winner and a guest spend an evening (either in their home or your restaurant) learning to cook a signature dish from your menu. Pierpoint Restaurant, for example, already offers cooking classes, so offering a class as a prize would be an ideal choice.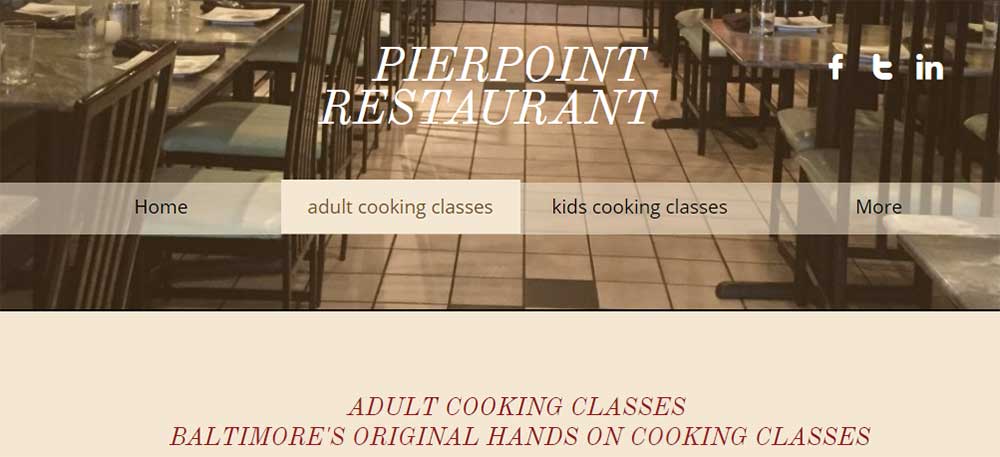 Make the class even more enticing by offering a meet and greet with your chef and wine pairings.
Sports Package
For casual restaurants, especially those who show sports events, consider offering the winner a pass to watch their favorite sports events at home as well as a spread of wings, pizzas, veggies, and desserts. Or, offer tickets to a popular game in the future, as the NCAA did in a recent contest.
Name A Menu Item After the Winner
Rather than giving away product, give away naming rights! If you are launching a new dish or sandwich, ask customers to suggest names (or use their name). The winner is memorialized by having a dish named after them — and maybe even a gift card to try the new dish.
Yearly/Monthly Prize
Rather than offering one free meal, up the ante by providing a prize that lasts for months to come. For example — one free pizza every week for a year, a monthly date night, a weekly tab during football season to watch their favorite team, or a reserved table at special events.
Due to the higher value of these prizes, the giveaway is likely to attract more entries — so be very clear on terms and conditions to protect your giveaway from costing more than you expect.
Tips for a Successful Restaurant Giveaway
After you settle on a prize, it is time to build your contest. But how do you make sure it is a success? Here are five tips for getting results from your restaurant contest.
Set a Goal
Before you launch, take the time to figure out what you are hoping to get out of the contest — and how you will track success. If you are looking to grow brand awareness — how will you measure success? You might track email sign-ups or website traffic.
If you want more social engagement, you'll want to know which platform your audience is most active on and pay attention to engagement metrics, including likes and shares.
Are you looking to increase revenue? Try using a coupon code, so you will know how much actual revenue the giveaway drives.
Decide on a Platform
When it comes to hosting a giveaway, you've got options — Facebook, Instagram, and YouTube, just to name a few. Choose the platform where your audience is most active. Facebook has the highest user base of any social media contests — but Instagram tends to generate more engagement. Take a look at social media demographics and choose the platform your audience is likely to be active on — then cross-promote on other platforms to reach a broader audience.
Include User-Generated Content
User-generated content is the holy grail of online marketing. Why? Because people trust other people more than they trust you.
Incorporating user-generated content into your giveaway will help establish trust in your brand — and increase the reach of your contest. For example, hosting a video contest for your giveaway will encourage entrants to share their videos and ask for votes.
Create a Strong Promotional Plan
A contest without a robust promotional plan will flop. Make sure you get the word out about your competition by posting on social media, your website, a sign in your restaurant, and sending out emails. But, don't just post one time and call it done — post several times throughout the contest. If you have the budget, consider using paid social ads to extend your reach.
Summary
For restaurants looking to drive revenue and traffic during the economic downturn, a giveaway is a powerful marketing strategy. Here is how to make sure your giveaway gets results:
Choose a unique prize your audience wants
Set an actionable goal
Choose the right platform for your giveaway
Include user-generated content
Create a robust promotional plan
Ready to start building your restaurant giveaway? Woobox is here to help. Our support team is on hand to assist from 8 am to 5 pm PST, Monday through Friday at 1-360-450-5200 and support@woobox.com