Summertime brings barbecue plans, pool parties, and long days that turn into cool nights. But for retailers, the season is also notorious for unpredictable sales trends.
Recent research from the British Retail Consortium found that warm weather costs retailers about £40 million per week for each degree in temperature rise. But there's a catch. According to The Journal of Consumer Psychology, consumer attitude also spikes into negative over the summer months. As their positive perception of products improves with the weather, so does consumers' willingness to buy.
That makes summer the perfect season to engage your audience with promotions and giveaways, piquing this up-for-grabs interest. The impacts can extend beyond your bottom line as well. With the right strategy and digital tools, your summer promotional ideas can help broaden brand awareness and build customer loyalty in the process.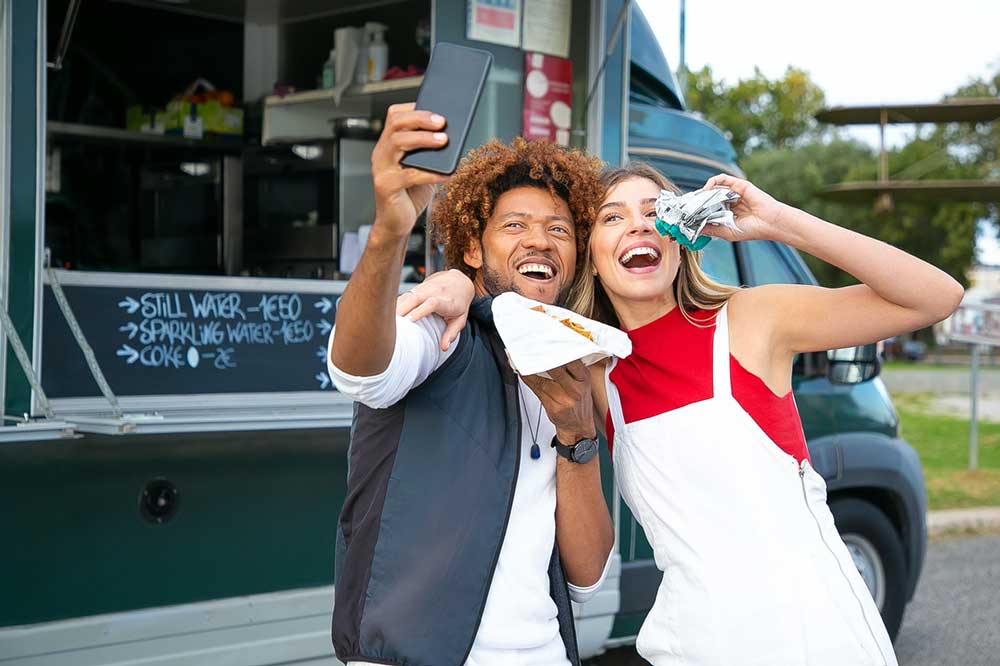 Summer Giveaway Prize Ideas & Benefits
People love freebies. When we receive an unexpected gift, it triggers positive emotions that influence our decision-making processes — and this includes our buying behaviors.
Case studies point to this power of giveaways, with some research showing free samples can boost sales up to 2,000 percent. In addition, when a potential customer receives a promotional item:
79% go on to research your brand
83% are more likely to do business with you in the future
82% build a positive perception of your company
90% remember your branding and logo
These behaviors broaden the potential of promotional giveaway strategies. Freebies don't just help improve today's sales figures — they boost the indicators that support a brand's enduring growth at scale, like customer engagement, recognition, and repeat sales.
To encourage these outcomes, the best summer giveaway ideas are items that are:
Easily customized to encourage brand recall
Cost-effective
Everyday items — especially those that people use in public
This could include:
Items that get your audience excited about summer, like branded beach balls, beach towels, hand-held mini fans, or SPF lip balm
Pool party essentials like promotional sunglasses, grilling mitts, or flip flops
Eco-friendly necessities that won't go out of style come fall, like canvas tote bags, stainless steel water bottles, and water bottle slings
Season-ready prize bundles like picnic packs with all the trimmings or pool party packs complete with inflatable floats, cocktail cups, and caps or visors
Summer Giveaway Ideas for Social Media
Social media is a tailor-made vehicle to fuel your marketing with free giveaways. These channels are the most direct line to your target audience — and during the summer months, consumer engagement is at its highest. Facebook's data reveals that its user activity jumps by 26 percent over the summer season, and the same is likely true for Instagram, Twitter and even YouTube.
Wherever your audience digitally connects, incorporating freebies into your outreach strategy can leverage this high attention, accelerating your brand goals like growth, engagement, conversion rate, and more.
This is because consumers often overlook the hidden costs that come with accepting a free item. Successful giveaways connect the value awarded to a consumer with the personal investment your brand needs from them. A few examples:
Increased brand reach through post shares, likes, and comments
Boosted average order values
Improved sales for seasonal products
More in-market social media followers or email list subscribers
Survey data for updated audience metrics
Referrals from within their networks
Effective Social Media Giveaway Ideas
Brands often use promotional prize items to incentivize a sale, either by attaching a desirable freebie to a certain product or requiring a minimum order amount to earn promotional eligibility.
While this approach is great to move stock and court potential buyers' interest, leveraging today's social media tools can extend and increase the impact your next giveaway campaign generates.
The following social media contest ideas are so powerful because they motivate high levels of user engagement by design. Case studies show that contests can net 70 percent faster follower growth and 64 times more comments for a brand's social media account — traction that boosts brand awareness, credibility, and overall sales.
Comment-to-Enter (Facebook & Instagram) Giveaways
Comment-to-enter contests gain momentum quickly on platforms like Facebook and Instagram. Users leave a comment as their "digital entry card" to win a prize — and oftentimes, they'll share the posts or tag their friends, broadening its reach organically across new networks.
They're also simple to set up. All you need is to announce the prize you're offering, the number of winners you plan on selecting, and a clear call to action that drives interest among potential participants.
The right software then takes over contest management for you. With a random comment picker — like the free version available from Woobox — you can:
Randomly select one or multiple winners from the comment section of a Facebook or Instagram post
Enforce contest rules like limiting entries to one per user
Easily collect winner information to verify eligibility and send prizes
Export the full list of comments for audience insights
User Generated Content Contests
User generated content (UGC) is a powerful brand asset. Consumers crave social proof — and what their peers have to say about your brand lends your message the authenticity and credibility they're looking for. In fact, the Nielsen Consumer Trust Index shows that 92% of people trust user generated content over its branded counterpart.
When your followers create content for your brand, it also generates:
Heightened exposure — as creators are more likely to share their content among their own networks
Valuable audience insights — by inviting fresh ideas and points of view, you can build a better understanding of what gets your audience excited to engage with your brand
SEO domain authority each time a creator backlinks their content to your brand's website
It's even easier to scale these benefits with Woobox's UGC app. This tool enables contest customization with elements that encourage greater reach and engagement, supporting:
Hashtag entry and tracking
Omnichannel submissions for an individual campaign
Various types or combinations of content, like photos, videos, and text
Display galleries that allow users to vote for their favorite content — and allow you to collect voters' email addresses
Full control over submission moderation
Retweet-to-Enter Giveaways
The beauty of harnessing user retweets as entries to a Twitter contest is that by participating, your audience isn't just increasing engagement on your social media account. They're actively spreading the word throughout their own network, extending its visibility exponentially.
Since this barrier to entry is set so low, Woobox's Retweet Picker helps you manage and implement eligibility rules to ensure your contest's integrity — and success.
Instant Win Promotions
An instant win contest injects a burst of energy into any marketing effort. People chase instant gratification — and when the chance to satisfy this itch is presented, they can't help but engage.
These types of contests are also highly versatile. Your brand can:
Create a custom landing page to promote via social networks
Use the contest to collect polling data, survey responses, or email addresses
Leverage the strategy to boost customer loyalty with email marketing
Offer various prizes, like a chance to win physical giveaways or a digital discount coupon to incentivize sales
Using a tailor-made tool helps ensure your contest runs smoothly and can take advantage of this range of applications. With Woobox, you set your contest rules and the platform automates the rest, including:
The odds participants have to win each specific type of prize
The frequency of or time frame between entry attempts, driving repeat engagement
Capturing the user information you're after with each unique entry
Summer Promotional Marketing Examples
Running a summer giveaway promotion on social media is a simple way to spike audience engagement — especially if you use the right digital tools to support the campaign.
But for your contest to attract attention that endures, it's important to align your approach with your audience's likes, interests, and expectations. Making this connection doesn't just ensure your campaign's objective succeeds. It influences a user's natural desire to participate.
Check out how these brands use marketing giveaways to connect to their audience — and make their summer sales sizzle.
Comment to Win: Causebox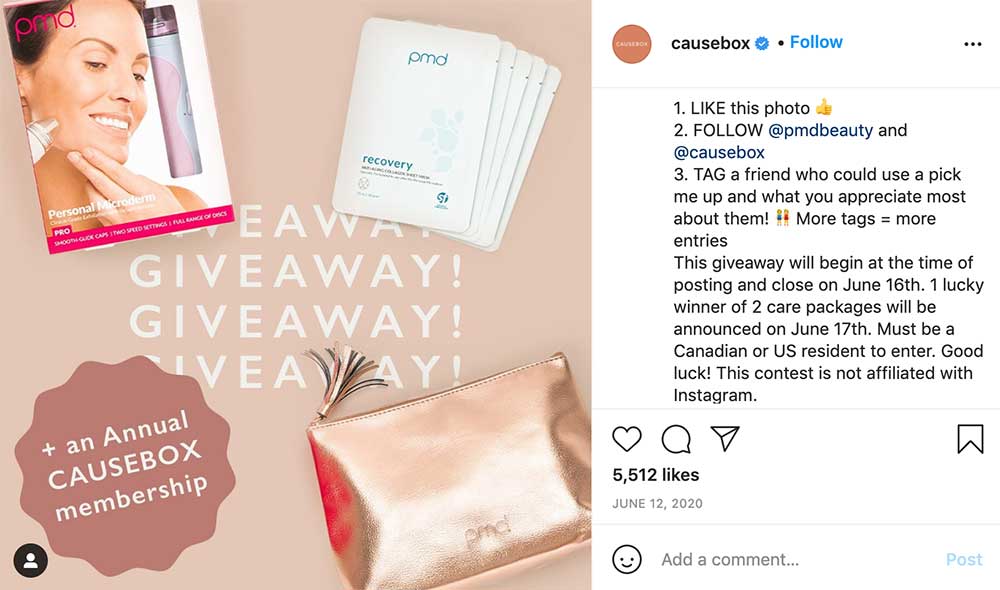 The subscription box service nails the comment to win formula in its 2020 summer giveaway. The brand clearly lays out the rules for entry, encouraging triple the impact by asking participants to like, follow, and tag their friends to enter.
User Generated Content: Starbucks
Starbucks began encouraging its users to submit unique content back in 2014 when it launched its #WhiteCupContest campaign. Since then, it's become an iconic part of the brand's marketing efforts — an approach that can be recreated to support almost any business's goals.
The strategy naturally encourages sales by requiring participants to purchase a drink in order to produce content. Then hashtags and brand mentions extend the campaign's reach — while cultivating the brand's image, loyal community, and an endless cache of reusable content.
Instant Win Promotion: Corona Premier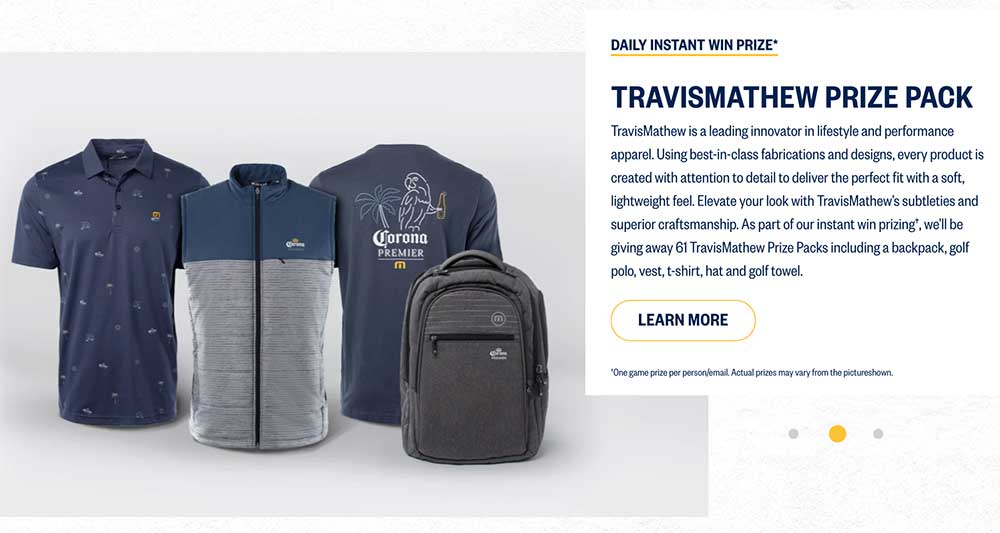 Corona Premier taps into its audience's anticipation for the summer season by teeing up an instant win sweepstakes, including a grand prize trip to the U.S. Open. But to keep momentum brewing, the contest offers dozens of daily instant prizes, like branded apparel, bags, promo codes, and even gaming consoles.
Streamline Better Marketing Results with Summer Giveaway Ideas
These summer giveaway examples are just a sampling of how brands can harness the power of social media to attract interest and sales. At Woobox, we're here to turn your brand's original ideas into digital reality with campaigns your audience can't help but click.
We'll help ensure your next summer giveaway campaign reaches its full potential. Gain increased engagement, brand exposure, customer loyalty, and red-hot summer sales figures by:
Choosing your branded summer giveaway items, from canvas bags to lip balms and water bottles — or putting together comprehensive summer prize packs
Determining your contest's goals, whether it's gaining followers, expanding your email list, incentivizing product sales, sourcing audience insights, amassing reusable consumer content, building SEO authority, or any combination
Connecting to your audience with a comment to enter, retweet to enter, user generated content, or instant win contest
Powering your campaign with Woobox's suite of automated social media contest tools
Get in touch with our team to start getting better returns from your upcoming summer promotions and giveaways. Woobox Support is available Monday through Friday from 9 am to 5 pm PST — reach out by email or give us a ring at 1-360-450-5200.