Summer is around the corner and it's time to start brainstorming all the promotional giveaway ideas you can use to connect with your current customers and potential new ones.
You are definitely not alone. Other brands are also planning their summer giveaways, and planning promotional material left and right. Let's do something fun — something different from the tidal waves of free sunglasses and beer koozies for summertime.
In this article, we go over why giveaways work so well, and 7 surprising products people will love for the summer.
Why Giveaways Work For Brands
Running giveaways is a great way to increase interaction between a brand and customers. When you get something for free, the object is perceived as carrying a higher value because you didn't trade any of your hard earned cash. It's a low investment, high reward situation everyone feels comfortable playing.
Even with small objects that have a low monetary value, up to 75% of those who received it will remember the brand up to 12 months later! That is a small marketing cost for such a strategic impact.
Here are a few more facts about why giveaways work:
Eight in 10 consumers own between one and 10 promotional products.
53% of these people use a promotional product at least once a week.
Six in 10 of them keep promotional products for up to two years.
Before receiving a promotional product, 55% of people had done business with the advertiser. After receiving a promotional product, 85% of people did business with the advertiser.
89% of consumers can recall the advertiser of a promotional product they'd received in the last two years.
How to Pick The Perfect Summer Giveaway Prize Idea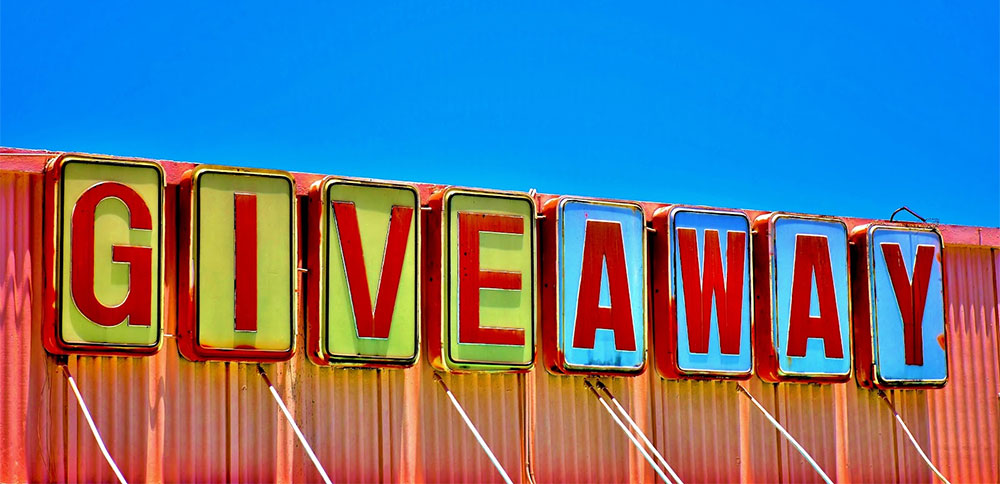 Knowing how impactful giveaways can be, mixing them with the summer season gives you an even better way to connect with consumers. Before we dive into the products, let's talk about what makes a giveaway a good one.
When choosing a promotional product, make sure it's memorable. And make sure it connects with your brand. This way, whenever the prize is used by whoever wins it, they'll be reminded how awesome the company is that provided it. If a product is cheap, and not useful, consumers won't think twice before throwing it in the trash.
Here are a few bullet points to remember:
What Makes a Good Giveaway Prize Idea

Memorable
They use it / reminds them often
Connects with their personally
Stands out and gets friends/family to ask "Where did you get that?"



What Makes a Bad Giveaway Item

Very low value
Cheap quality
No clear usefulness
Your giveaways can be as simple as a hand or desk fan for those hot summer days or as big budget as giving away an RV. Either way, make sure it's worth your customers time and attention.
Check out these surprising products (you might not have thought of) that connect well with customers for the summertime season!
Summer Giveaway Ideas Based on Prizes You'll Actually Used
1. Picnic Baskets
Potential Customers: Families, outdoor enthusiasts
Giveaway Cost: $20 – $60 per basket
Why It's Great: Functional and can be filled with products relating to your brand.
When people think of picnics, they think of a summer day outside. Giving away a nice picnic basket full of your product, or things relating to your brand is a great way to merge the idea of summertime and your company. Some really high-end baskets can hold plates, utensils, and even wine glasses. You could even include some high quality snacks!
2. Cooler
Potential Customer: Sports fans, outdoor enthusiasts, parents
Giveaway Cost: $50-$500 per a cooler
Why It's Great: Functional, and can be branded with your logo
Everyone needs a cooler and getting one for free isn't a bad deal! Especially if it's a nice one with your brand name and logo on it. This way, the winner will be marketing your brand at events, concerts, parks, pools, and even neighborhood BBQs. Where ever this cooler goes, your logo will make a good impression as they sip on an ice cold beverage.
3. Water Activities – Next Level
Potential Customer: Families, kids, teenagers
Giveaway Cost: $20 – $700 depending on the item
Why It's Great: Functional and will be used
People love anything to do with water during those hot summer months. For this reason, they correlate with most potential clients. Usual giveaways consist of sunglasses and flip flops, but you can do better than that. Going above and beyond so that people ask, "Where did you get that?" These items include; huge pool floats, mermaid tails, an underwater camera, or a slip and slide.
4. Car Sun Shade
Potential Customer: Transportation industry, families, anyone with a car
Giveaway Cost: $10-$150 depending on the shade coverage
Why It's Great: Functional, and will turn their car into a billboard for your company
It gets hot out there! This is a great way to connect with the transportation industry, high-end businessmen who love their car, or moms who spend more time in their vehicles than they would like to admit. A creative windshield sun shade helps prevent the wheel and seat belts from scalding you like a hot sheer right out of the fire. The driver's hands will thank you later! Don't forget your brand logo, it acts as a billboard for your company!
5. Hammock
Potential Customer: Families, outdoor enthusiasts
Giveaway Cost: $25-$75
Why It's Great: Perfect for outdoor activities, and functional
Getting out the hammock for some reading or relaxing out in the park is a great way to relax and unwind from the work week. Just think, every time a person uses their hammock outside and listens to the wind in the trees, they'll probably think of you.
6. Bluetooth Speaker
Potential Customer: Music enthusiasts (or pretty much anyone)
Giveaway Cost: $20 – $100
Why It's Great: Functional, and useful indoors and out
Where's the party at again? Don't forget music! Bluetooth speakers have really improved over the last few years and come with some strong sound power. There are even waterproof speakers for poolside parties or for those who like to rock in the shower. People can use and charge these about anywhere, and they never go out of style. Remember to add your logo so the customer and new customer can remember you every time the beat drops.
7. At Home Projector
Potential Customer: Families, movie enthusiasts
Giveaway Cost: $70 – $200
Why It's Great: Unique, and perfect for summer nights
This is a more unique giveaway, but can really make a memorable summer for the winner. Giving away an at-home projector for outside (or inside) movies for those warm summer nights will create a pretty fun experience. Not having a big screen isn't that big of a deal anymore. People are bound to ask "where did you get this" and a simple logo will make a big impression.
Conclusion
It's worth investing time and attention to the summer season for your giveaways. If you're nervous about creating and hosting contests and giveaways, Woobox is here to help! There are so many creative things you can do with giveaways and contests. Send us an email or call and we can help walk you through it.
There are so many activities you can help sponsor for a memorable summer. Make sure to add your company name and logo somewhere on the items for extra advertising. People will easily remember where they got the prize, and won't hesitate to pass your name along to those who ask.