Sure, Q4 holiday traffic continues to dominate for greatest sales spikes, but Q2 is the second most-reported high sales quarter of the year. As the weather begins to warm up and the sun comes out in the Spring season, many big events happen like weddings and graduations.
Spring holidays are also rivaling holidays like Black Friday in sales, with Mother's Day reaching 23.6 Billion in sales in 2017. By recognizing, planning, and executing marketing campaigns for Spring, your team can get ahead of the trends and see significant sales growth for the quarter.
This Spring holiday guide will help you plan campaigns for the rest of April through June. You'll get insights on the most popular holidays, seasonal items, and monthly themes.
Let's get started.
Marketing Campaigns For April (Much More Than Just Easter)
When we think of April, every marketer's mind automatically thinks of Easter campaigns, sales, and promotions. Yes, this holiday is an important sales driver for the month with an average expected spending per person of $151.25 and 18.11 Billion in total expected spending. But there are other holidays and themes this month to take into consideration.
Days to Note:
April 21: Easter
April 22: Earth Day
April 23: National Picnic Day
April 24: Administrative Professionals Day
April 25: Take Your Daughter to Work Day
April 26: Arbor Day
April 28: National Superhero Day
April 29: International Dance Day
April 30: National Honesty Day
Month themes you can use in your campaigns:
Diversity Month: A time to recognize and honor the diversity surrounding us all.
Autism Awareness Month: Established to raise awareness about the developmental disorder that affects children's normal development of social and communication skills.
Stress Awareness Month: A time to acknowledge and recognize stress in human existence.
National Pet Month: A time to celebrate the extended family members in our lives—our pets.
Popular products and services this month:
Cleaning and Energy: With spring cleaning many consumers are seeking things like vacuums, lawnmowers, and energy-efficient appliances.
Dresses and formal wear: There is a surge of searches for spring dresses and suits.
Candy: Consumers spent 2.6 Billion in candy sales for Easter last year.
Marketing Campaign Ideas and Examples for April
The Online Easter Egg Hunt
The company Pinky Paradise hid virtual Easter eggs across their website. They used a contest entry landing page to share their contest across Facebook and Instagram. Not only is this contest festive, but each contest entrant will visit your entire website to win. This creates a very rare opportunity to have a visitor to engage with all of your online content (and increase your web page rankings).
Promotions and Discounts
Are you a clothing retailer? This is a prime season to create promotions and discounts for your Spring fashion (especially Spring dresses and formal wear). However, any business can benefit from using a seasonal offer or promotion to align their brand with the spirit of the holiday and get in front of potential customers. If you don't have a product that people typically think to buy around Easter, get creative!
For example, Easter can be a stressful experience for those with large family gatherings or other events. Spas and vacation companies can craft their messaging around this and offer 10% off their services as an Easter special. To make it really easy, use marketing software like Woobox to easily create coupons.
Unboxing Videos
68% of shoppers visit YouTube on their smartphones to determine what to buy. An unboxing video isn't just reserved for the December holidays. Create an Easter giveaway box and have a local influencer or someone that your target audience relates to talk through each gift that the winner of the contest will receive. Post the video as a YouTube and Instagram contest. Check out how to make your Youtube contest easily on Woobox here.
IG Shop Posts
Instagram is pushing their shopping feature in 2019, so make sure you are using it in your holiday promotions when applicable.
Add Giving Into Your Contest or Giveaway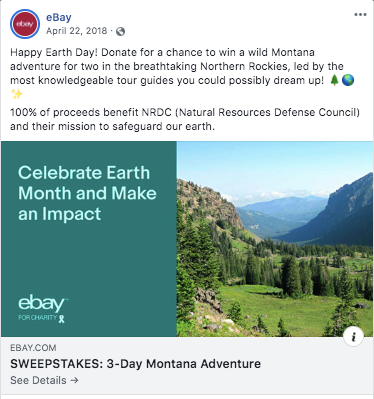 Run a contest or giveaway with a philanthropic component. This campaign from eBay for Earth Day raised money for a great cause and helped eBay brand itself as a business who supports the environment.
Marketing Campaign Ideas For May (Mother's Day Takes The Stage)
Mother's Day has the greatest sales opportunity this season with $24.6 billion sales in 2017. (Jewelry-related pageviews soared 36% before Mother's Day). Right behind that is Memorial Day, with consumers mentally ready to make larger purchasing decisions on things like appliances, travel, and cars. Adding to this, May is a great time to focus on the things consumers are engaging in like spring cleaning, going outdoors, travel, and more. Make sure to focus on themed promotions that reflect how your customers interact with these common seasonal activities.
Days to Note:
May 1: May Day
May 4: Star Wars Day
May 5: Cinco De Mayo
May 6: International Nurses Day
May 12: Mother's Day
May 15: International Day of Families
May 24: National Scavenger Hunt Day
May 27: Memorial Day
Month themes you can use in your campaigns:
Asian Pacific American Heritage Month: The U.S. celebrates Asian American and Pacific Islander Heritage Month each May.
Mental Health Awareness Month: A time to recognize the prevalence of mental health conditions in the world, and bring light to the stigma and find solutions.
National Arthritis Month: Arthritis is the leading cause of disability in America and this is a month to bring awareness to it.
Popular products and services this month:
Spring clothing: May has a lot of searches for a new wardrobe as consumers plan for the weather, vacations, and celebrations.
Appliances: Memorial Day is one of the biggest times of the year to buy appliances like fridges, washers, dryers, and other large appliances.
Marketing Campaign Ideas and Examples for May
Stand Out Using a Quiz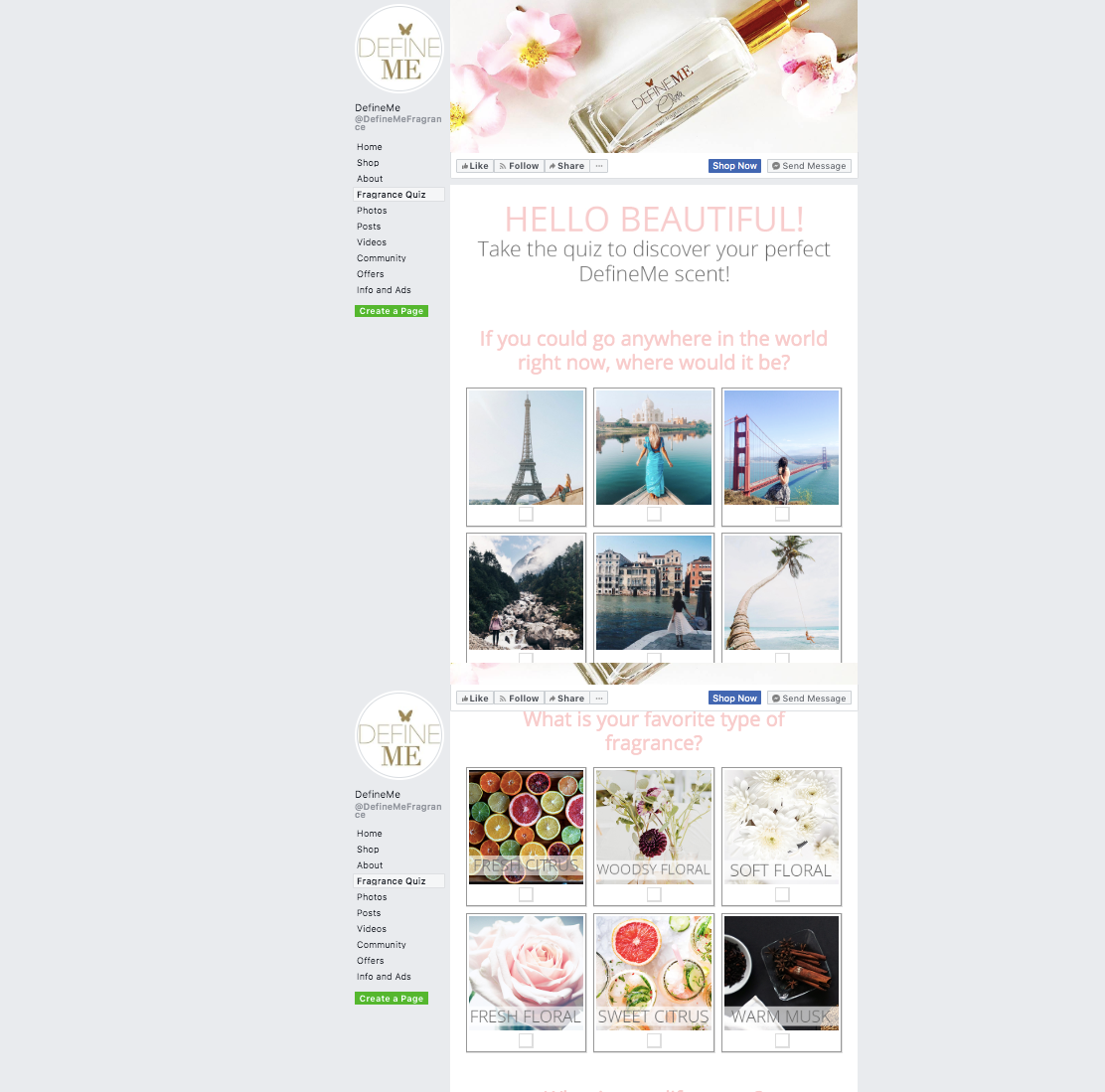 With all this Mother's Day promotion and marketing, a trivia or personality quiz is a great way to introduce customers to your product or service. DefineMe used Woobox's marketing software to easily create this custom quiz that introduces their consumers to a fragrance they will like most based off of their personality. Consumers can have their mom take a quiz and disguise it as a way to find out what type of product or service she might like best. For Memorial day, consumers can take a quiz to figure out what refrigerator fits their style and personality.
Hold a Photo or Video Contest
Get your audience to create the content for you by holding a photo or video contest that requires them to get creative. By reviewing these you can gain a lot of audience insights and create even better marketing messaging moving forward. You can also reuse this content in future marketing and social media shares.
Create a Poll and Promo Combination Campaign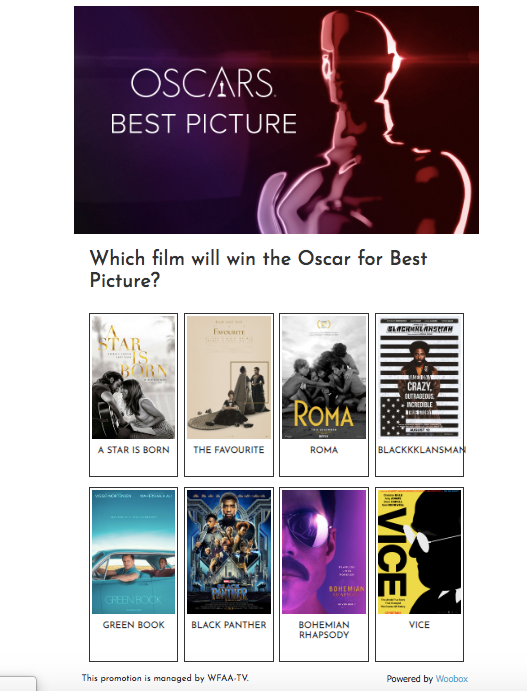 One very effective way to use promotions like we mentioned earlier in this article in a more targeted way goes like this. First, create a poll that asks your audience how they will shop this holiday (instore, online, etc.). Based on the answer they choose, have a coupon popup that offers them a discount for their preferred buying method.
35 percent of consumers will head to department stores on Mother's Day, while 31 percent will shop online, and 29 percent plan to shop at specialty stores. This campaign captures each type of shopper.
Marketing Campaigns For June (Father's Day Leads Sales)
While May is by far the peak of the Spring sales season, it's not hard to keep the momentum going through June with the array of holidays and celebrations it holds. Father's Day reaches $15.3 Billion in sales and Cinco De Mayo offers $1.5 trillion in spending potential from both English and Hispanic language customers. Make sure your campaigns reflect the season with bright colors, upbeat messaging, and consumers fresh ideas and products to match their Spring demeanor.
Days to Note:
June 1: Global Day of Parents
June 5: Cinco De Mayo
June 6: DDay WWII
June 6: International Nurses Day
June 10-18: National Men's Health Week
June 16: Father's Day
June 24: Summer Solstice
June 30: World Social Media Day
Month themes you can use in your campaigns:
Pride Month: Established to recognize the impact that gay, lesbian, bisexual and transgender individuals have had on the world.
National Men's Health Month: This month is all about encouraging men to take care of their bodies by eating right, exercising, and working to prevent disease.
National Candy Month: Started by the National Confectioner's Association, the holiday celebrates the value candy adds to our lives.
Popular products and services this month: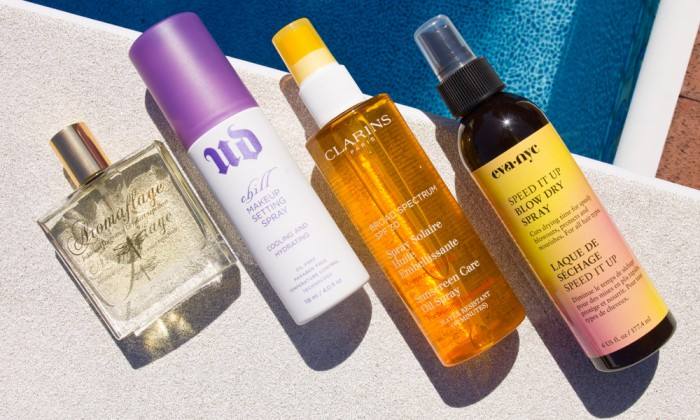 Summer Clothes: Swimwear and sports gear lead in sales as people head to the beach and spend more time outdoors.
Picnic Food: People are looking for easy grab and go type of food.
Books: Book sales usually surge in June with people looking for reads to bring with them to the beach or take outdoors.
Caribbean Getaways: U.S. consumers are looking for a close by, yet an exotic type of getaway and the Caribbean is the perfect mix.
Restaurant Gift Cards: These gifts see a spike due to Father's Day and graduation celebrations. Marketing
Campaign Ideas and Examples for June
Vacation Giveaways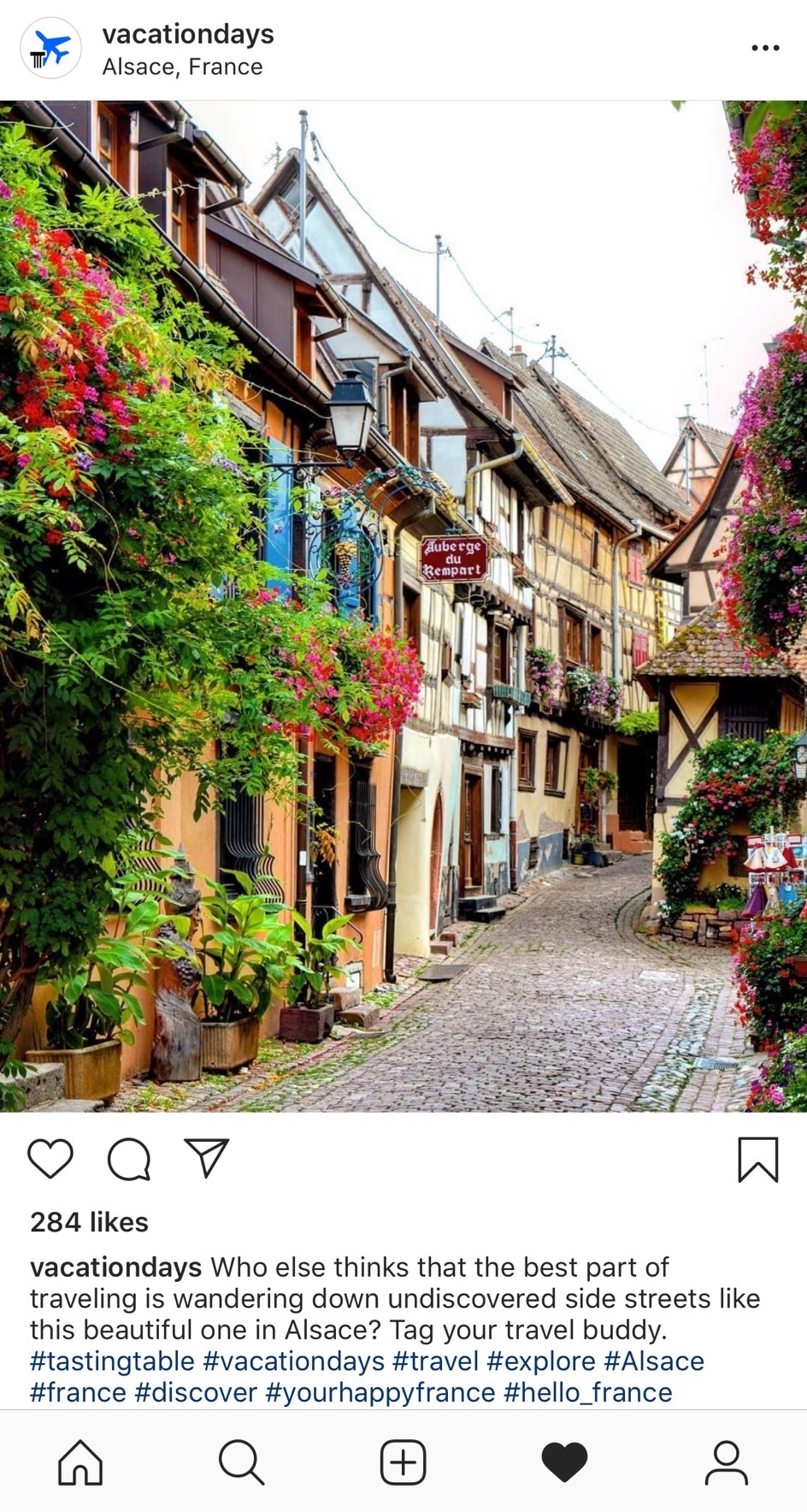 Stay with the spirit of the month and grab attention by creating a giveaway with the hottest item of the month: a vacation. You can pair this with a holiday like Father's Day by offering a family getaway.
Father's Day Gift Guide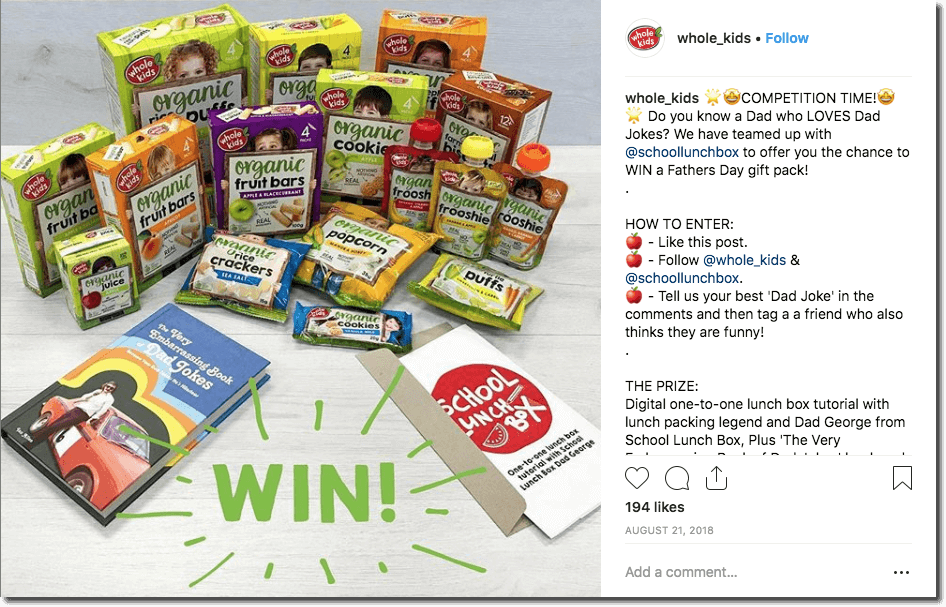 Similar to our unboxing idea earlier in this article, create a video with a set of products (including yours) to gift to dad this holiday season. You can host it as a giveaway or more of an inspiration post with direct links to the products so consumers can make their purchase on the spot.
Partner with a local LGBTQ organization
With Pride being the biggest celebration in June, show your support by offering a percentage of sales to a local LBGTQ organization. You could also host a giveaway where entrants make a direct donation to the organization, and a winner is picked at random.
Summer Solstice Sale Extension
Make sure to promote your business on the longest day of the summer. One way to do this is by hosting extended store hours, extended sales, or extended summer selections.
Recap of Spring Marketing Campaigns
Let's recap the campaign ideas we discussed above. All campaign ideas can be mixed and matched with other months, holidays and themes.
Promotions and discounts
IG Shop Posts
Unboxing Videos
Online Easter Egg Hunt
Pair Your Contest With Giving
Use a Quiz
Hold a Photo or Video Contest
Create a Poll and Promo Combination Campaign
Vacation Giveaway
Gift Guide
Sale/Hours Extension
Partner with a local organization
Woobox makes it much easier to use all of the following types of campaigns listed in this article. Get started creating a giveaway, contest, or quiz using Woobox.
Got questions about how it all works? The Woobox Support staff are happy to provide any walkthrough or answer any questions you might have by phone or email. Reach out from 8 am — 5 pm PST, Monday through Friday at 1-360-450-5200 or support@woobox.com.