There's no question that Twitter and Facebook users differ. Hootsuite reports, "US-based Twitter users are younger, have more education, and more income than the general US population." The speed of the platform creates a space for sharing trending news and the latest hot topics, which is why 83% of the world's leaders are on Twitter.
With only 280 characters and tweets that practically disappear within minutes, developing a successful campaign is challenging. But, over the past year, the number of monetizable daily active users (people who see ads) grew by 17%. Data like this suggest that huge opportunities exist for brands on Twitter.
The key to getting a return on your Twitter giveaways is to make each post highly relevant. Discover how to navigate the Twitter-sphere, avoid being called a bot, and increase your following with Twitter giveaways and contests.
Table of Contents: 12 Twitter Tactics
1. Connect Using Audience Insights
Before using any of the tactics below, it's crucial to start with audience insights. You can create a robust editorial calendar with beautiful images, immersive videos, and viral memes. But, if you take these actions without understanding who your audience is, why they're on Twitter, and what they need from your company, then you won't see results.
Use Twitter analytics and Woobox insights to form a clear picture of your audience. Specifically, if 90% of your followers love dogs, then you probably want to add a photo of a dog to a few of your contest promo posts.

A successful marketing campaign on any channel relies on posting value-added content at the right time. Knowing the make-up of your viewers helps you determine which words and visuals will deliver maximum impact.
2. With Limited Characters, Power Words Matter
Every letter, space, hashtag, and emoji counts. A well-developed Twitter campaign generates immediate interest and emotional investment. Ask your audience a question but avoid a fake or salesy tone. Power words help you do more with fewer characters. Jeff Bullas, a top influencer of chief marketing officers, suggests the following terms:
Great
ReTweet
Follow
Check out
Blog
Post
Top
Social
You
Share
Help
How to
Combine these popular words with power words that play on emotion. For example, your call-to-action must tell your audience what to do but also make them feel something. The first example below gives a CTA but leaves the reader feeling empty. In the second instance, power words create a greater impact.
Check out our giveaway and follow us for a chance to win a cool prize
Check out our exclusive giveaway. Follow us for a free chance to win this exciting prize
3. Enhance Twitter Contest Promos With Hashtags
Before sharing a post to Twitter, you'll want to add one or two hashtags relevant to your audience. Twitter users search the platform for hashtags. Plus, hashtag entry contests increase your brand awareness. In the Twitter post below, Stella Artois asks viewers to share their thoughts and include the hashtags #StellaNeighbors and #Contest.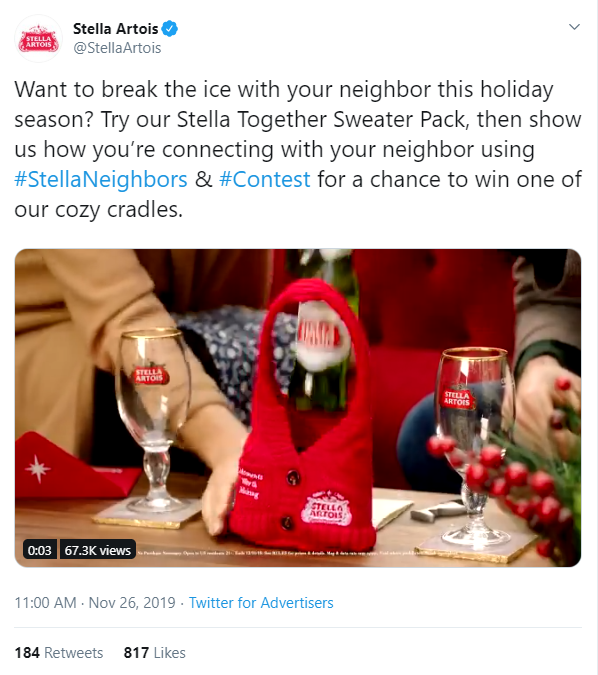 By using a high-volume search term (Contests) along with a branded hashtag (StellaNeighbors), the company expands its reach with a low-barrier-to-entry contest. In fact, the contest hashtag is found on all three of HubSpot's top hashtag lists. These lists include hashtags for likes, the best hashtags for retweets, and hashtags to get the most direct replies.
#Giveaway and #Contest are listed on all three lists
#Win appears on two out of three lists
4. Twitter Users Love GIFs
If you need a good laugh, then just scroll through the responses to a tweet. Users often share a GIF (a combination of static and animated images) instead of typing out a reply. GIFs express emotions and are relatable. Twitter makes it easy with an integrated button for GIF searches. According to Twitter's internal data, "Tweets with GIFs receive 55% more engagement than those without."

Try posting a GIF in your tweets or promoting a Twitter contest with a Call-to-Action for GIF replies. Twitter recommends using GIFs in creative ways, from slideshows to text-based GIFs. However, creative GIF usage is about more than humor. You can share educational content with a GIF, for instance. Quite simply, it's another visual format that attracts attention. When done correctly, you can humanize your brand and show your authentic side.
5. Bot Check: Act Like a Human First
Are you scheduling post after post on Twitter but are getting zero-to-no engagement with your followers? That's a clear red flag. Most businesses who post on Twitter won't get into Twitter jail for spam. To do so, you'd have to:
Send over 1,000 direct messages in a day
Tweet or retweet more than 2,400 per day
Follow more than 400 accounts per day
That said, Twitter users are a savvy bunch. They won't follow accounts that are inauthentic in their messaging, whether that account is parody or official. Twitter users will also mute accounts spamming with constant sales copy. Furthermore, your credibility drops if users think your tweets are automated or lack a human touch. As part of your campaigns, review your tweets to ensure you have a good variety. Develop unique social contest ideas to reinvigorate your audience.
6. Livestream Your Twitter Contest or Giveaway
The fast pace of Twitter offers a favorable audience for live-streaming videos. When you share a live video, it shows on both Twitter and Periscope platforms. Live videos present a huge opportunity to stand out on Twitter. You could kick-off your giveaway with a live video, end it with a live video, or thank your followers and winners with a live video.
Add an interactive element. Invite up to three guests to your livestream
Embed your live video on your website
Respond to viewers in real-time
Retweet your live video as social proof or to promote upcoming contests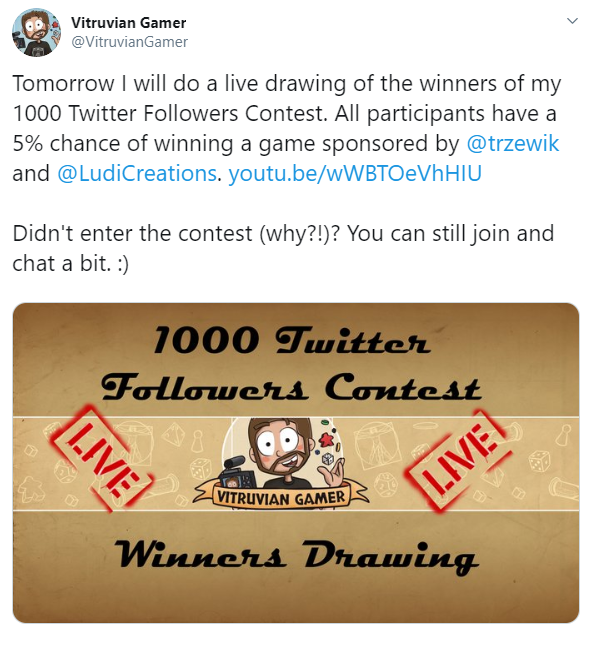 7. Make Images Accessible for All Twitter Users
Just like other social apps and platforms, high-quality images capture the attention of your audience. With a few added steps, you can ensure your photos and Twitter contests are accessible to all followers. A typical image for your giveaway may display your branded hashtag, and perhaps your website address, along with a text call-to-action.
However, if you don't add a description, then your post may not reach a portion of your audience. By adding a description, you demonstrate knowledge of ethical business practices, a concern for everyone in your audience, and a willingness to take extra steps for inclusivity. Twitter provides a how-to guide for accessibility to help you create accessible images.
8. Use Twitter for Cross-Promoting Your Contest
Along with sharing posts about current and upcoming Twitter contests, Twitter is an excellent platform to cross-promote giveaways on other channels. After all, the average American internet user has 7.1 social media accounts. Pullman Regional Hospital keeps its cross-promotional post simple by saying, "Want to win?" Yes! Who doesn't want to win?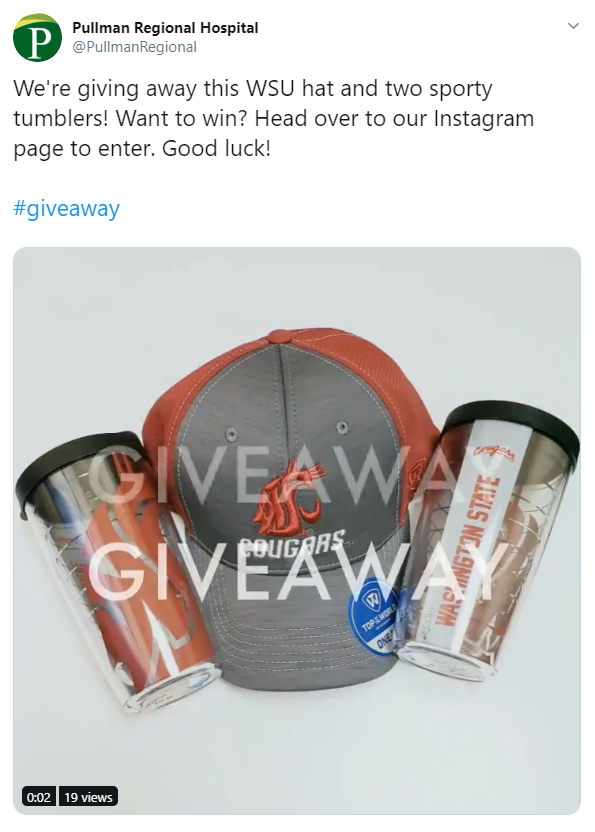 After developing a variety of posts across all platforms to promote your contest or giveaway, your work isn't done. If you want to build relationships and increase brand awareness, then engagement is vital. Not only chatting with various followers in their threads but also making sure you respond to anyone who comments on your post.
Now, this can be as simple as giving a thumbs-up to hashtag entries. Or commenting on a photo contest about how cute their pet is or saying thanks for sharing. Talking with your followers is a quick way to build an authentic following. Twitter reports, "77% of Twitter users feel more positive about a brand when their Tweet has been replied to."
10. Increase Engagement by Sharing Videos
Want to stop your followers from scrolling past your latest giveaway promo post? Delight your audience with a very short (15-seconds or less) video.
A brief video gives you a chance to show the people behind your brand to help instill a sense of authenticity. Plus, you can showcase the products in your giveaway and express the benefits to the viewer of entering.
Twitter suggests four ways to boost video views:
An early story-arc makes your point clear immediately
The presence of people builds emotional investment
Topical content is relevant to your viewers
Text or subtitles assist those who don't use audio

11. Leverage Twitter Ads to Boost Visibility
Twitter's Q3 2019 letter to shareholders states, "Twitter ad engagement is up 23%, and the cost per engagement dropped by 12%."  Talk about a huge opportunity to increase your following and get more participants in your contest. Here are a couple of easy ways to extend your ad budget on Twitter.
Use a Twitter pixel for retargeting your website visitors
Promote posts to get more eyes on your Twitter contest
12. Follow Best Practices for Twitter
Your Twitter audience uses the platform for their benefit. Once you find out why they're there, then you can dedicate your team to creating content valuable to your followers. Along with these 11 tactics for mastering Twitter, remember to:
Abide by Twitter rules and policies
Use shortened links
Check your copy for errors before posting
Size photos specifically for the Twitter platform
Conclusion
Although Twitter isn't as large as Facebook or Instagram, the channel offers many ways to increase your reach. Use these tactics to add Twitter to your marketing mix. Then, share a variety of contests and giveaways that keep your audience coming back for more.
Need Help Setting Up Your Twitter Contest?
If you're creating a new campaign and need help, then Woobox Support is available from 8 am to 5 pm PST, Mon. through Fri at 1-360-450-5200 and support@woobox.com.