Hashtags can make or break your giveaways on Instagram. Use the wrong ones, and you can't get any visibility, or get spam comments and entries that don't really reach your target audience.
However, in many cases, the right hashtags can get you engagement, contest entries, and grow your following more than doing giveaways without them. A study by Simply Measured found that simply using one hashtag in a post got a slight lift of thirteen percent in engagement. This simple addition to a post can drive growth and results without additional hours in research and development.
This post will discuss how to find hashtags, the basic components of hashtags, and actual examples of how hashtags have helped brands get more exposure and engagement for their Instagram giveaways and contests.
What Makes Up a Good Hashtag?
You can have up to thirty hashtags on Instagram per post, which includes the caption and comment areas together. However, most people don't use the full thirty. Deciding how many hashtags to use depends on the topic, but studies have shown that 91 percent of top posts by brands don't use more than seven hashtags.
In most cases, the longer the hashtag, the more engagement it receives. This is usually because longer hashtags are more likely to be used by a dedicated audience that is already engaged with a brand. So creating a unique hashtag for your giveaways, like #AcmeGiveaway, not only makes it more helpful for tracking, but also can help your giveaway standout from the traditional broader hashtags on Instagram.
However, make sure hashtags aren't too long to type and aren't confusing without spaces. For instance, turning "SF art giveaway" into a hashtag has unintended consequences: #SFartGiveaway." Be sure to review your hashtags carefully to make sure no words are created when spaces are removed to create the hashtag. Experiment with capitalization to help you better see created words.
Even if you don't use capitalization in your posts, the hashtag will still show up in the same search no matter how it's stylized. This means that #AcmeGiveaway is considered the same by Instagram as #acmegiveaway. This makes it easier for hashtags to be tracked appropriately, even if someone doesn't capitalize. (However, hashtags do have to be spelled correctly to work. So #AcmeGiveaway would be considered a different hashtag than #AmceGiveaway.)
What Instagram Hashtags Should You Use?
Besides making up your own, using hashtags that other users are already searching for and including in their posts can drive a good lift in exposure and engagement. The key for hashtags is not using common ones that are overused and hence, either going to attract spam or get lost in the sea of other people using the same hashtags. For instance, the five most popular Instagram hashtags are #love #instagood #photooftheday #fashion and #beautiful, according to Oberlo and Websta.me. When possible, try not to use generic hashtags, even if your giveaway includes fashion or could be described as beautiful.
Should you use 'standard' hashtags like #giveaway?
With this advice in mind, should the common prize or contest hashtags be used? Experimenting with extremely common hashtags is the only true way to tell if they actually help or hurt your specific posts.
For instance, the hashtag #giveaway currently has 23.5 million posts that contain the hashtag. When you do a search, Instagram will tell you this number:
If you think a hashtag is too popular to use (and it's attracting spam entries or not even attracting any entries at all), you can try using related, less popular hashtags instead. Hashtagify has a free search function that will show you related hashtags:
In this instance, using #FreebieFriday for a Friday contest post or including the hashtag #win might get some more traction than just using the hashtag #giveaway.
Additionally, as you're typing in the search box on a web browser or in the app, Instagram also brings up hashtags that contain the same word. This is another way to find hashtag ideas that you otherwise wouldn't have thought of.
In addition to giveaway-centered hashtags, you should also include hashtags that are related to your industry or target audience. These are going to be the people that are most interested in your giveaway and what prizes you're offering. They are also more likely to follow your Instagram account as well since you're covering topics they are interested in.
Here's an example from a crafting company that includes hashtags for the types of prizes they're offering:
Unfortunately, since there isn't a set standard on what to always include or not in Instagram posts, only trial and error can help you decide what hashtags to use. Experimentation and the Instagram algorithm are what is going to decide what is most popular.
Where to Put Hashtags in Instagram Posts
There are advocates on both sides of this battle of where hashtags should go in posts. Some say that including them in the caption is the best way to make sure they are seen, thus getting the most benefits. However, others say that including them in a comment on the original post is the best way to have a "clean" looking caption while also reaping the benefits of hashtags. Either way, Instagram does currently pick up the hashtags as being part of the post.
Where they go is up to your preference, but including several hashtags is likely too overwhelming to include it in the caption, especially if they are intermingled with regular words.
For example, something like "Enter to #win our #giveaway for a 3-day #staycation to #PalmSprings using the hashtag #PalmGetaway…." is a little more distracting than "Enter to win our giveaway for a 3-day staycation to PalmSprings using the hashtag #PalmGetaway…." and then including hashtags below the caption or in a comment. Deciding where to put them likely depends on how many hashtags you're using and what the caption is saying.
Instagram Hashtag Contest Examples
Need some hashtag inspiration for your next Instagram giveaway? Here are a few great examples of brands that are using hashtags well to promote their giveaways.
Here's an example from a natural beauty product company. They include broad giveaway hashtags, but also include ones like #vegan, #crueltyfree, #IndieBeauty to capture these audiences.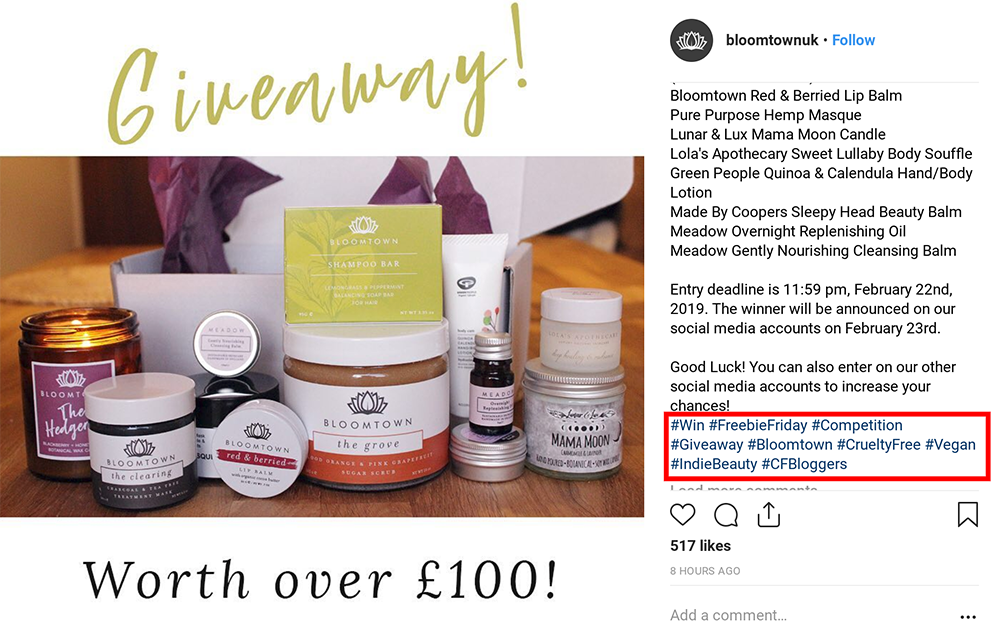 This example from UK cleaning products company ACE uses their main hashtag in their image. This not only gets a user's attention but also helps set a standard where users know to look for images with this hashtag in the future on the company's feed whenever there are new posts.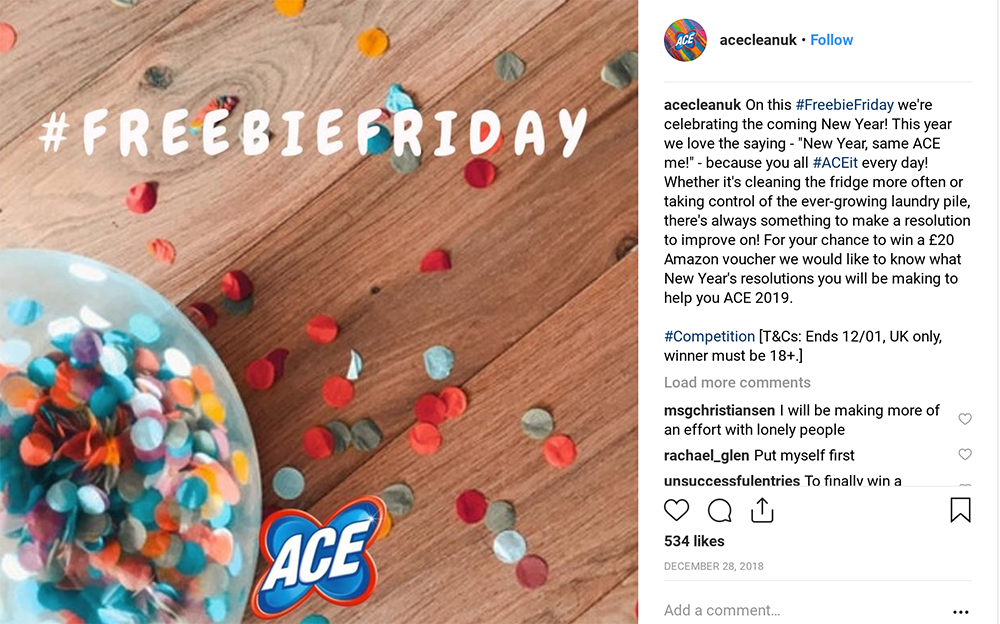 This tech blogger is giving away a 360-degree camera, and used the hashtags for the product name itself. This is a great idea if the prize you are giving away ties into your product or service, as people who are interested in the prize will likely also be interested in your company as well.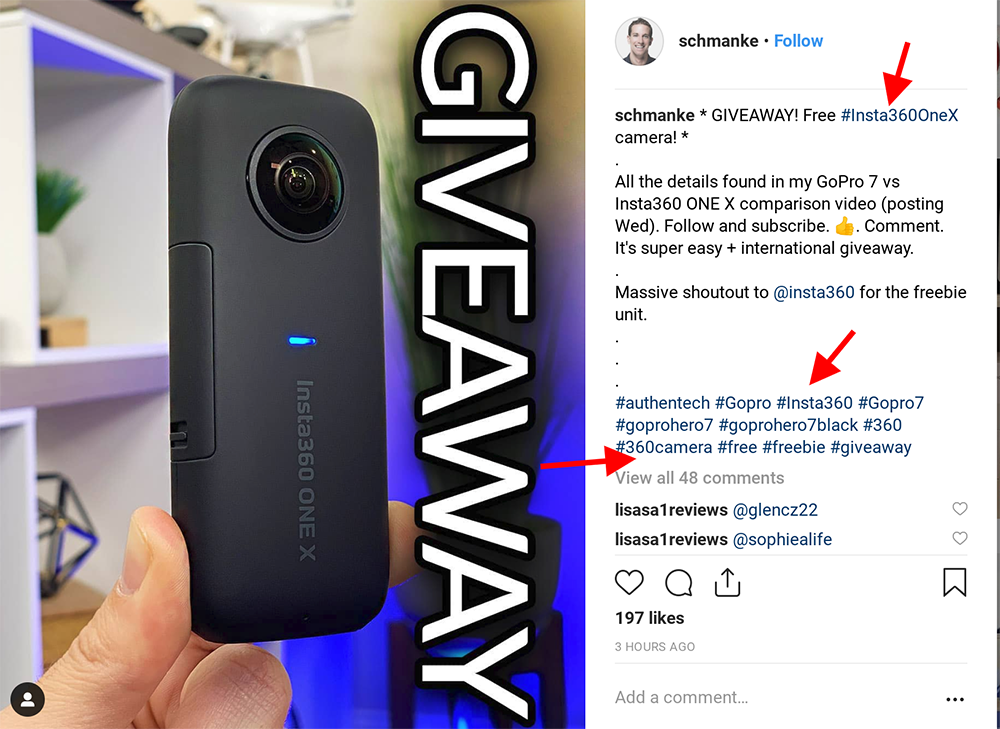 If you're giving away a name brand product, be sure to tag the company and the hashtag version of the product brand and name so you can capture people who aren't necessarily looking for a giveaway but are interested in that product.
If you want to do a series of giveaways around a specific holiday, creating a unique hashtag (as mentioned previously) is a great way to brand the giveaway and make sure users are able to easily find prize posts. In this example by a skincare company, they are doing 13 days of giveaways to celebrate "Galentine's Day" which is a holiday started from the show Parks & Rec that lets women celebrate their friends the day before Valentine's Day.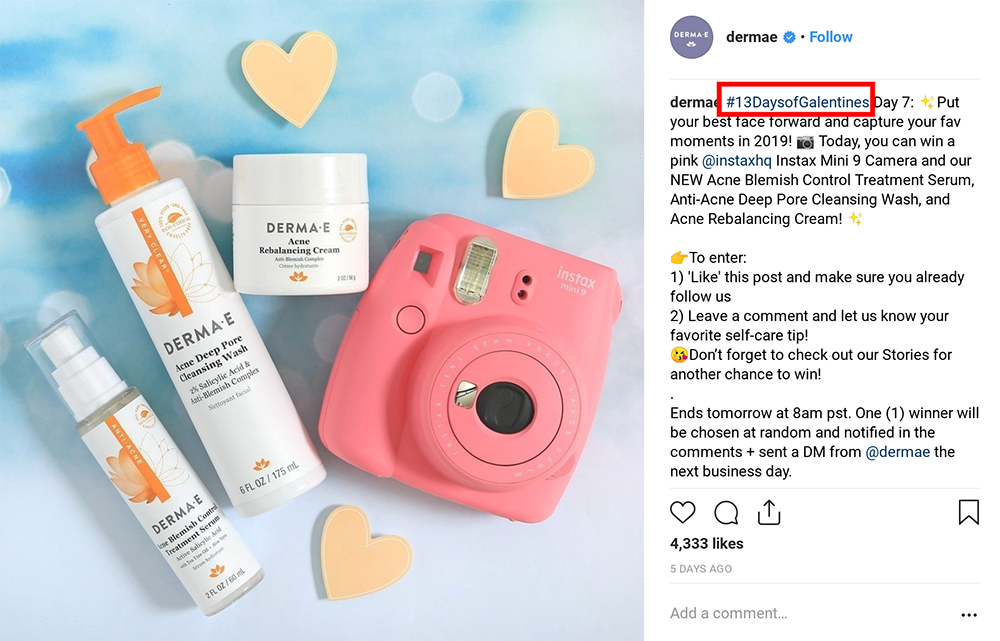 This giveaway allows Derma-E to not only celebrate a female-centered holiday (Which is their target demographic), but the hashtag instantly tells their audience how long the giveaway is going on and that there will be multiple prizes: #13DaysofGalentines. It also doesn't include the year, which is a good thing because it can be reused the next year.
Here's an example of hashtags not being used well. This account used some of the most popular hashtags, like #fashion, which will just cause them to get lost. It also includes unrelated hashtags, like #sales and #fitness, which are too broad and don't fit with the theme of the giveaway. As a result, the hashtags come off as confusing.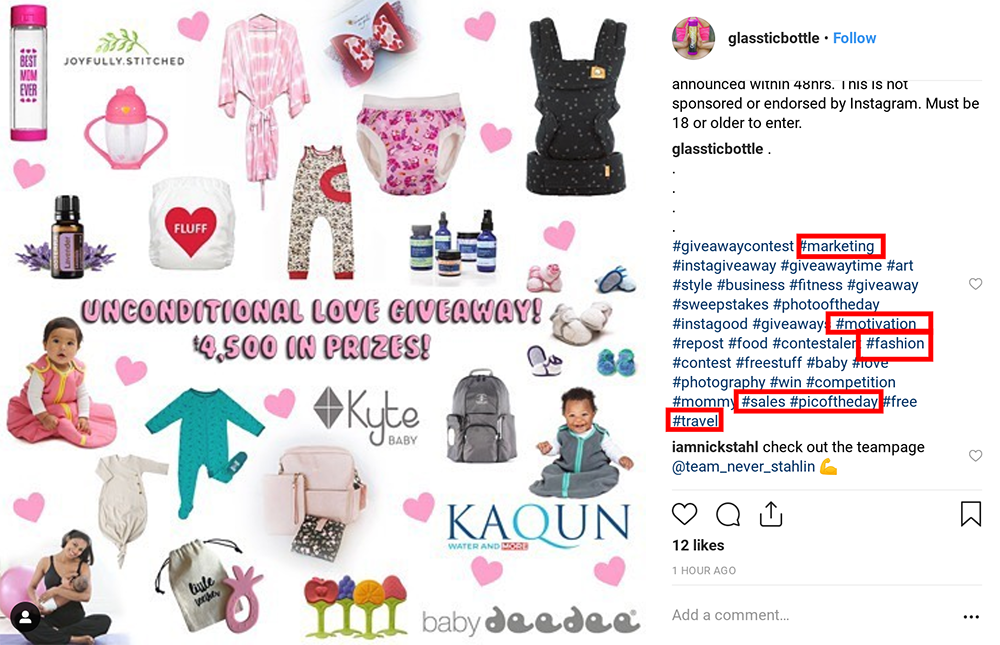 Through these examples, you should have a better idea of what Instagram hashtag best practices to include in your giveaway posts. By combining giveaways with hashtags, you can increase your Instagram followers and engagement. Though the specifics are not confirmed by Instagram, the algorithm is more likely to show posts in hashtag searches that have been getting more likes and comments than others. More entries through comments and hashtag use may increase the chance your post will be seen in hashtag searches.
Everyone likes free prizes, so be sure you spend the time on your hashtags, captions, and post images to get the most exposure possible for your giveaway. If you have questions about setting up your first giveaway on Instagram, don't hesitate to contact Woobox support by emailing support@woobox.com.