Content marketing can take a lot of time, effort, and resources when your primary tactic is developing passive content such as blog posts, eBooks, and white papers. The sheer volume of content available now makes it difficult to win readers and build an audience unless you're doing something to make your content outstanding and engaging.
What's a small business owner or solo marketer supposed to do? Work even harder to generate more content? Hire more writing talent? Actually, there's another option to enhance your brand's content offering — one that's fun and engaging for both you and your various audiences: quizzes!
Before you wave this idea away as silly, consider these facts:
As you can see, quizzes have potential when it comes to marketing. The question you may be asking now is "why?"
What's in it for the quiz taker?
Quizzes, whether personality assessments or trivia and knowledge-based tests, serve a purpose to the taker. A quiz can:
Help simplify ideas and topics
Uncover details about someone's personality or self
Give voice to a person's sense of identity
Allow people to easily share (brag about) their results (scores, assessments, and self-discoveries) via social media channels
Appeal to psychological aspects of quiz takers
What's in it for the quiz maker?
For the quiz maker, there are several benefits to using personality and trivia quizzes. Some of these include:
Awareness
Lead generation
Sales opportunities, including upsells and cross-sell opportunities
Email subscription building
Data-gathering for better-targeted marketing
Remarketing opportunities
Tribe building
Community involvement
Fundraising
Volunteer recruitment
Employee recruitment
Quizzes are a win-win for both takers and makers. Ready to get started? Here are six ideas you can use for your organization.
6 Quiz Campaign Ideas
1. IAMS Breed Selector Quiz
Pet food company IAMS has the right idea when it comes to creating awareness with potential customers.
The company has created a Dog Breed Selector quiz to help people determine the right dog breed fit for their lifestyles. In this instance, IAMS has captured the attention of potential customers before they need the company's product.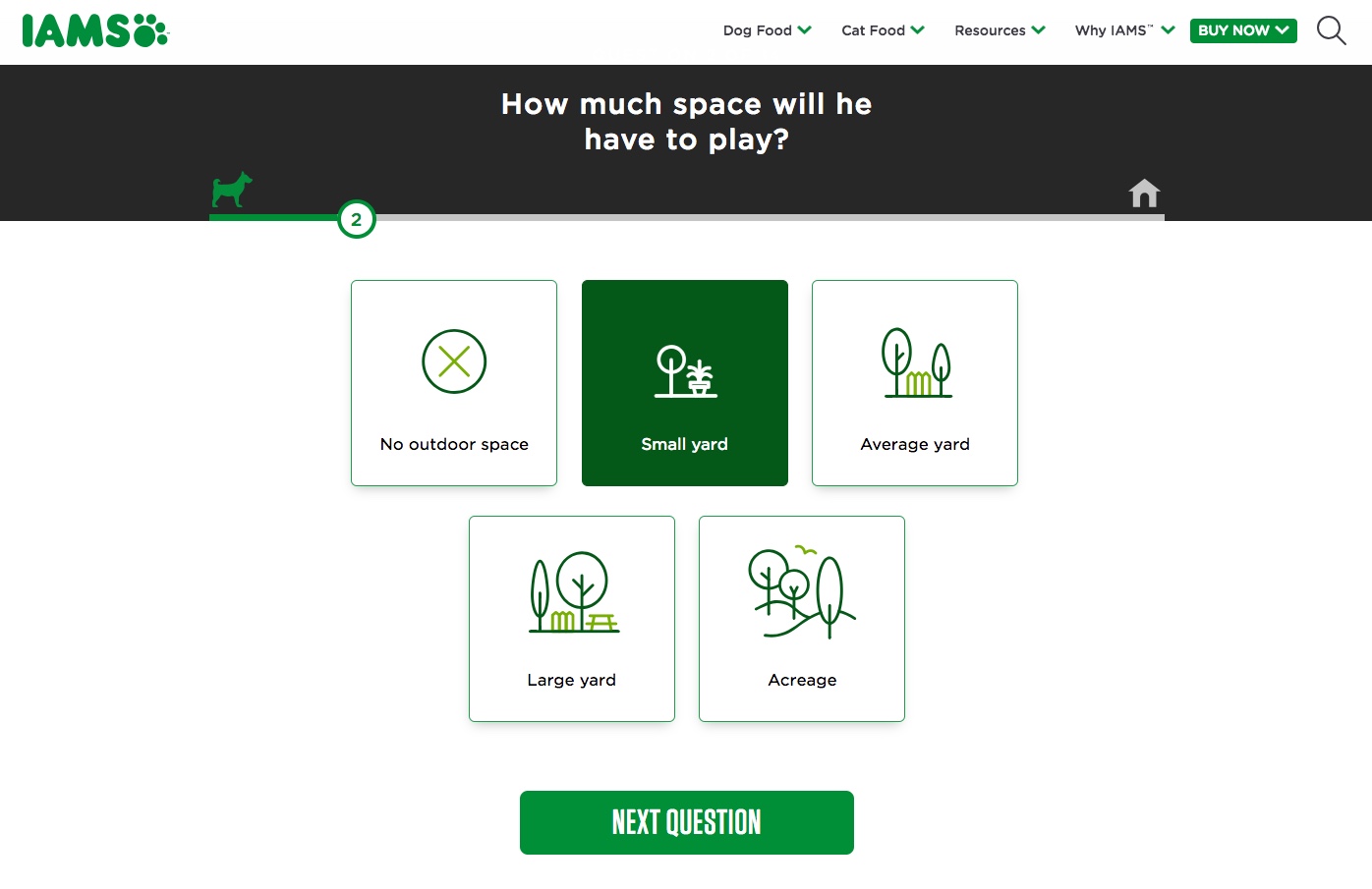 Similarly, Purina has put together an assessment quiz for cat lovers.
Why this is genius: you make potential customers aware of your brand before they've fully realized their need for your product or service.
What's cool about it: IAMS uses branded graphics paired with clear language for the multiple choice options to help guide the participant to the perfect pooch.
How you can steal this idea: capture the attention of people who are shopping for something complementary to (or will require a product like) yours, after their originally intended purchase. In the case of IAMS, the company recognizes that new dog owners will need to buy dog food at some point. IAMS gets on the future customer's radar with a tool that helps the person make an informed decision about dog ownership, and creates awareness of IAMS for the pet parent's ongoing pet food needs.
2. ONE.org's "How well do you know your African geography?" Quiz
ONE.org needed a way to break through the noise to raise awareness about the limited access to education that girls face in some African countries. To break through the content chaos, ONE.org and Forward Action created the "How well do you know your African geography?" quiz.
This quiz acts as an interactive gateway to online activism. The aspect of challenge aspect — Only a few people can correctly identify these countries on a map — are you one of them? — attracts people to participate. While the test taker awaits results, the quiz presents important information about restricted access to education for women in these countries. The participant can then choose to sign the petition to improve educational access for women in these regions. Quiz takers can also share their results on their social media profiles.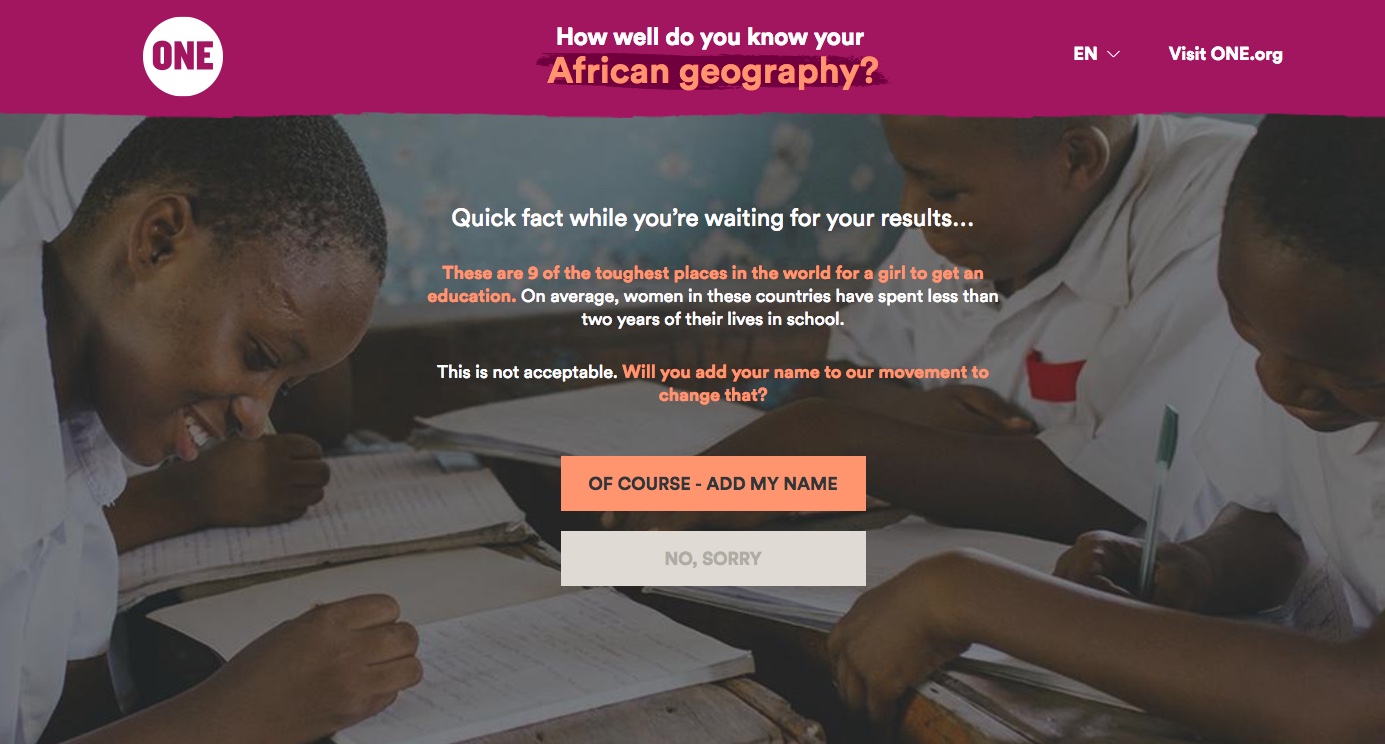 Why this is genius: nonprofits face awareness challenges just like any typical business. However, they often have more significant hurdles. After all, they are asking people to consider giving time, effort, and money to some cause that may not have been on the prospective donor's/volunteer's radar. A quiz that appeals to a person's existing interests can raise awareness for the charity's mission.
What's cool about it: instead of hitting prospective activists with an ask upfront, ONE.org appeals to competitive geography buffs and self-proclaimed know-it-alls who love taking tests and sharing the results. This engaging trivia quiz format provides a platform for ONE.org to share valuable information and gain support for women's education in these countries.
How you can steal this idea: think about who you want to reach and what motivates them. In this case, ONE.org understood that people who are likely to take this test probably have an interest in education and Africa. That affinity for the subject matter signaled a likelihood for support of the cause.
3. Oh My Disney Quizzes
Disney has created a site for fans of all ages called Oh My Disney. Trivia and personality quizzes play starring roles on the site.
Want to test your knowledge of Beauty and the Beast quotes? Need to prove how well you remember the narrator's opening monologue from Cinderella? Maybe you prefer to know which two Disney characters you're a combination of or which Disney princess you are? Take your pick from pages of quizzes. There are trivia and personality quizzes galore.
Why this is genius: this is yet another way that Disney builds its tribe. Disney fans flock to all things Disney, and the Oh My Disney community quizzes give fans a way to engage with the brand even when they aren't visiting parks or watching movies.
What's cool about it: Disney can use quizzes to help promote new and upcoming movies. For example, featured quizzes include "Which Character from Ant-Man and The Wasp Are You?" and "Which Incredibles 2 Character Are You Most Like?"
How you can steal this idea: you don't have to build a whole community website like Disney did to use tribe-building quiz ideas. With a little creative thinking, you can come up with some entertaining and brand-relevant quizzes. Look at what other brand communities have done with quizzes to build their tribes, too. Some terrific examples include:
4. Duluth Trading Company's Whatsis? Tool Challenge
You may know Duluth Trading Company for their irreverent commercials and products for people with physically-demanding jobs and for those who like to play hard, too. Duluth Trading Company has created a weekly trivia-type quiz to engage its audience and reward a single weekly winner with a prize: It's called the Whatsis? Tool Challenge. Participants enter the name of the featured tool for a chance to win a $100 Duluth Trading Company gift card.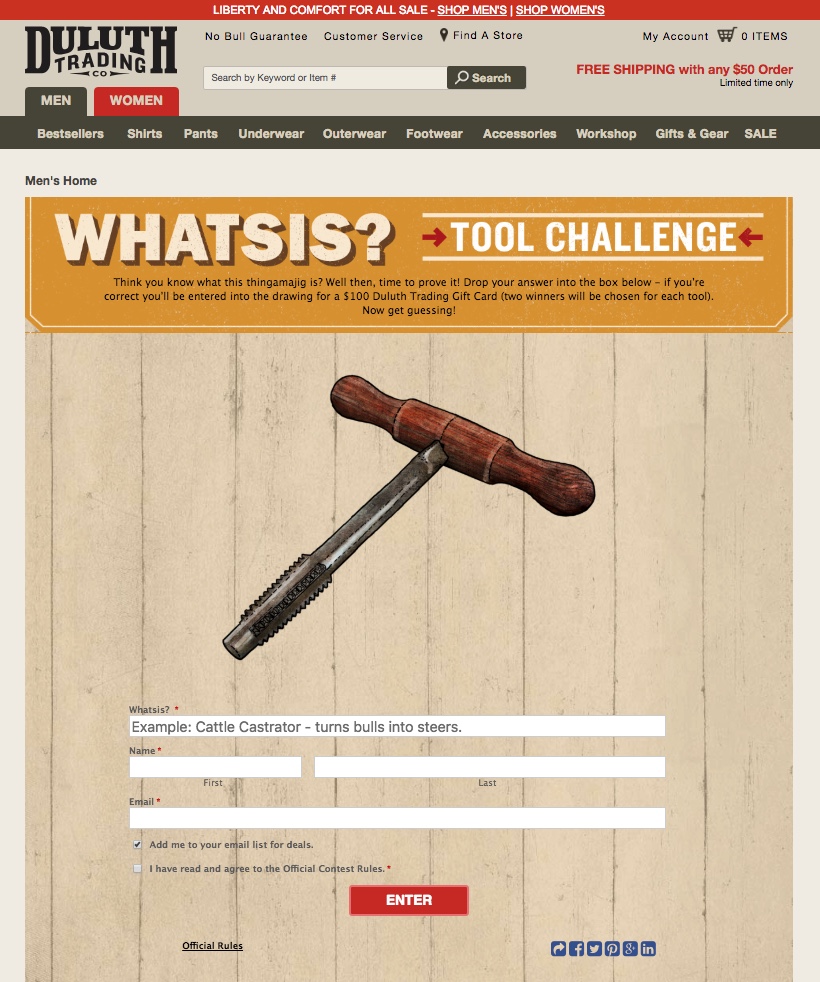 Why this is genius: Duluth Trading Company is definitely creating a tribe — it's a brand for those who "get it" when it comes to performing certain types of jobs and tasks. This type of quiz helps separate the in-crowd from the posers.
What's cool about it: while these types of quizzes are fun and help signal a person's belonging in a community, what's really cool about Duluth Trading Company's quiz is the lead generation and reward aspect.
How you can steal this idea: does your product(s) appeal to a particular niche? Create a trivia quiz and contest around different topics related to the niche. You can also turn a quiz into a pick your prize promotion.
5. Product-Personality Quizzes
Many brands do these types of quizzes well, so we'll highlight several instead of just one.
Find Your Perfect DefineMe Fragrance. This quiz, created using Woobox, gathers details about the reader's preferences and personality style using beautiful photos and pop culture images coupled with words to form the multiple-choice answers. The result is the selection of the perfect DefineMe fragrance based on the quiz taker's responses.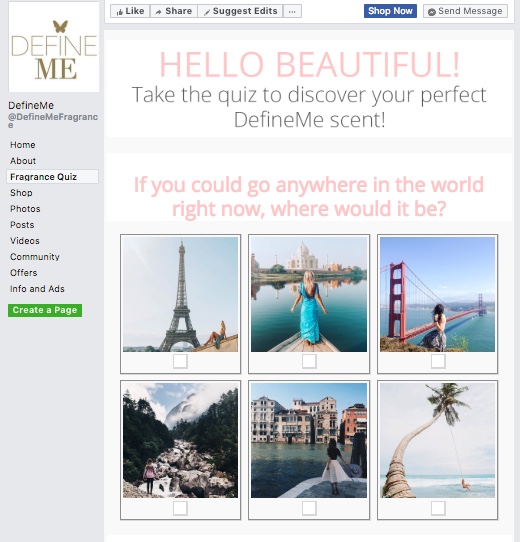 Which ORGANICS by RedBull Are You? Red Bull uses fun images and questions to lead the participant through a series of multiple-choice questions that ultimately determine which ORGANICS drink best represents the individual's personality. The result offers a flattering description of the personality represented by the drink.
Which Pair of Elephant Pants Are You? With five quick questions, Elephant Pants helps shoppers find the perfect pair of pants to suit the quiz taker's lifestyle and personality. The company provides a link back to the product page to make it easy to immediately place an order for a pair.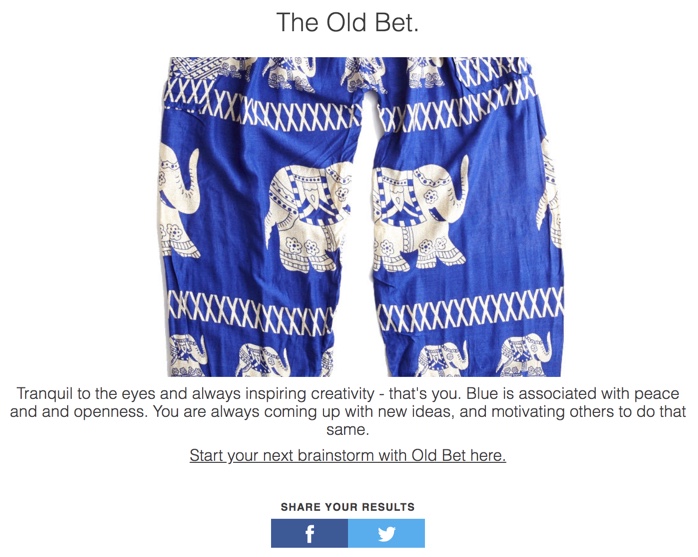 Zenni Optical's You've Been Framed Quiz. Zenni Optical used the "You've Been Framed" quiz to help potential customers select the perfect Zenni Optical frames based on their personalities and preferences. Animated gifs and other images made the quiz pleasing to look at and fun to engage with. This quiz campaign was a huge success leading to an ROI of 9,655% in 6 months and over $1 million in revenue.
Which Career is Right for You? This assessment quiz from Brandeis International Business School helps prospective students understand possible career opportunities best suited to their interests, which can assist them in figuring out which course of study to pursue.
Why this is genius: these brands have figured out that sometimes customers enjoy a little fun when getting to know a new product. With the first four examples, the brands presented an entertaining and engaging way for people to learn more about a product. This fifth example, while more serious, helps potential students assess their educational and career options.
What's cool about it: these types of quizzes are great examples of how to charm a shopper. They've aligned perceived personality traits of the buyer to attributes of the product for a flattering match. Who wouldn't be tempted to try a product that captures their awesomeness so well?
How you can steal this idea: consider your typical customers and their lifestyles and personality traits. Now brainstorm how you can match them, in a creative and positive way, to your product line.
6. Product Selection Quizzes
Several companies use quizzes to help guide people to purchase the correct product after they've decided to try or buy. Here are a few stand-out examples:
Warby Parker's home page features a quiz to help shoppers select five frames to try on at home for free.
The Red Cross provides a Holiday Giving quiz to help donors with inspiration for the perfect, meaningful holiday gift.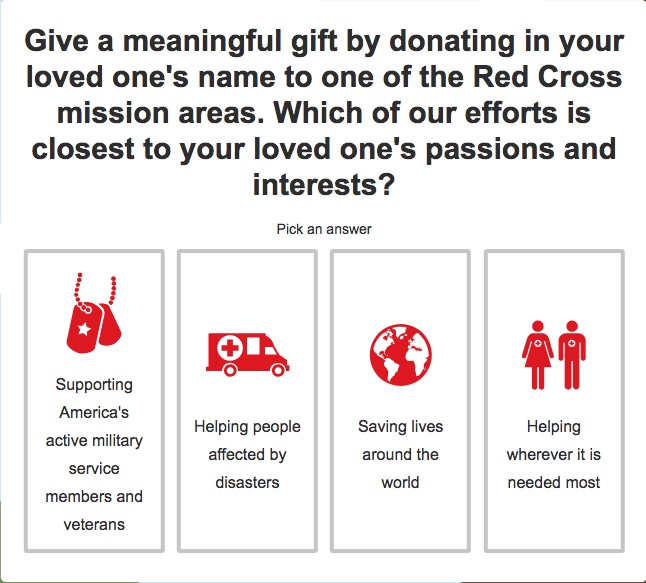 Lexus Financial helps new Lexus buyers decide if they should lease or purchase their new car.
Why this is genius: when you have customers who are ready to try or buy, you want to make the experience seamless. These brands have figured out how to help people choose and move one step closer to the sale or trial.
What's cool about it: these types of quizzes create a positive buying experience for customers. By providing some additional assistance in the buying process, the brand has eased some concerns and reduced "analysis paralysis."
How you can steal this idea: This type of quiz works well in the cases above because of the nature of the impact of each decision. Glasses are an extension of your identity. A car purchase versus a lease is a major financial decision. A charitable gift signals something about your priorities and morals.
Uncover the underlying angst or importance that comes with deciding to purchase a product or service like yours. Use this information to create quizzes that help potential customers make purchase decisions they will be pleased with.
Final Thoughts
We've reviewed six different examples of personality and trivia quiz in action. To recap, we learned how:
IAMS and ONE.org use quizzes to capture buyers' attention before they are ready to buy/support a cause.
Brands like Disney and Duluth Trading company leverage quizzes to create a sense a community and strengthen their tribes.
Companies such as Red Bull, DefineMe Fragrance, Elephant Pants, Zenni Optical, and Brandeis use quizzes to align positive product attributes with customers' personalities.
Businesses like Warby Parker, Lexus Financial, and the Red Cross use personality and preference quizzes to move shoppers closer to a buying decision.
As you begin to evaluate quizzes as a sales and marketing tool for your business, think about what you want to accomplish and ensure your quiz helps you reach those goals.