Bringing attention to mental health conditions like summer-onset seasonal affective disorder (SAD) can help cure summer blues by bringing together like-minded people to share their experiences.
This alone can help lighten the load for those who feel like the weight of the world is on their shoulders. Finding ways to discuss how SAD has affected people individually and collectively can help bring a little sunshine into their lives and create more awareness of what others may be going through. Using the power of social media, you can help thousands (or even millions) of people, while drawing attention to your company at the same time.
What is SAD?
Seasonal affective disorder (SAD) is a kind of depression related to changes in the seasons and usually occurs around the same time every year. In most cases of SAD, symptoms start in the fall and last throughout the winter months, which can make you feel drained and lead to moodiness. But in less frequent cases, SAD causes depression in the spring or early summer.
Symptoms of summer-onset seasonal affective disorder include:
Weight loss
Poor appetite
Insomnia
Anxiety or agitation
How is SAD Treated?
SAD can be treated in several ways, including:
Light therapy – involves you sitting a few feet from a special light box allowing exposure to bright light within the first hour of waking up every day.
Psychotherapy – also called "talk therapy" can help you manage stress, learn healthy ways to cope with SAD, and identify and change any negative thoughts or behaviors.
Medication – involves treating the disorder with antidepressant medications when symptoms are severe.
Mind/Body Connection – involves guided imagery, music or art therapy, meditation, and relaxation techniques like yoga or tai chi.
Let's take a look at some contest ideas that can help those suffering from SAD.
Each idea touches on topics related to mental health, self-love, and overall wellness.
Summer-Onset Seasonal Affective Disorder Contest Ideas
1. Discussing Mental Health Awareness
Let people know they're not alone. You can talk about mental health and bring awareness to the variety of conditions that afflict those suffering. Creating a social media contest around this idea can draw even more attention to the cause. Done with care, you can create a lasting impression for your company and your brand.
Have users submit a video describing their experience with summer-onset SAD to create a discussion about ways they deal with it. Choose the best video (or videos) and feature it on your website as the contest winner. This way, you can bring more attention to the cause and people can draw inspiration from it. You could offer the winners prizes like Pura Vida bracelets, a weighted blanket, or a comfortable t-shirt showing support for mental health or SAD. You can even opt for a "buddy box" – the Blurt Foundation's subscription-based service that sends out a box every month and guarantees "a hug in every box."
2. Gratefulness Contest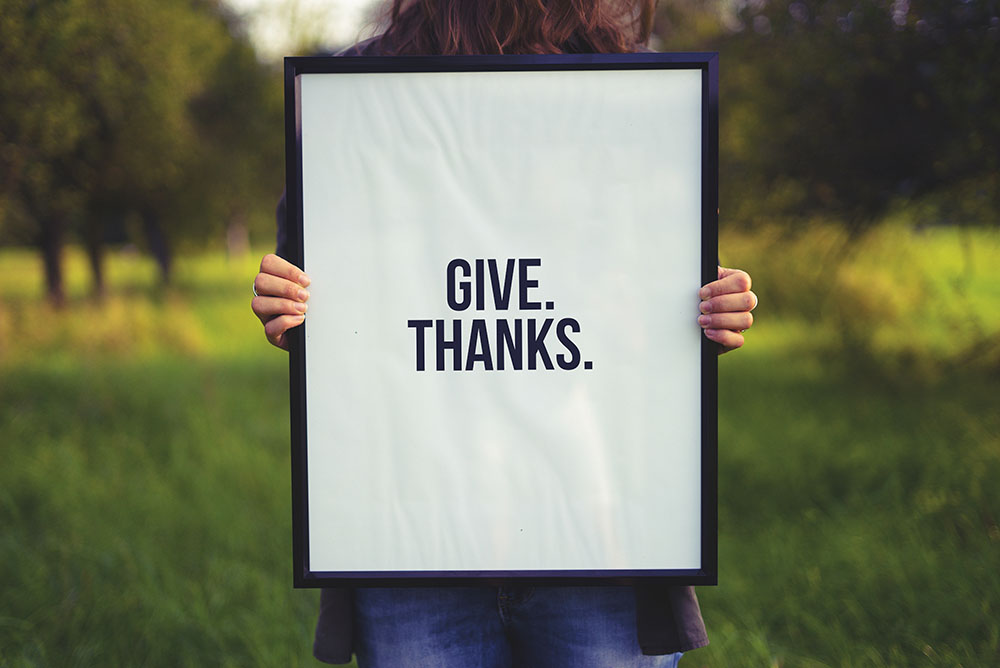 Saying or writing down what you're grateful for has been shown to have great health benefits. It puts you in a place of peace and tranquility, which can help those suffering from SAD. You could host a Facebook or Instagram contest where people can post a picture with one or two things they're most grateful about, whether it's a person, place, or thing. The contest entry that's the most helpful or inspiring should be announced the winner. Prize ideas include a nice quality gratitude journal, an adult coloring book (to help relieve stress), and a few self-help books about coping with mental illness. Let your contest entrants pick the winner or use a easy tool like our free Social Like & Comment Picker.
3. Meditation or Yoga Therapy
Meditation is the process of training your mind to focus and redirect your thoughts. It can help you reduce stress and develop a positive mood and outlook, as well as healthy sleep patterns. Not to mention it can help reduce anxiety and promotes emotional health. For these reasons, it can tremendously help someone with SAD.
Yoga is similar in nature, providing several physical and mental health benefits. Yoga helps build strength and harmony in the body as well as the mind. It helps relieve stress and improves overall well-being. Regular yoga practice helps to relax the mind, sharpen concentration, increase body awareness, and create mental clarity and calmness.
Run a contest on Facebook or Instagram asking people to share their experiences using yoga or mediation to improve mental health. The winner should be selected based on how well the post connects with your audience – and could even be chosen by your other contest entrants. Prize ideas include a trip to a yoga retreat, a discount on a meditation session, or a gift certificate to a spa where they can join in yoga sessions.
Alternative Idea: Guided Imagery Contest
Guided imagery is a popular technique used to cope with SAD that helps calm your body and relax your mind quite quickly. It's not too difficult to learn and it involves getting into a deeply relaxed state and imagining a relaxing scene with vivid detail.
One idea is to have people draw or post a picture that most closely resembles their most relaxing photo. It could be from a recent vacation or it's just something they like to look at when they want to relax. It could also be a picture of them eating at a fancy restaurant on the beach, swimming in a luxury rooftop pool in Manhattan, or any other image that helps them relax. Prize ideas for winners include a beautiful painting that depicts a relaxing scene or something similar in nature.
4. Show Off Your Favorite (And Healthiest) Thing to Cook
Eating properly is essential to overall health and wellness. This is why getting people to show off their favorite meals in honor of SAD can help bring awareness to the disorder and get people eating healthier meals more often. It can also prompt those suffering from SAD to work to improve their appetite. Ask people to post images or videos of them making their favorite healthy dish, adding appropriate hashtags. Winners could receive a snack bag or food basket of healthy, nutritious snacks. The could also receive an apron and chef's hat emblazoned with inspiring words of wisdom. Be creative and have fun for maximum impact.
5. Promote Self-Love
Promoting self-love through a social media contest can help cure summertime blues by giving people ample opportunity to celebrate themselves and forget about their problems momentarily. Challenge people to take care of themselves and document it via photo or video. Then, prompt them to pass on the love to someone they know with a mental illness like SAD. Make sure to use hashtags to keep track of every post and the number of entries you receive.
Winners could take home a self-love care package to take better care of their own well-being. Ideas for this prize include bath bombs, body wash, scented lotion, shampoo, conditioner, essential oils that promote relaxation, aromatherapy candles, and more.
Alternative Idea: Music Therapy Contest
Music therapy is a great way to cope with the symptoms of SAD. Sometimes, curing summertime blues is as simple as taking a simple dance break when you need to. Like Meredith and Christina on Grey's Anatomy, when things are getting a bit too stressful or they're feeling a little blue, they "dance it out." Challenge fans of Grey's Anatomy to put on their favorite uplifting tunes and record themselves with their friends or loved ones "dancing it out" for better mental health. Prize ideas include an early season of Grey's Anatomy – one that tackles mental health issues – and a basket of goodies that helps relieve stress with items like chocolate, herbal tea, or even a gift card for a massage.
The Gist
Social media contests are an excellent way to get your followers engaged and interacting with your brand online. These types of contests can give you a better idea of what your target audience is interested in as far as hobbies, interests, and lifestyle. With that knowledge, you can better target future communications and improve your marketing campaigns, as well as connect with your audience on a more personal level.
If you're looking for creative ways to host a social media contest to cure "summertime blues" associated with summer-onset SAD, these ideas can help get you started or inspire you to come up with your own ideas.
If you need assistance with your campaign, Woobox Support is available for help from 8 am – 5 pm PST Monday through Friday at 1-360-5200 or support@woobox.com.