There are currently more than 4 billion likes per day on Instagram. Each posted image receives an average of 23% more engagement than its Facebook counterpart.
If you haven't launched an Instagram strategy, or you're working on a 2019 campaign, the social platform deserves your marketing team's attention in the coming year.
Instagram's steady and significant growth, combined with a drop-off in active Snapchat and Facebook users, is causing predictions that Instagram could take over as the #1 most used social media platform in 2019. There's a reason Instagram is growing so quickly, with a number of recent changes and innovations to the platform itself.
These innovations have launched new content and marketing campaign trends that are valuable — and dare we say necessary — to know and take action on before heading into the New Year.
Let's go through 5 of the largest Instagram trends we've seen that require your attention before creating your 2019 strategy.
1. Vertical is the new video
Around 52% of all internet traffic in 2018 was mobile. Instagram, with 1 billion monthly active users, has been a key influencer in generating demand for vertical videos. This demand will only increase as we move into 2019, especially as Instagram continues to strategically encourages users towards its "Stories" feature.
If you think about Instagram's core user base — 62% are between the ages of 18 to 34 — a majority of content is consumed on their phones. Like we've seen with Instagram's owner, Facebook, the platform will predictably move more into pay-to-play in 2019.
"If you think about Instagram's core user base — 62% are between the ages of 18 to 34 — a majority of content is consumed on their phones."
hen it comes to advertising content, two important statistics make a strong argument why Instagram is and will continue to push vertical content:
Most people will not rotate their phone to view a video. A survey by Mediabrix found less than 30% of its users were willing to turn their phone sideways to view an ad.
Video ad campaigns shot vertically can deliver a significant increase in completion rates than horizontal videos.
As Instagram aims to grow ad revenues, they've created a landscape that gives advertisers no choice but to create vertical content. Let's cover a few of the main vertical content real estate you'll want to cover in your Instagram strategy for 2019.
Insta Stories and Story Ads
Chris Cox, the Chief Product Officer at Facebook, shared that Instagram "Stories" will overtake content consumption from Instagram's feed.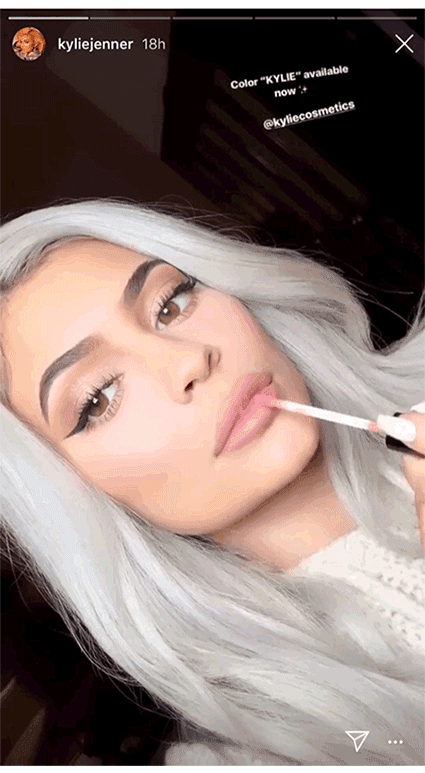 Here are some ideas you'll want to use in the "Stories" feature when it comes to vertical video strategy.
Advertise and promote any coupons or instant win deals you have going on in your Stories or Story Ads.
If you are on Instagram, you've seen brands show up in your story with a "Swipe Up" feature, like in video seen below.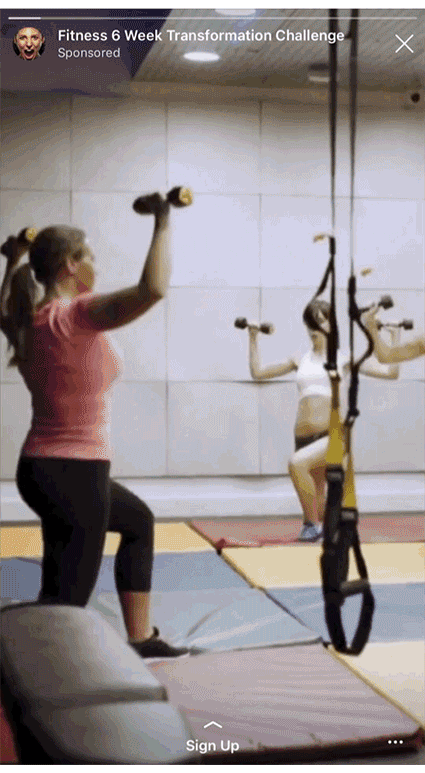 Adding links to any deals, coupons, and promotions you have going on using the "Swipe Up" story ad is a great way to get more of your Instagram followers and new followers to take you up on your offer.
Please note that the "Swipe Up" feature is only available to Instagram influencers and business accounts with 10K followers or more.
If you're just building up your audience, you can still capture leads using promotions like coupons and instant wins by creating the offer using campaign software like Woobox to host and run the promotion and link the URL to your Instagram bio. Once linked, you can create engaging and eye-catching videos in your story to direct customers to your bio link to get the deal.
Keep stories and story ads simple and casual
When you're thinking about your Instagram story content, remember that peope are used to seeing content from their friends, and not overly produced videos. When creating your video content, definitely test more organic feeling videos that flow within the user experience.
Create more live video content
A survey by Livestream and New York Magazine found that 80% of participants would rather watch a live video from a brand than read a blog. Instagram is featuring and promoting live videos more and more as we move into 2019. After writing your latest blog, experiment with having a team member go live on Instagram and share the most important points of the article.
"After writing your latest blog, experiment with having a team member go live on Instagram and share the most important points of the article."
Instagram Highlights and IGTV
A powerful and more long-term way to use vertical video on Instagram is through highlights and IGTV. Unlike Stories, these two video platforms allow for longer video content that doesn't disappear after 24 hours.
Here are a few ways to create deeper engagement with your Instagram audience using these features.
Tell a story about your brand or your customers.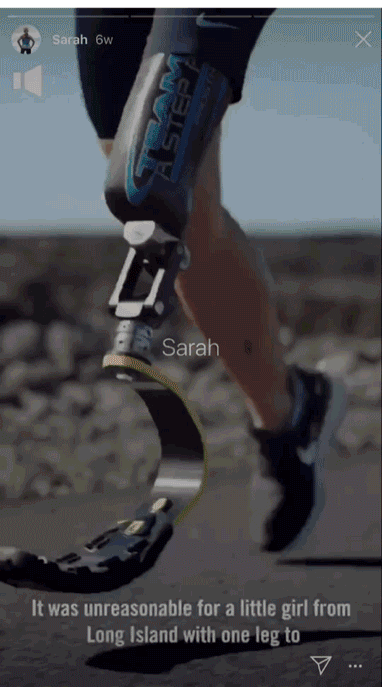 Nike uses it's Instagram highlight real estate to feature inspirational fitness journeys, and how their products fit into the story. They use the same strategy on their IGTV. By having highly shareable content live here, Nike followers can easily share the inspiration in their own stories and feeds.
Host your giveaway and contest content
For your next video contest, advertise your contest using a video in your highlights and IGTV to make sure it's the first thing people see when they visit your Instagram page. You can also encourage participants to host their contest entry video on highlights or IGTV as both allow the use of hashtags. You can streamline and organize your hashtag entry tracking with a marketing campaign software like Woobox.
2. Upgrade your hashtag strategy for categories
Hashtags are not going anywhere and, if anything, are more important than ever — both to understand and use effectively.
An Instagram post with at least one hashtag averages 12.6% more engagement than a post with no hashtags. Try thinking of hashtags like a funnel: your goal is to get as many interested eyeballs on it as possible.
"An Instagram post with at least one hashtag averages 12.6% more engagement than a post with no hashtags."
Recently, Instagram even updated its search to include common categories: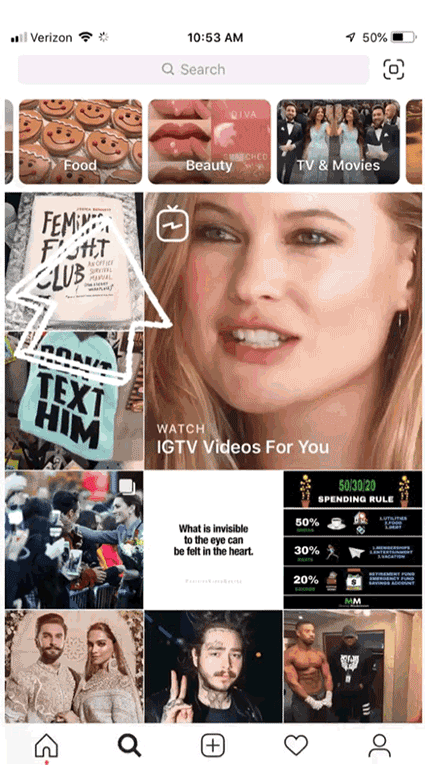 For your 2019 hashtag strategy, figure out which categories your brand content fits into and click on those categories to find optimum hashtags. Search for what hashtags are the most engaged with in each category, and look at who is engaging with them. This will help ensure you're reaching the right audience. We recommend using one category of hashtags per post, guaranteeing that your content is relevant to that category.
3. Creating Instagram-worthy photo experiences offline
The merging of our real world and Instagram is only going to grow in 2019.
In 2018, we saw examples of this through events and locations being created for "the perfect Instagram shot."
In 2019, we'll see more events, businesses, and experiences merging their digital and offline marketing strategies. Their goal will be to increase both social traffic and in-person foot traffic (if they have a business location.)
Hands down the best example we saw following the above strategy (creating a buzz throughout Instagram) was from the Museum of Ice Cream. Check it out:
The venue's greatest appeal? The unique photos customers can share from their experience.
Brands who utilize this strategy can take their photo contests to the next level in 2019, igniting their Instagram influence and following.
Here's how:
Start by creating your photo contest rules landing page and setup. A marketing campaign software like Woobox can certainly help here.

Tip: Make one of the rules to take and post a photo at your location, event, or pop-up.

Create an event, pop-up, or designated area in your business location with a unique set-up. Ensure it's Instagram worthy.

A great example: Refinery 29 created a branded pop-up tailored to their millennial audience, creating a highly shareable atmosphere.

Share out some teaser photos before starting your contest.

This excites people both about the contest and getting their unique Instagram photo opportunity, which they can post for high amounts of likes and shares.

Request your contest participants to share their photos by a certain time and date, using your branded contest hashtag.
Utilize your marketing campaign software to easily pick a winner.
After your event, consider keeping up the Instagramable location if it's in your retail location to continue driving foot traffic, or host another pop-up or event with a similar opportunity.
4. Is IG Shopping is on its way?
This year, Instagram gave businesses — especially retailers — a big way to increase conversions and sales.
Around 84% of Americans admit they made an impulse buy, and Instagram is a prime opportunity to capture the impulsive buyer in-app. Instagram's shopping features are less than a year old, so today remains a prime time to set your business up for success on the platform before it really takes off later in 2019.
"Around 84% of Americans admit they made an impulse buy, and Instagram is a prime opportunity to capture the impulsive buyer in-app."
Currently, to enable product tags on your posts or stories, you need to have your products or services linked to your Facebook Catalog.
From there, you'll be able to create tags for your posts so customers can tap the photo and be taken directly to a page where they can purchase the product or service they are viewing.
One 2019 prediction is that Instagram will launch a standalone app called "IG Shopping" where users can browse items from the businesses they follow and purchase them directly in-app. Until then, one way to take advantage of the current shopping features is to set up your contests, giveaways, and campaigns linked to Instagram photos that have product tags to encourage impulse buys from new and increased traffic.
5. Want to expand your Instagram reach? You'll have to invest.
Similar to what we've experienced with Facebook, Instagram created a new algorithm this year that made it more difficult to reach your target audience organically. And, again similar to Facebook, Instagram is leaning more-and-more towards a pay-to-play model, seeking to continue increasing ad revenues.
Here are a few recommended strategies to use in the coming year to make sure your posts are seen and your following continues to grow:
Sponsor or promote your posts in your feed and stories.
It's time to allocate more budget to Instagram if you're going to continue reaching your audience as a business. With the new algorithm giving preference to new posts, sponsoring your content will offer greater reach beyond this short time-window. This allows you to analyze initial organic content performance, promoting posts with the highest engagement.
Invest in long-form content
YouTube reigns with teens and young adults who love watching longer-form content from vloggers.
IGTV launched to compete in this vlogging space with YouTube, adding more convenience for teens and young adults to watch on their phone using vertical videos. We suggest exploring longer-form videos before 2019, because Instagram is going to find ways to incentive businesses to use the IGTV platform.
Run more Instagram contests and giveaways
Reseach by Tailwind found that accounts using Instagram contests in their strategy will grow their followers on average 70% faster than accounts that don't. This strategy has worked wonders for the swimwear brand Hoaka Swimwear, now boasting almost 600K followers.
"Research by Tailwind found that accounts using Instagram contests in their strategy will grow their followers on average 70% faster than accounts that don't."
With contests and giveaways weekly on their Instagram, this brand's reach and reputation have skyrocketed in a short time period. Here are some ways to incorporate the best of Hoaka Swimwear's strategy into your own.
1. Use a marketing campaign software like Woobox to streamline the campaign process, and set up your landing page.
2. Include your campaign link in your bio, story highlights, and story feed.
3. Create a post with an eye-catching image. Hoaka Swimwear uses content posted by their customers in almost every photo they post, and this could be a great strategy to adopt in your own campaigns to increase engagement and get more people to share and tag your product in photos.
4. Make sure your post includes the contest or giveaway details.
5. Re-purpose and share user-generated content from your campaign in your story and feed.
Recap of Instagram marketing trends to watch for in 2019
Let's do a quick recap of the 5 core trends to apply to your marketing campaigns before 2019.
1. Vertical video is going to start taking over the Internet. Start shooting content using a vertical phone now, or a high-resolution camera turned sideways to prepare content to get you through Q1 of the new year.
2. Make sure your audience can find you by choosing hashtags that correlate with Intagram's new categories.
3. Create Instagram-worthy photo experiences and opportunities offline, driving more traffic to your business and generating more buzz and user-created content on Instagram. Bonus: Having more user-generated content means less work for your content team.
4. IG shopping is only going to grow, and a dedicated app is most likely going to arrive for this feature in 2019. Start planning now.
5. Invest more in your Instagram before the New Year. From your budget for sponsored content to contests and video, make sure you're dedicating more resources if you want to continue to grow your reach and impact on Instagram.
Bonus: Follow the 80/20 rule with your content. This means that 80% of your posts need to be for the benefit of your audience and 20% needs to be an advertisement for them to do business with you.
You can use Woobox to launch, run and monitor the campaigns and strategies mentioned above.