Consumers love Halloween. Though the average spender spent slightly less in 2020 (likely due to the pandemic) U.S. consumers still spend more than $8 billion annually on Halloween decorations, pumpkins, and even dressing up their pets.
How can your business make the most of the spookiest holiday of the year?
Giveaways are ideal for driving social media engagement, increasing brand awareness, and growing your sales this Halloween season.
Why giveaways? First, people love to win free prizes. Giveaways also activate the principle of reciprocity. Think about the last time a friend invited you over for a home-cooked meal. There's a good chance you feel the need to reciprocate — maybe by picking up their favorite coffee or a favorite snack.
When you give something away for free, your audience feels the need to give back, often in the form of social media posts, reviews, and word-of-mouth advertising.
Giveaways are powerful, but coming up with a unique idea might feel like a hassle. It doesn't have to be! Here are eight ideas you can use to create your Halloween giveaway.
Creative Halloween Giveaway Ideas to Inspire Your Next Promotion
An effective Halloween giveaway starts with a creative promotional marketing idea. Choose a promo that your target audience of existing and potential customers will find interesting, like custom Halloween gifts. Here are a few ideas to get you started.
1. Halloween-Themed Basket or Bundle Drawing
Ask followers to throw their name in a (digital) hat for a chance to win a basket full of your top-selling Halloween products.
If you don't have Halloween-related products, put together a themed basket they'd be interested in, such as a pumpkin carving kit, candy-making kit, pumpkin-flavored treats, or fall-scented products.
2. Halloween Costume Photo Contest
This type of competitive Halloween giveaway works for just about any brand.
Ask followers to share their best family, kids, or pet Halloween costumes in a photo contest. Use a specific (branded) hashtag for submissions, and then ask their friends to vote. Encouraging user-generated content gets your brand name in front of more people. Here's an Instagram giveaway example from coppercanyondoodles: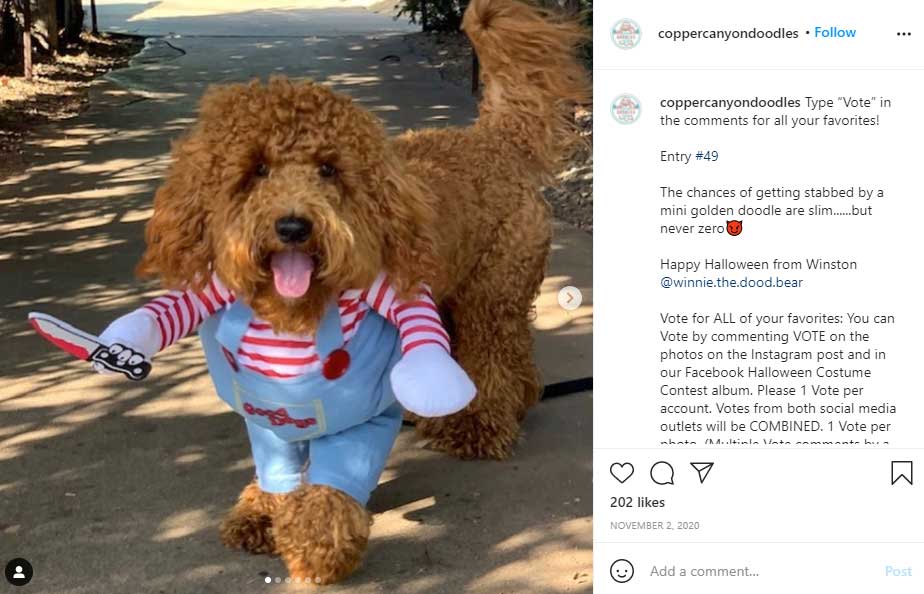 3. Halloween-Themed Quiz
Sites like Buzzfeed create dozens of quizzes a month — with good reason.
Quizzes are interactive, fun, and increase engagement on social media. Host a Halloween quiz related to your industry. For example, a quiz to help people figure out what favorite Halloween candy they are, what their costume should be, or show off their Halloween movie knowledge. Keep it fun, offer a small discount as a prize, and encourage participants to share their scores with friends.
4. Fall Event Tickets
Giving away event tickets encourages users to get to know their community and have fun. Purchase (or ask another business to donate) tickets to a local haunted house, fall festival, or apple picking event. Host a photo contest or select random winners in a sweepstakes.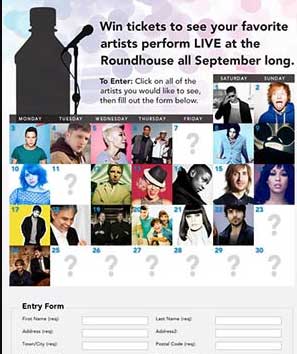 5. Halloween Recipe Ideas
Halloween is a great time to get creative in the kitchen. Restaurants or food-related businesses can ask audience members to share their favorite recipe idea. Prizes could include a discount code, gift card, or a Halloween-related prize bundle.
6. Guess the Number of Items
Fill a jar with candy corn, chocolates, spider rings, or other Halloween-related items. Post a picture on social media and ask users to guess how many items are in the jar. A library in New Jersey hosted a guess the number giveaway, with the prize going to whoever got closest without going over.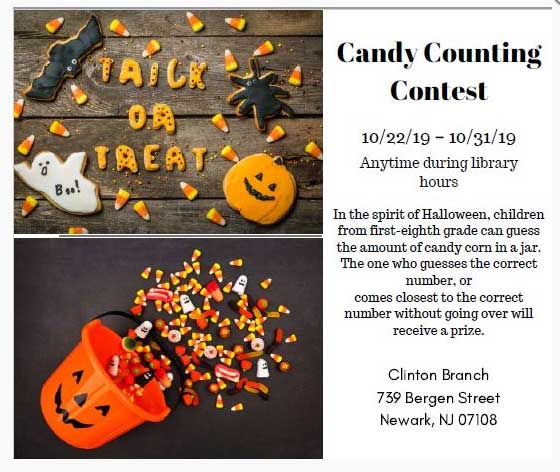 7. Pumpkin Carving Contest:
Encourage your followers to get creative by sharing their most creative pumpkin carving creations, and offer anything from free tickets to local event or simply a fun Halloween giveaway grand prize. Pick a winner randomly or ask users to vote for the best one.
8. Halloween Decorating Contest:
Ask followers to share their most creative (or scary!) Halloween decorations. Adjust the contest to fit your target audience. For example, this roofing company asked users to share photos of their houses decorated for a chance to win: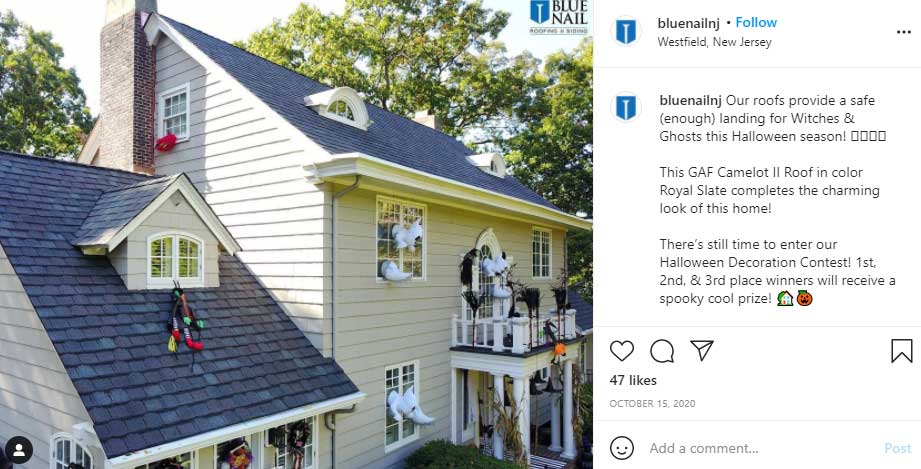 A few other ideas: a teacher supply company could ask entrants to share their classroom doors while a hardware store could ask for pictures of DIY yard decorations.
Tips For Building a Successful 2021 Halloween Giveaway
Once you've decided on a Halloween giveaway, it's time to build out your strategy and create your contest.
Here are a few tips to make sure your giveaway drives results:
Set a Goal
Before deciding on a contest, outline your goals. For example, do you want to drive email sign-ups, increase brand awareness, or increase engagement on a specific social media platform? Then choose a contest type that fits your goals. For example, if you want to increase your email list, a giveaway that asks for email addresses from entries could be effective.
Choose a Relevant Prize
The right prize can make or break your giveaway. Choose a prize related to your business, if possible, and make sure it's something your audience cares about. For example, a restaurant might offer a free dinner for two, while a bakery might offer a box of Halloween treats.
Use Promo Software to Power Your Giveaway
Running a giveaway can be time-consuming. How do you make sure contestants can always access the quiz? How do you track metrics or choose a winner? A contest platform like Woobox makes it easy for your to launch your giveaway in minutes.
Build a promotional strategy
Halloween giveaways perform best when you build a promotional strategy. Make sure your audience knows about your giveaway by posting on social media, publishing blog posts, and sending a link to your email subscribers. Website popups and influencer marketing campaigns can also help get the word out.
Track Your Stats
Is your giveaway having the impact you hoped for? Track stats like brand mentions, email sign-ups, and giveaway registrations to find out.
Halloween Giveaway Ideas Conclusion
Holidays are the perfect time to host a creative giveaway. You might collect user-generated content, create a fun Halloween giveaway, or simply find a fun way to enhance your marketing strategy for the season.
Tying your contest to a fun holiday like Halloween helps drum up excitement and keep your brand in the minds of your target audience. To ensure success, make sure to set goals before launch, offer a relevant prize, use a tool like Woobox to power your contest, build a strong promotional strategy, and stay on top of your metrics. Then, use that data to power your next holiday giveaway.
Need help creating your Halloween giveaway? Woobox Support is ready to lend a hand 9 am to 5 pm PST, Mon. through Fri at 1-360-450-5200 and support@woobox.com.