Instagram is a prime spot to host your contest or giveaway. But remember — add a disclosure and clear instructions to your promo before posting. This keeps your business in good standing with Instagram, and acts as a call-to-action (CTA).
Like other social media platforms, Instagram users must abide by the terms of service and promotion guidelines. Yet, you don't want your post to bore or confuse your audience. It could discourage people from entering or make it hard to validate a winner.
Use the following information and checklist to design an Instagram contest rules template and write a captivating post. Plus, find examples of how brands pull it all together when running an Instagram giveaway.
Instagram Promotion Guidelines, According to Instagram
Instagram keeps its contest guidelines pretty straightforward, offering a few rules for any activity falling under the term "promotion," such as a giveaway, contest, or sweepstakes. Per Instagram, all promotions must:
List the official rules for your Instagram contest or giveaway
Provide terms and eligibility requirements, like residency or age restrictions
Comply with location-specific regulations, such as registration, if required by local governments
Inform participants that by entering the giveaway, they provide a full release of Instagram
State that "the promotion is in no way sponsored, endorsed or administered by, or associated with, Instagram"
Additionally, Instagram doesn't allow users to tag content or encourage others to do so inaccurately. For instance, don't ask Instagram followers to tag themselves in photos unless they appear in the image.
Lastly, Instagram reminds users hosting a giveaway or promotion that you're doing so at your own risk. Instagram won't help you manage your promotion and can't advise on how to get consent for the contest or permission to share user-generated content.
With that said, giveaways are legal on Instagram as long as you follow Instagram's rules and those of your business location.
Instagram's giveaway rules are similar to those provided by other platforms, and you can view our contest rules guide to see guidelines for Facebook, Instagram, YouTube, and Twitter.
Instagram Contests & Giveaways: Caption Checklist
Turn your Instagram contest ideas into a marketing win by using this Instagram template example and including the following information in your Instagram caption and landing page:
Participant instructions: Ask users to tag friends in the comments, follow your business page, or like the post for a chance to win.
Disclosure: This promotion is in no way sponsored, endorsed, or administered by, or associated with, Instagram.
Date and time: Note the date and time (including your time zone) that your contest or giveaway begins and ends.
Giveaway host: List the name of the company administering the giveaway or contest.
Sponsor: Tag the sponsor (if any) in your Instagram giveaway post.
Product or service: Call out brands that donated a prize for the promotion by tagging them in your caption.
Restrictions: If your contest has any limitations, such as age limits or location restrictions, mention them.
Winner: Tell followers when you'll announce the winner on Instagram.
Prize collection: Explain if you'll contact the winner or if they should message the Instagram brand page.
Additional Instagram giveaway rules: Create a promotional landing page with your official rules.
Related hashtag: Share a hashtag for your brand, a contest-specific hashtag, and a few related to contests and giveaways.
Photo: Design an image that suits your Instagram feed yet encourages followers to take a look and leave a comment or tag friends.

7 Guidelines for Creating Instagram Giveaway Rules
You may have noticed that the Instagram contest rules are pretty generic. The platform doesn't tell you where to put your official rules or specify any wording that must be used. Therefore, marketers have some leeway in displaying and sharing information about a giveaway's official rules.
Below we'll go through how to ensure every Instagram contest or giveaway follows the guidelines.
1. Note That Your Giveaway Isn't Associated With Instagram
The easiest way to ensure Instagrammers don't think your giveaway or contest comes from Instagram is to add a line in your giveaway caption. Go ahead and place it near the bottom of your post to avoid cutting off other vital details about your contest.
Keep it simple by writing: "This promotion is in no way sponsored, endorsed or administered by, or associated with, Instagram." Of course, you can add an emoji before the sentence to make it stand out a bit more, but it's not required.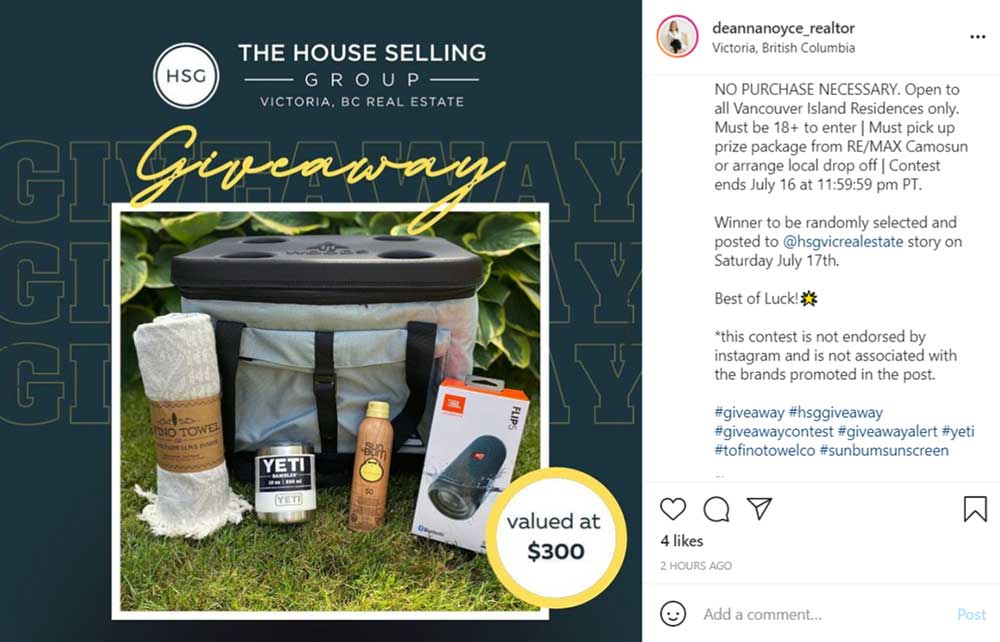 2. Provide the Name of the Company Hosting the Giveaway
Although Instagram doesn't specifically say you need to share your business name when hosting a giveaway, it's a best practice. This is especially important if you're an influencer or using other digital marketing tactics, such as teaming up with another company.
If you're partnering with other brands or sharing a sponsored giveaway, mention others using the "@" and their Instagram handle. Additionally, if you're hosting the giveaway but other companies donated a product or service for your contest, tag them as well. This is an excellent way to get more eyes on your giveaway post and draw attention to other great companies.
Add a line to your caption, such as:
Sierra Forest Jewelry is hosting a giveaway
Our company, Sierra Forest Jewelry, hosts this giveaway
A big thanks to Meen Clothing for sponsoring the giveaway by Sierra Forest Jewelry
Sierra Forest Jewelry and @MeenClothing are hosting a giveaway offering prizes from @SimonsCandles and @PlatosScents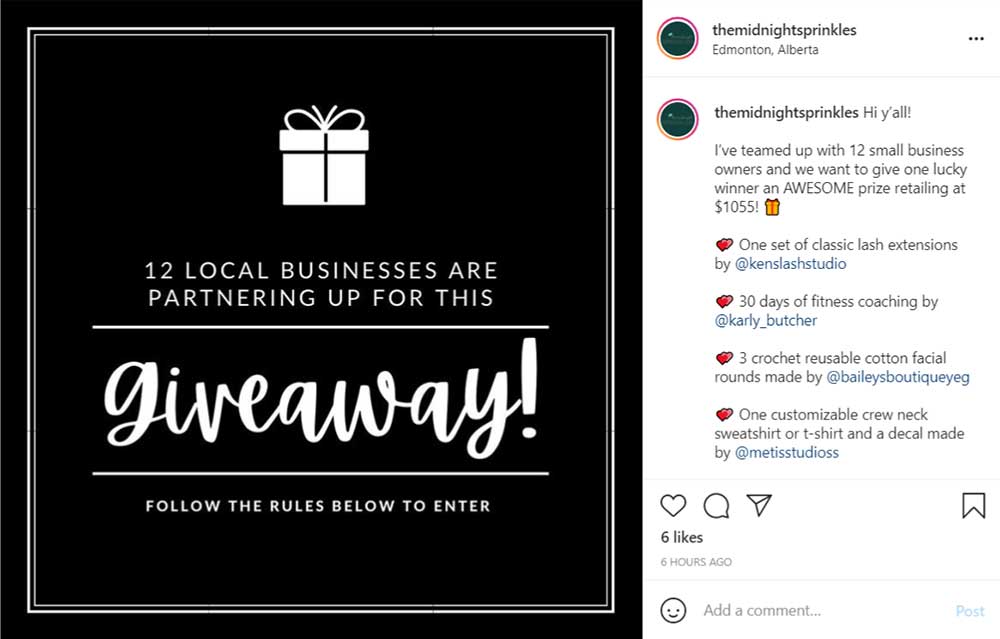 3. Give Specific Dates and Times for Instagram Contests
The majority of Instagram users are located outside of the United States and in different time zones. Your followers could be local, but it's a good practice to include a beginning and end date along with times and the time zone. It also helps when picking the winners as you'll need to exclude people who entered after your cutoff date and time.
In addition, spell out the month to avoid confusion. Here's a good example for your Instagram contest:
The giveaway starts on August 10, 2021, at 8 AM Central time and ends at 11:59 PM Central on August 14, 2021.
You could also add a line here saying that entries received before or after the stated dates and times won't be included in your random giveaway drawing.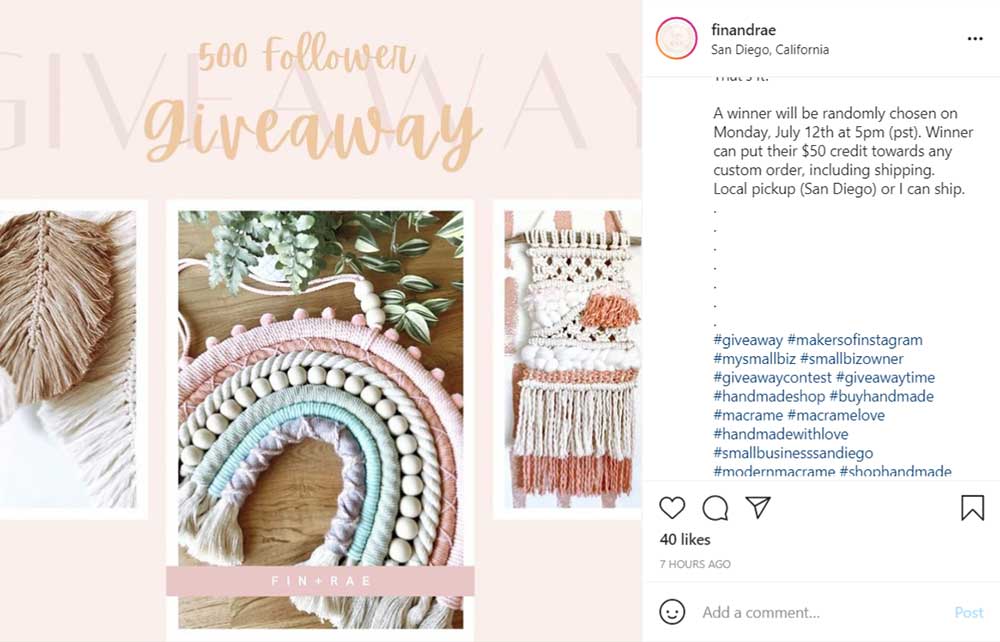 4. State Any Participation Restrictions
Can 13-year-olds enter your giveaway? How about people in countries other than your own? In some cases, you limit participation to appeal to specific demographics. For example, if you have a physical storefront and don't ship internationally, state that in your Instagram giveaway rules. Or if you're handing out prizes that aren't meant for children, make sure to mention that as well.
Typically Instagram business accounts add a line to their giveaway post that says:
Prizes can only be shipped to the 50 US states
Entrants must be 18 years old or older and have a US address
Your contest may have further rules or restrictions or require a liability waiver. If so, consider creating an official rules page or putting the fine print on your giveaway landing page.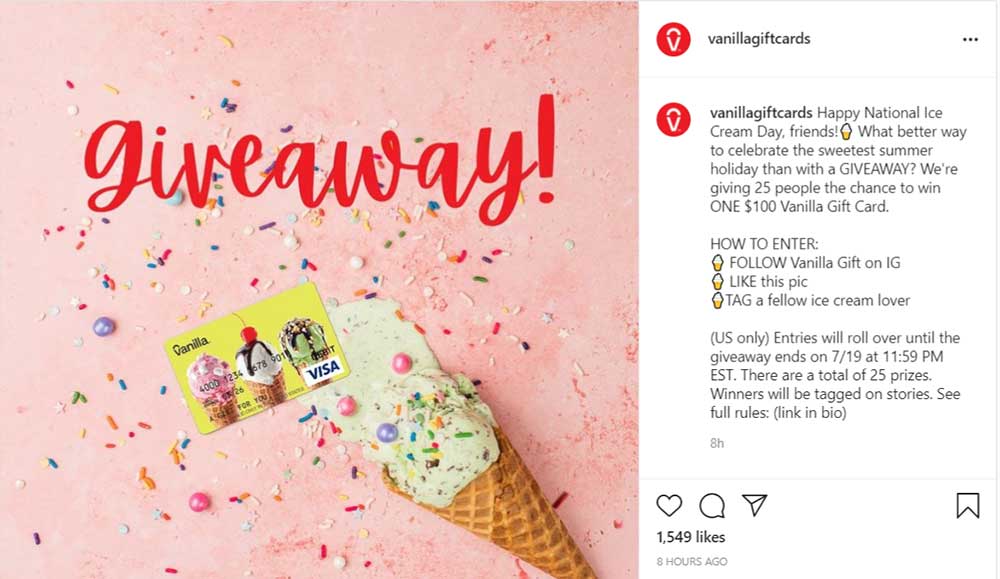 5. Offer Clear Instructions for Giveaway Entrants
What should your giveaway participants do to enter your contest? Do they need to "like" your post? Leave a comment? Or tag a friend? Simple instructions keep the barrier of entry low and are good for social media giveaways. But you may want to add a rule to narrow down your target audience and contest participants.
Many brands place an emoji before each action participants should take. It draws users' eyes to the details. Instagram contest rules may include one or more of the following lines:
Like this post
Leave your answer in the comments
Post a photo with our hashtag
Follow our account for a chance to win
Tag friends for bonus entries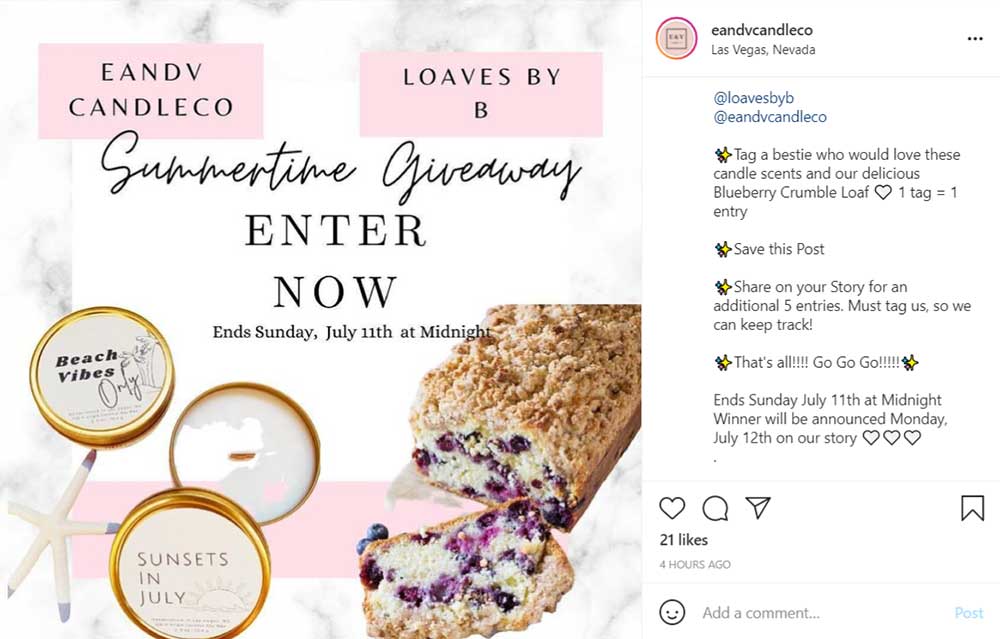 6. Mention How and When You'll Choose a Giveaway Winner
Once you've told participants your giveaway's end date, it's a good idea to invite them back when you announce the winner. Perhaps they can join your live stream broadcast, take a look at your Instagram feed, or otherwise engage with your brand.
It's also okay if you don't have a specific time or date for your winner announcement. Just provide the general details, saying: "The winner will be randomly picked when the giveaway closes and announced on August 14, 2021."
Now, if the winner is the person who got the most upvotes on their photo entry or received the most likes on their comment, mention that as well: "Votes will be tallied, and the person with the most votes will be announced on August 14, 2021."
Don't forget to add one or more giveaway posts before your contest ends to remind Instagrammers when it closes, how to win, and when you'll announce the winner. Something like: Tune in on August 14, 2021, at midnight Central time, where we'll announce the giveaway winner live on Instagram!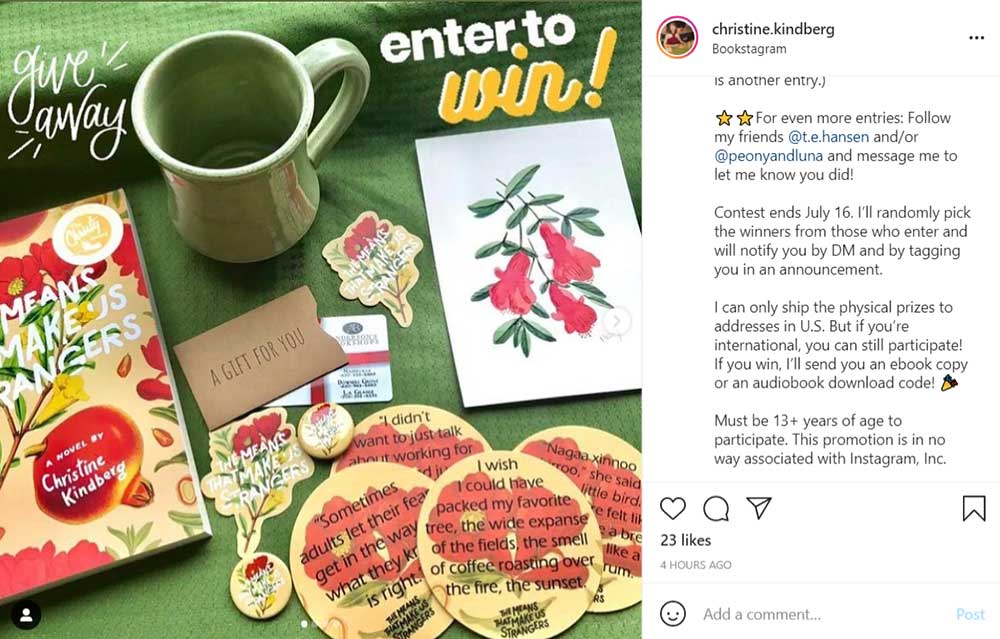 7. Tell People How to Claim the Giveaway Prize
Do giveaway entrants need to claim their prize, or will you automatically send it? Do they need to provide an email address or home address? In most cases, it's unnecessary to put this information in your initial giveaway post, but it's a good idea to put it in your official rules.
Once you announce the winner or winners, post an announcement on Instagram and include details about claiming the prize. Then, send a message to the winner saying congratulations and giving instructions on how to get their reward.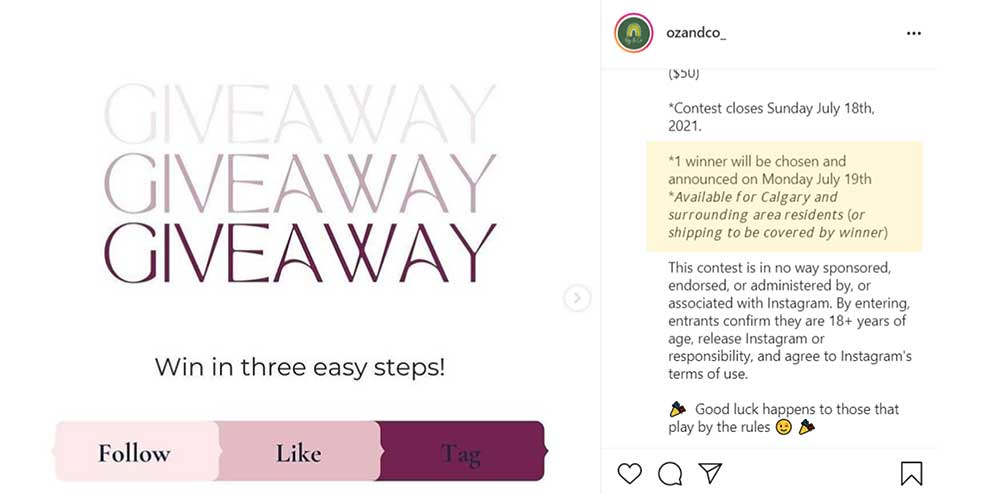 Next Step: Create Your Instagram Contest Rules
Clear instructions do more than abide by Instagram's guidelines; they serve as a call to action. Before asking people to tag a friend, take the time to create a post that's fun and informative. Add a photo, hashtag, and kick off your campaign. Or end it with a bang. Use your promotions to gain ideal followers and delight them with prizes fitting for your best customers.
Need help with your Instagram contests and giveaways?
While we can't write the rules for you, Woobox can help pick a random winner. Contact our team to get started with your next Instagram giveaway or contest. We're available from 9 am to 5 pm PST, Monday through Friday at 1-360-450-5200 and via support@woobox.com.