An online contest can be one of the most effective ways to market your business. Combining the enthusiasm people have for contests with their love for social media can help you build your email list, launch a product, increase brand awareness, and so much more.
There are dozens of ways to build a contest, but one of the most effective ways is by using a contest hosting platform like Woobox, which lets you create a feature-rich, customizable contest.
The Woobox marketing platform provides a powerful toolset for nearly any marketing objective you have for your business. By starting with a campaign, you can build brand awareness, generate leads, target new customers, retain existing customers, develop brand loyalty, increase sales, and more.
Marketing Campaigns you can host on Woobox include:
Giveaways & Sweepstakes
Digital Coupons & Codes
DLC Distribution (downloadable content)
Instant Win Contests
Hashtag Contests
Photo Contests
Video Contests
Polls and Surveys
Quizzes
Each campaign is easy to customize — like adding a hashtag entry option to your giveaway — so you can change how users enter, ask for user-generated content, limit your campaign by geography, ask for likes on social media and so much more.
Here's a screenshot of the different forms you can add to essentially any Woobox contest: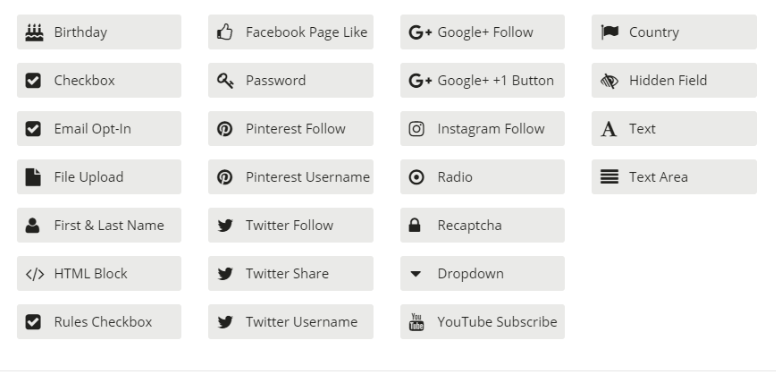 Check out this walkthrough of how to customize your Woobox form, which will give you a good idea of all the options available. And the best part is, you don't have to know how to code. Using builder is pretty intuitive, and there are plenty of tutorials in the Help Desk to guide you through the process.
3 Places to Host Your Woobox Contest (With Best Practices!)
We've talked about why contests are effective and how Woobox makes it easy to build a customizable contest, so now let's move on.
You know what your goal is, you've decided on a type of contest, and you've picked a prize. The next step — where will your contest live?
On Woobox, you have three distinct landing page options:
On a customizable landing page with a dedicated URL
A tab on your business' Facebook page
Embed on your website, either in a popup or on a static page
Below, we'll cover the pros and cons of each option and cover best practices.
Creating a Custom Landing Page
The first option for hosting your contest is using a customizable landing page with a dedicated URL from Woobox. You can choose a background image, add your form fields, and launch.
Setup is simple, and you don't need any fancy coding skills. The site will live on a Woobox microsite URL but will still have a Facebook like button, unless you choose to remove it. Further customization is also possible, should you require it.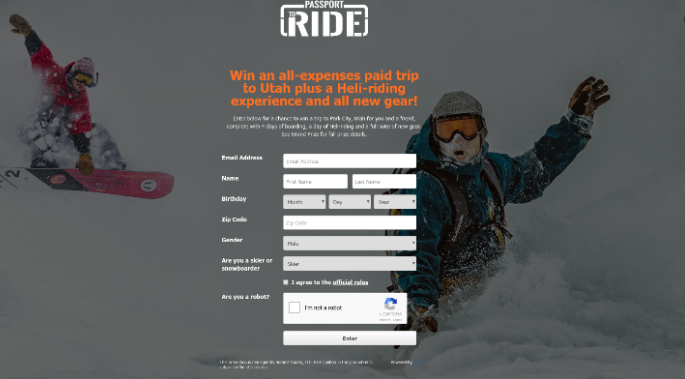 Benefits of Using a Landing Page
First, you get more space on a landing page than when you use a Facebook Tab, which limits you to around 800 pixels in width.
You can also add your own full-width background image. Furthermore, you aren't forcing people to sign into Facebook to register for your contest, which is helpful if Facebook isn't your audience's favorite platform.
Cons of Using a Landing Page
You can't leverage your existing audiences on Facebook and your website as easily using a landing page.
Best Practices for Hosting Your Contest On A Landing Page
Think a landing page is the best option for you? Here are a few best practices:
Use a simple yet striking image for the background. There is a lot of space, so you don't want a busy photo, but you do want to choose a picture that grabs their attention.
Write a catchy heading to entice users to enter. Make sure it explains the prize well.
Choose the landing page if you want to ask for a decent amount of information from entrants. The larger page makes more form fields look less intimidating.
If your goal is anything Facebook-related, this might not be the best option.
Creating a Facebook Tab
One of the most popular ways to host your contest is to embed the entry form in a tab right on your business' Facebook page. Creating the tab is easy, and you can add all the same form fields as you can on a custom landing page.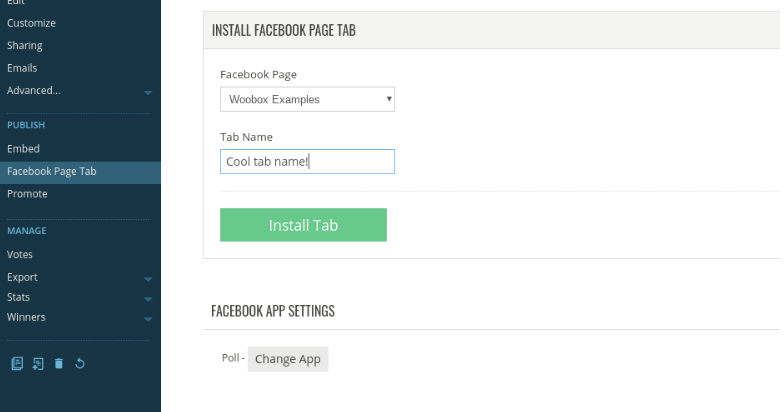 Here's an example of a live contest on a Facebook tab: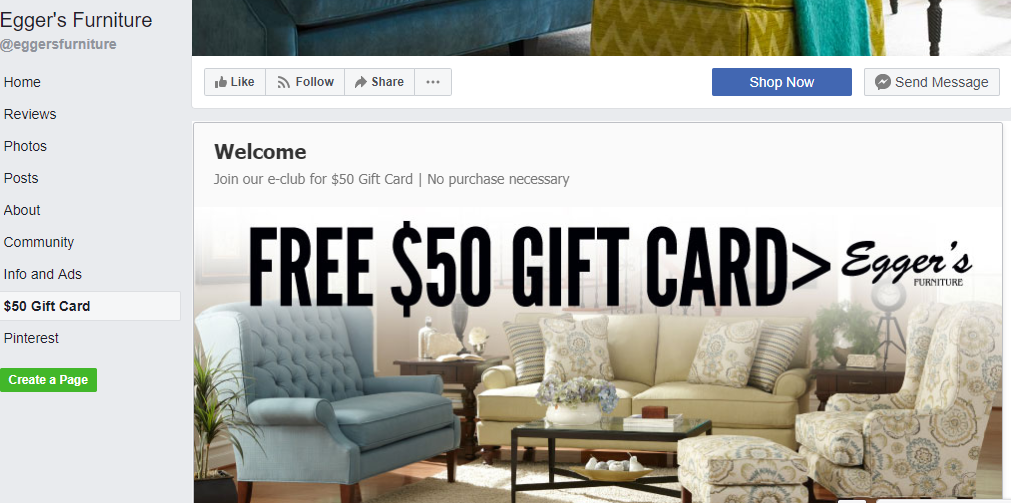 Benefits of Using Facebook to Host Your Contest
Since the contest lives on your Facebook business page, this is your best option for driving Facebook likes and encouraging engagement. While you can't require entrants to like your Facebook page, they do have to be logged into the platform to enter, which makes it easy for them to like your page.
If you already have a substantial audience on Facebook, this option offers more visibility for your contest. Another benefit is you can install a Facebook tab and embed the form on your website at the same time.
Cons of Using Facebook to Host Your Contest
The tab is small, only 810-pixels wide, which limits the space you have to use form fields and custom photos. Also, it can create a barrier for entrants if they aren't already logged into Facebook.
Best Practices for Hosting Your Contest on Facebook
Considering using the Facebook tab option? Here are a few best practices to keep in mind:
You can't require contest entrants to like or engage with your brand on Facebook (it is against the platform's terms), but you can ask.
Don't add too many form fields or you risk overcrowding the small tab.
Only ask for information you really need. Too many form fields may overwhelm entrants and lower the number of entries you get.
Consider limiting by geography so you can target users close to you. This is particularly important if you have a brick-and-mortar store.
Embed The Contest On Your Site
The last option for hosting your Woobox contest is to embed the entry form on your website. You don't need to know how to write code, but you will need to add the embed code to your site.
If you use WordPress, there is an easy-to-use plugin that makes installation pretty painless.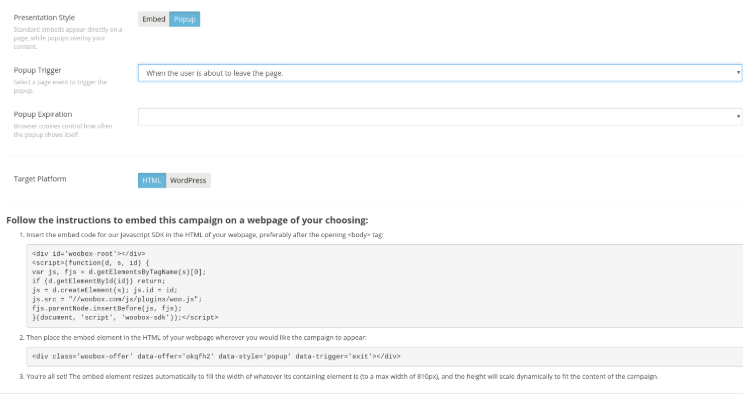 Benefits of Hosting Your Contest on Your Site
There are several benefits to hosting the contest on your site. First, you can either embed the form on a page, or use a popup. The popup can appear by user actions, for example, when they go to leave your site or after they've spent a certain amount of time on your page.
This is a good option if you have a high traffic site and can be used in conjunction with the Facebook tab form.
Cons of  Hosting Your Contest on Your Site
Unlike using a microsite landing page or a Facebook tab, you will need a little bit of tech know-how.
Best Practices for Hosting Your Contest on Your Site
Considering hosting your contest using an embed form? Follow these best practices:
Choose the popup trigger carefully. Having it trigger as an exit page may seem spammy to more tech-savvy users.
The time on page option will increase your chances of getting entries from people who are actually interested in your brand. (Since they were on your website.)
For added visibility, install a Facebook tab and embed the form on your site.
If you use a static page, consider adding a banner or popup to direct people to your contest.
Key Takeaways
Hosting a contest is one of the most effective ways to engage your audience because it offers something in return for their participation. With all the available customization options, you can quickly build a contest that will excite and motivate your audience.
Before you create your contest, here are a few things to keep in mind:
Woobox offers three ways to host your campaign: on a dedicated URL, a Facebook Tab, and embedded on your website.
There are pros and cons to each option, so choose the right one based on user behavior and the goals of your contest.
You can embed the form on your website and use the Facebook tab at the same time.
Embedding the form on your site does require some tech knowledge, but there is a plugin that makes it easier for WordPress users.