Marketing your restaurant is no easy task. From growing competition to the drop in consumer spending, building a successful restaurant marketing strategy is crucial to success.
With more than a billion monthly active users, Instagram is an ideal platform to build a following and promote your business. But how do you ensure your effort sees returns?
By following these Instagram marketing ideas to create your restaurant's perfect 2021 strategy.
Partner With Micro-Influencers to Reach a Local Audience
Influencer marketing has gained popularity in recent years, with celebrities like Kim Kardashian and Justin Bieber making millions by promoting businesses to their followers. As a restaurant, however, you likely don't have the budget to spend thousands on a single Instagram post — which is where micro-influencers come into play.
Micro-influencers have a smaller, but more targeted, Instagram audience. Unlike huge celebrities, they often have just a few thousand followers. However, if you choose the right micro-influencer, you can still reap the benefits of influencer marketing.
Rather than reaching millions of followers, many of whom likely don't live anywhere near your restaurant, you can spend a few hundred dollars to work with a local micro-influencer who can promote your business to local Instagram users.
For example, foodbabyny shares pictures and reviews of NY restaurants (along with pictures of a baby!) The account only has 300,000 followers, but this post received more than 1,200 likes in just 16 hours.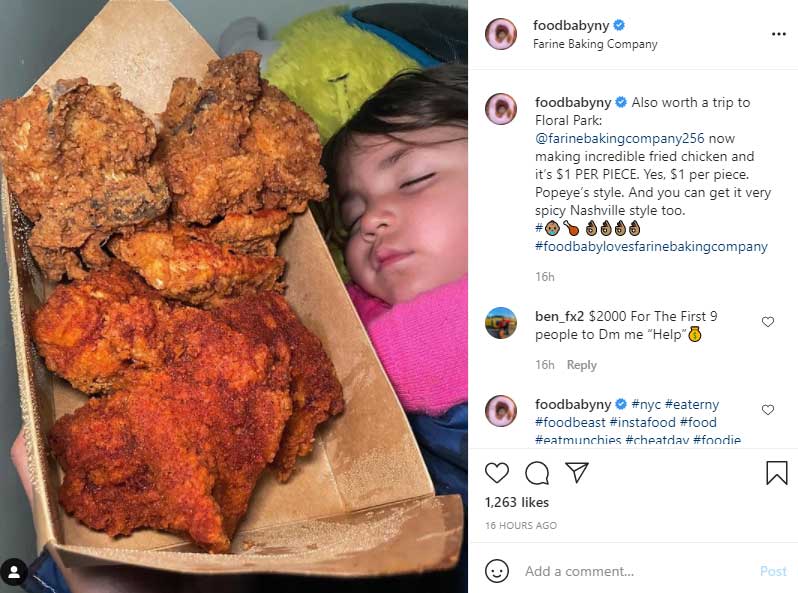 A burger restaurant might consider partnering with burgerbeast, a micro-influencer based in Miami who posts all about burgers:

Here are a few other examples: a wing restaurant could work with a local football player to promote their game-day specials. A new quirky pizza place might pair with a local DJ to get the word out.
Use an influencer marketing platform to find influencers, build a campaign, and manage payments for best results.
Increase Your Followers & Engagement Rate
Building an Instagram following is the first step in creating an effective Instagram strategy for your business. Luckily, Instagram users love food posts, so sharing images of your creations can help attract a few followers. Make sure to use local hashtags to gain attention in your area. For example, a Jacksonville, Florida restaurant would use hashtags like #jaxrestaurantreviews and #jaxfoodie.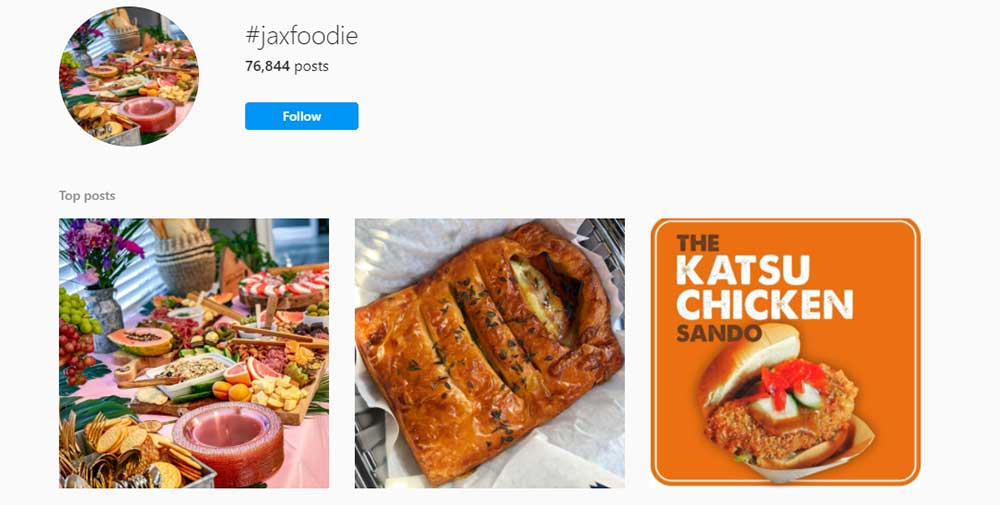 Why do followers matter so much? For starters, the more followers you have, the more people you'll reach. In addition, Instagram offers additional features to Instagrammers with more than 10K followers, like the ability to add links to Instagram Stories.
Here are a few other tips to increase your Instagram audience:
Host an Instagram contest: Giveaways and user-generated contests can increase buzz around your business.
Comment on follower's posts: Don't just talk at your followers; take the time to interact by liking and responding to their posts. Thank them for visiting and sharing posts about your business.
Instagram ads: Even a small Instagram budget can help increase your followers by carefully targeting local audiences.
Don't expect your restaurant to go from 0 followers to 10K in a few weeks. Instead, take the time to build your audience over time by reaching people likely to actually visit your restaurant with contests, local hashtags, and Instagram ads.
Host a Contest Using Instagram Stories
Instagram Stories are time-sensitive posts that show up at the top of user's feeds. They get more engagement than standard posts and disappear after 24 hours. They also allow you to post more frequently without cluttering up user's feeds.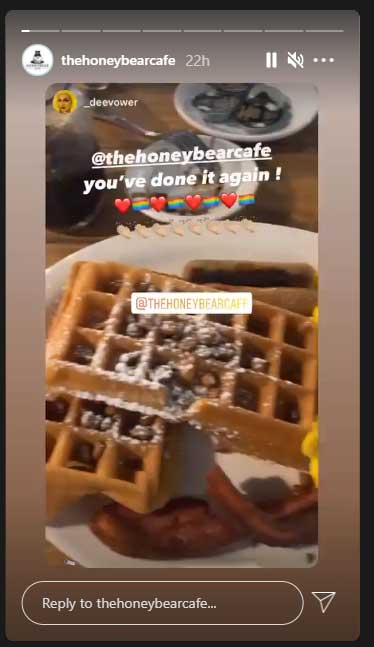 Running contests in Instagram Stories is a great way to build engagement and brand awareness. For example, you could ask users to share their favorite meal, suggest names for a new dish, or sign up for a newsletter for a chance to win a gift card or free meal.
For best results, use an Instagram contest hosting tool that makes it easy to create, launch, and promote your Instagram contest. Tools like Woobox, for example, make it hassle-free to host contests using features like an Instagram comment picker, which randomly chooses the winner of a contest to keep your contest fair.
Integratefeed post giveaways and Instagram Stories to reach Instagram users with different platform engagement styles for an even wider reach. Make sure to create a contest promotion plan to ensure your audience knows about your contest.
Plan an Instagram Content Calendar (and Be Consistent)
If you want to succeed on Instagram, you have to post consistently. The Instagram algorithm displays posts from accounts that get more engagement — and you can't get engagement if you never post.
Create a content calendar and use a scheduling tool like Hootsuite to schedule posts in advance. For example, if you have a weekly dinner special, you could schedule a weekly post.
Here are a few other ideas of content to fill your content calendar: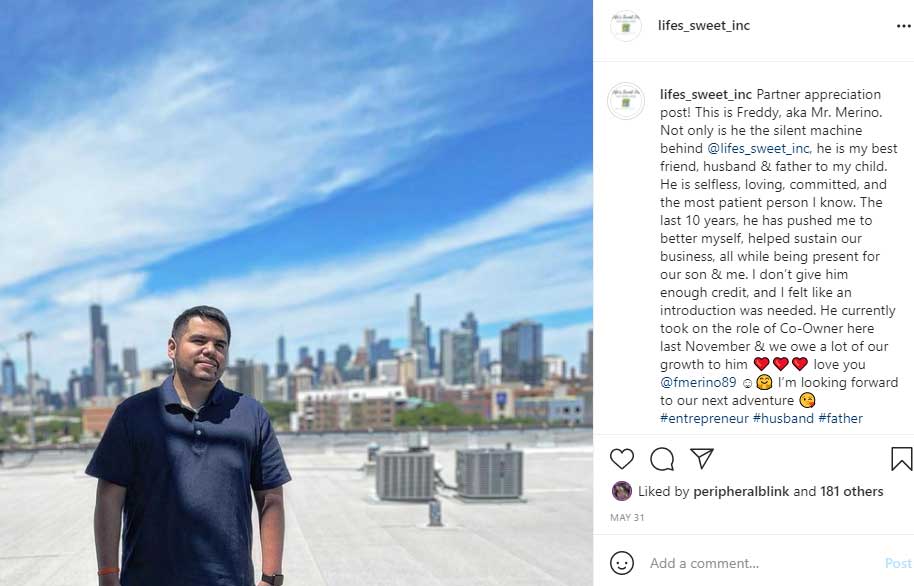 Back of the house: Take users behind the scenes by showing them how dishes are plated, what it takes to make your famous chocolate cake, or how to make your popular bleu cheese dressing. Carolina Jax, a restaurant in Jacksonville, Florida, shared this post showing how their delicous burgers are assembled:
Share specials: Share photos of your weekly specials, happy hour deals, or holiday deals. R Public House in Rogers Park, Chicago, shares their daily and weekly specials along with a picture:
Share #foodporn: Instagram loves photos of tasty food. Share photos of your most tempting dishes. For example, Honeybear Cafe in Chicago shared a huge spread of their favorite dishes:
User-generated content: Repost pictures from users who share your food, making sure to tag and thank them for sharing. Social proof is powerful, so make the most of it. (Consider hosting a user-generated content contest to encourage people to share posts about your restaurant).
Final Thoughts on Instagram Marketing for Restaurants
The popularity of food posts makes Instagram an ideal platform for restaurants looking to grow. Make sure to take advantage of all the tools Instagram offers, including Instagram Insights, and follow these strategies:
Partner with micro-influencers to expand your reach
Increase followers by engaging with users and using hashtags
Use Instagram stories to promote a contest
Plan a content calendar and post regularly
Need help growing your restaurant's Instagram account? Sign up for a free Woobox account and create a contest today. If you need help, our support team is available for help from 9 am — 5 pm PST, Monday through Friday at 1-360-450-5200 or support@woobox.com.