Instagram is a place valued each day by the hundreds of millions of people who use it. They post images about their lives, business, and what's going on in their community. It's turned into a place for people to connect with brands directly or through influencers. And these influencers are building up large audiences of users who trust and enjoy most any shared brand recommendations.
If you're growing your Instagram account to become an influencer with a larger audience, there are a few best practices for steady growth. These practices help you gain an audience passionate about the content you post.
This knowledge can help open up a wealth of opportunities for you and your account. This includes collaborating with brands, getting to travel and experience new things, and meeting people who share your same interests. Read below for some ways influencers can fine tune their Instagram account for more followers and better engagement.
Choose the Right Niche and Bio
Usually, an Instagram influencer is a single person who goes by their real name or a moniker. For instance, there's Yoga Girl, who currently has over 2.1 million followers. This differs from a brand account. Even though you may have a brand, it is mainly comprised of one person (you) as the centerpiece. The audience is following you, not necessarily your company.
This is why it's important to distinguish yourself. You can do so by choosing a specific niche. There are thousands of influencers who travel around the world. But what about influencers who are doing it to learn new languages or try new jobs? Think of a creative angle you're passionate about. Then curate a distinct Instagram feed that grabs user and brand attention.
Your bio is a good way to summarize what your niche is in a few sentences. Your bio can only have 150 characters, so be concise yet clear. You can use emojis, which is a good way to summarize your interests in just a few characters. However, many people don't search by emoji. Make sure to include spelled-out keywords related to your niche in your bio.
Your bio should also have all fields filled out, including location and URL. Location can be searched by users (so you may be more findable, especially by users in your area.) And the URL can drive traffic to your website or another place you are promoting, such as an affiliate page.

In the above example, influencer Ashley (also known as BestDressed on YouTube) includes her jobs. (She is a YouTuber with 1M subscribers.) She also includes her URL links to her latest YouTube video. Even though she has a clothing website, YouTube is her main source of revenue. It makes sense for her to drive traffic there.
Ashley's bio also speaks to her audience: it is casual and mentions her main platform. Each influencer's bio needs to match what their intended audience expects to see. For instance, a business coach would likely have a more business-like bio. This doesn't mean Ashley is not a businesswoman; but her audience is not business owners, it is fashion lovers, so that is what she focuses on.
Instagram Features You Should Use
Choosing the right niche and perfecting your Instagram bio is a great start. But there are more features that can help fill your profile to look more cohesive and robust.
The first is a color or visual theme. If you look at many influencers' accounts, their photos all have many similar traits in common.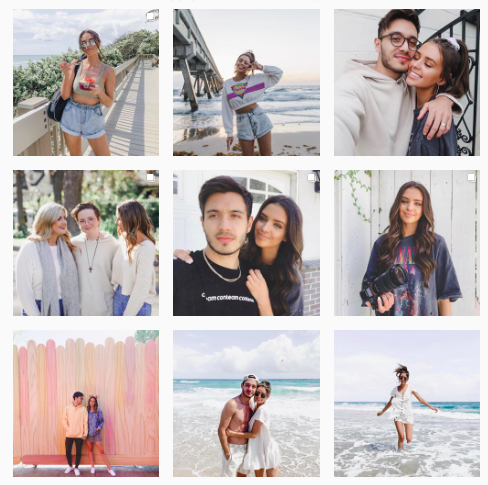 In this example, @jess on Instagram (who has over 2m followers) has a pastel and white palette to the majority of her photos. It gives a blended vibe because all the photos flow well together. Later.com has a good guide on creating a better aesthetic on Instagram.
Once you've decided on what aesthetic to go with, you can start implementing some of the other features of Instagram. These include:
Stories: According to CNBC, Instagram stories has 400 million daily users, double that of Snapchat. Verified personal accounts can add links to URLs in their stories. (A HUGE benefit for influencers to drive traffic to their website, videos, or sponsors.) They can also add fun effects like music and graphics. Stories are a great way to stay relevant and in front of your audience.
Highlights: You can save stories into specific highlight sections, which are circles across the top of your profile. This can be a good way to save your stories about main topics/niches into separate highlights.
Hashtags: Many influencers create their own hashtags to use with their followers. These are great for giveaways, check-ins, or user-generated content.
Boomerang: Boomerang is a separate app owned by Instagram that lets you take a burst of 10 photos that are turned into a mini video. This is a great way to add some movement to your feed.
Live streaming: Some social media experts believe that platforms like Instagram show preference to users who use their live streaming features. Regardless of if that's true or not, users following you get a notification in the app as they're using it when you go live, helping to draw viewers. You can also save live streams as posts for later access.
Highlights and stories should be your first priority. A majority of Instagram users look at them on a regular basis (if not every day). In this example, YouTuber Brittany Vasseur uses highlights to break up her stories into categories. These can be updated whenever she covers one of the topics listed: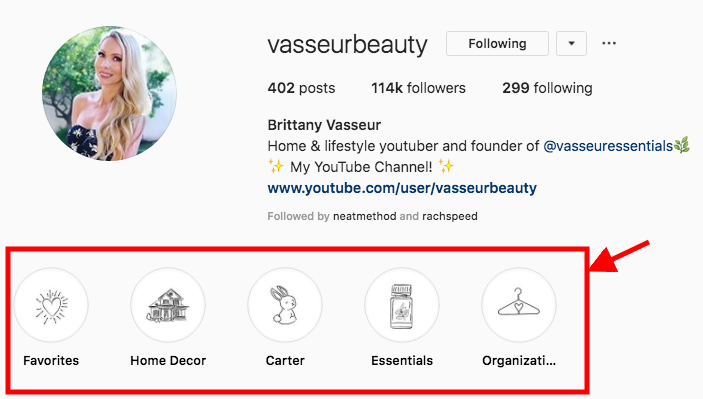 Why take advantage of all these Instagram profile features and image formats? They can dramatically help increase your visibility in people's feeds.
Instagram Content That's Working Now
Influencers utilize the above methods and capabilities to continue drawing engagement and grow their following. They also work hard to promote their shared community and urge people to have their friends join in following their posts.
Giveaways continue to be extremely popular on Instagram as a way to get followers and work with brands. Many influencers collaborate with brands to run giveaways of free products, such as the below example from Sarah Stage. Users can usually enter by commenting on the giveaway post. Once a user tags their friend in a comment to enter a giveaway, the friend is then exposed to the influencer and may follow them and the brand, thus growing the organic audience.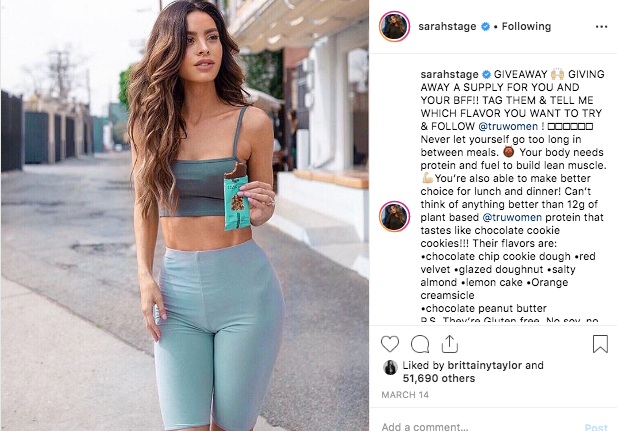 Marketing tools like Woobox's Pick a Winner then lets influencers choose the winner from the comments on the post. After choosing, you can make sure the person followed all the rules to enter before contacting them to let them know they won.
Influencers also collaborate with other similar influencers to re-share each other's posts with a tag. Since the accounts are similar, it makes sense their audiences have an interest in the other account. It's possible to do this while preserving the aesthetic of your brand. Take this example from Motherly. While they aren't an individual influencer, you can see they pulled memes or quotes from other mom bloggers or small businesses, put it on their own brand color template, and tagged the original creator in the post.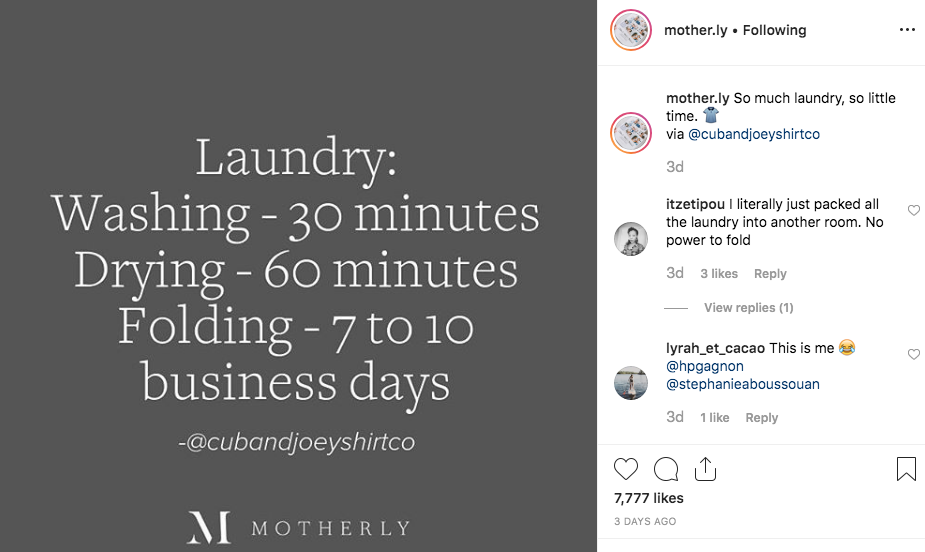 This gives visibility to the creator, who would hopefully return the favor.
Expanding Beyond Your Instagram
Successful influencers regularly expand beyond Instagram. They create their own website, e-commerce store, or informational product, like an ebook. Some like to separate their product into a separate account. Others continue to market their items on their main account.
Jenna Kutcher, the creator of the Goal Digger podcast, has a separate Instagram account for her podcast and herself. She mentions the podcast and personal profiles in each bio: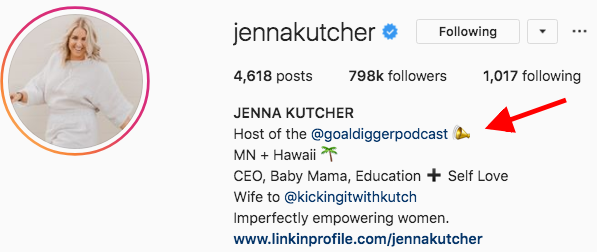 In this instance, having two separate accounts makes sense. The podcast can focus more on the guests, promoting new episodes, and quotes or inspirational insight. This frees up Jenna's personal account for more 'life' posts. It's also better for sponsored content that wouldn't make sense coming from a podcast account. (It's Jenna, not the Goal Digger brand, that is partnering with the sponsor.)
When branching out into a website and online store, the possibilities of success and traffic have dependencies. What matters most is your audience, what you're offering, and market need for the product or platform.
Growing your Instagram account as an influencer takes a lot of time, effort, and creative energy. It's possible to steadily grow your Instagram following. First, choose an aesthetic to go with and regularly use Instagram options like stories and highlights. Just make sure you're also giving back to the community. Answer questions and follow or comment on others' posts as well. Instagram can be a great outlet for users to showcase their visual creativity while building a following. All it takes is hard work and a dedicated strategy.