Instagram is a game changer. With more than 25 million businesses and 800 monthly active users, Instagram stands out in the saturated social media market.
A recent study found that Instagram users spend more time on Instagram than any other channel. In fact, Instagram users spend an average of 192 seconds on Instagram each time they visit, versus 105 seconds on Facebook.
What does this mean for you, as a business owner?
You need to be on Instagram. But more than that, you need to learn how to use Instagram effectively.
Pairing the power of Instagram with the effectiveness of online contests is one way to do just that. When done well, Instagram contests are one of the best ways to excite, engage, and influence your online audience.
However, many brands get bogged down in the details of creating an Instagram giveaway. They think contests don't work, they are hesitant to try something new, and they worry they will end up violating the terms and agreements of Instagram, without even realizing it.
Stop letting fear hold you back. Like any other business strategy, it is all about researching before you dive in. Luckily, I've gathered all the information you need to create a killer Instagram giveaway into one handy article.
Here is what you need to know if you want to harness the power of Instagram giveaways.
First Things First: Define Your Contest Goal
The first step of any online marketing strategy should be to outline your goal and define what success will look like. Instagram contests are no different. Your contest goal will inform every step of the contest creation process, from choosing a prize to setting a promotional budget.
So, whether you want to grow your audience or increase brand awareness, your first step is to define what success will look like.
Your contest goal will depend upon several factors, including your industry and the growth stage your business is in. Here are a few common goals for Instagram giveaways:
Increase Followers on Instagram
Increase traffic to a specific page
Increase brand awareness
Build brand loyalty
Grow Instagram engagement rates
Once you set a goal, define how you will measure success and what that success looks like. An increase in followers, for example, is easy to measure. But what rate of increase are you looking for? 25%? Do you want to hit 5,000 or 10,000 followers?
If you want to increase engagement rates, how will you measure them? If you have a business account, Instagram Insights has this information. But, some Instagram tools calculate engagement as well. Which will you track? What rate will you consider successful?
Asking these questions before you start planning will set you up for success from the start.
Research Effective Hashtags to Increase Reach
Hashtags are used to categorize content on Instagram. Users can search for hashtags to find related content, and they can also follow specific hashtags. It is an easy way for users to find the content they are interested in.
But how do you know what hashtags to use for your contest?
You can start by just searching for topics related to your brand on Instagram. For example, say you are doing a yoga mat giveaway. Searching '#yogamat' will give you a list of related hashtags, including the number of posts for each tag. You can choose the most popular ones to include in your contest announcement.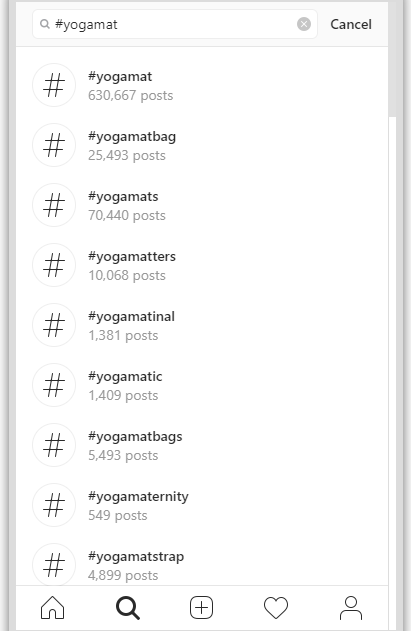 You might also consider a broader hashtag, such as #yoga to get more reach. However, broader hashtags can sometimes be overly saturated. You can include up to 30 hashtags per posts, so don't feel like you have to stick to just one or two hashtags.
Or, instead of searching and guessing what hashtags will help your contest, consider using an Instagram hashtag tool, such as Hashtagify. They will give you tons of information about the popularity of the tag, related hashtags, where the hashtag is used, and much more. Use this information to see if a specific hashtag will help you reach your audience.
Here is a peek at the info for #yogamat: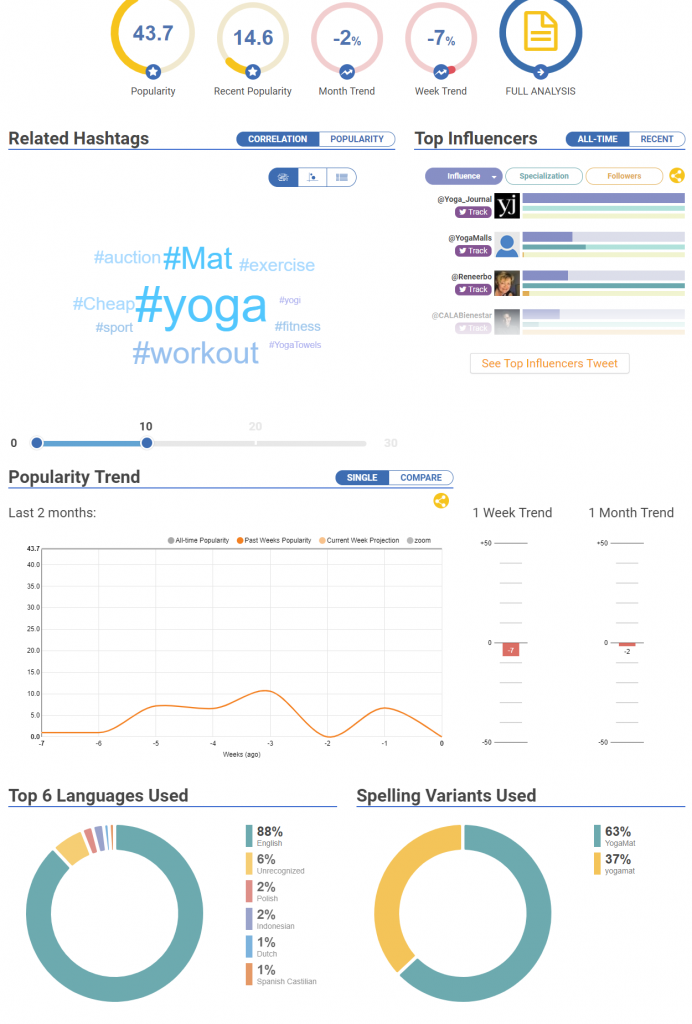 There is tons of information you can use to choose a hashtag that is likely to reach your target audience. The tool is free to use, or you can pay for a full analysis.
You can also check out competitors and see what tags they use, then plug those into Hastagify to see if they will work for your contest.
Choose Your Contest Prize Carefully
Your contest prize can have a significant impact on the number of people who enter and the type of people who register. Your goal is to attract your target audience, right?
If you offer an iPad as a prize, you will get entries from people who don't care at all about your brand; they just want an iPad. On the other hand, if you offer a prize that is too specific, you will limit entries. Finding a balance between the two is important.
Here is an example of a well-chosen prize from swimsuit store Title Nine. They offered a $500 shopping spree at their store.
The prize is big enough to be exciting but still very specific to their brand. Even if someone hasn't heard of Title Nine, they are likely to be excited by the chance to win $500 in bathing suits. It is a perfect balance between related to the brand and still exciting.
For best results, choose a prize that is:
Related to your brand or your industry
Valuable enough to be exciting
Not so valuable or broad that you attract prize seekers who have no interest in your brand
Examples of good contest prizes include gift cards, product giveaways, event passes, and unique experiences. For example, meet the founder or a trip to a yoga retreat with the team.
Make Entering Your Contest Simple
Stephen Krug's book Don't Make Me Think is one of the most popular books on web usability. The premise is precisely what you expect: Don't make the user think about what to do next. Instead, make it simple for them to complete the task at hand.
The same applies to contest entries. Users don't want to struggle to complete a complicated list of steps. They don't want to switch between platforms. If you want more entries, then make it easy for users to enter.
This does not mean you can't ask them to complete a task, such as follow your Instagram account. It just means don't make the process overly complex. If the process is too complicated, people won't enter your contest.
The easiest way to create a simple contest is to host it on a platform, such as Woobox. They help streamline the entry process while making sure you get all the information you need.
However, if you choose to create your contest manually, make sure your instructions are clear and keep the process simple.
Make Sure You Follow Instagram's Terms & Conditions
Instagram's promotional guidelines are pretty straightforward, but failing to adhere to them can have consequences, including Instagram removing your post or even banning your account. Not worth it!
Here is what you need to know about Instagram Terms & Conditions:
You must have "Offical Rules" for your contest
You must outline terms and eligibility requirements. For example, if your contest is limited to residents over 18 or who live in a particular state.
You must comply with local laws and regulations governing contests, for example, if your state requires you to register the contest. (This article gives a quick overview, but you need to research laws specific to your location.)
You cannot tag people in photos they are not present in or encourage others to do so.
You must release Instagram from liability and acknowledge the promotion is not sponsored or administered by Instagram.
You can read Instagram's promotional guidelines here.
Sounds like a bunch of legalese, right? It isn't super complicated.
Here is an example of Official rules from Instagrammer RachelOffDuty.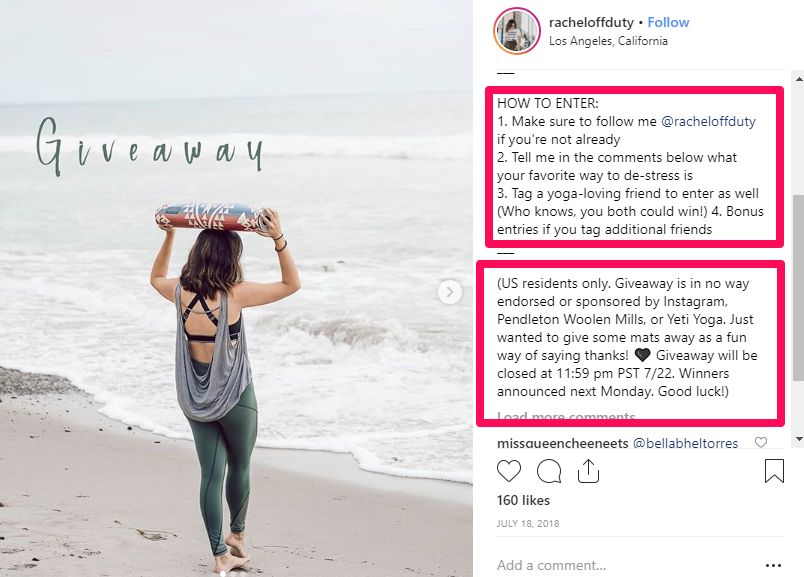 She does a great job of including all the required information, but also makes it her own with the addition of "Just wanted to give some mats away as a fun way of saying thanks!"
Leverage Instagram Stories To Increase Entrants
Instagram Stories allow users to post videos or photos that vanish after 24 hours, much like Snap Chat. According to Instagram, more than 500 million accounts use Instagram Stories every day.
So, why share your contest through Instagram Stories? Well, there are several benefits. On Instagram, Stories show up at the top of users' newsfeed, which means they get a ton of views.
Here is where Stories appear on mobile devices: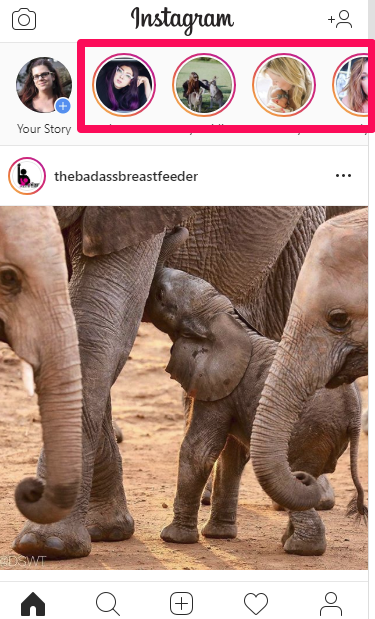 In addition to higher viewership, Instagram Stories also allow you to include links, location tags, and even tag products.
(There are a few catches here, you will need to have an Instagram business account and either be verified or have 10,000 followers to add links to your stories. Product tagging is only available through Shopping, which has its own set of requirements.)
Finally, Stories allow you to share a lot more information than just a single post. You can add multiple photos, include videos, add stickers, or even use features like Boomerang to create fun, engaging content.
But, all that work will disappear after just 24 hours…or will it? That is where Instagram Highlights come in.
Use Instagram Highlights to Share Info About Your Contest
Instagram Highlights are an offshoot feature of Instagram Stories. Stories disappear after just 24 hours, but you can save your posts as a "Highlight," which appear at the top of your Instagram profile page. These never expire, they stay on your account until you remove them. You can add dozens of Highlights, and the most recent one will always show up on the far left.
Here is an example of using Highlights to showcase a contest.
Here is an example. Entangledteen is an Instagram account that promotes YA books, and they often do giveaways. When you click on their "Giveaway" Highlight, you see information on how to enter their most recent giveaway.
Highlights stay on your profile until you take them down, unlike Stories. Instagram is a fast moving platform; if followers don't see a post on the first day, they may never see it. By saving Stories in Highlights, your followers are more likely to see your contest announcement.
Cross-Promote Your Contest for a Wider Audience
Last but not least, make sure to cross promote your contest. Just because you are hosting the contest on Instagram doesn't mean you can't post about it on other platforms. Your goal should be to share your contest with as large of an audience as possible.
Here are a few places to cross promote your contest:
Facebook business profile
Facebook groups
Twitter
SnapChat
Your email list
Your website (write a post or use a popup)
Also, don't forget to post about your contest on Instagram more than once! Posts have a short shelf life, and not all followers will see your first post. Post an announcement, but make sure to remind people a few times.
Final Thoughts on Instagram Giveaways
Hosting a giveaway on Instagram can be an incredibly effective way to increase your brand reach, grow your followers, or even build brand trust. It doesn't have to be complicated. Follow the tips above, and you will be on your way to a successful Instagram contest.
Have you considered hosting an Instagram giveaway? What is holding you back?
Woobox makes hosting an Instagram Giveaway stress-free. Gather entries, motivate followers to share, inspire audiences to engage with you, and even chose winners all on easy to use platform.
Got questions? The Woobox Support staff are happy to provide a walkthrough answer any questions you have via phone or email. Support is available 8-5 PST, Monday to Friday at 1-360-450-5200 or woobox@support.com.