Instagram is a powerful (and budget-friendly) way to grow your small business. Using photos, videos, and some of Instagram's newer features, you can build your brand, connect with current customers, and make sales right in the Instagram app.
Like most social media apps, Instagram is constantly updating and adding new features. Strategies that worked last year might not work this year. New opportunities arise, and the competition gets more fierce every year. How can your business make the most of one of the most popular social media apps?
It's time to try something new with Instagram. Here are a few ways to revamp your Instagram strategy for 2021.
Instagram Marketing Strategies to Test in 2021
As of January 2020, Instagram boasts more than 1 billion monthly active users. Plus, more than 500 million users view Instagram Stories every day. And it's popular with businesses, too — more than 73% of businesses use Instagram to promote their business and connect with their audience.
Some business owners, however, are still relying on the same stale Instagram strategy. Let's cover a few ways to freshen up your Instagram approach in the new year.
Check Out On Instagram
Check out on Instagram is a newer feature that allows users to shop right from their Instagram feed. This is especially useful for e-commerce businesses or any business that relies on online sales. Rather than hunting for a link to buy a product they see in their Instagram feed, users can tap images and make a purchase in just a few clicks.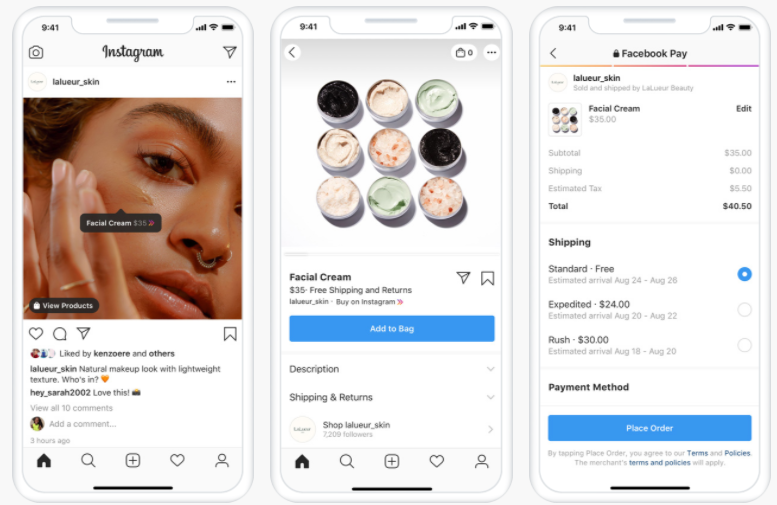 Check Out on Instagram can be a powerful way to reduce friction in the buying process. Make sure you have a Business or Creator account and an Instagram Shop. It's also worth noting that Instagram Check Out works in Stories as well as standard posts on your feed.
Make the Most of User-Generated Content
User-generated content is a staple of Instagram — in fact, it even has its own word: "re-gramming." User-generated content like reviews and photos establish trust with your audience and allow you to share more useful content with your audience. In fact, 79% of consumers say user-generated content impacts their purchase decisions.
Here's an example: Curious Handmade is a knitwear design company created by Helen Stewart. In addition to sharing her own content, she also reposts images from her community, like this one from a follower working on one of her patterns: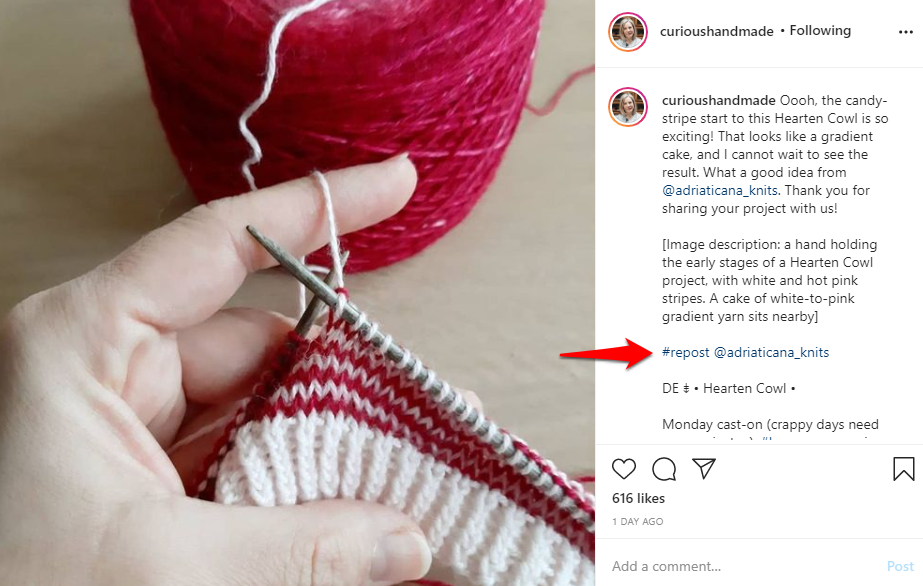 Sharing user-generated content makes it easier to show how her designs work up and build a stronger connection with her community of knitters.
If you aren't already sharing user-generated content, make 2021 the year. Ask your users to share pictures of themselves using your products, share unboxing videos, or leave reviews. If you already have a steady stream of user-generated content, start sharing it on Instagram — just make sure to thank the original poster.
Try Instagram Ads
Instagram Ads aren't a new feature — but they do tend to be underutilized. Instagram Ads work similar to Facebook Ads (in fact, they can be managed from the same Ad Manager dashboard) and allow you to promote posts, increase video views, and drive clicks to your website or apps.
Average ROI varies, but Instagram does tend to have a higher ROI than many other social media platforms. Currently, you can choose from several different Instagram ad types, including:
Photo ads, similar to boosted posts
Sponsored ads — these don't show up in your Instagram feed but display a "sponsored" label to targeted Instagram users.
Story ads, which show up when users watch their friend's Stories.
Video ads, similar to sponsored ads but with a video instead of photos
IGTV ads (Instagram TV)
Carousel ads, which include multiple images.
If you haven't tried Instagram Ads yet, consider adding it to your strategy for the new year. This guide to advertising on Instagram from WordStream will get you up to speed.
Test New Content Types
It's easy to let your marketing strategy fall into a predictable pattern — especially if you find something that seems to work. However, social media is constantly changing, and your audience's preference may shift. Rather than sticking with what works, take the time to try out new content types regularly.
For example, if you haven't tried Instagram Stories, you may find your audience engages more with Stories than standard posts. Here are a few new (and not so new) content types to test in 2021:
Instagram Reels: Reels are short, 15-second multi-clip videos that can be customized using Instagram's creative tools to add audio and other effects. If you have a public account, they can be discovered through the Explore feature to reach a wider audience.
Instagram Contests: Engage followers with quizzes, photo contests, caption contests, and giveaways using tools like WooBox to create fun, interactive content. You can select random winners using our Instagram Comment Picker or choose winners by popular vote — which helps make the most of user-generated content.
Instagram Stories: Instagram Stories are time-sensitive posts that show up at the top of users' Instagram feed. Stories can be used to show customers a deeper look at your company, launch new products, ask questions or even host polls. Use stickers, GIFs, location tags, and even music to create fun, interactive content that expires after 24 hours.
Instagram Highlights: Instagram Highliglights are Stories that live permanently on your Instagram profile. Use them to categorize content, like recipes or product videos, and direct users to your most interesting content.
Make sure to set goals and track metrics like engagement or website clicks to figure out which types of content connect with your audience. Use Instagram Insights to understand your audience and see how your new content performs!
Conclusion
Instagram is an ideal social media app for small businesses, especially at a time when people are spending more time at home and less time in stores. Just remember that you can't set it and forget it — you'll need to review and revamp your Instagram strategy regularly to make sure that you are making the most of the platform.
As you plan your Instagram strategy for 2021, here are a few testable strategies:
Use Checkout on Instagram to sell products.
Make the most of user-generated content.
Try Instagram Ads to increase traffic and engagement.
Test out new (to you) content types to see what your audience likes
Ready to create an Instagram contest? We can help. Woobox Support is available from 8 am to 5 pm PST, Mon. through Fri at 1-360-450-5200 and support@woobox.com.