The gift-giving struggle is real. But you already knew that if you've ever spent hours scouring Amazon in a desperate attempt to overnight a present. In fact, the pressure of finding the right gift stresses out 79% of consumers, according to a study conducted by Needle. But it doesn't have to be this way.
You can give customers the best gift of them all this holiday season — a zero-stress way to find the perfect present — wrapped up in the form of a personality quiz.
Gift personality quizzes, which are a slight twist on the traditional personality quiz, are a fun and easy way to get gift ideas based on the recipient's personality — whether it's moms, dads, husbands, wives, children, best friends, or even pets.
2 Gift Personality Quiz Examples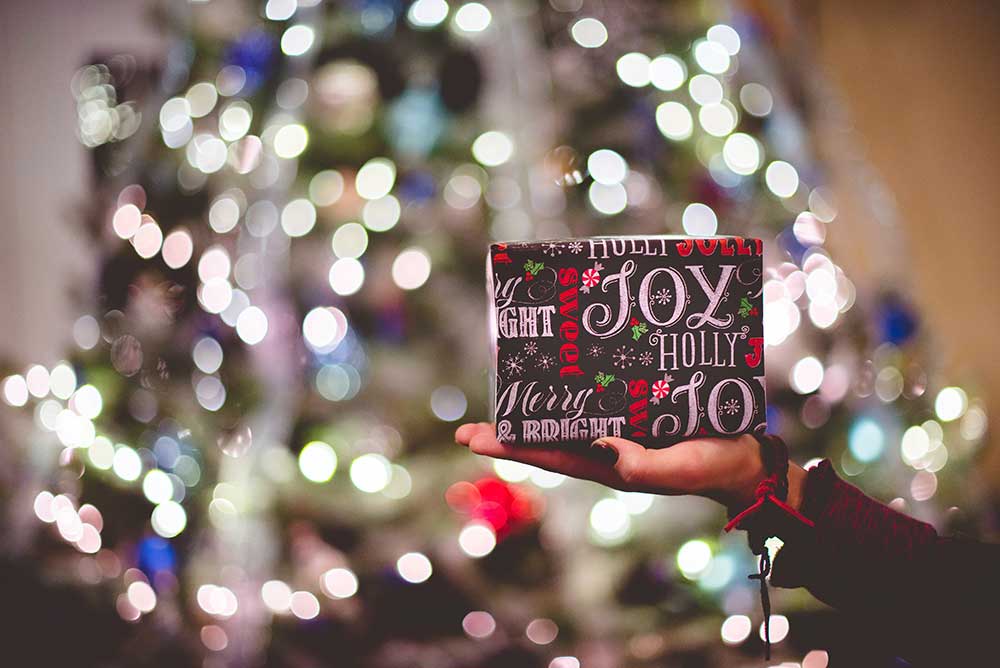 Photo by Ben White on Unsplash
In the hustle and bustle of the holiday season, eye-catching interactive content can be a very merry way to break through the noise. Plus, visual content — like quizzes with images or gifs — is 40 times more likely to be shared on social networks, says Outgrow.
But if you're new to making quiz content or just need a little inspiration, you'll find two examples below, complete with sample questions and results, to use as a guide. Ready to get started? You're going to be a quiz whiz in no time!
Female Personality Quiz Example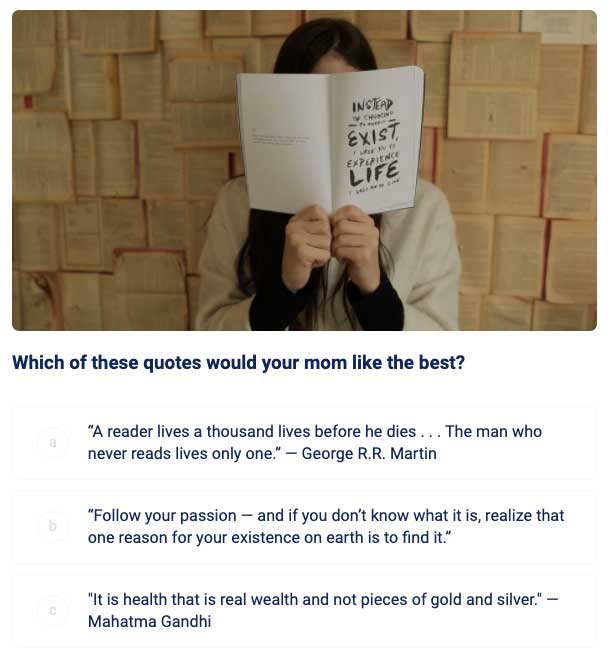 Whether it's moms-to-be or empty-nesters, at least one subset of moms (if not more) are likely to be in your target market. For that reason, our first gift personality quiz will focus on helping customers find "gifts for moms." Which, by the way, gets a minimum of 100,000 searches per month.
Keep in mind that the different personalities you select for your quiz should align with the products/services you offer. We've included three different personality types, sample questions, and results, but you can — and should — do more to increase your odds of nailing the personality/gift recommendations.
Sample headline
QUIZ: Find the Perfect Gift for Mom Based on Her Personality
Sample personality types
The Bookworm
The Workout Queen
The Boss
Sample questions
1. Which of these quotes would your mom like the best?
"A reader lives a thousand lives before he dies . . . The man who never reads lives only one." — George R. R. Martin (The Bookworm)
"It is health that is real wealth and not pieces of gold and silver." — Mahatma Gandhi (The Workout Queen)
"Follow your passion — and if you don't know what it is, realize that one reason for your existence on earth is to find it." — Oprah Winfrey (The Boss)
2. What is your mom's go-to weekend activity?
Hosting a virtual book club (The Bookworm)
Trying a new fitness class (The Workout Queen)
Checking her email (The Boss)
3. If your mom won $10,000, what would she be most likely to spend it on?
A trip to see the birthplace of her favorite author (The Bookworm)
An overseas yoga retreat (The Workout Queen)
A home office renovation (The Boss)
Sample results
The Bookworm
She lives for a good book, and almost always thinks the film adaptation was a waste of time… your mom is definitely a bookworm! Check out these curated gift ideas for literature lovers. Use READ for 10% off.
The Workout Queen
She's always the one to suggest a walk after Thanksgiving, and spin class is her favorite hobby… your mom is a proud workout queen! You can't go wrong with these curated gift ideas for fitness fans. Use FIT for 10% off.
The Boss
Who's the boss? Your mom! She's passionate about her work, and it shows in everything she does. Check out these curated gift ideas for boss babes. Use BOSS for 10% off.
Male Personality Quiz Example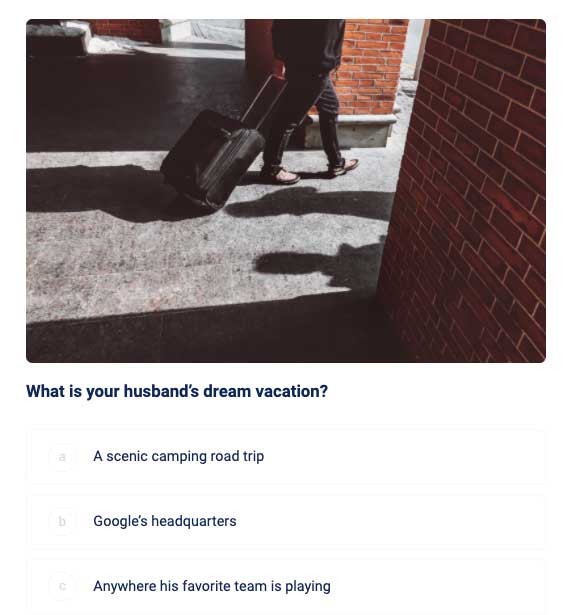 Husbands… can't live with 'em… can't buy 'em a gift? Apparently, husbands are the most difficult person to buy for during the holiday season, says a survey conducted by Needle. And if that wasn't enough, one in four respondents also noted that they have "zero confidence" when it comes to finding a gift for their spouse.
Consumers are clearly in desperate need of gift guidance for husbands, so this personality quiz example will focus on three potential personality types.
Sample headline
Get Creative Gift Ideas for Your Husband by Answering Three Questions
Sample personality types
The Outdoorsman
The Sports Fanatic
The Tech-Obsessed
Sample questions
1. What is your husband's dream vacation?
A scenic camping road trip (The Outdoorsman)
Anywhere his favorite team is playing (The Sports Fanatic)
Google's headquarters (The Tech-Obsessed)
2. Which of the following best describes your husband?
Rugged (The Outdoorsman)
Passionate (The Sports Fanatic)
Geek chic (The Tech-Obsessed)
3. Which of these shows would your husband be most likely to watch?
Naked and Afraid (The Outdoorsman)
Friday Night Lights (The Sports Fanatic)
Silicon Valley (The Tech-Obsessed)
Sample results
The Outdoorsman
The mountains are calling, and he must go! Your man is happiest when he's camping under the stars or fishing for his dinner. Check out these curated gift ideas for outdoorsmen. Get free shipping with code RUGGED.
The Sports Fanatic
Nothing makes your husband happier than a good game and a big-screen TV. Treat him to any of these curated gift ideas for sports fanatics and he'll be your No. 1 fan! Get free shipping with code GOTEAM.
The Tech-Obsessed
He gets excited about phone updates and reads video game news for fun — yep, your husband is tech-obsessed! Check out these curated gift ideas for tech lovers. Get free shipping with code TECH.
10 Tips for Making Your Personality Quiz a Success
Now that you've seen sample content, check out the tips below to help make your next gift personality quiz a success.
1. Be creative
Consumers could be looking for gifts for everyone from cousins and cats to babies and brothers. (They could even be looking for themselves!) Get creative with your gift personality quizzes and target as many potential customers as possible.
2. Adjust for your brand
The provided examples were written in a casual, conversational style that may not be appropriate for your brand. Consider your demographic when selecting the tone and language used in your personality quizzes.
3. Find the right length
If your quiz is too short it might not lead to an appropriate result. Too long, and consumers may lose interest. Aim for at least five personality types and five to seven questions per quiz.
4. Link like a pro
One of the most important aspects of your quiz is what you'll link to in each result. Linking to a landing page gives consumers a variety of tailored gift ideas (and a greater chance you'll get the sale), but linking to a product page works too.
5. Include great visuals
Try a free stock site like Unsplash to add engaging visuals to your quiz. You can also use gifs if appropriate for your target audience.
6. Switch it up
When creating quiz questions, vary the order per slide so it's not overly obvious to the quiz-taker that selecting the first answer each time will lead to a specific result, and so on.
7. Throw them off course
Add one or two 'wild card' questions to your quiz. These just-for-fun questions will keep consumers engaged, and they won't affect results if you select each personality type as a potential response when setting up your quiz.
8. Incorporate SEO
If you have a blog, research keywords relevant to the personality quiz you want to create. Example: "unique gifts for boyfriends," "fun gifts for dogs," etc. Use the keyword in a blog post that features your quiz to help generate organic holiday traffic.
9. Include a discount code
Include a discount code in the results of your quiz to encourage an immediate buy. If you're using the quiz on your blog (or anywhere it'll be up long-term), make sure to keep the discount code live to avoid frustrating quiz-takers and losing sales.
10. Share everywhere
From blog posts and email marketing to paid ads and Instagram stories, share the quizzes you create across channels to reach as many potential holiday shoppers as possible.
It's the Most Wonderful Time of the Year… for Interactive Content
Give the people what they want this holiday season — an entertaining way to get personalized gift ideas without having to leave their couch. Interactive content has many uses, but quizzes are fast, fun, and effective.
Whether it's Christmas gifts for babies, Hanukkah gifts for teens, or even White Elephant gifts for co-workers, get niche with your personality quizzes to target shoppers all holiday season long.
Summary
How can you get your business noticed during the busy holiday season and demonstrate your value to consumers at the same time? By creating gift personality quizzes!
Choose quiz topics based on your target audience
Select quiz personality types that align with the products/services you sell
Link each quiz result to a curated landing page or to a product page
Add a discount code to each quiz result to boost chances of getting the sale
Promote personality quizzes across channels
Woobox Support
Keep your audience coming back for more with interactive contests, quizzes, and giveaways. Woobox Support is available from 8 am to 5 pm PST, Mon. through Fri at 1-360-450-5200 and support@woobox.com.