Instagram makes it easier than ever for businesses to connect with hundreds or even thousands of prospective customers. With 1 billion monthly active users, it's easy to see why thousands of businesses are using the social media platform to launch new products, build their brand, and promote contests.
One of the greatest challenges to building a successful Instagram strategy is figuring out when to post. After all, posting at the right time make the difference between a viral post and…crickets.
The problem is there's a ton of conflicting stats on the internet. Should you post early in the morning to catch folks before work? Or late at night for those scrolling through Instagram before bed?
So when is the right time to post on Instagram in 2020? Let's take a look at the stats.
The Best Times to Post to Instagram, On Average
When Instagram first launched, posts showed up in chronological order. If you scrolled your feed, you would eventually see everything your friends posted.
Today, Instagram uses an algorithm to decide which posts users see. The algorithm looks at factors like whether users have interacted with your content before, engagement, and when the users last opened the app.
One of the most important factors in Instagram's algorithm is how much engagement a post gets in the first 30 minutes. That means nailing the right time to post on Instagram is more important than ever.
So when is the best time to post on Instagram? 
The truth is, there's no one perfect time to post on Instagram. If there was a 'perfect' time and every brand posted then, your post would still get lost in the noise. But there are better times to post, on average.
According to Later.com, the top times to post on Instagram are:
Mondays: 6am, 10am, and 10pm
Tuesdays: 2 am, 4 am, and  9 am
Wednesdays: 7 am, 8 am, and 11 pm
Hubspot, on the other hand, suggests posting between 2 and 3 pm Central time. (Which is 3 to 4 pm for East Coast folks.) They found that Thursday is the best day to post — but not just at 4 pm, but also 5 am and 11 am.
Sprout Social, on the other hand, finds that Wednesday at 11 am and Friday from 10 to 11 am are the best times to post.
It's frustrating when there doesn't seem to be one right answer!
Here's the thing:
The right time to post on Instagram is when your audience is most active, not when the largest number of people are on Instagram as a whole. 
How to Find the Right Time to Post on Instagram for Your Business
The right time for your business is unlikely to be the same as every other business. For example, a business that targets teachers might find that 5 am posts do really well — likely because teachers get up early to head to school. A business that targets restaurant owners, however, might find mid-afternoon posts do well as managers are unwinding after the lunch rush.
Plenty of other factors might impact the best times to post to Instagram. Seasons, the pandemic, and sports games, and holidays can also impact the best times.
So how do you find the perfect time post on Instagram?
Look at Instagram Insights
Instagram Insights is the native analytics platform in the Instagram app. To access the data, you'll need a business account and more than 100 followers. Then, tap the profile picture in the bottom right corner of Instagram and select "Insights."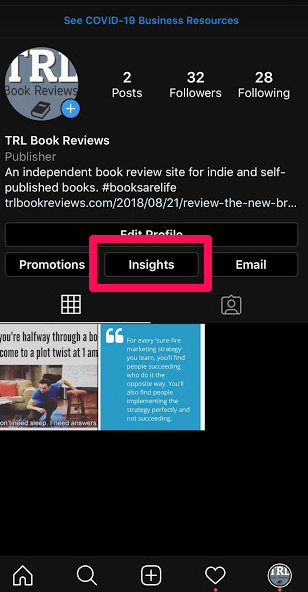 Next, select "Audience" and click "Learn more."
There, you'll see a full page of information about your followers. Scroll past gender, age, and top locations to the visual graph of the days and times that your Instagram followers are most active.
The best time to post on Instagram is when your followers are most active, and thus more likely to see your posts.
Check Your Engagement Analytics
Another method for finding the best time to post is by looking at the past. Which posts have gotten the most likes or comments in the past few months? Go to Insights, as described above, then look at "Content." This will show you which posts, stories, and promotions have been most successful.
Make a list of the top 10 to 15 posts and what time they were posted. If several posts were around the same time, then test posting at that time and track engagement.
If you use an Instagram tool like Later or HootSuite, they might offer additional analytics, so be sure to check.
Check Out the Competition
What if you are just getting started on Instagram? You might not have access to data about when your audience is most active. Or maybe you just want a bit more data. In that case, try seeing what times your competition posts on Instagram!
Search for main key terms or popular industry hashtags and find the top three to five accounts in your industry. Then, look at what times they are posting.
Instagram doesn't leave time stamps past the first day, so you'll have to follow those accounts for a week to track when they post. Check each account a few times a day and note when they post, then check how many likes or comments each post gets after the first week. Then test those times for your brand.
Test!
The best way to find the perfect time to post on Instagram for your business is to test several times and see which posts get the most engagement. You might find that what works for other brands in your industry doesn't work for you. Or, you might discover early morning posts or late nights do well because no one else is posting!
Conclusion
Instagram is a powerful tool for businesses looking to promote contests, build their brand, or drive actual sales. Finding the right time to post on Instagram, however, can be a challenge. Here's how to find the right time for you:
Check Instagram Insights
Look at past posts
See what your competition is doing
Test!
Looking for a fun, engaging way to build your Instagram account? Woobox makes it easy to create, edit, and launch a contest, giveaway, or sweepstakes. Need help getting started? Woobox Support is available from 8 am to 5 pm PST, Monday through Friday at 1-360-450-5200 and support@woobox.com.