Instagram has a massive amount of reach — in fact, more than 500 million users log on to the photo-sharing app every day. If you want to increase the reach of your local business, Instagram is an incredibly useful platform.
Scheduling app Tailwind found that accounts that hold contests grow 70% faster than accounts that don't and Instagram contests tend to earn 64 times more comments and 3.5 times more likes compared to 'normal' content.
Local businesses, however, face unique challenges when building Instagram contests. For example, how do you limit your contest to a local audience?
As a local business, how do you adjust this highly effective strategy to work for your business? Here are a few examples — and tips for building an effective local Instagram giveaway.
3 Creative Instagram Giveaway Ideas (With Examples) 
If you are looking to drive traffic, likes, and engagement, an Instagram giveaway is the way to go. However, as a local business, you need to be strategic about prizes and entry requirements to ensure you engage a local audience — not just anyone who wants free stuff. Here is how three businesses use Instagram contests to grow — and what you can learn from them.
Mrs. American Pie's Pie Day Giveaway
Instagram can give a local brand massive reach — which is not always a good thing when you are trying to attract a local audience. This pie giveaway by Valdosta-based Mrs. American Pie leverages the reach of social but keeps it local by giving away a tasty pie for March 14, aka pie day.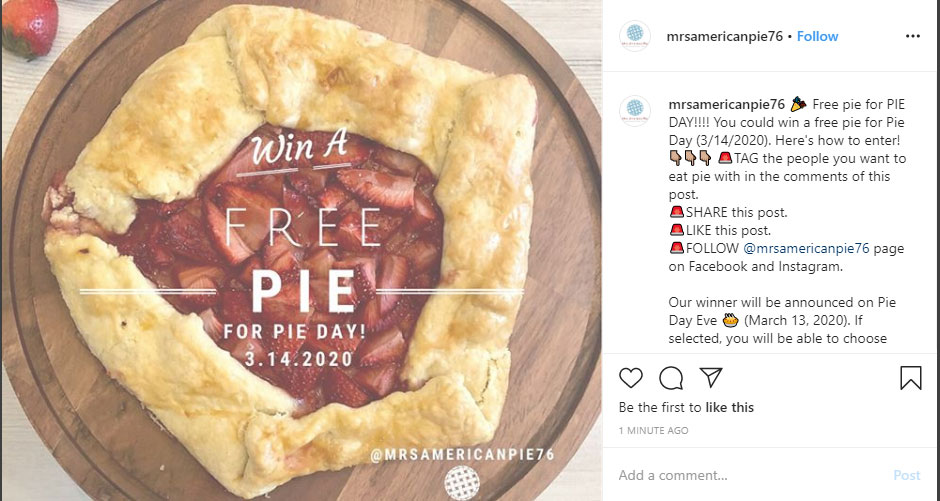 Here are a few strategies that help improve this giveaway's chances of success:
The prize requires local pickup, which helps reduce entries from non-local folks.
The post mentions a bit about the pie, like how many people it feeds, which educates customers who might want a pie for the holidays or another special occasion.
The contest uses a clever play on words (pie for pie day!) that is likely to stick in people's minds.
#InJoy Photo Contest by St. Supéry Estate Vineyards and Winery
Created by a California-based winery, this Instagram giveaway balances attracting a local audience and engaging folks who might travel into the area for wine tasting.
To enter, users are asked to submit photos of what brings them joy along with a creative caption. Winners are chosen monthly, based on votes, and have to opportunity to win prizes like expensive wine glasses, cutting board and knife set, or a gift basket. Users shared photos of themselves enjoying wine with friends, relaxing with their pups, and traveling.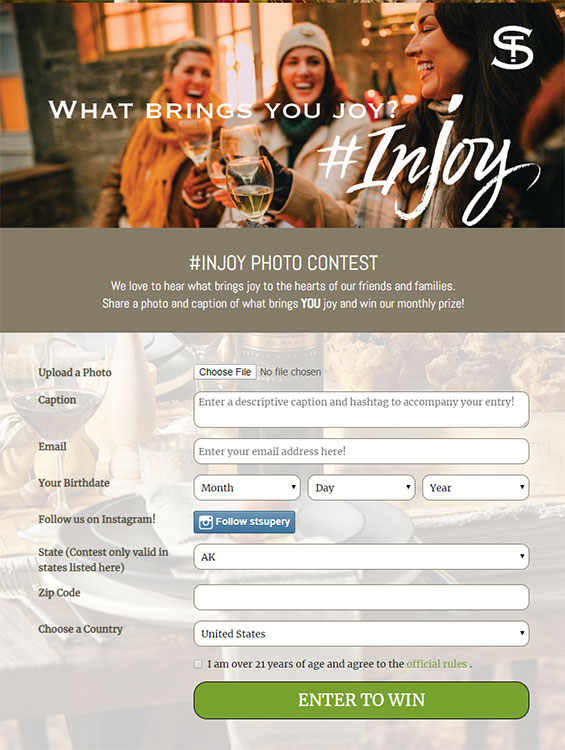 There are a few reasons why this contest stands out:
The prizes are related to wine, cheese, and dining, which attracts entrants interested in the winery.
Winners are selected by vote, which encourages users to share their entry with friends — even those outside of the local area.
The entry form suggests liking the account on Instagram and collects email addresses, which gives the brand multiple ways to contact entrants in the future.
Becki Owens Vintage Rug Giveaway 
Interior designer and blogger Becki Owens recently hosted a giveaway on Instagram by partnering with a handmade rug designer she loves. She shared the giveaway using a very on-brand photo of a bright, well-designed kitchen and a photo of one of the rugs followers could choose. The contest post received more than 13K likes.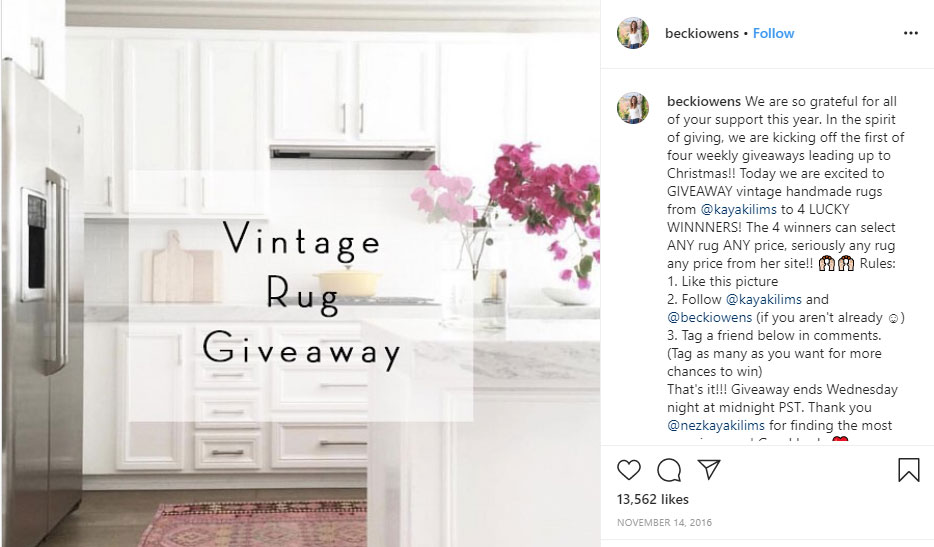 What can local businesses learn from this successful contest?  Here are a few strategies you can use in your own giveaway:
Partner with another influencer or local business to increase your contest's reach.
Offer a prize you know your audience will love.
The suggestion to tag friends (which is not against Instagram's terms and conditions) to increase the promotion's reach.
Tips for A Successful Instagram Giveaway 
Ready to try your hand at building an Instagram giveaway? Here are a few tips to help build a successful locally-focused giveaway that will drive likes, engagement, and long-term sales.
Make Sure the Rules are Clear
According to Instagram's promotion guidelines, you must include a list of rules and eligibility requirements for your Instagram giveaway. These don't need to be particularly long and can be included in the Instagram post. Be sure to include items such as:
How to enter
Who is eligible (particularly if the contest is restricted to local applicants)
The prize
Contest deadlines
How the winner will be selected (for example, is it by vote or a random winner)
How the winner will be announced
In addition to being required by Instagram, a clear list of rules ensures that applicants know what to expect, which improves transparency and trust in the giveaway process.
Make it Worth Their Time 
When choosing a prize, look for a balance of value and relevance. An expensive prize might attract more entrants, but those folks may not be interested in your business. But, a prize that is only worth a few dollars or is not appealing to your audience won't attract very many entrants at all. A prize valued between $25 and $75 is a safe bet for most Instagram contests.
Ask Users to Tag Their Friends 
Asking users to tag friends in their entrants or in the contest post can improve organic reach, which means more folks are likely to see your contest. In addition, it can increase overall likes on your Instagram account. However, you also don't want to spam folks, so don't ask applicants to tag five friends; rather suggest they tag friends who would be interested in the contest.
Promote the Contest 
Building your contest is just the first step — for a truly effective Instagram giveaway, you also need to build a promotion strategy to help get the word out.  Depending on your business, your promotion strategy might include sending out an email blast, promoting in your store, and posting on other social channels such as Facebook.
TL;DR & Final Thoughts
Instagram contests are a powerful tool for local businesses — but they must be used strategically to avoid attracting entrants outside of your target audience. Here are a few tips to do just that:
Share a clear list of rules, including eligibility requirements
Select a prize that is valuable and relevant to your local audience
Ask entrants to tag friends who might also be interested
Promote your contest outside of Instagram
Need help building your next Instagram giveaway? Woobox Support is available from 8 am to 5 pm PST, Monday  through Friday at 1-360-450-5200 and support@woobox.com