Pinterest for businesses has been around almost as long as Pinterest itself. The idea that brands can create and share compelling content on the popular image and video sharing "bulletin board" site helps Pinterest create a variety of benefits for businesses.
With about 200 million monthly users, Pinterest has continued to grow year-after-year (growing about 40% over last year alone) and it reaches a wide range of interests and demographics around the world. This makes it a great platform for brands that want to creatively showcase how to use their products as services, as well as create connections with their target audience.
In this post, we will cover the basics of setting up a Pinterest business account from scratch, and then a few strategies and tips for making sure your company is getting the most out of it.
Must-Haves For New Accounts
When creating a Pinterest profile, it's crucial to cover all the basics. You'll benefit from completely filling out your brand's profile information and adding a profile photo.
Without at least an image, the profile looks less trustworthy and incomplete.
Another important step for business profile creation is to verify the website that's clickable under the bio. The process is much like verifying a website for Google Webmaster Tools—Pinterest asks that you add a meta tag to the index.html file of your website or to upload an HTML file onto the root domain of your website. This proves to Pinterest that the website you added to the bio is owned by you.
This verification not only gives you a link in the profile to your website, it also gives you access to analytics about what content is being shared from your website onto Pinterest and how many people are clicking on it. Verifying your website and building a business profile (instead of a personal one) also allows you to create ads. The process works similarly to how Instagram business versus personal profiles are set up.
How Businesses Can Use Pinterest
Now that we've gone over initial setup, the way that businesses using Pinterest is going to vary slightly from how an individual might be using it. For instance, businesses should create some initial boards (which are the separate groups of pins that are usually arranged by topic or interest) with pins in each when the profile is originally created to immediately start participating and gathering interest.
If your business is e-commerce and sells relevant and visually interesting products, then try creating a few boards that showcase your products. This approach is perfect for a site like ModCloth, which offers fun and unique apparel for women. They can simply pin their new or best-selling dresses or other apparel from each item's product description page. Pins are always linked to a website. So when a user clicks through on a pin, they are taken directly to the item's product page to purchase it. This could be an easy way for ModCloth to generate sales traffic from Pinterest: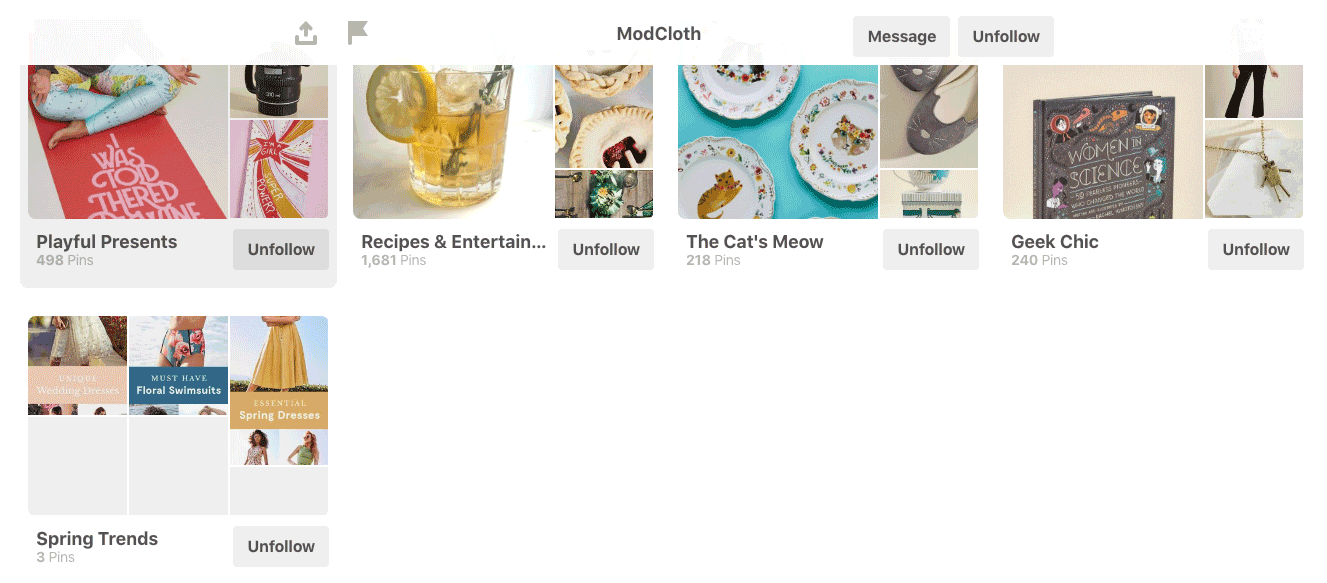 However, for a store like The Home Depot, that approach doesn't work, as the majority of Home Depot's products are components that can be built into something Pinterest-worthy. Because of this, Home Depot has taken the creative angle of creating tutorials and content on how to build great things using their products. So instead of pinning all the cans of spray paint colors they have in stock, they would create and then pin a tutorial on spray painting a dresser.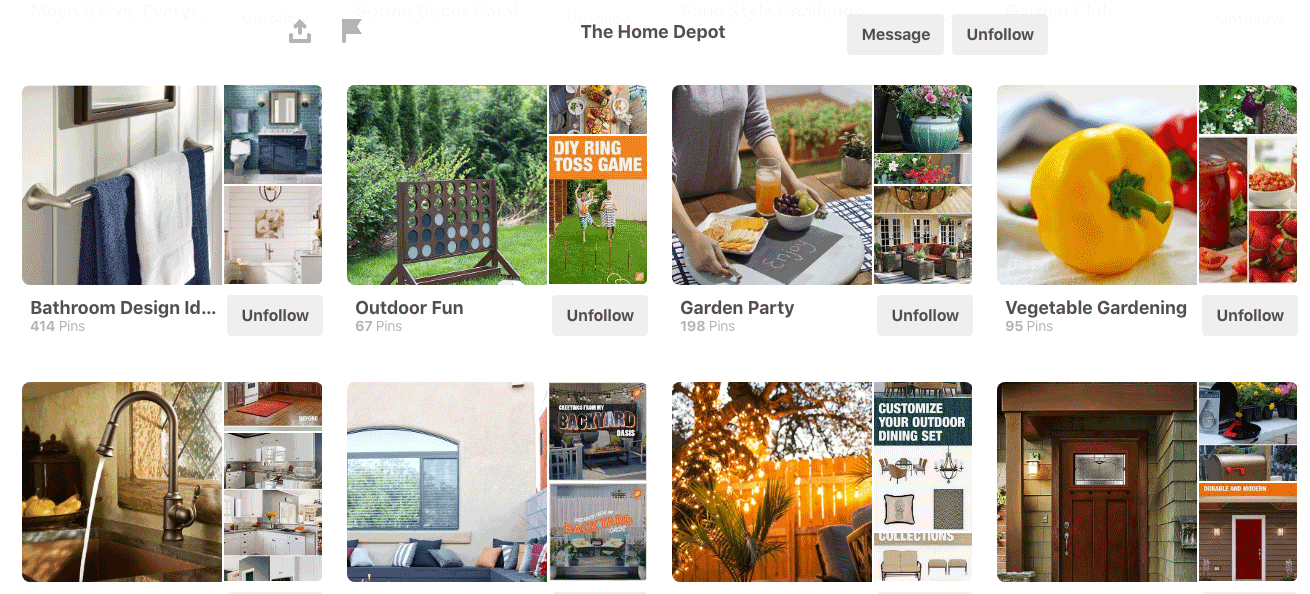 Because Pinterest (like Instagram) is very visually driven, make sure you take a creative approach that makes it engaging and fun to look at the pins you are creating and sharing. Otherwise, users will lose interest and your profile likely won't grow or generate traffic.
Whether you are creating pins from your own images and website pages or you are pinning others (which helps makes your profile more robust and gives you a way to participate in the community), people are using Pinterest to plan projects and purchases, so consider if what you're pinning helps them achieve those goals.
How to Create an Effective Pin
Having creating images is a great start, but there are other things that go into a great Pinterest pin. These include:
Proper boards: make sure you have your pins organized by boards to make them more useful to find and browse. Some businesses choose to go super specific while others keep it a little more generic but still understandable. For instance, an e-commerce site that sells movie merchandise could have Star Wars and Star Trek boards, or they could lump all their science fiction movie products into one board.
Proper hashtags: Like Twitter and Instagram, hashtags are commonly used on Pinterest to search and find relevant pins. Pinterest recommends adding no more than 20 hashtags per pin, but you don't want to clutter up the pin description box with hashtags no one is actually using.
Effective description: While the image should be clear as to what the pin is about, a text description/caption is still useful to let users know what to expect if they decide to click through on a pin. For products, this could be the product name and price. For content, consider an intro summary to the content or the title of the piece. Descriptions often entice users with more information, which can increase engagement and click-through rate.
Optimized image sizes: Pinterest allows images of all sizes to be posted, but according to blogger Kristie Hill, the ideal Pinterest sizes are 600 x 600, 600 x 1260, and 600 x 900. Taller images are usually better since they take up more real estate on a user's page and thus are more noticeable.
Not only can you optimize your own pins that you're uploading with these tips, you can also modify some of the existing pins someone else has uploaded but you're repining (e.g. the same idea as retweeting on Twitter). While you can't change the image or URL of the pin, you can modify the pin's description, so you can add hashtags and a more useful caption if needed. This can help get more traffic to your profile since that edited pin description will be found on your profile (not everyone else's who has also pinned that image).
Creating a Schedule to Grow Pinterest Effectively
Regular uploading of new pins can help generate new and recurring traffic to your website, but it's also important to stay active on Pinterest to be a part of the community. Besides repining others' pins, you can join group boards, comment on pins, or even just like pins. Much like Instagram, this type of engagement can help garner more interest in your own profile.
Deciding how much time to spend on Pinterest doesn't have a specific answer, but doing it on a regular schedule, such as "30 minutes every Tuesday" can help make it a routine.
There are a few tools that can help with regular adding of new content. Tailwind is the most well-known Pinterest tool. It allows users to schedule pins and pulls analytics data to see when is the best time of day to post new pins. Tailwind has free trials but the base option is about $10 per month.
Other social media scheduling tools can post on Pinterest as well—Buffer worked with Pinterest directly as a partner in 2015 to start allowing Buffer users to schedule pins. They have paid options as well, and monthly pricing starts at $15. Pinterest is not supported with the free plan that Buffer offers.
If you're using the right approach, Pinterest can be a great traffic driver for your business. Upload new pins regularly and engage with the Pinterest community by repining and commenting on others' pins. Your business Pinterest profile may soon be on its way to millions of followers, just like ModCloth or other major brands!