Can you afford to run a contest that doesn't get results? Black Friday is the prime time for marketers to pull out all the stops, so competition is stiff. Plus, you have a limited number of weeks to get tremendous results from your Instagram comment giveaway.
Last year, revenue from Black Friday increased 23.6% over the previous year, topping out at $6.2 billion. As we head into a new season, every Instagram contest or giveaway must deliver a return.
Before beginning your Instagram marketing campaign, learn how to avoid these five common mistakes. Next, take steps to design an Instagram comment giveaway that'll keep your brand at the forefront of customers' minds this holiday season.
How do Instagram Comment Giveaway Mistakes Happen?
Once we hit the holidays it feels like there's a new event every week. The rush of the season combined with a lack of experience can lead to mishaps on social media channels. Mistakes happen for several reasons, including:
Lack of research on audience or hashtags.
Starting campaigns too late.
Uncertainty about rules or post style.
Each of these mistakes correlates to a lack of strategy. Get the right type of attention with your Black Friday campaign by starting early and checking your plan for errors in advance.
5 Instagram Comment Giveaway Mistakes and Solutions
Regardless of your experience level, blunders happen to all of us. But, marketers don't have time or money to waste on a campaign that doesn't deliver. Review these common mistakes, then use the examples to create a positive campaign that garners trust while increasing brand awareness.
Mistake 1: Spammy Appearance
During a month focused on giving, perhaps more so than other times of the year, your Instagram campaigns must inspire your audience. Hashtags, emojis, and formatting all have a role in Instagram posts. However, consumers are more discerning than ever before. If something looks too salesy or overly-promotional, then it's an instant turn off. Huge blocks of text complete with dozens of general hashtags take away from your message. Plus, without proper hashtag research, you risk your brand's reputation.
Solution: Review Your Instagram Comment Giveaway Elements
Avoid mistakes by starting with a hashtag strategy. Find out which hashtags your ideal customer searches for on Instagram. Then, locate a few general hashtags or holiday-specific hashtags to increase views. Other suggestions include:
Share your branded hashtag.
Choose an inspirational message.
Add line breaks to break up the text.
Once you have your social media copy and image, then check how the post appears on different devices. Sprinkle hashtags into your copy and add an emoji or two to break up the text. In the following example, Scrunci uses a positive message to encourage their audience to share comments about what they're thankful for this year.
Mistake 2: No Specific Goals
When you're in a rush, then it's easy to be tempted to get an Instagram comment giveaway rolling as fast as possible. However, this mistake can cost you big when it comes to engagement levels, promotion, and measurement. After all, marketers who set goals are 376% more likely to report success. Creating a campaign without clear objectives is a missed opportunity.
Solution: Choose One Main Objective for Your Instagram Giveaway Contest
Antoine de Saint-Exupéry said, "a goal without a plan is just a wish." Make your dream actionable with an objective, then set your key performance indicators (KPI). Do you want to drive traffic to your website? Build awareness about your unique Black Friday offers? Once you have a goal in mind, then consider how you will measure progress. Evaluate using metrics like:
Click-through rate to your website
Email sign-ups
Number of high-quality follows
In this example, Shetler Fine Jewelers wants their audience to know that their store is open on Black Friday. Their Instagram comment giveaway does this with text that says, "tag three friends who need to know that we will be OPEN on Black Friday."
Mistake 3: Unclear Rules
You only have a few seconds to stop your audience from scrolling. Posts containing a long list of rules frustrate Instagram users, whereas a lack of clear guidelines leads to a lack of trust. This problem is exacerbated when using a cell phone because your audience doesn't want to scroll back up to read your guidelines.
Solution: Make Entering Your Giveaway Simple
Keep your wording minimal and tell your audience what to do. The best way to do this is by listing the steps to enter with one rule per line. Another fantastic option is to include the basic rules within the image you share. Ink It Labs cross-promoted their giveaway using Twitter. While you can read the full rules in the post, this image hints at simplicity.
Bhangra Diaries also uses an enticing image to display the rules. Instagram users understand how to enter the contest by looking at the picture.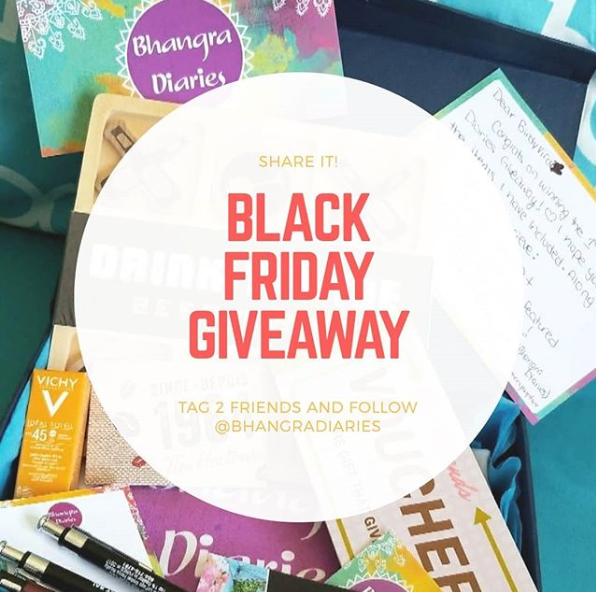 Mistake 4: Not Enough Promotion
So, you developed an Instagram comment giveaway, you have a great prize, and everything looks perfect. Why aren't you reaching your goals? The biggest mistake is often a lack of promotion.
If you only post on Instagram, then reaching your goals will be a challenge. Companies with smaller followings may struggle to get enough comments to make it worthwhile, whereas those with a broader audience may suffer from an algorithm that requires engagement.
Solution: Develop a Strategy for Promoting Your Instagram Giveaway Contest
Each time you create a giveaway, it's essential to line up precisely how you will promote it. From your landing page to outreach, a successful strategy helps you meet your goals. For best results, choose your marketing mix before launching your Instagram giveaway contest. Cross-promote your contest using:
Facebook
Twitter
Instagram Stories
Contest link in bios
Emails
Micro-influencers and bloggers
In the following examples, three companies use their Instagram bios to promote their giveaways. Kill Cliff links to their contest in their bio.

Whereas, BBQ Guys placed their giveaways into the Highlight bar which sits prominently in their profile.
Plus, Sinsinpas keeps Instagram users intrigued with the promise of a new giveaway in their bio with attention-drawing fire emojis.

Mistake 5: Attracting the Wrong Followers
If you run a contest and gain hundreds or thousands of followers, then it seems like a win. However, if your list is full of people who only show up for a giveaway, then you're doing yourself and your company a disservice.
When new followers don't care about your brand, then they won't engage with your Instagram account. In return, the algorithm lowers your ranking, which decreases your overall views. Even your fans will struggle to find your posts!
Solution: Design an Audience-Specific Instagram Comment Giveaway
How can you avoid a ton of ghost followers? A top priority is to align your prize with your brand. This eliminates some people looking only for a freebie. Start by developing a strategy to attract a targeted following. If you team up with others to create a loop giveaway, then follow Abigail Scheppert's example by partnering with companies who share a similar audience.
If you're going solo, then consider giving away freebies from your shop. In this example, Storybook Organics, a company that makes eco-friendly baby clothing, chose a prize that their followers appreciate: a free bonnet.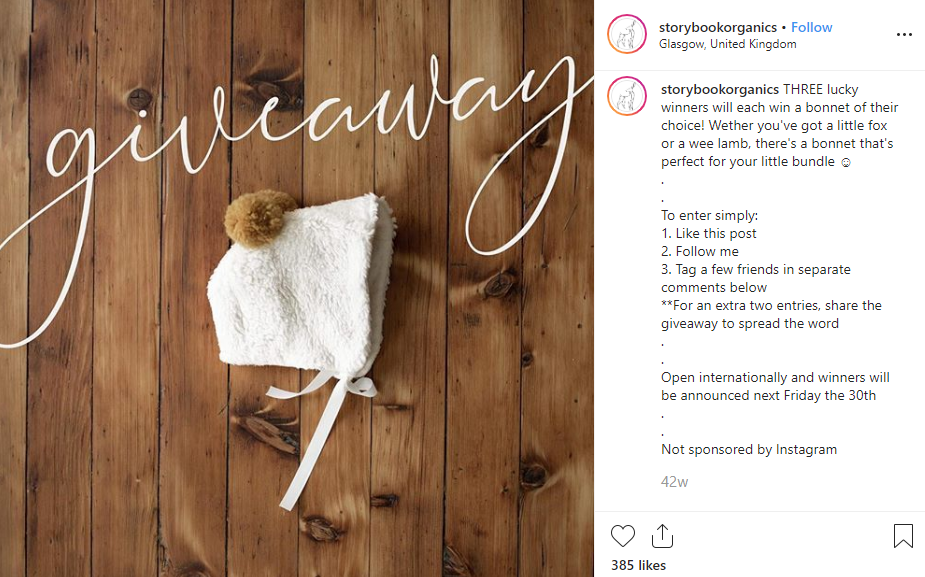 Conclusion
Avoid Instagram comment giveaway mistakes by outlining your goals, promotion, and hashtag strategies. Keep it simple and always double-check how your post looks on various devices.
Get Help from Woobox Support
Need help avoiding these common Instagram comment giveaway mistakes? Woobox Support is available for help from 8 am until 5 pm PST, Monday through Friday at 1-360-450-5200 or support@woobox.com.