Are you using Instagram to market to your target customers? If you're looking to capture the attention of millennials, Gen Z, and even some of the older Generation X, then you very well should.
Social media influences 80% of Gen Z, and 84% of millennials say user-generated content from strangers can influence their purchases.
Plus, studies prove that consumers trust branded content more than traditional advertising.
You'll find many of these influencers are Instagram users. This is why 71% of US businesses are actively marketing on Instagram. Yet, many of them are making costly mistakes.
Is your brand doing the same? There's only one way to find out.
Let's take a look at 5 common mistakes and how you can avoid them.
Why Having an Instagram Marketing Strategy is a Must Today
You can choose any social network to market your brand on. But you won't find many that offer the potential Instagram does.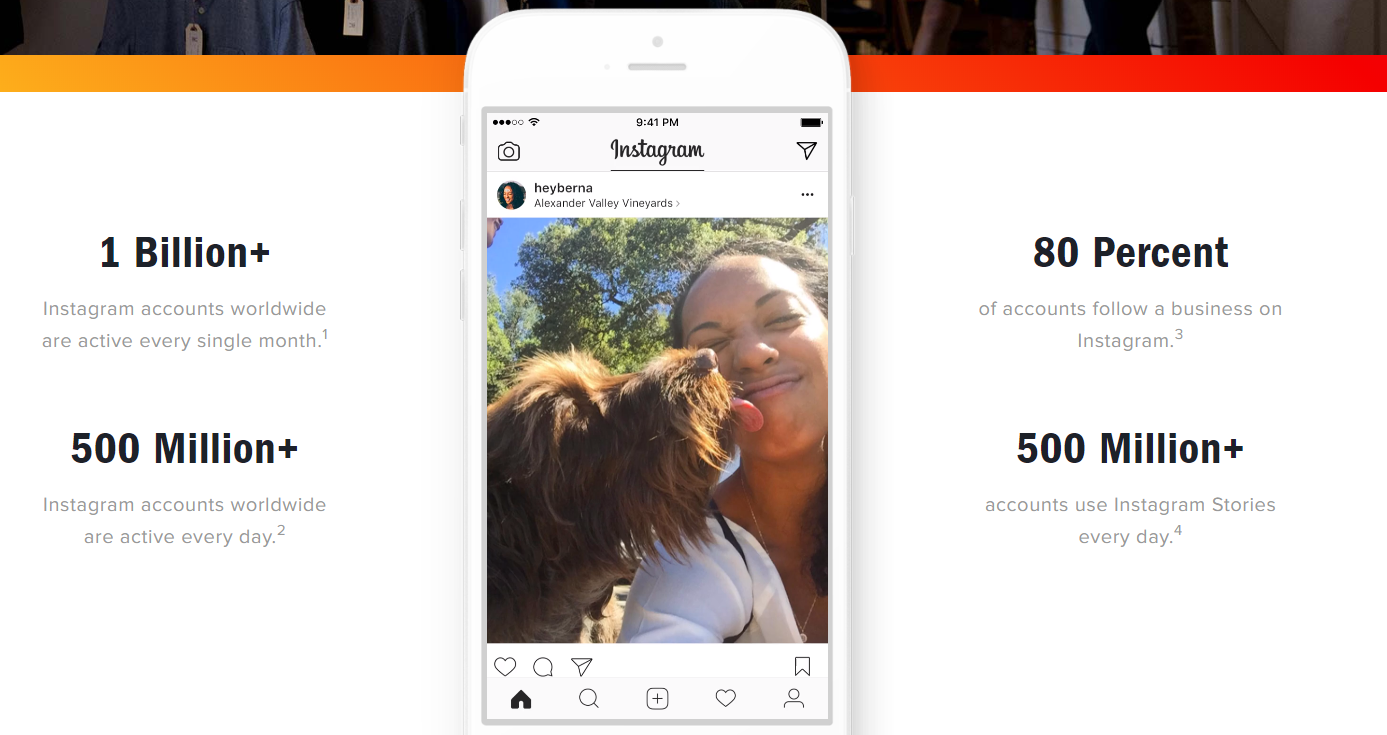 Source: Instagram
Besides boasting 500 million daily users (71% of which are under 35), Instagram marketing shows plenty of promise for brands looking to engage with their audience.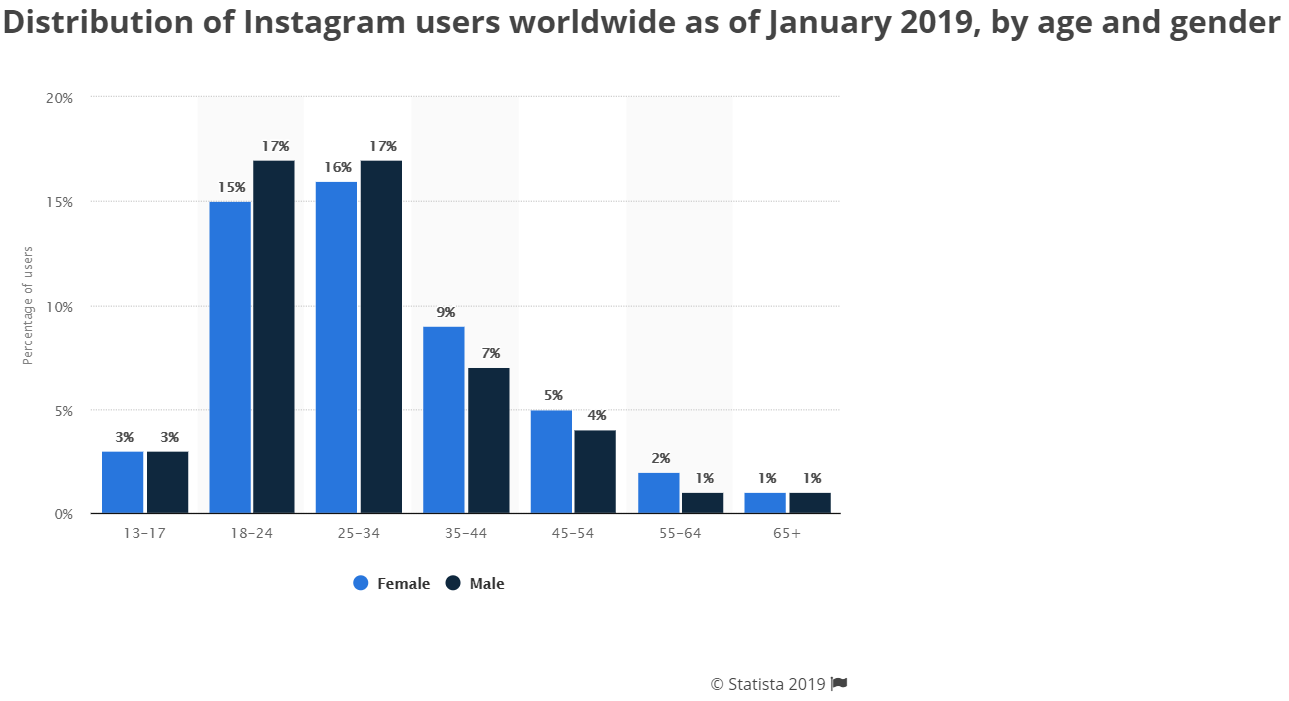 Source: Statista
Especially since 80% of Instagram users follow at least one business.
But what makes IG stand out isn't its large population — it's the amount of user engagement it exhibits.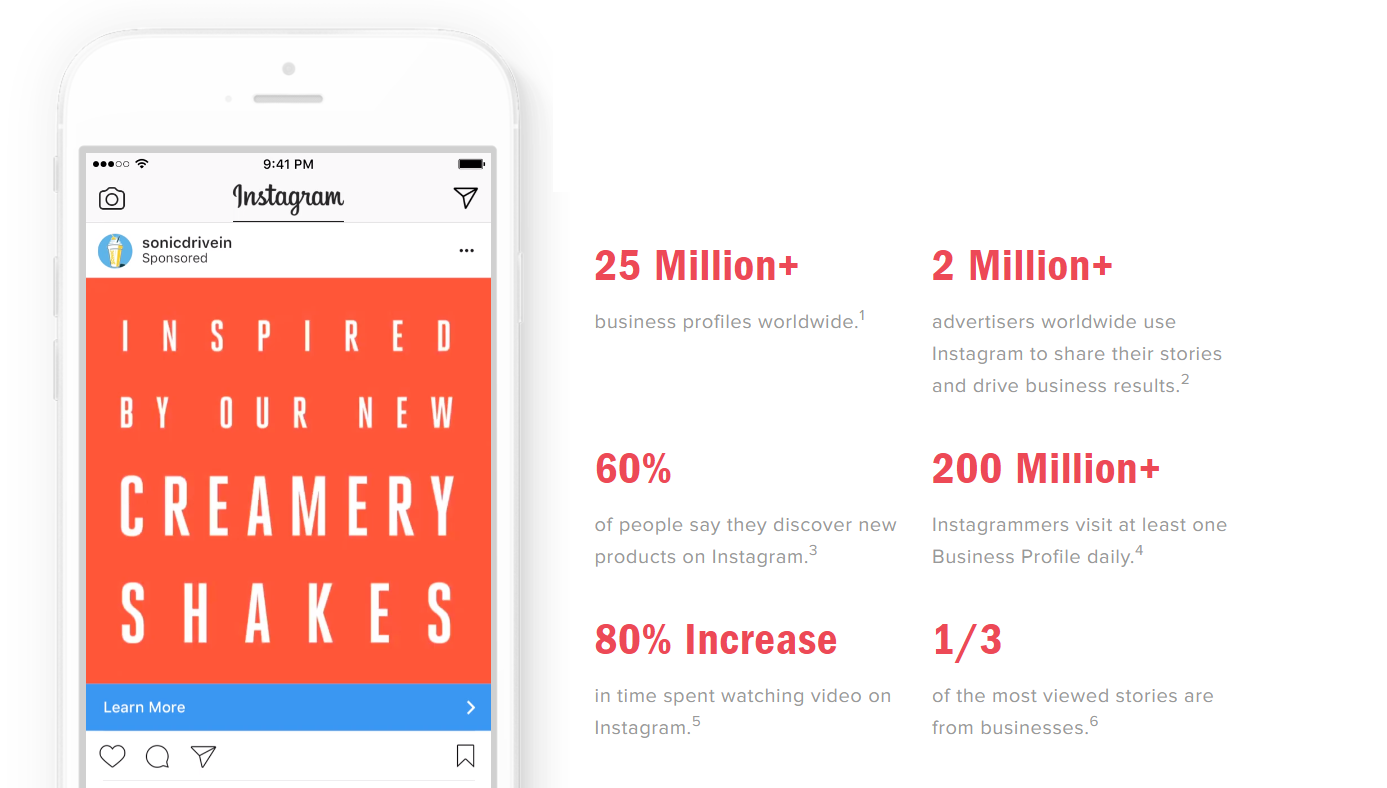 Source: Instagram
Roughly 60% of IGers discover products via this platform, and another 75% take action (e.g., visit a website).
Today's consumers are compelled by brand storytelling. And Instagram just so happens to be the king of everything visual.
As we see in the stats above, roughly 1/3 of IG users watch brand Stories.
If you can deliver eye-catching imagery and evoke an emotion (preferably positive), then you have a higher chance of provoking a reaction from users.
Between photos, memes, and videos, combined with relevant topics, you can develop a strategy that captures attention and engages your target customers.
But how can you achieve this?
Well for one, you have to avoid making these 5 common mistakes with your strategy.
1. Posting Content with No Sense of Direction of Purpose (aka No Strategy)
If your idea of an Instagram strategy is to post random selfies, product photos, and content regarding trending topics, then you're not going to get consistent growth.
IGers are following brands that are consistent with the types of content they publish. If your posts are too random, irrelevant, or overly promotional, then it won't pan over so well.
While riding trending waves is an excellent method to garner attention, it shouldn't be your go-to. It should be one part of a more in-depth strategy.
So take the time to look into your analytics to see which posts perform well (e.g., likes, comments, shares, and link clicks). Then come up with a plan to consistently push that out, whether it's more IG Stories and memes, or key topics your audience cares about.
Let's take for example Fresh Kitchen Gadgets, which has teamed up with Detox_Recipes. Each smoothie post they publish mentions Fresh Kitchen Gadgets, driving traffic to their page for relevant kitchen gadgets for making smoothies and other healthy recipes.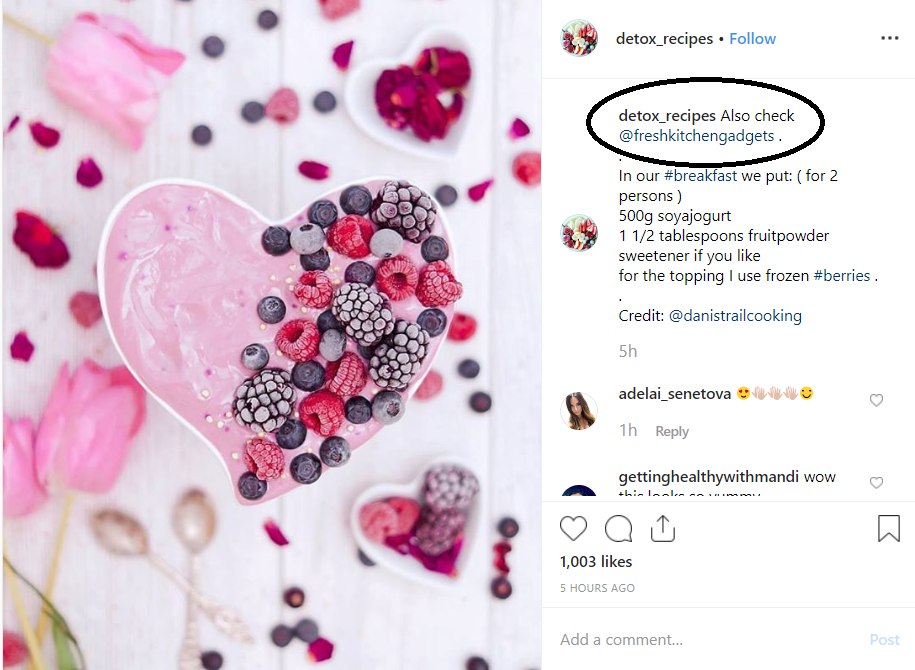 Source: Detox_Recipes Instagram
And then when you venture over to Fresh Kitchen Gadgets, you don't just find photos, but product videos like this one: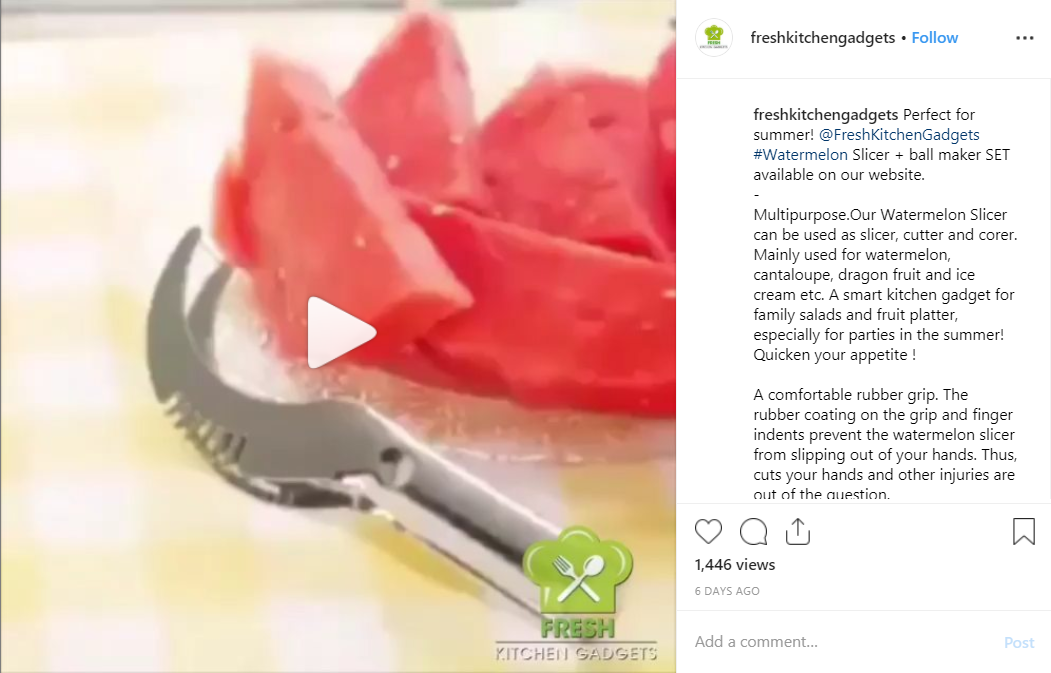 Source: Fresh Kitchen Gadgets Instagram
2. Collaborating with the Wrong Influencers
Social media influencers are a big deal right now and for a good reason — they actually influence sales. In the past, sports stars, singers, and actors fulfilled this role.
But no longer.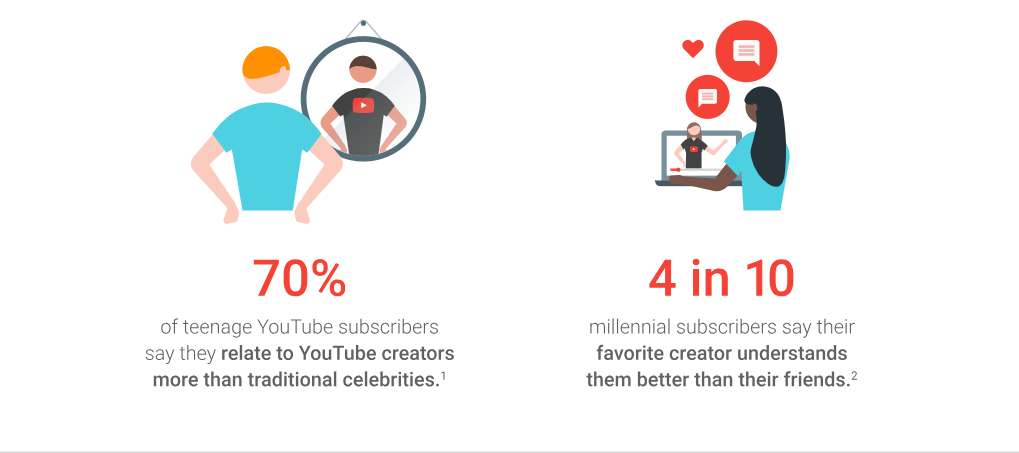 Today, 70% of teens trust influencers over traditional celebrities. And 40% of millennials say their favorite influencers understand them better than their own friends.
Think about that for a second…
Alright, so we get the impact influencers have on today's fast-growing consumer population, but this doesn't mean you should work with just anyone.
You need to find an influencer that has the three key ingredients:
Synergy: Their brand resonates with your brand and target customers (authenticity is vital)
Engagement: Doesn't make sense to work w/ influencers with low-to-no engagement
Content: Their content is high-quality and valuable
Unfortunately, there are a lot of fake influencers out there purchasing fake followers with poor engagement. So make sure to analyze their profile.
But don't be discouraged from finding true influencers. Photos of brand products published by users encourage conversions. In fact, we see that a user-generated photo can boost the chance of conversion by 4.5%.
We also find that micro-influencers (with smaller followings) generate better engagement. Those with only 1,000 followers generate 85% more engagement than influencers with 100K followers.
Here's an example of a sponsored post for Mother Raw, published by World of Vegan. They do an excellent job of delivering a story, using the majority of their 20K character limit.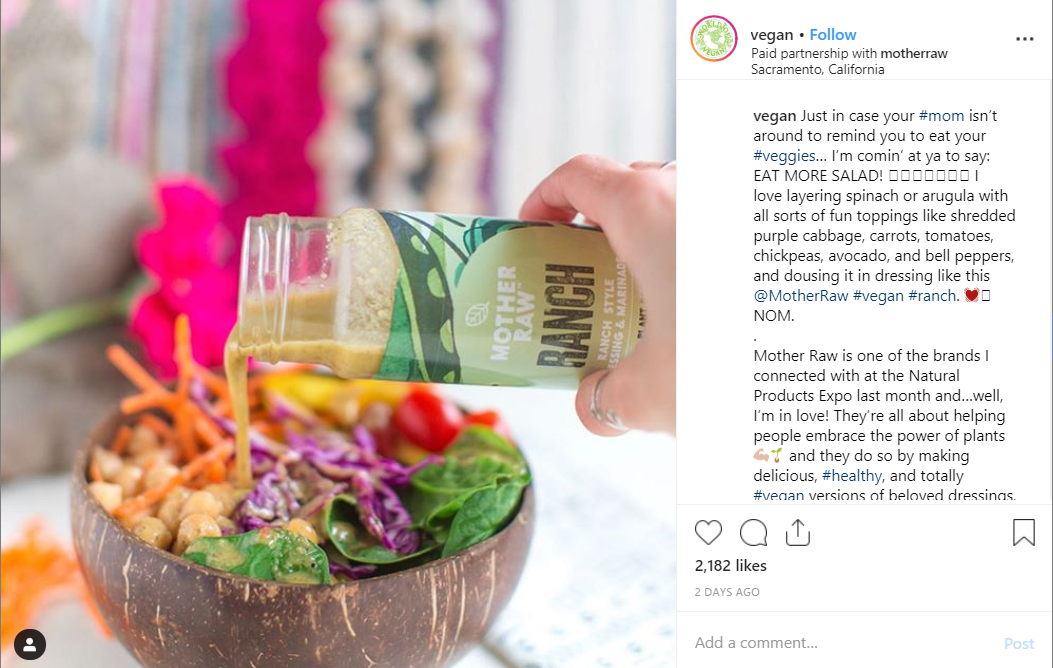 Source: World of Vegan Instagram
Then the post receives genuine engagement and feedback.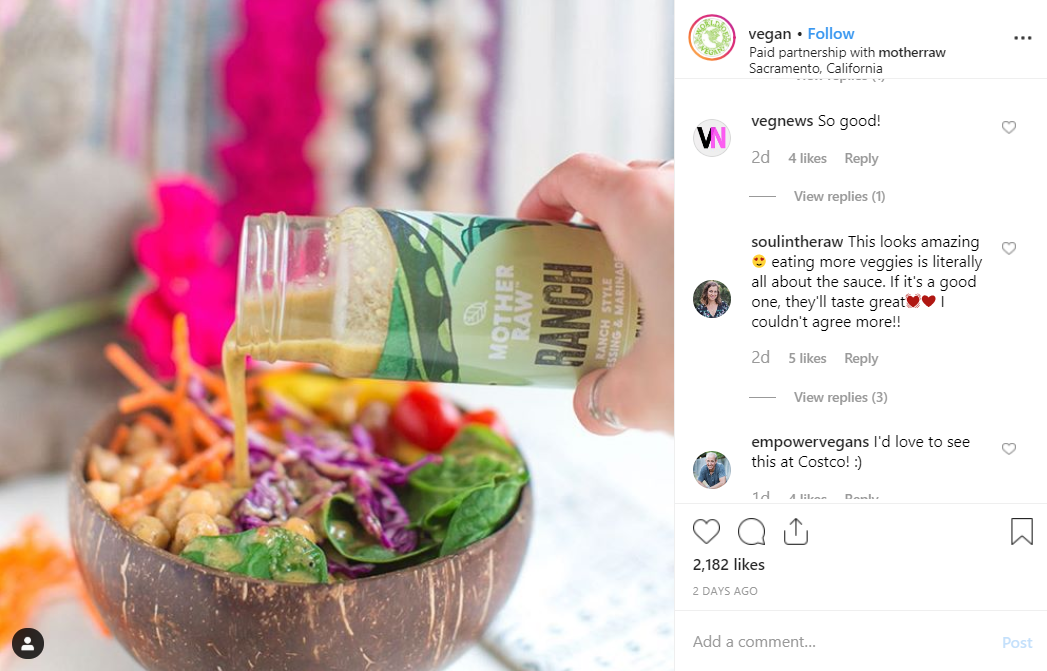 3. Not Linking to Your Website or Landing Page in Your Bio (or Posts)
Let's say an IG user sees your brand tagged in an influencer's caption that they follow. They click on it to check out your profile, see several of your amazing posts and then decide to look at your bio.
There's a description, but there's no link to your website or landing page.
And worse, inside of your posts, you fail to use a CTA that entices followers to visit a particular link.
Links are a critical part of any Instagram marketing strategy — it's how you drive traffic to your website and product pages.
Just be sure to monitor the conversion rates for posts and bio links to try and replicate successful posts.
We can take the same brand, Fresh Kitchen Gadgets, as an example. As they're driving traffic to their page via influencer mentions, users will find a bio that explains exactly what the brand offers — popular, useful, affordable kitchen supplies.

Source: Fresh Kitchen Gadgets Instagram
Plus, they include a link to their website.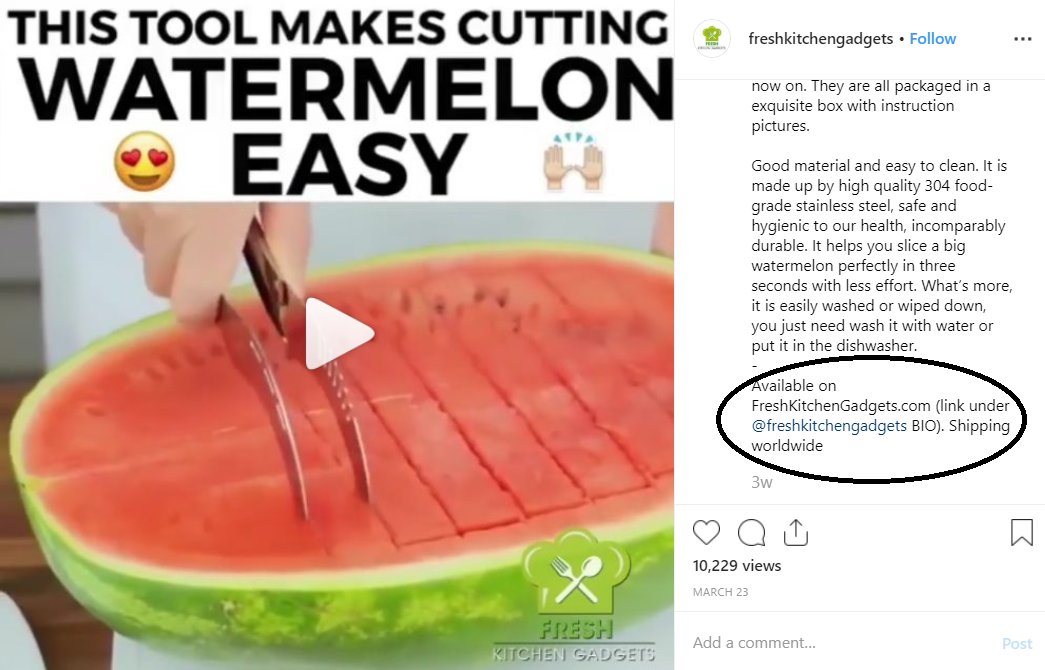 Source: Fresh Kitchen Gadgets Instagram
Then in their posts, they also include a CTA, letting users know they can find that particular product in the link in their bio.
4. Failing to Maximize Brand Exposure Using Hashtags
You can think of hashtags as the keywords of Instagram — it's what helps users find your posts. However, if you fail to use them adequately, then you're allowing your competition to snatch up all your potential followers.
The idea is to use hashtags that are relevant to your industry that your audience is likely to look up. Your best bet is to choose hashtags that are popular but not over-saturated.
For example, hashtags with tens of thousands or even 100s of thousands of posts are okay. But aiming for hashtags with millions of posts — not so much.
Pop Sugar Fitness does a great job of using hashtags in their posts. In this particular one, they use a branded hashtag, along with high-targeted hashtags like #beginnerrunning and #womenrunning. They also include a CTA pointing to the link in their bio.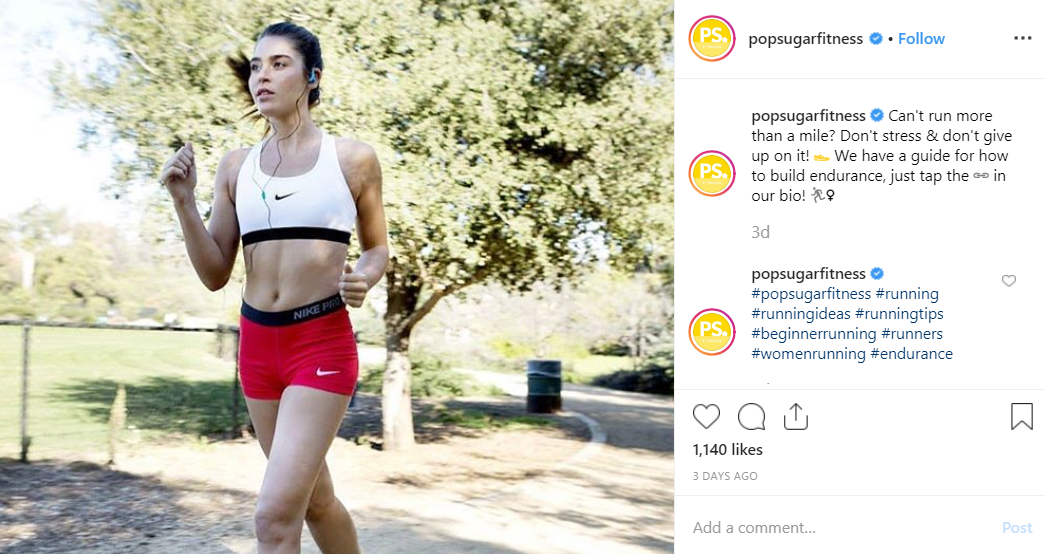 Source: Pop Sugar Fitness Instagram
You're able to use up to 30 hashtags per post, but you should focus on including those that are relevant to your content. Otherwise, your posts will come off spammy. Some research shows that 11 hashtags are optimal.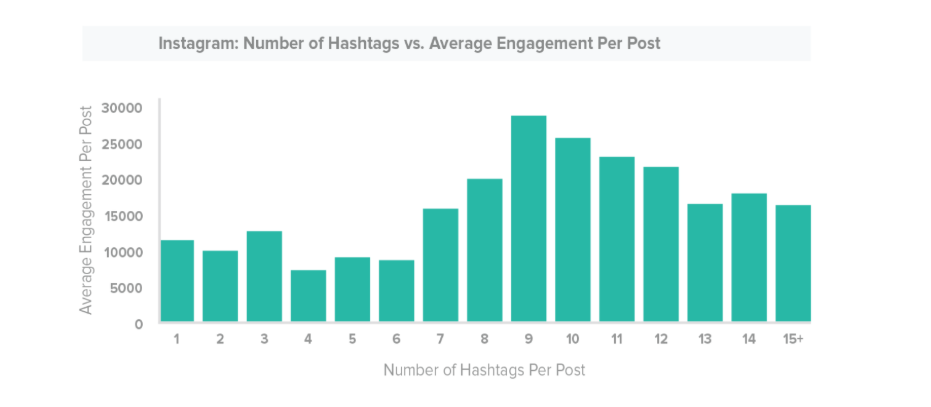 Source: Social Media Today
It's also recommended to look at trending hashtags your competitors are using so you can get in on the action. Better yet, use tools to monitor these trends so you can stay ahead of the curve.
There are many ways you can use hashtags to your advantage, such as by using them for social media campaigns, product launches, events, contests, and branding.
Speaking of events, it's good to include geo-tagging for an extra boost in engagement. We find geo-tags get 79% more engagement.
Here's an example of Tommy Lundberg's (w/ 45k+ followers) geo-tagged sponsored post from HP for the Coachella 2019 event.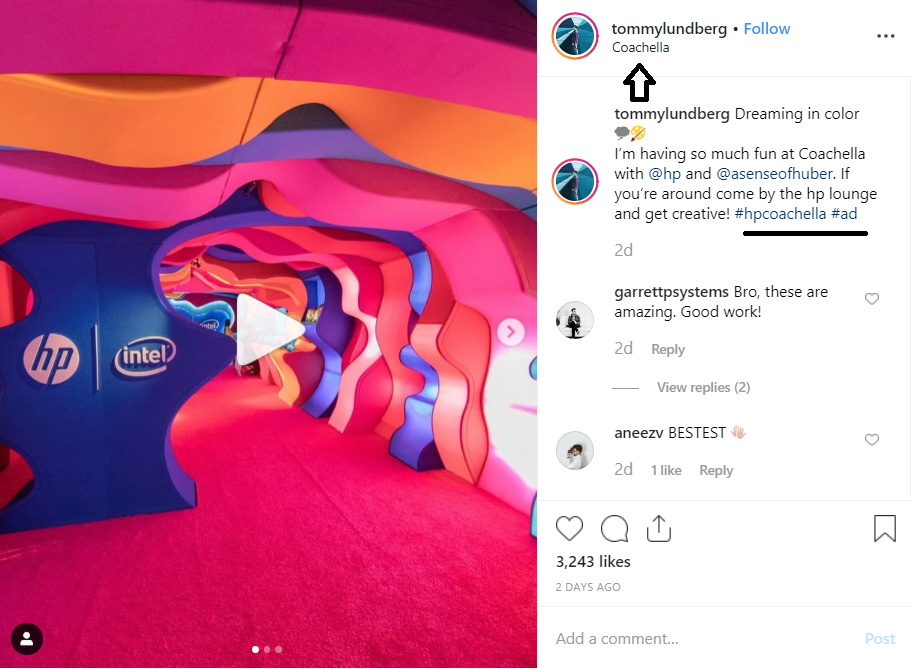 Source: Tommy Lundberg Instagram
Quick Tip: You can search for hashtags to find influencers using your hashtags. But this will only work if you're creating unique hashtags for your IG campaigns.
So What Next?
Knowing the top mistakes brands make with their Instagram marketing strategies (or lack thereof) is vital to improving your own campaigns.
So the next step is to make adjustments to your current strategy if you find yourself making similar mistakes.
Also, don't forget to make the most of your IG captions — you have 2,000 characters to create a compelling story that'll captivate your audience (and prospective followers).
Don't forget to engage with your followers in the comments. This will drive more engagement as users see you're actively responding.
Instagram's algorithm looks at engagement highly so it could help boost your ranking in search feeds.
Are You Ready to Maximize Your IG Campaign Results?
Then it's time to reevaluate your current strategy and make the necessary improvements. With the above list, you can rectify mistakes you're currently making with your campaigns.
Focus on building a solid strategy, connecting with the right influencers, including CTAs in your profile, and implementing hashtags. Before you know it, you'll see better results.
Need expert assistant with your IG strategy? Then we invite you to reach out to Woobox Support, available 8 am to 5 pm PST, Mon-Fri at 1-360-450-5200 or via email at support@woobox.com.