Video hosting platform and search engine YouTube was founded in 2005 by "PayPal Mafia" members Chad Hurley, Steve Chen, and Jawed Karim.
By 2006, internet users were watching 100 million videos every day on the site. As of January 2018, users were watching 500 million videos daily. Today, the site is ranked as the second largest search engine in the world.
And yet, many business owners pay more attention to ranking on Google or reaching fans on Facebook. While those strategies do work, nearly every one of your competitors is focused on SEO and social media. In an increasingly competitive digital world, it is hard to stand out.
YouTube presents an opportunity for brands to stand out and reach billions of internet users all over the globe. Pair the popularity of YouTube with the effectiveness of online contests, and you've got a recipe for online success.
Today, we are going to walk through exactly how to create a Woobox contest that leverages the power of YouTube. You can use a YouTube contest to encourage people to engage with your videos and subscribe to your YouTube channel, like you on Facebook, or even join your mailing list.
Using Woobox to Drive YouTube Engagement
There are multiple ways to create YouTube contests. For example, you might remember the "Ice Bucket Challenge," a viral contest used to raise awareness and funding for the ALS Association. People were challenged to video themselves dumping a bucket of ice over their head and challenge their viewers to donate money or record a similar video.
Everyone from Oprah to Jeff Bezos participated by sharing videos of themselves dumping buckets of ice over their heads. (Or, like Amy Schumer, clam chowder.)
The problem with this ultra-popular contest?
It didn't allow the ALS Association to collect contact information, like email addresses, from people who participated because it was spread by word of mouth and social media, not hosted on a platform. (The contest did manage to help them raise 115 million dollars and discover a new gene tied to ALS, so it wasn't a failure by any means.)
Using Woobox, however, you can create your own informative (or funny!) videos on YouTube and embed a code that viewers must watch to find. Then, viewers head to your landing page and enter the code into your contest form. This is where you can ask for additional information.
For example, you might create a video to launch your new product and include a code that watchers can use to enter a contest where they can win a free sample. Or, depending on your business, you might create a how-to video and embed a code for entering a contest to win a free consultation. The options for prizes are limited only by your imagination!
The simplest way to create a YouTube contest via Woobox is by using the giveaway or sweepstakes password entry option. We'll walk through the steps to create this type of contest below in Woobox, and then we will look at mistakes you'll want to avoid to build a successful contest.
How to Create a YouTube Giveaway or Sweepstakes
Here are the steps to create a highly visible contest on YouTube using the Woobox password feature.
Create a free Woobox account, if you don't have one already. You can build and customize as many contests as you like. You pay nothing until you are ready to launch your contest.
Enter your brand details, then click "Create."
Choose the type of contest you want to create. For this example, we are going to choose the "landing page" option. 
From the "Landing Page Templates" choose "Sweepstakes." 
Name your campaign. Remember, this will be the website title for your landing page. (It can be edited before you launch.) Click "Set Me Up."
You will be prompted to enter in all the details of your contest, including the dates it will run, a description of the contest, and other details. If you've never used Woobox before, you can learn more about all the options in this Woobox beginner's guide.
After you've entered in all your contest details (remember, you edit this later), click the "Customize" button in the left sidebar. 
Click in the gray box around the form to edit. Additional settings will show up in the left sidebar.
In the new options menu, choose "Settings" then "Add a form field."
Choose "Password" from the list of Form Field types. This will be a phrase or code that you (or influencers, if you decide to work with them) will share during your YouTube video.
Create your password. Be sure to include any variants you will accept as correct. Each acceptable password should be separated by a comma, as instructed. For example, you might allow UK spellings or capitalizations. Choose a password that is related to your brand, easy to say, and not easy to guess. (You want people to watch your video!) Make sure "Required" is set to "Yes", otherwise applicants will be able to enter your contest without the required password. 
Click "Yes" and then "Apply" to finalize your password form.
Your contest now requires a password! You can add additional forms, including an option to follow your YouTube channel, Facebook page, or Twitter. Note that you cannot require subscribes, follows or likes due to guidelines from Facebook and YouTube but adding the option makes it much easier for entrants to like or follow you. 
Now it is time to create your YouTube video. Be sure to mention the password and include a link to the landing page you just created in the caption. You will also want to make sure you follow the YouTube contest guidelines, which are outlined below. This includes creating a list of contest rules and linking to YouTube's community guidelines.
What are YouTube's Contest Rules & Guidelines?
YouTube has a list of rules you must follow to create a contest on their platform. These rules are in place to protect viewers from scams and to limit YouTube's liability. Most of the rules are self-evident — you can't, for example, ask people to commit a crime to enter your contest. Others, like requiring a link to YouTube community guidelines, are not.
You can find YouTube's contest guidelines here. The most important rules are outlined below.
Your contest cannot encourage unlawful activities
Your contest cannot encourage people to infringe upon anyone's rights.
It must be free to enter.
You must state YouTube is not affiliated with your contest.
You cannot ask for users to transfer rights or ownership of their entry to you.
You cannot manipulate any of the metrics on YouTube, such as likes or views.
Your contest must comply with all local and federal laws.
You must include a link to YouTube's community guidelines.
You must include a list of rules that include all the requirements to enter and outline reasons an entry might be disqualified.
You must also include a privacy notice in your official rules that outlines how you will use any personal information you collect, such as email addresses.
Update: May 2019 –
You can now pick winners from comments on your YouTube videos! Just encourage viewers to leave a comment on your contest video, then use the YouTube comment picker in the Posts section of your Woobox dashboard to randomly select winners. This is a great way to boost interactions on your videos and run a truly random draw for your loyal subscribers. You can find instructions on picking winners from comments here.
5 Mistakes to Avoid When Building Your YouTube Contest 
Ready to create your contest? We've already walked through how to create your contest on Woobox and outlined the rules you must follow on YouTube. But before you get started, make sure to read the following list so you can avoid the most common pitfalls.
Mistake #1: Forgetting to Require a Password in Woobox
This was mentioned above in Step no. 11, but it bears repeating: When creating your contest, be sure to set the password as required. To do this, click the button next to "Required" so it says "Yes" when you set the password.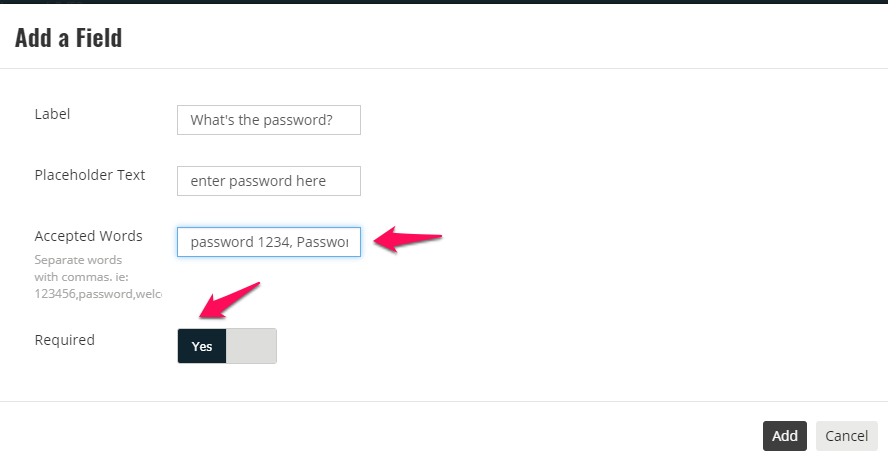 Missing this step will allow entrants to enter without including your code, which may result in a large number of disqualified entries.
Mistake #2: Not Including Official Contest Rules
One of the main rules in the YouTube guidelines is the inclusion of "Official Contest Rules." These are rules you write that outline how to enter your contests. For example, you might choose to allow only one entry per email address or allow additional entries for user referrals.
Your rules must also include a link to YouTube's Community Guidelines, outline how prizes will be awarded, and include a privacy statement that explains how you will use the information you gather during the contest.
Failing to follow this step risks your video being removed from YouTube.
Mistake #3: Not Leveraging all the Form Options Available in Woobox
In the steps above, we walked through how to add the password entry option, but you may have noticed there are dozens of other form options. For example, you could add an optional Form Field to like you on Facebook, subscribe to your YouTube channel, ask for their birthday or add a checkbox for rules, which indicates they have read your contest rules.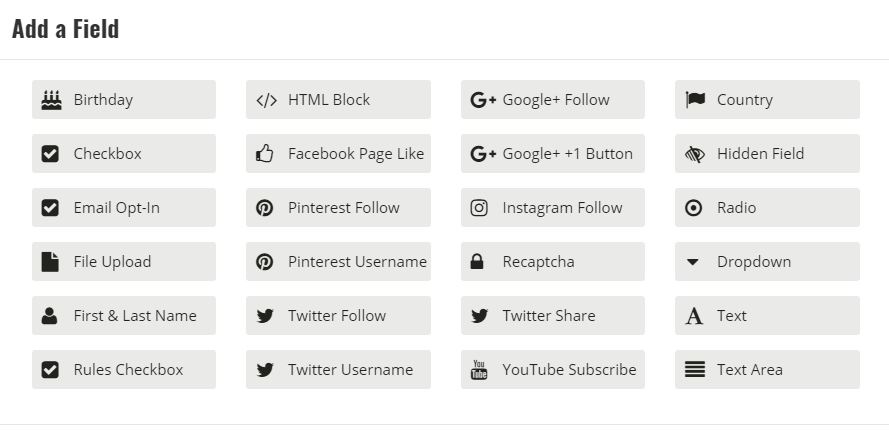 You've already gotten their attention, so make the most out of it by adding additional fields! This provides you with multiple opportunities to engage with your target audience outside of your contest. For example, you can ask for Facebook likes, allowing you to retarget them down the road. Or you can ask them to subscribe to your YouTube channel, so they see your next video. To avoid overwhelming entrants, try to limit the number of forms to 3 or 4. You don't want to make your contest too difficult to enter.
Remember, many of these forms (likes on Facebook or subscribing to YouTube, in particular) cannot be requirements to enter your contest. But including the option on your form makes it much easier for entrants to engage with you outside of your contest.
Mistake #4: Forgetting to Research Your Local Laws Regarding Contests
In the US, there are both federal guidelines and state laws outlining what you can and cannot do in a contest. For example, in Florida, if your prize is valued at over $5,000, then you must register with the local Department of Agriculture and Consumer Services and create a trust.
I suggest reading the FAQ by the FTC that outline the use of endorsements and research laws in your local area. Many of the rules are set in place to limit scams. For example, you can't require someone to pay to enter your contest. If you have questions about whether your contests is legal, consider talking to an attorney.
This guide is a good resource regarding federal laws.
Mistake #5: Failing to Promote Your Contest Well
Once you have created your contest and video, it's time to send your contest live! But then what?
Have you thought about how your users will find your contest? You can't expect people will stumble across your contest on their own. Make sure to share it on the channels where your audience engages with you, including:
Facebook
Email
Twitter
Pinterest
Instagram
Your own website
You might also consider partnering with an influencer in your industry to get the word out. They could create their own YouTube video to share with their followers or share yours.
Final Thoughts & Key Takeaways
Contests offer brands the opportunity to reach millions of internet users all over the globe and helps encourage those users to engage with your brand. Creating a YouTube contest allows you to combine the power of video content with the effectiveness of online contests, furthering your brand's visibility online.
Takeaways:
YouTube is the second most popular search engine in the world. Creating a contest on Youtube allows you to reach billions of users all over the world.

You can create a YouTube contest on Woobox using the "password entry" function, which you then mention in your YouTube video. Viewers are encouraged to watch the video in exchange for the password they enter on your landing page.

Setting up a Woobox contest is totally free to start, you only pay when you are ready to send your contest live.

You must follow YouTube's content policies and guidelines. This includes stating that YouTube has not endorsed your contest and listing "Official Rules."