Contests and sweepstakes on social media are excellent ways to increase online engagement, grow email lists, and reach more people, often with just the costs of monitoring the contest and prizes.
The formats can vary — contests usually require some sort of action on the entrants' part, like submitting a photo or answering a question. Sweepstakes often use complete chance or randomness, the entrant must only enter the contest via a form by sharing their information.
Read below for some standard giveaway formats and how you can use them to your advantage:
User-Generated Content Submissions
Gathering user-generated content (UGC) form contest submissions is a great way to get more mileage out of your social media contests. When a photo or video contest ends, instead of just moving on to the next campaign, you can take the UGC that was submitted and create a variety of things, including:
Blog post recaps with some of the best responses
Testimonial pages (if the content was about your product or services)
Archived videos and photos shared on social media and/or a content library
Scheduled social media posts for months in advance
As long as entrants are aware their content may be used in further promotional company content (which is something you can include in Terms of Service and Contest Rules), then you have the right to repurpose it as you see fit. Get creative with all this new content your community has created for you; showcase your most creative customers or provide fun/valuable content to your audience.
To hold a contest that gets submissions, be sure to make it fun, easy, lucrative, and that the rules are easy to understand. Most entrants will only spend a few minutes on their entry, and the more time it takes to enter the contest, the larger the prize should be. For example, a $100 gift card should take minutes, versus a 3-month cruise around Europe, which understandably might require a 5 to 10-minute video submission by entrants.
Lays is a sound example of this — they've been holding flavor contests for a few years. Winners get a cash prize, their flavor actually gets made, and sold at real stores. While the Internet had its fun with the Lays campaign (by creating gross flavors), the Lays team picked some excellent winners for 2017, including "Crispy Taco" and "Everything Bagel."
This UGC contest allowed Lays to find good new flavors, plus the community gets involved by voting on their favorites. This bonus shows the brand what's popular with its most engaged consumers.
Interactive Elements
Want to avoid sorting through user-generated content while still engaging your community? Try adding fun interactive elements like a puzzle or trivia questions. By hosting these types of games on your website (and then embedding a contest entry form at the end), you can also gather metrics about your audience. These include time on site, other pages they visited, bounce rate, and more.
Try to incorporate your own products, services, or industry in these types of interactive games, such as trivia questions about what you offer or puzzles that put together product photos or recognizable objects. Don't make them too hard — once entrants complete them, they feel a sense of accomplishment and a mood boost.
The Travel Channel regularly does this with their sweepstakes: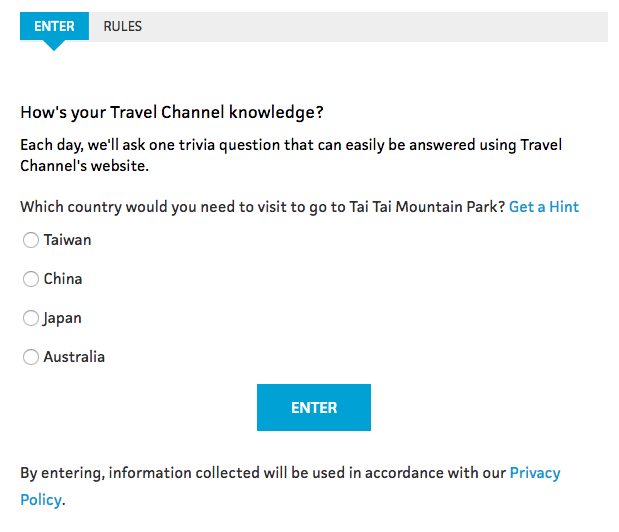 Being able to win a prize by completing the challenge and entering their information is an additional bonus!
Sweepstakes With or Without Recurring Entries
These two options are usually the most common ways that social media contests are facilitated. Users are shown an entry form (embedded in a Facebook tab or through social links) to the form on your website, then they submit their information and complete any required actions (like visiting your profile on Twitter). Once the winner is chosen, you have their contact information to send them details on how they can collect their prize.
There are two standard formats for this type of entry. One is one-time entry only, where entrants fill out the form one time, which is their entry. Entrants can get multiple entries (by doing specific actions), and they don't have to come back to get multiple entries.
On the other hand, some sweepstakes are set to allow users to get more entries every day for a specific period of time. This does allow more traffic to your entry pages, and possibly more long-term engagement, especially if you hold sweepstakes regularly. Users get accustomed to visiting your website daily to enter sweepstakes, which increases the chances they will visit other pages on your site.
Hashtag-Based
If you want user-generated content, but also want to rely somewhat on random chance, consider a hashtag-based contest. This requires users to enter using a hashtag on mainly Instagram, Facebook, or Twitter. When the competition is over, you can use a hashtag winner generator to select your entrant across several different user platforms.
To participate in the contest, ask users to answer a question with the hashtag, or share the hashtag on their own account along with a statement about the contest to convince others in their audience to enter the sweepstakes as well. This can be a fun way to gather testimonials about your products or get user feedback, and hashtags are easy to search and gain access to your users' audiences.
Social media contests come in a variety of formats, and it often takes a few tries or research to figure out the best option for your audience. Some industries do well by rotating different formats, whereas others may find that certain sustained contest types get the best results.
If you want to get started with a social contest, consider signing up for a free Woobox account to get started. Woobox makes online competitions easy and allows you to focus more on the fun and creativity that contests can bring to your social media strategy!
Image note: screenshot taken November 2017.