 Have you ever wondered what happened to Facebook Polls that could be posted directly to your Business Page's Timeline? We have; so we created our own tool for it, called Poll Posts. This new tool allows you to run a poll as an image posted on your Timeline, where votes are cast via hashtags in comments. It's simple to set up, and provides an easy way to interact with your Page in a fun, informative way.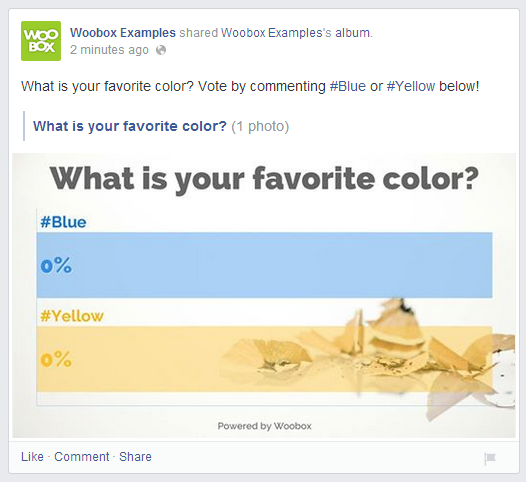 The Poll Post app is very easy to set up and customize. You can ask whatever question you'd like, and add the options you want users to choose from, as well as customize the colors and look of the poll overall. All users will have to do to participate is comment on your post with the hashtag of their choice. Participation will be limited to one vote per user (regardless of the number of times they comment on the post). The results will be automatically updated approximately once every five minutes, so once you've posted the poll, you can sit back and relax.This tool is designed for relatively quick promotions, lasting up to 72 hours, where users will just need to comment to vote, and you can post multiple polls at once, or just run one at a time. Additionally, we'd definitely recommend pinning the post to the top of your Timeline, as well as highlighting, and/or promoting it, in order to increase the visibility and reach of your promotion.
Get started and create your own Poll Post today, then let us know what you think in the comments below; we always love getting feedback from our users!
TIP: Want to learn more about Poll Posts and how to get started with your own? Check out our next blog post, which explains How To: Create a Poll Post.