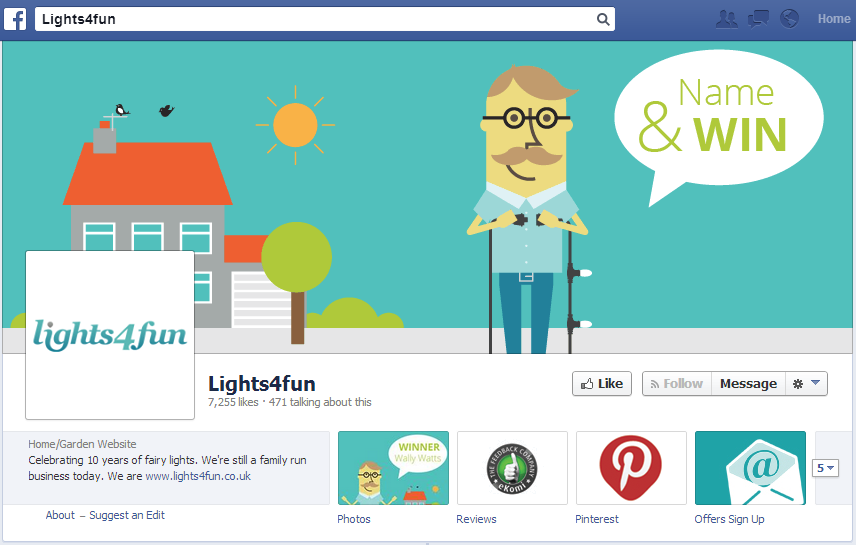 Lights4fun, a UK-based company that sells high-quality Christmas lights and fairy lights, was looking for a creative way to display their lights in action and raise the profile of local and national charities, all while building their Facebook fan base and increasing engagement. They turned to Woobox and created a successful holiday photo contest that accomplished all those goals!
About Lights4fun:
Lights4fun is a family run business based in North Yorkshire that specializes in outdoor and indoor lighting. The business came to life when owner Tim Naughton had 'a light bulb moment' – people wanted a broader selection of Christmas lights, and they wanted to be able to order them quickly and easily! The company started with a limited selection of products that included a few 'waving Santa' figurines and a handful of fairy lights, and now offers a vast and inspiring collection of lights for all occasions. Since 2003, Lights4fun has been involved with local and national charities who are close to the heart of their employees, donating 5% of their annual profits to great causes.
The Goal:
Lights4fun wanted to give their customers a chance to show off their Christmas lighting displays and let their customers decide who would be the recipient of a £1000 charitable contribution from the company. Their marketing goals were to raise awareness of both their product and their corporate culture, and to increase engagement with their fans.
The Promotion:
Lights4fun launched a Woobox Photo Contest and asked fans to upload photos of their Christmas light display and enabled voting so that their community could choose the winning display. They uploaded custom graphics that gave the promotion a cohesive and professional appearance, giving clear instructions both visually and through text on how to enter and vote. Below the custom graphic on the entry page, they included form fields for prize fulfillment, including name, email, and the name of the charity that they wanted the prize to be donated to if their photo receives the most votes. By activating the fangate pre-entry, they ensured visitors had to be fans of their page in order to submit and vote.
How they got the word out:
The charity component of Lights4fun's photo contest provided a huge boost in getting the word out about the campaign, and resulted in some positive public relations for the company. They promoted the campaign through their Facebook fans, local radio station (Stray fm), Twitter, email marketing, website – and via the long list of local and national charities they work with.
The Result:
Their goal was to increase their fan base and engagement, and they blew their expectations out of the water! As a result of the campaign, their fan base grew by almost 40%, their Facebook reach was over 8,000, and they received over 5,200 votes – that's a lot of engaged fans actively interacting with their brand! For a company that started the promotion with less than 5,500 fans, those numbers are pretty impressive. They even received a little local press as a result. The company is already planning their next promotion, and look forward to launching a giveaway or coupon promotion.
Words of Wisdom: "In hindsight, the only thing we would have done different would have been to promote the contest more proactively on launch day, and create more awareness via emails and advertising to stakeholders. But overall we are very pleased with how the promotion performed. Keep up the good work, Woobox!" ~ Lights4fun
Visit Lights4fun on the web or check out their Facebook page!