The past few weeks have been an exciting time here at Woobox – full of new product launches and new opportunities to help page admins engage their fans. And we encourage page admins to experiment with the new options available to them.
Today, however, we are going to ask you all to stop what you're doing, put down the mouse and put on your thinking cap. Sure, the new promotional opportunities are exciting, but before you launch your next promotion, install a new page tab or even post a page update, you must first discover – TRULY discover – what value you are providing to you fans. The stronger your understanding of your fan value proposition, the easier it will be for you to acquire and retain fans, and increase their engagement on your page.
Several weeks ago we posted an infographic on why fans don't like brands on Facebook, and our research found that many brands and products simply aren't giving potential fans what they want. For instance, marketers think that fans are coming to their page to get info on making a buying decision or in search of customer service, and while that is true in some cases, the vast majority of fans want something very specific from you: discounts and insider deals. Basically, they want something they can't get anywhere else.
Here's a fun exercise for you. Ask yourself and all members of your team the following questions:
What do my fans want from me and my brand?

What do my fans like to talk about on social media?

What can I offer my fans on Facebook that they can't get anywhere else?

Can I maintain a long-term strategy based on what I discover they want?
Now comes the second part of the exercise:
Ask your fans what they want from you and your brand. Post a poll on Facebook or ask a fill-in-the blank question or leave it open-ended – the means of execution isn't important, the answers are.

Listen to what your fans are talking about. Read through the posts they make on your wall and the private messages. Looks for consistent themes or issues. Research the topics they involve themselves in that receive the most engagement.

Check in on #1-4 in the first section. Does this new research change your response to those questions?
Once you have determined what your fans want and the how to best reach them, you need to find a delivery method to give them what they want.
Offer Fans An Exclusive
Exclusive Facebook-only deals are the #1 engagement driver a page admin can use to promote their brand. It is also the #1 reason that most users are a fan of your brand on Facebook to begin with. Check out the example below from GameStop, offering early demo access on a brand new game. This promotion is both exclusive (providing value to Facebook fans) and highly desirable (feeding gamers desire to be the first of their peers to check out a new game).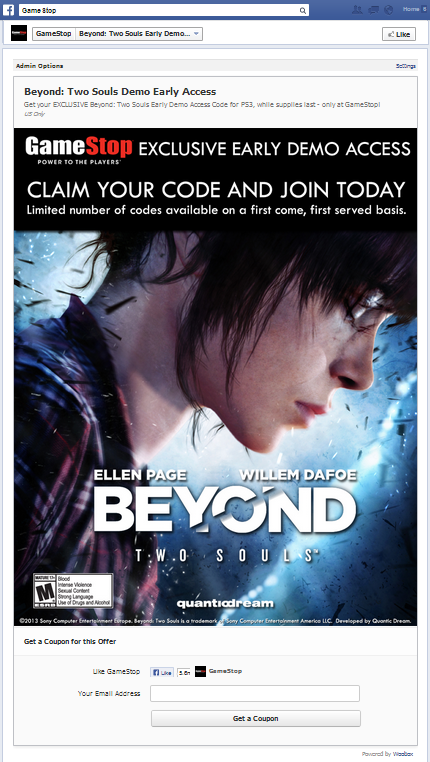 Facebook offers can also increase sales at brick-and-mortar locations. Consider a discount where customers must present a coupon available only to Facebook fans. AYZA Wine & Chocolate Bar entices fans to visit their physical location with an offer of a free glass of wine. For customers it represents a low risk opportunity to try a new restaurant and provides immediate value from their interaction with the brand. For AYZA it helps to build a customer base that will provide immediate ROI with the purchase of additional glasses upon their first trip, and long term return through return visits and marketing information they captured through the app.
BONUS IDEA: As an added means of activating engagement, ask fans to post photos of their purchase, be it a meal or a pair of shoes, for a chance to win a gift card for their next visit. Promotions that provide incentive for fans to make purchases and share their experience are a win-win: fans get the items they want at a discounted price and brands get activity and excitement that increases the value of their social media presence.
Align Your Brand with Your Core Values
If part of your brand's core values include supporting a local cause or national charity, then make sure your fans are aware of it! Disclaimer: it will be apparent if you are aligning yourself with a cause simply for personal gains, so make sure it is a cause that is relevant to your brand and that your involvement is organic. Perhaps the most engaging and effective campaign in recent history, that didn't align itself with a formal organization, but rather a national movement, is Chipotle's short film The Scarecrow, a masterful piece that conveys the company's core values in an emotional film about processed foods. While Chipotle isn't aligning themselves with a specific organization, they are making a strong allegiance to a cause – one that a lot of fans not only identify with, but are passionate about. While your company may not have the budget to create such an elaborate piece, get creative and find a way to align your core values with other organizations or movements that share those.
Protect Your Valuable Content
All those coupons, freebies, videos, expert advice – your value proposition – should be guarded and only accessible to fans who "like" your page. If you want to collect data on your fans when they claim their prize or collect a coupon, then fangate the content and require authentication. Make sure your fans put in the effort to get the goods, but that the effort doesn't outweigh the value of the goods or discounts provided. You can accomplish this with a free HTML fangate from Woobox or upgrade to a pro account and run contests and promotions that require authentication to be able to claim the prize or coupon.
Success Metrics
Analyzing the success of social media isn't rocket science, you just have to pay attention. The easiest way to gauge the success of your brand and how effectively you are executing your value proposition is to simply look at these three things:
Likes

Comments

Shares
Here are some best practices that you can utilize to increase the likes, comments and shares.
Keep your text short. Try to keep your post to three lines – four max! People are skimming through their news feed looking for stuff that jumps out at them, and a block of text screams "too much information" and will easily be ignored.

Stay on topic. Be relevant and stay on top of current events that are relevant to your audience, and join the conversation.

Say it with images. The old adage that a "picture is worth a thousand words" could better be stated as a "picture is worth a thousand likes" when it comes to social media. You may not actually get 1,000 likes, but you will get more engagement by including compelling photos or graphics than you will by not including any. Let's say, for instance, that you are a jeweler and you just got in a new design that is absolutely breathtaking. Which of the two posts below do you think will get more fan engagement?

Connect the Real World to the Social World. Did you spend last weekend representing your brand by volunteering at a fundraiser? Post pictures of it. Are you attending a major trade show?  Check-in and update your fans with any new products or knowledge you have gained.
Now Go Play!
Now that you have a good grasp on why your fans follow you on Facebook and how to engage them in a meaningful way, you may resume posting on your Facebook page. We're always on the lookout for great examples of social media tactics that move the needle, so feel free to post your success stories in the comments below.