*For picking winners from Twitter and Instagram posts, click here.
When Facebook announced a relaxing of their promotions policy back in 2013, reactions on Facebook for Business were overwhelmingly positive. "Yay! This is great news. Thanks, Facebook. It's about time!" But the comment that perked our ears up, and that many people repeated, was:
"What's an easy way to pick a winner?"
It seems like an easy way to execute promotions via "comment to win." But the concern among page admins and the new Facebook promotions policy seems to be "How are we going to manage and select our winners efficiently?"
Woobox is proud to offer an easy and FREE method for page admins to quickly select winners from a timeline post with up to 100 comments or reactions!
*If your post has more than 100 comments or reactions, you will need to upgrade your plan to use the winner-picker feature.
Activate the service by logging into the Woobox dashboard with your Facebook profile. Then click "Posts" at the top of the screen:

You will see all of the page's recent Facebook posts. You can also use the calendar/date-range tool to find specific posts. Note that using the icons below the "Pick winner" button, you can export the Comments on the post into an Excel document, as well as Promote the post right from the dashboard:


After clicking "Pick Winner" you can choose to:
1) Select the winner randomly from all commenters on the post
When you choose this option, another box will appear. It asks if you want to limit the selection to one per Facebook profile. By not checking the box, it allows multiple entries if fans comment numerous times. After you select your criteria, select "Pick a Winner."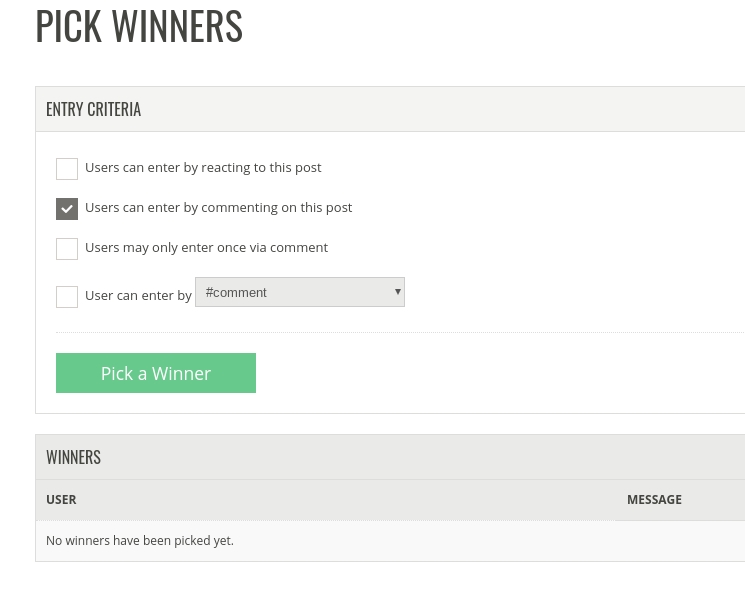 2) Select winners only from fans who have used a specific hashtag:
The winner and their comment will populate in the area below the Pick Winner button. You can then "Pick another winner" or "Unpick" the selected user if needed:
It's that simple! We hope you gained some useful knowledge in this how-to on picking winners on Facebook Posts.
Reminder: It's up to you to contact your winners to notify them that they have won and coordinate prize fulfillment.
For help announcing winners and gathering crucial data from them, check out our Prize Claim App!
Here's a reference link to the 2013 Facebook for Business policy change. Have further questions about picking winners from posts or other Woobox features? Please email us at support@woobox.com.