We're following up on our popular free "Pick A Winner" tool with a great way for winners to claim their prizes.  With only a Facebook user id, how can you effectively contact your winners?  Our new Prize Claim App is the answer.   Simply post your Prize Claim link and your fans can check to see if they've won.  The app will display the profile pictures of your winners with a button that winners can use to claim their prize.  You set the amount of time winners have to click the claim prize button and can request any additional information you need such as an email or shipping address.   Here are the 4 easy steps to using the Winner Picker and Prize Claim App and a detailed overview of how it works.  If you just want to go try it now click here for instant access.
4 Easy Steps to Running a Timeline Like/Comment to Win Promotion using Woobox's Winner Picker and Prize Claim Apps.
1. Post on your Facebook timeline and ask your users to Like or Comment on your Post for a chance to Win
2. Pick your Winners using our Free Winner Picking Tool
3. Announce your Winners by posting your Prize Claim link.  Only the winners you selected will be able to click the Claim Prize button and provide their information.
4. If your winners don't claim their prize by the deadline, pick more winners and repeat.
BONUS TIP:  For even more engagement, pick your replacement winners from anyone that likes your winner announcement post!
How it Works
Login to your Woobox dashboard and select the "Posts" menu to pick your winner:

You will then see a list of your Facebook posts. Locate the post promotion that you want to select a winner for and click on the "Pick" link: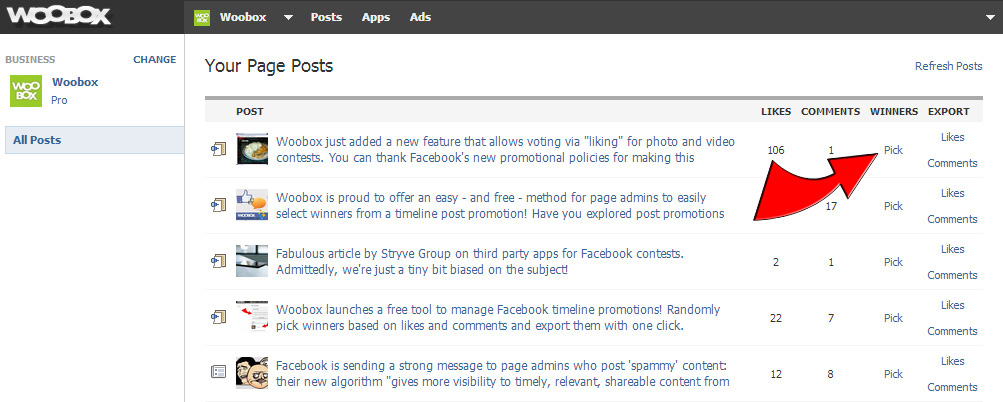 Next, click on "Pick A Winner":
Your winner's information will appear in the winners field. If you want to select multiple winners, simply click on "Pick A Winner" again. There is no limit to how many winners you can pick: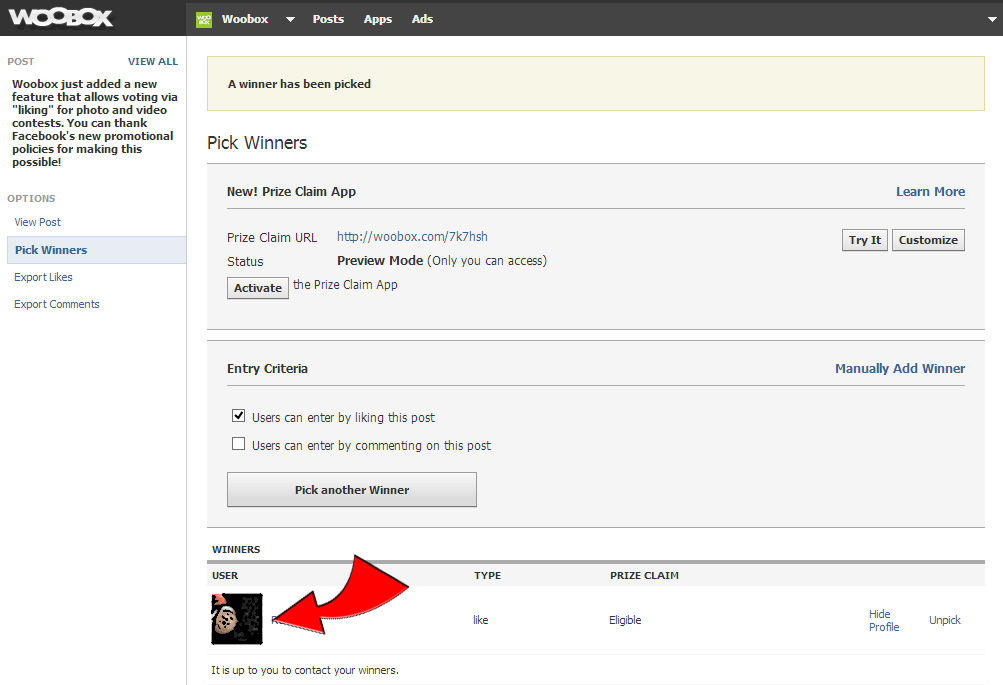 To activate the Prize Claim App, simply click "Activate":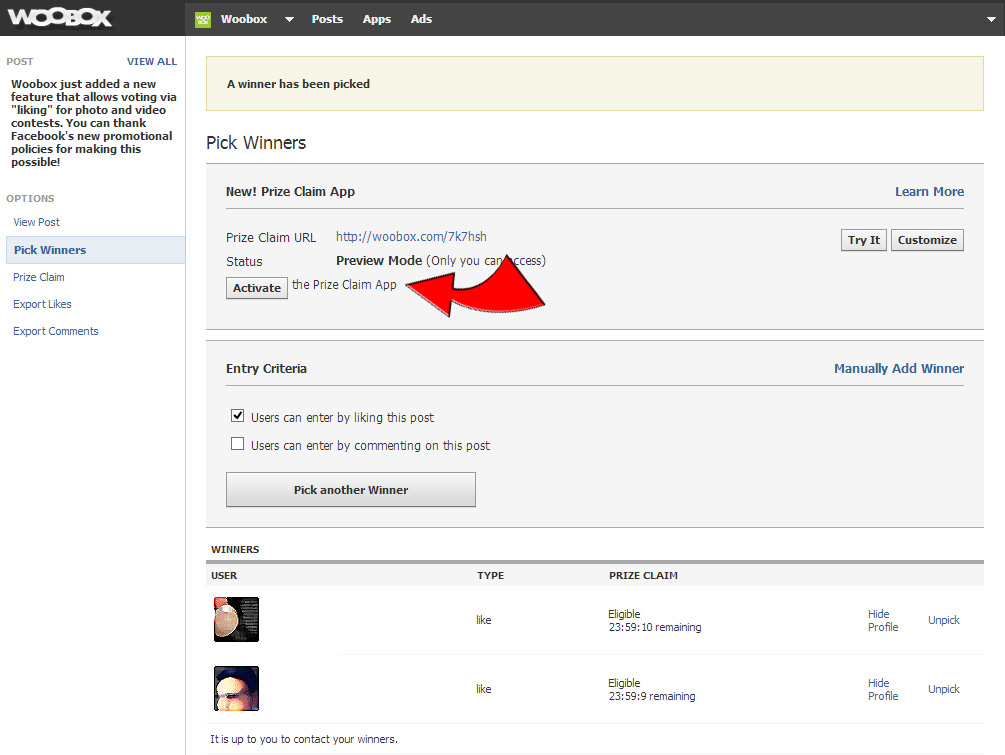 You can customize your prize claim form either by accessing it through the customization tool on the "Pick Winners" page:

Or via the "Prize Claims" tab in the dashboard: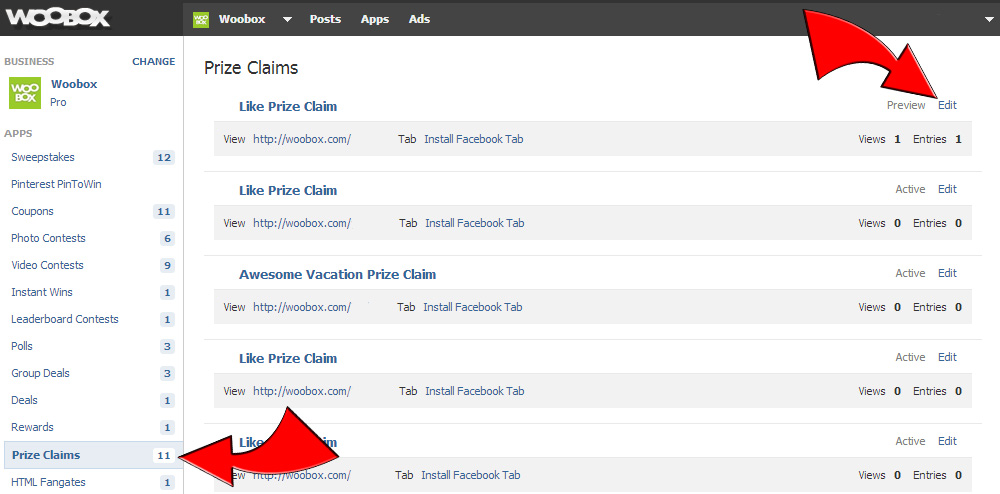 In the edit view, you can name your Prize Claim form so that you can easily distinguish it from other prize claims you may be managing, and provide details on the prize that will be visible only to winners when they click on the app to validate their information. Place a time limit on how long winners have to claim their prize before it expires as a means of adding urgency to fan response time. You can add prize restrictions, and customize elements like fangates, winner gates, and thank you pages, just like many of the other Woobox tabs that you may currently already have: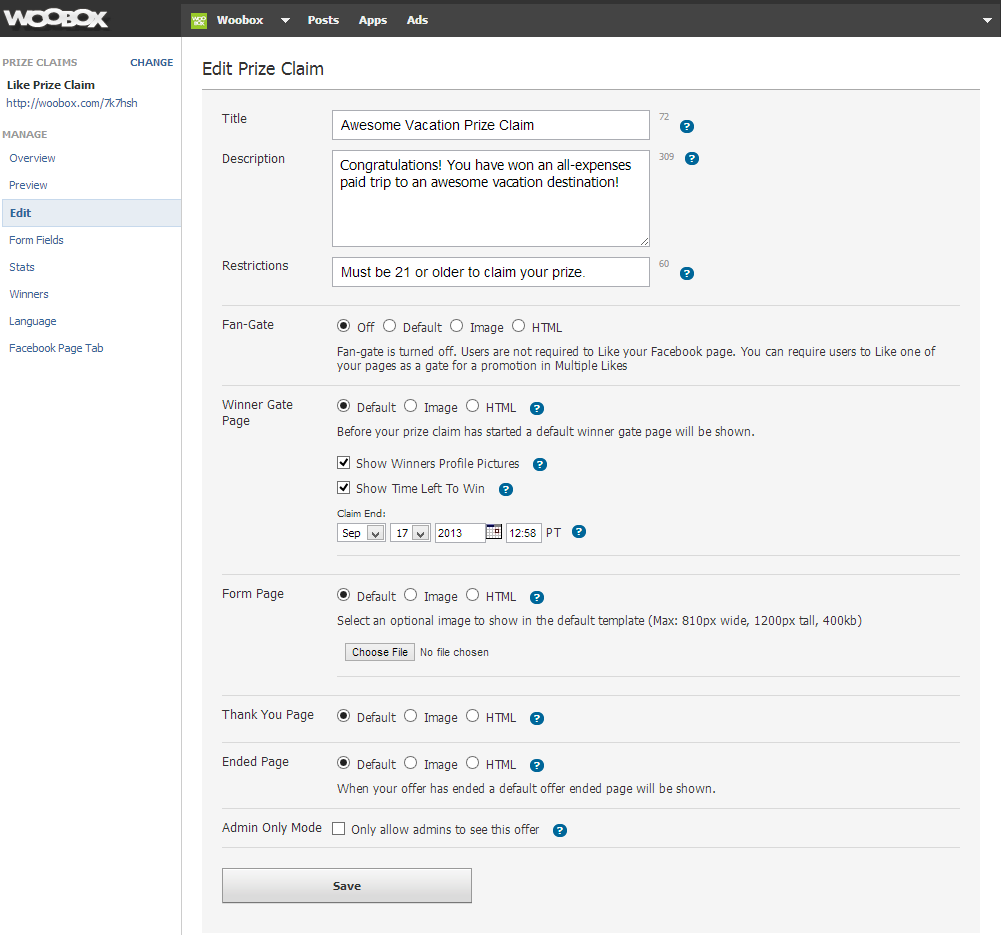 You can also add fields to your claim form, by clicking on the "Form Fields" tab. The email field is added by default, and you can collect any other information you need to send the prize such as address, phone number,  or age verification: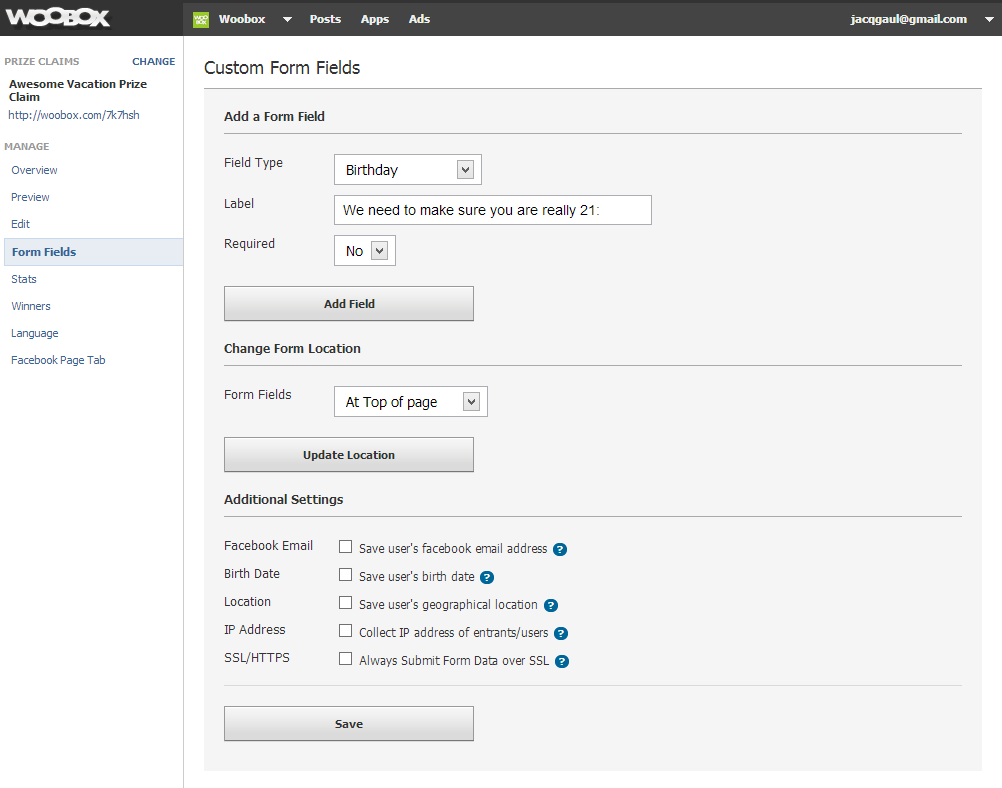 Use the share URL to post it on your timeline or website: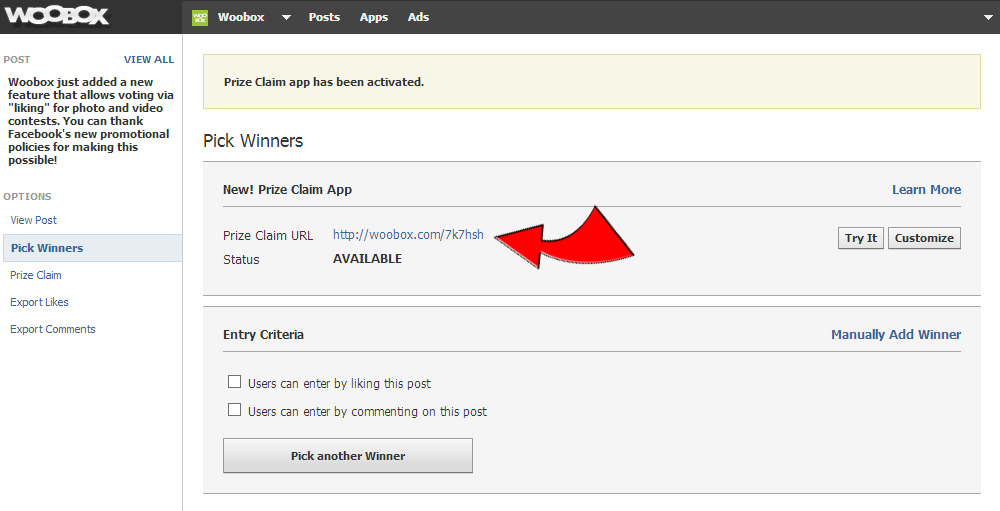 This is what the Prize Claim App form looks like to your fans, with a clock counting down the time remaining to claim their prize: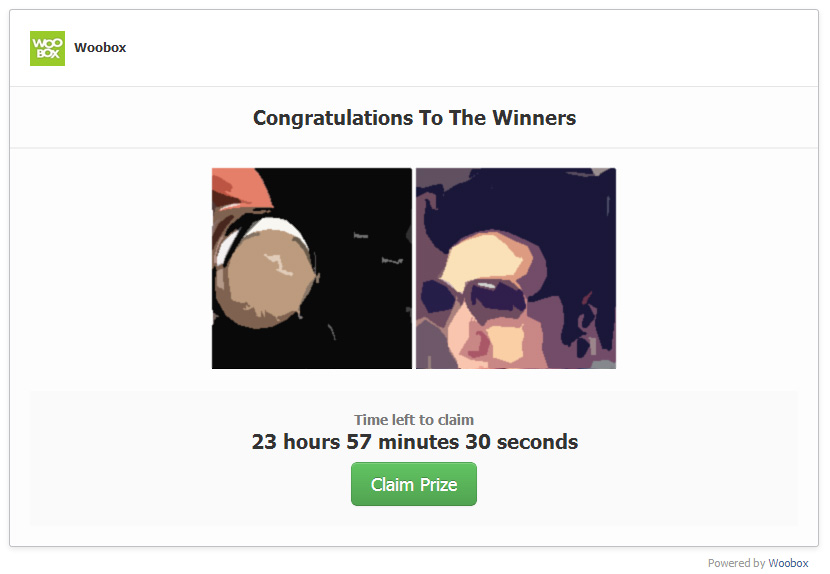 When the winner(s) click on their profile picture, they will be directed to the customized form where they provide contact and other required information to claim their prize: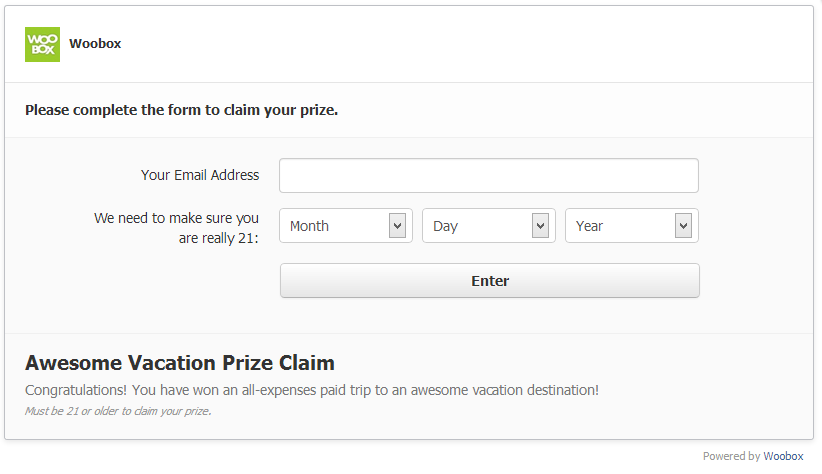 And thanked for participating:

When winners claim their prize, the app will indicate they have done so by placing a "claimed" stamp over their profile photo: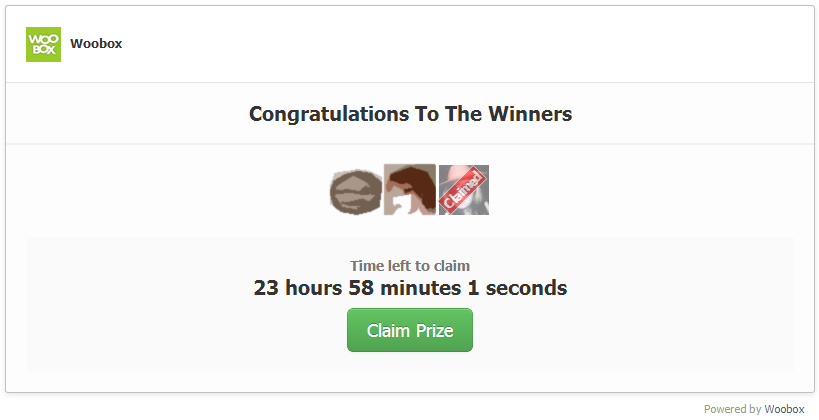 If prizes go unclaimed, then an "Expired" stamp is automatically place over their profile photo:

As with all of our apps, you can customize the look with your own images and html.  If prizes go unclaimed, you can select new winners and post a new Prize Claim form. Make sure you let your contest entrants know when they enter your promotion that you will be posting the winners on your page and when they will be announced. If you are clear in your promotion about when and how you will be announcing your winners, you will increase the visibility and claim rate of your prizes.
We look forward to hearing your success stories with our new Prize Claim app.  The app is available on all Woobox plans starting as low as $30/month.
Try the Winner Picker and Prize Claim app out now for Free in Admin-Only mode.
Tagged with: Custom Tab, facebook post promotions, How To, New Feature, pick a winner, prize claim, Promotion Apps, Social Media, timeline promotions