When Facebook announced a relaxing of their promotions policy, reactions on Facebook for Business were overwhelmingly positive. "Yay! This is great news, thanks, Facebook, it's about time!" But the comment that perked our ears up, and that many people repeated, was:
"What's an easy way to pick a winner? Especially when you have thousands of comments… Thoughts?"
It seems like an easy way to execute promotions via "like to win" or "comment to win." But the concern among page admins and the new Facebook promotions policy seems to be, "How are we going to manage and select our winners efficiently?"
Woobox is proud to offer an easy and free method for page admins to quickly select winners from a timeline post!
Activate the service by logging into the Woobox dashboard. Then use the "Sign In Using Facebook" option. Select the page that you want to track with the drop-down menu, and click on the "Posts" link:

You will see the most recent ten days of Facebook posts listed. Click on the "Pick" link under the "Winners" column for the post you want to select a winner for:

You  can then choose to either:
1) Select a winner randomly based on the total number of likes on the post
Check the "Users can enter by liking this post" option and then select "Pick a Winner":
2) Select the winner randomly from all commenters on the post
When you choose this option, another box will appear. It asks if you want to limit the selection to one per Facebook profile. Alternatively, by not checking the box, it allows multiple entries if fans comment multiple times. Again, after you select your criteria, select "Pick a Winner":
Finally, you can export your list of fans based on likes and comments: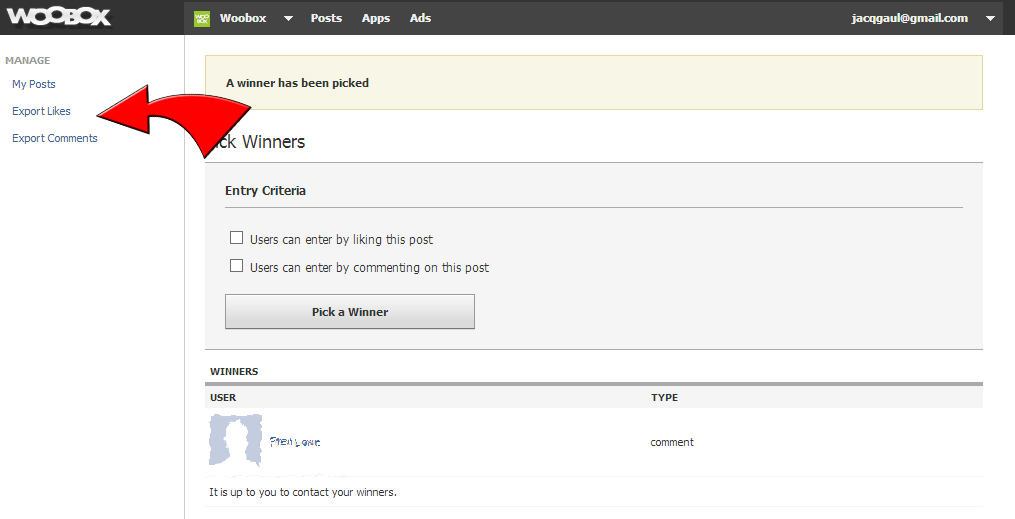 It's that simple! It is up to you to contact your winner and notify them that they have won and coordinate prize fulfillment. Looking for more information about the new policy change? Read their article in the news section of Facebook for Business.
Tagged with: Facebook Pages, New Feature, Promotion Apps, Promotion Policies, Social Media