The most exciting time of the year is around the corner, and arguably this year is a gold mine for e-commerce owners and marketers who are looking to leverage their sales online.
As the world is just getting out of the pandemic, people are still in their 'online high,' which makes it crucial for brands to think of the best strategies to attract and retain buyers online.
Why?
As per a study published by the National Retail Federation, there was a 20% hike in online sales between 2020-21 when compared to the previous year. And, it can be safely said that this number is bound to increase in the coming quarters considering more people are choosing to shop online. So, this is the perfect time for brands to build their online presence if they're planning to rack up sales this holiday season.
This is where giveaways come in. A social media trend, giveaways have been an extremely popular and effective tactic used by multiple brands to engage with their online audiences.
We've shortlisted some of the best holiday giveaway ideas to delight your social media followers and increase your online sales for the season. 
The Advent Giveaway
An advent calendar is a special countdown calendar used to count the days to Christmas. Each day celebrates something special, depending on the set theme. In this giveaway, you can celebrate each of the 12 Days of Holiday with a special giveaway. For example, if you sell book accessories, you can host a new giveaway contest every day with new accessories as prizes.
Check out a similar campaign hosted by A Novel Escape, wherein they extended the 12 Days of Holiday to 24 days and organized 24 unique prizes for 4 lucky winners.
The Fitness Challenge
When you think of the holidays, fitness and health are the last things that come to mind. After all, who can resist those delicious sweets! But, the New Year is around too, and the first week of Jan is when gym memberships skyrocket. So, what better way to stand out of the crowd than by enticing participants to stay fit with awesome prizes!
For example, check out Bike Barre's Fitness Challenge. Stepping away from a typical giveaway campaign that involves tagging and liking, this campaign encourages audiences to participate physically instead. The company promises a discounted membership to anyone who works out at the gym for 12 consecutive days, following the 12 Days of Holiday theme.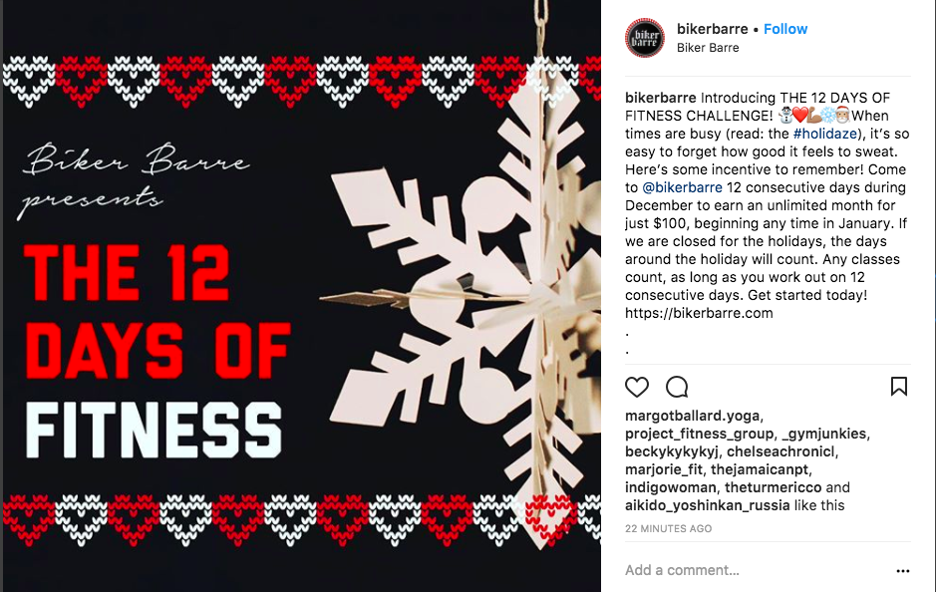 The Social Cause Giveaway
The holidays are all about smiles and creating a 'feel-good' experience. So, what better time to host a social cause campaign? In fact, some of the most popular hashtags used in holiday posts are #gifts, #serve, #celebrate #dogood #feedthepoor, and more! Hence, it goes without saying that you can drum up engagement by offering to do a charitable deed in exchange for some engagement. For example, donating a box of food to children for every person who participates in your campaign.
Product Giveaways
Probably the most common and effective type of giveaway, this campaign entails brands giving away their top-selling products to selected winners. For instance, if you sell a range of beauty products, you can give away your best face wash to the lucky winner who follows you, likes 5 posts, tags three friends and leaves a compelling comment. This will increase engagement on your page and help you increase your customer base.
For example, check out The Mestiza Muse's Christmas Giveaway campaign, wherein she promises a bunch of her best products to four lucky winners who complete specific tasks. As the tasks are fairly easy and the prizes are enticing, brands should be able to lure multiple participants.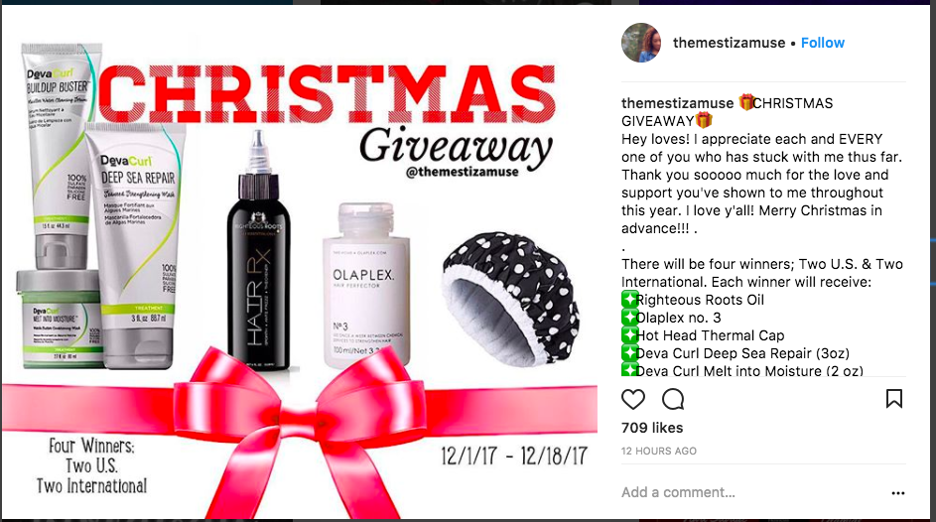 Comment Giveaways
Another popular type of giveaway, this campaign is based on participants using their creativity to win gifts. Much like a competition, you can pretty much ask people to leave comments about a particular topic. Based on their input, you can choose a winner, give them your best-selling product, store credit, or even enticing discounts.
For example, check out this popular giveaway campaign hosted by Wayfaren, in which people can enter the contest. Once they enter, they need to share what type of tree they have this Christmas; artificial or real, and why. They also need to follow a specified user and tag a friend. Based on the comments, Wayfaren will select a winner and give $25.00 shop credits.
It's also important to note that this particular campaign is a partner-up giveaway, which can be extremely effective for new brands who still haven't created a good social media presence. For example, one of the requirements is to follow another user; Hurd and Honey, and a similar post is on Hurd and Honey's social media page, wherein the requirement is to follow Wayfarenco.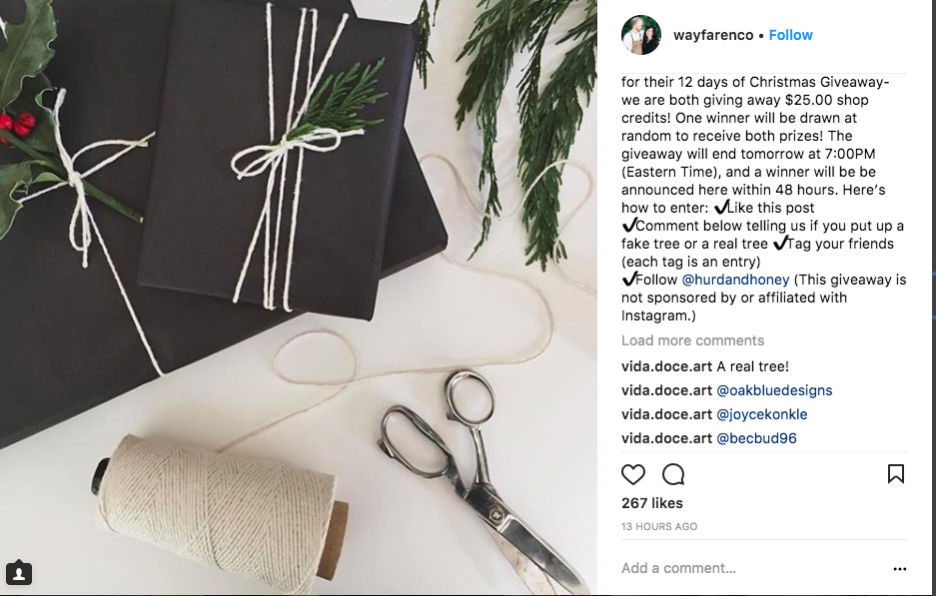 Offline Giveaways
With everyone 'going online' it's important to remember that offline can work wonders as well; especially when it is combined with the power of digital. For example, you can organize a treasure hunt with clues given on your social media page, and the winner of the hunt will get exciting prizes. This campaign works great for brick and mortar stores, as the hunt can end in their physical store.
Another great offline giveaway example is this campaign hosted by Spanky the Pug, wherein users need to send greeting cards to a physical location and the lucky winner could win prize money to donate to their favorite charity or rescue.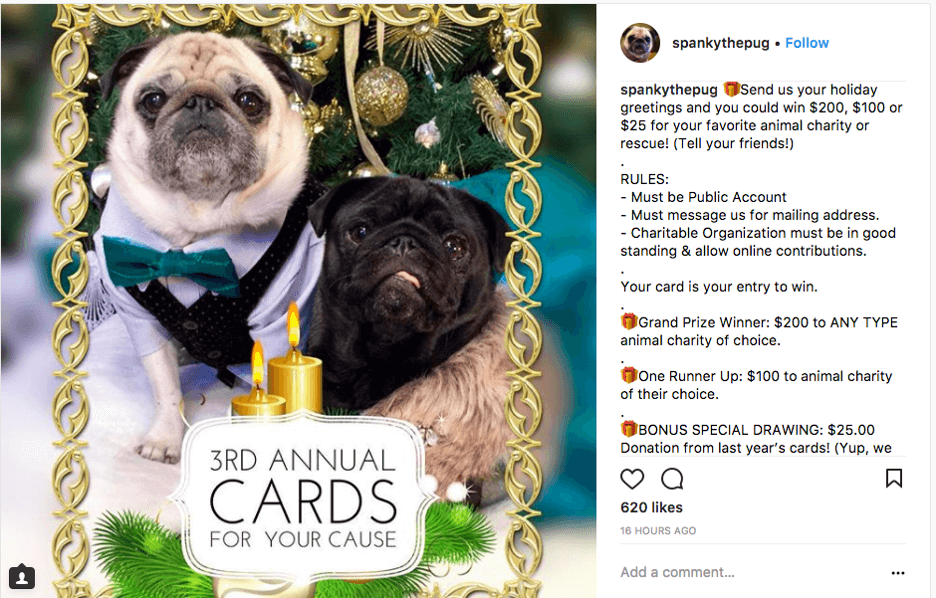 The Classic Giveaway
Saving the best for the last, nothing works better than the classic giveaway campaigns. This includes asking participants to like, share, follow, tag, and comment on the post to enter the contest and a particular number of people will be selected as winners. These giveaway campaigns are always successful as they're extremely easy to execute. But, you need to ensure that the gift you're giving away is enticing, which will encourage people to actually participate in the campaign.
For example, Caliatt Wood Home organized a classic giveaway campaign following the 12 Days of Christmas theme. After entering the contest, lucky winners would be eligible to win one product for the 12 Days of Christmas from the CAH Shop.
This brand is truly on-point with their Insta engagement game as they've not only executed the classic giveaway contest flawlessly, they've also followed the best practice for hashtags by placing them in comments instead of the main post.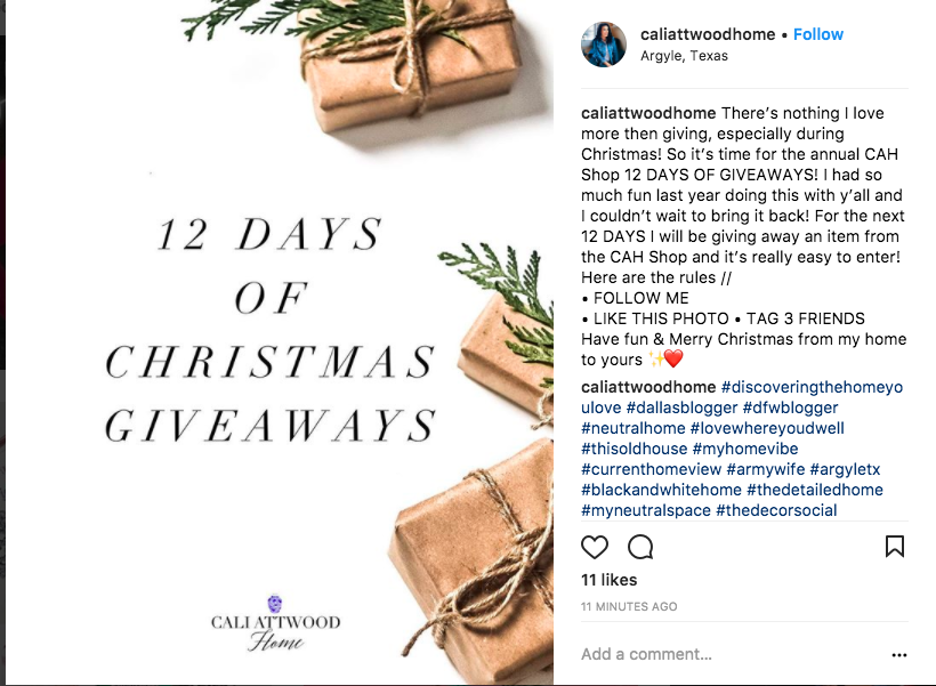 Let The Games of Giving Begin
Giveaways work; there are multiple case studies to attest to this. However, it's important to be creative and try to be as unique as possible. Think of how you can incorporate these giveaway ideas to match your brand and engage with audiences in your niche. That being said, creating an effective giveaway is not always easy. Thankfully, using Woobox's marketing campaign features, you can easily create holiday Giveaways, Sweepstakes, Photo Contests, and much more.
So, are you looking to take your social media game to the next level by hosting an engaging giveaway contest this holiday season? Woobox is here to help! Our support team is available from 9 am to 5 pm PST from Monday to Friday at 1-360-450-5200 and support@woobox.com.