Summer is just around the corner, which means that it's almost time for the national holiday that brings all Americans together. You can call it Independence Day or the 4th of July; it's the one annual holiday that everyone looks forward to. In fact, The National Retail Federation estimates spending for Independence Day will be $6.52 billion on cookouts and other celebrations on this joyous occasion.
Hence, it comes as no surprise that Americans are ready to spend big with the 4th of July coming up. However, as there are restrictions this year due to the ongoing pandemic, people are looking forward to special deals, freebies and fun contests to engage with on social media instead. It's up to marketers and businesses to deliver.
But, what's in it for you? Why should you bother creating these campaigns and contests at all?
Simply put, Independence Day is a great opportunity to connect with more audiences and display your brand's values and credibility. By designing the perfect contest and giving the right prize, you can leverage this holiday to increase your brand's reputation and online presence.
So, without any further ado, let's get into the top Independence Day or 4th of July competition ideas that you can easily execute on social media using Woobox.
Facebook Contest Ideas
Facebook is one of the first social media platforms that helped brands connect with their audiences using contests. With over 190 million Facebook users in the US, this Mark Zuckerberg-owned social media platform is a great way to engage with your audience on the 4th of July. Given below are some ideas you can execute without any hassles using Woobox:
Photo/Video Contest
Also known as user-generated contests, photo or video contests are preferred by brands and consumers alike. On the one hand, consumers get a chance to steal the limelight; on the other hand; businesses don't need to spend a lot of time and effort on creating content. They're easy to set up, attract a lot of attention, and are also simpler to handle compared to other types of promotions.
In a nutshell, for these types of contests, you need to set a theme for these types of contests and ask users to send their photos or videos that match the theme. Using the voting system available on Woobox, you can declare winners and award prizes, which encourages participation.
If you're planning to host a photo or video contest to celebrate the 4th of July, you could ask consumers to send content related to the occasion. For example, if you're a clothing brand, you could ask consumers to send their best red, white and blue clothing combination and the best one gets free merchandise from your store.
Polls
Another really popular way you can engage with your customers this Independence Day is using Facebook's famous Polls. You can create a customised poll with unlimited choices and design it to match your branding and goals with videos, images and text using Woobox. This will allow you to engage with your customers and create brand recognition and give you insights into what your audience likes and expects.
If you're planning a Poll for the 4th of July, you could consider putting up two famous products and run a poll to see which one is preferred. You can then declare a discount on the product that wins, which will encourage people to take part in the poll and make a purchase.
Trivia Quiz
What better way to celebrate Independence Day than to quiz your customers about the history of the country? A trivia quiz is fun and engaging, and customers love to partake as it comes with the promise of many goodies at the end of it.
You can create and score quizzes with customer results based on the answers given by participants using Woobox's easy-to-use application. It's crucial to award great prizes to people with high scores, encouraging people to participate in the quiz. You could also give them the ability to share their quiz results on their social media profiles, which will give you a better reach.
Instagram Giveaway Ideas
Unlike its counterpart, contests on Instagram work slightly differently due to its photo-centric approach. The most notable difference is the extensive use of hashtags and giveaways instead of competitions and quizzes.
Here are some of the most popular Instagram giveaway ideas that you can use to create a viral campaign on the 4th of July.
Comment-to-Enter Giveaways
For this giveaway, you can either upload a new photo or use an existing photo. To be eligible for a giveaway, your followers need to leave a comment to enter. You can then choose the best comment that wins the giveaway.
As the campaign is for Independence Day, make sure the photo matches the theme. For example, if your brand manufactures shoes, arrange your red, white and blue shoes in a particular pattern and ask your followers to 'caption this'. The most unique and appealing comment will win the giveaway.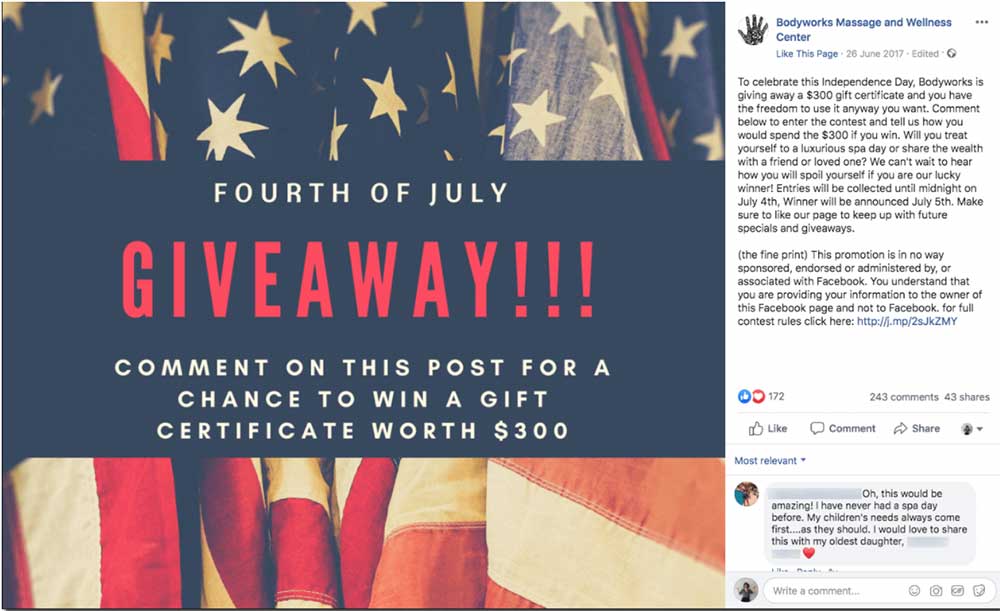 Using Woobox's Instagram Comment Picker, you can either allow the application to pick a random comment or download all the comments and browse through them quickly to find the best one.
Hashtag Contest
As the name suggests, participants of this contest need to create a hashtag and upload relevant content based on it. The content of the users may be a photo, video, review, or even any text, such as a recipe. – when anyone uses the special hashtag in a post, they are entered to win a prize. The winner can either be declared at random or based on certain parameters set by you. For example, the winner can be decided based on the number of upvotes or likes their hashtag gets.
If you want to run a hashtag contest across multiple platforms and social channels, our Hashtag Contest can help you.
Instant Win Contest
An Instant win contest is great for engagement as the participant gets to know instantly if they've won. You can reach new audiences by encouraging non-winners to try their luck again and invite winners to share the contest with their mates to increase participation. With Woobox, you can automatically award multiple different prizes based on the odds you set.
Contest Prize Ideas Around The 4th of July Theme
You won't be able to garner much traction by simply announcing a competition. What attracts the most audiences are the prizes. Considering your campaign is around Independence Day and the 4th of July, here are some prize recommendations you can consider.
The Barbecue Lovers
Independence Day celebrations are surely incomplete without a great barbecue and the three 'B's that accompany it: burgers, buns and beers. But, don't restrict yourself. You can add items like American-brewed drinks, party accessories or even barbecue tools!
The Stars & Stripes Lovers
The fourth of July is all about stars and stripes, so any gift that matches this theme is a great giveaway. This includes flags, party favours, household décor and even little knickknacks. As long as they're red, white, blue and have stars and stripes, you're good to go.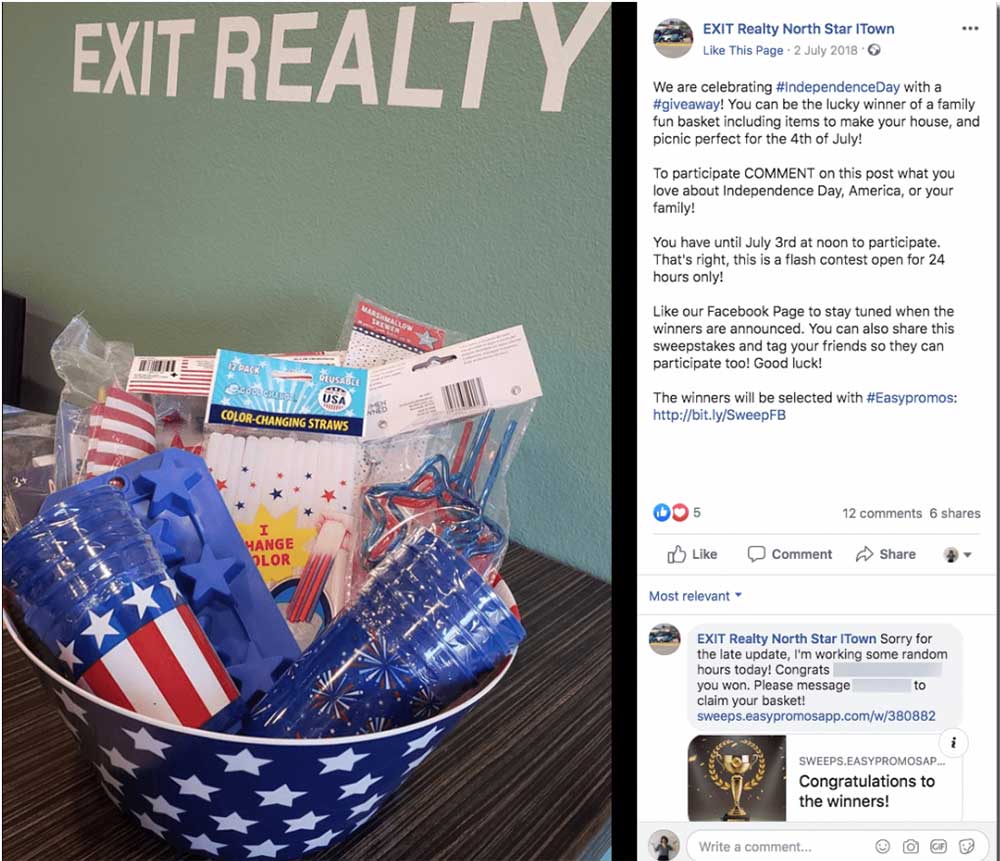 The Experience Lovers
As the most anticipated holiday of the year, you could consider awarding tickets to concerts or workshops as prizes. However, keep in mind the restrictions due to the pandemic while determining the giveaway.
Regardless of which prize you choose, try to always incorporate your brand in the prize. So, either give your products as prizes or promote your newly launched items during the contest.
Recap
Social media giveaways and contests are a great way to showcase your products and strengthen customer relationships. Follow these steps to organize and execute a seamless contest on social media for Independence Day:
Pick the type of competition you want to host
Determine what your prize or giveaway is going to be
Use Woobox to create competition on your preferred social media platform
Don't forget to post engaging content beforehand to create buzz about your contest
Add highlights of the contest on the 4th of July to keep your followers engaged and to reach new audiences
If you're facing any challenges, you can reach out to Woobox Support from 9 am to 5 pm PST from Monday to Friday by calling us on 1-360-450-5200 or send us an email at support@woobox.com.