When it comes to engaging your customers and audience, one of the best times of every year is before and during a popular holiday. Creating a great connection between your brand and a specific public event can skyrocket your sales and increase your audience's engagement — if you play your cards right.
Yet, many marketing campaigns struggle with choosing the right approach to pique an audience's interest and keep them interested long enough to remain as followers after the holiday hype has died down.
Why is this so important right now? Check out the calendar and take a good look at it: Do you see a unique special occasion coming in a little over a month? Yes! We're approaching the 4th of July and soon, all brands will be decking out their best patriotic-colored actions to capture their audiences, and you don't want your brand to fall behind.
If you want to stand out in your audience's eyes, you'll need to act quickly and efficiently. And the easiest way to do it is by running a contest on social media. But, how do you find fun and easy ideas for contests?
You could start with Google, but searching for creative ideas for a 4th of July contest on Google brings back a substantial amount of results that can be quite overwhelming to review.
Hey, if you start now, you might end up reading search results up until the 4th of July… of next year.
For today's post, we did the research for you, because the most anticipated holiday of the summer is very close, and we want your brand to thrive. We gathered a few examples of the best ideas we've curated from our Woobox users for contests that will represent your brand, engage your audience, and help you celebrate the 4th of July in style.
1. Photo Contest ideas you can run with
It may be the most common trick in the book, but there's a reason why photo contests have stood the test of time and remain one of the most popular choices for contests.
Asking for photos gives your audience a chance to stand in the spotlight and (literally) become the face of your brand. On the other hand, you'll receive a flood of user-generated content to engage with and share in the days before and during the 4th of July. Thankfully, in addition to hashtag entry, Woobox offers secure voting options and photo submission moderation features for running a photo contest.
Photo Contest Ideas & Example
What are good ideas for this type of contest? Ask your audience to share their best red, white, and blue themed photo featuring your product or service. You can also request for a photo memory of their best 4th of July so far, or how they're planning to celebrate this year.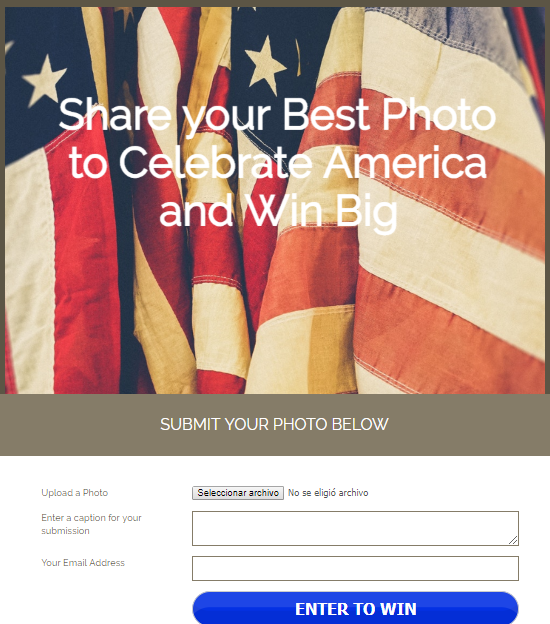 Here's an easy example you can replicate for your brand. Another way to build engagement by referring to the holiday is to celebrate the U.S. and what makes it unique, from your audience's point of view.
2. Or, setup a video contest
Every marketer and their mother insists on the importance of video content for brand engagement and recognition. Considering this, you can replicate the concept of the photo contest in a video or short clip participants can share.
Video contests give you the opportunity to watch your audience in action, giving them a relatable face and voice that's just like them. Thanks to smartphones, anyone can create an exciting or moving piece of video content with ease, sharing it with the world in minutes.
Video Contest Ideas & Example
Use video contests to ask your audience for 4th of July-themed anecdotes, their plans for the upcoming holiday or for a fun but respectful interaction with your brand, in the context of the patriotic celebration.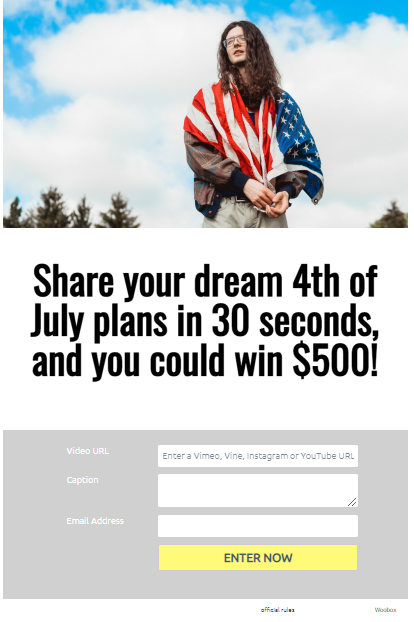 You'll find this an easy example of a video contest that you can replicate for your brand. Make sure to include in the contest rules the video duration and the hosting platform(s) in which applicants must host their videos.
3. Get your followers to share their patriotic-themed stories
Holidays and a little nostalgia go hand-in-hand, and the best way to channel this is by telling stories. Give your audience a medium to comment and share their anecdotes and stories related to their favorite experiences from 4th of July.
Even better, you can easily manage text entries by creating a user-generated content (UGC) contest.
UGC Contest Ideas & Example
Of all the ideas we share today, this is the only one in which we don't recommend you to ask for entries that contain a strong link between the content entrants and your brand. Instead, a story-focused contest provides a unique opportunity to get to know your audience better and to connect with their lives, goals, and emotions.
Whether you decide to pick the best story from all entries, or let your audience be the judge, the stories you receive may open the door to insights you could explore in the coming months or even next year's campaign. These kinds of user-generated content (UGC) marketing campaigns can also help update and complete your buyer's persona, vital to creating better messages for your audience.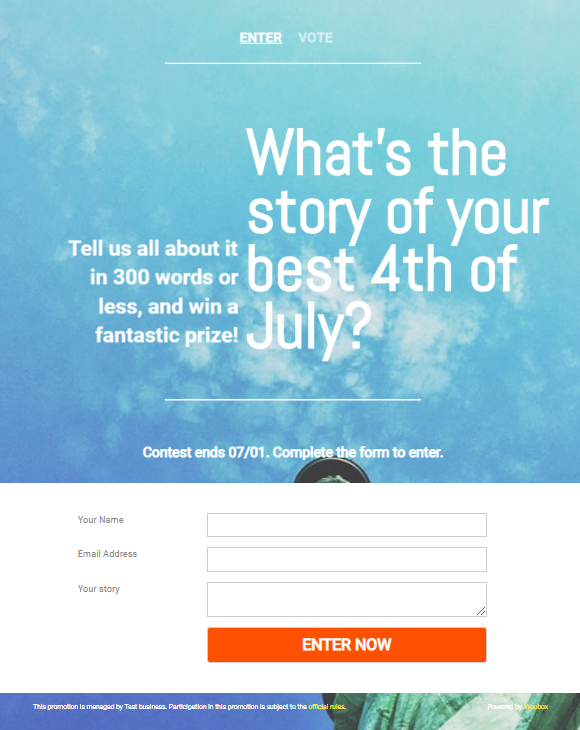 Here's a simple example of a story-focused contest. Make sure to specify what kinds of stories you're looking for, the ideal length of submissions, and clarify in the rules how you're going to handle information you'll receive. Having your customers' trust is critical for a successful contest.
Let's be honest: as audience members, we can never get enough sweepstakes opportunities, right? There are many ways you can take advantage of the 4th of July holiday for a fun giveaway your audience will love.
Sweepstakes Ideas & Example
Prize ideas can range from a gift card to your store or e-commerce shop, a patriotic-themed experience with your product or service, enough cooking tools and goods to create the ultimate summer barbecue, or even a nice getaway to an iconic American destination.
However, no matter how valuable your big prize may be, you must make sure it's relevant for your audience, and capable of motivating them to sign up. Otherwise, your contest won't get enough entries or, worse, you may crown someone who's not in your target audience as a winner (such as a contest-chaser).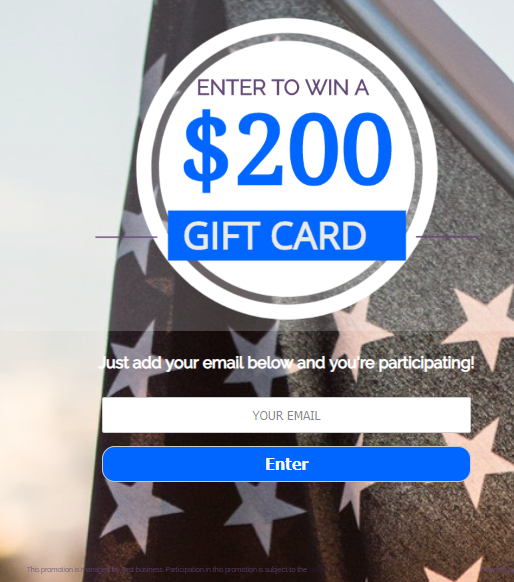 This example shows you how to create an easy sweepstakes contest for a gift card. You could swap the gift card for a physical item, a free month of a subscription service, or even a vacation destination.
Make sure to place your prize (or prizes) at the top center of your post. Also, decide how much information is relevant to ask from your audience in order to become eligible to participate.
5. Test audience luck & play the odds with Instant Win contests
Do you want to give your audience an odds-based shot at winning fun prizes in a few seconds? Then you need an instant win contest.
Instant Win Contest Ideas & Example
In this format, users can play once per day (or per IP address) for the opportunity to win. Prize ideas include a discount on your products, a gift card, or truly epic prizes related to your brand.
You can set it up on your website to run during the 4th of July weekend, and by promoting it through social media, you'll gain traffic to your landing page.
Here's an example of a simple instant win contest you can steal for your own site.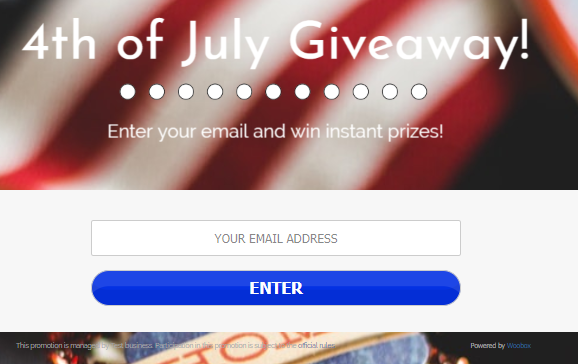 You will setup the campaign to decide the odds of winning and the types of prizes you'll offer with this contest.
Conclusion
The best contest idea for the upcoming 4th of July holiday, or for any other special occasion or campaign you'll run in the future, is the one that's built with your audience in mind. Don't forget to get in their shoes. Consider what they'll find attractive, with easy rules to participate and cool prizes you're 100% sure they'll love. Once you have these elements in mind, be sure to use a generator like Woobox to set your contest up and run it in minutes.
Remember: you don't have to be the flashiest brand on the digital block. You just have to be the one with the most effective contest to stand out.
So don't wait any longer, pick one of these creative and fun ideas, and start building your contest today!