Memorial Day is a big weekend for most retailers. Many businesses see some of their highest sales numbers during the last weekend in May. Online shopping is at an all-time high, and there's never been a better time to use the power of social media to increase your company's market share by hosting a Memorial Day giveaway on Instagram.
Your Instagram audience is no doubt inundated with videos and images every time they check in with the app. Getting their attention (much less their participation) when you launch a giveaway can seem like a game of chance. Giveaways increase engagement by drawing your target audience into conversations about issues relevant to your brand. To bump audience engagement, you can ask participants to complete certain simple actions within the app.
For example, to enter a giveaway, audience members may be required to like and share your Instagram post. You can ask them to tag friends in the comments section of your post, participate in a poll, use your brand's hashtag, or even upload a selfie with your product.
Memorial Day Giveaway Prize Ideas
Combining a well-planned Instagram giveaway campaign with a highly sought-after prize allows you to boost audience engagement while you increase brand awareness. When researching ideas, feel free to borrow from successful brands that regularly run successful Instagram giveaways.
Let's look at some successful Instagram giveaways.
1. A weekend trip: Cabelas free getaway at Big Cedar Lodge
Cabelas has an active social media presence with 1.2 million followers on Instagram. The "World's Foremost Outfitter" regularly posts beautiful outdoor shots of their customers enjoying the great outdoors while hunting and fishing. They hosted a giveaway with a couple of participating partner businesses that included a free weekend at Big Cedar Lodge and a free round of golf at Payne's Valley. Even though the image didn't scream "Giveaway!", they got 1,814 likes from that single (subtle) post.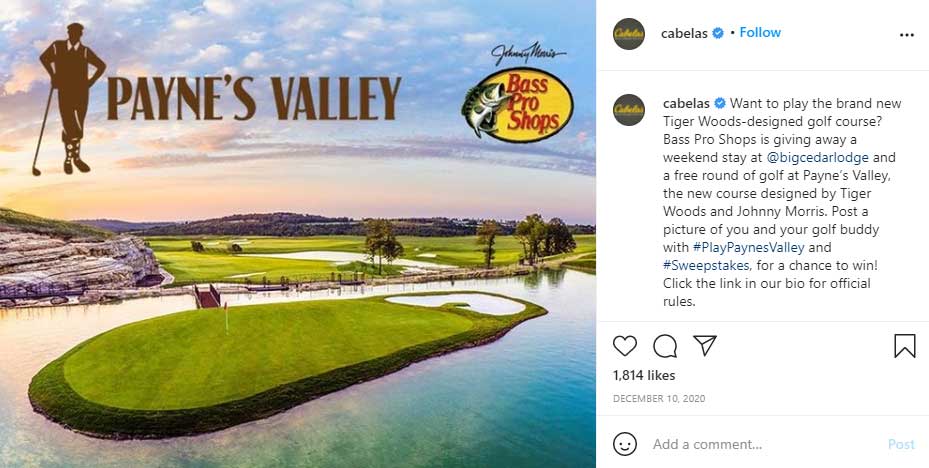 Memorial Day weekend is a great time to offer a free trip if that sort of giveaway suits your business model. By partnering with a couple of other brands, Cabelas was able to offer a weekend getaway, even though they don't sell travel packages.
2. Free luxury products: Fossil free IWD watch plus a free tote and set of glasses
Fossil teamed up with @haveanicedayy_, @butlikemaybe, and @estellecoloredglass to host a fun merchandise giveaway. The Fossil marketing team asked participants to enter by following the giveaway partners' accounts and comment on the March 15, 2021, Fossil Instagram post. Participants who shared the Fossil post on their personal stories received an extra entry.
Fossil's giveaway featured a simple photo of a designer Fossil watch, but their audience had to read the caption to see that the company was hosting a giveaway. They got 3,199 likes on this single (simple) post.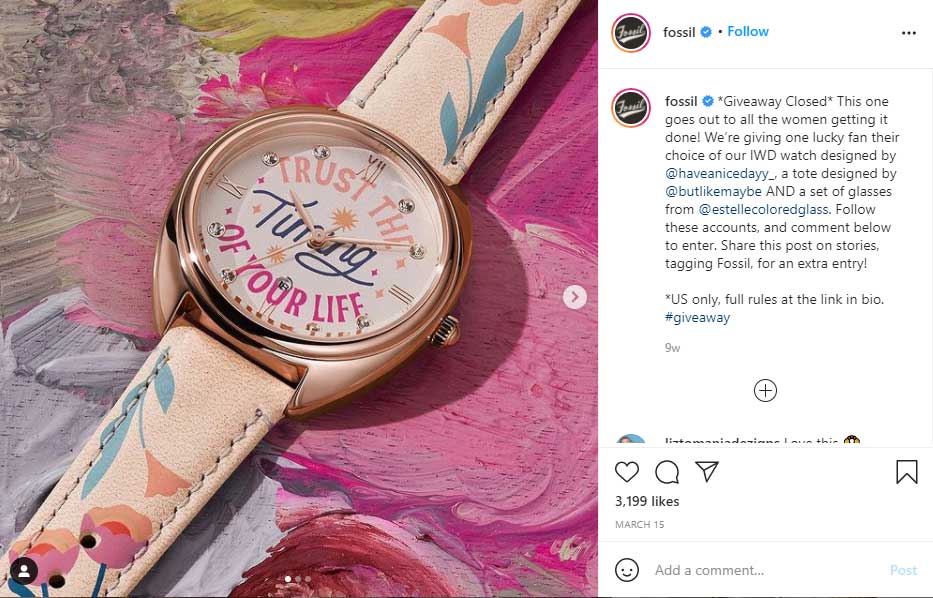 This type of cross-promotion in a partnership with other high-end exclusive brands instantly widens Fossil's audience. Cooperative marketing campaigns drive action to gain brand awareness. Partnering with other brands of a similar caliber increases overall popularity and credibility, as well.
3. One-of-a-kind souvenirs: Hoonigan Industries Loyalty Squad promotion and giveaway
Hoonigan's marketing team joined forces with @worthousedrift to give away the front bumper and bash bar setup from an S15 racecar. Hoonigan Loyalty Squad members were automatically entered to win the set. Free monthly giveaways help the company recruit members for the Hoonigan Loyalty Squad.
The video accompanying the giveaway got 178,374 views.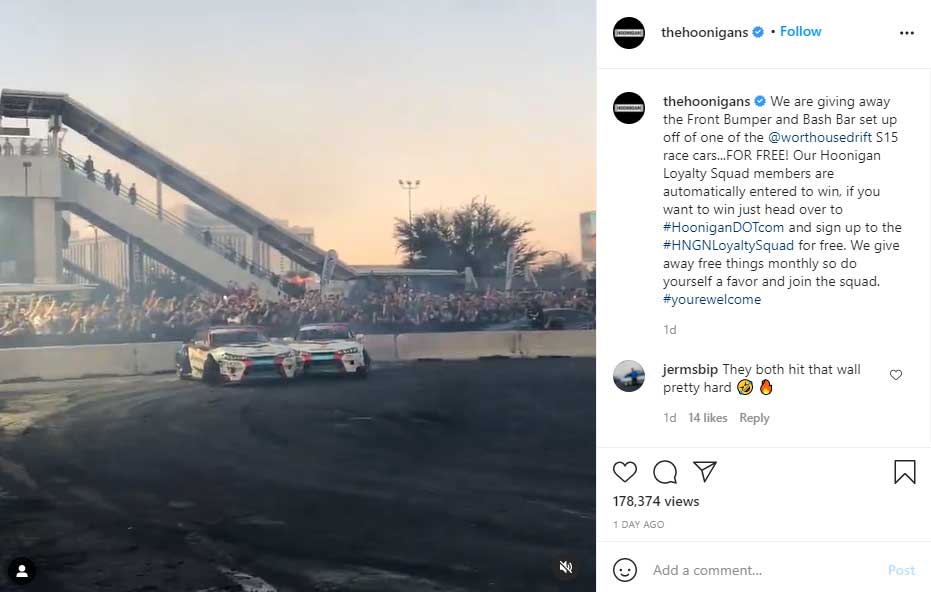 Hoonigan understands its target audience. They included a giveaway with this Instagram promotion that would make current and future Loyalty Squad members excited about the prospect of winning. Fans of the brand who wanted a chance to win the front bumper and bash bar setup just had to join the free Loyalty Squad to enter the giveaway.
A promotion like this can help businesses build their core audience. With a group of dedicated fans like Hoonigan's Loyalty Squad, there's a built-in audience for other promotions and the opportunity to partner with similar brands to get even more exposure.
Memorial Day Giveaway Strategies
If you aren't sure how to design your own Memorial Day giveaway on Instagram, consider these strategies to enhance your ideas and increase the success of your giveaway.
1. Ask your audience to tag-a-friend
Widen your brand's reach by asking followers to tag a friend that your post may resonate with. This promotion works well with timely and informative posts that are fun to share with friends. Here's a great example from Papa Murphy's: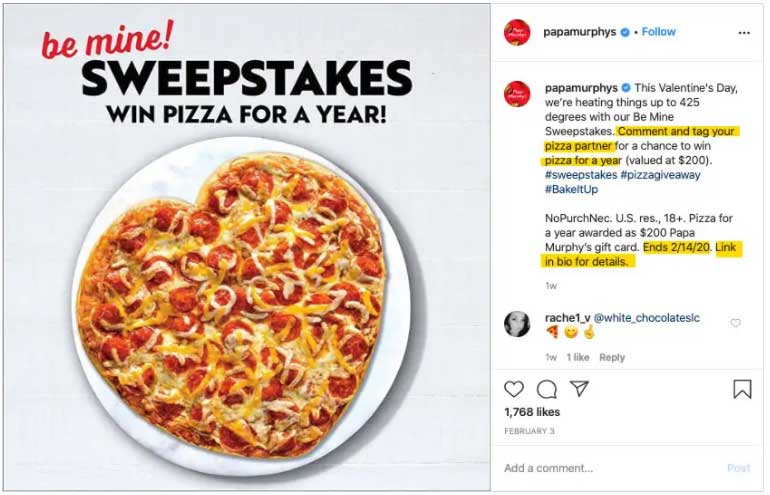 2. Partner with an influencer
Gain exposure to a new audience by partnering with an influencer to promote your giveaway. This type of Instagram giveaway works best if you are promoting a specific product or service, so your influencer can offer a testimonial about their personal experience with your brand.
3. Let the winner choose their prize
Push traffic to your website by giving away a gift card good for a shopping spree. Contestants can browse your product offerings and comment with what they'd spend their prize money on if they win. Woobox can help you run a successful Comment-to-Enter Giveaway that increases social post engagement and reach with the Woobox Instagram Comment Picker app.
4. Run an Instagram hashtag contest
Ask your audience to enter your Memorial Day contest by sharing a photo on Instagram with a specific hashtag. The Woobox Hashtag Giveaway Promotion tool lets you easily search for the contest hashtag to pick a winner. Dunnet Bay Distillers asked their fans to color a black and white printout of a Rock Rose Gin label, upload a photo to Instagram, and add #COLOURROCKROSE2020 to the post. User-generated content (UGC) like this example is a powerful engagement tool that lets fans of your brand act as influencers.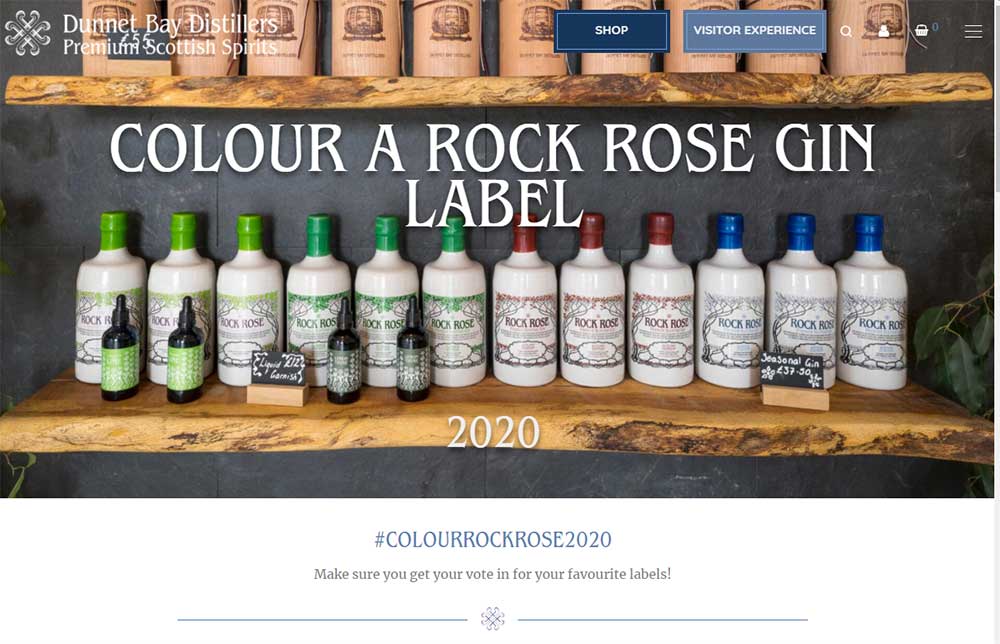 Instant win contests are odds-based. You'll put a promotional link in your Instagram profile. Participants can instantly win a prize with odds set by the company in charge of the campaign. Entering the contest multiple times increases the participant's chances of winning, which increases engagement with the brand. Users get to see instant results, offering the opportunity to market to all contest entrants; not just the winners.
6. Ask your audience to follow, tag, and share your post to their story
Create content that grabs your audience's attention, then ask them to follow your account and the accounts of your partner businesses, tag three friends in the comments section, and share it to their story to enter an enticing Memorial Day giveaway contest.
@_thriftmaniaforher_ partnered with several other pages to create a prize package with three winners.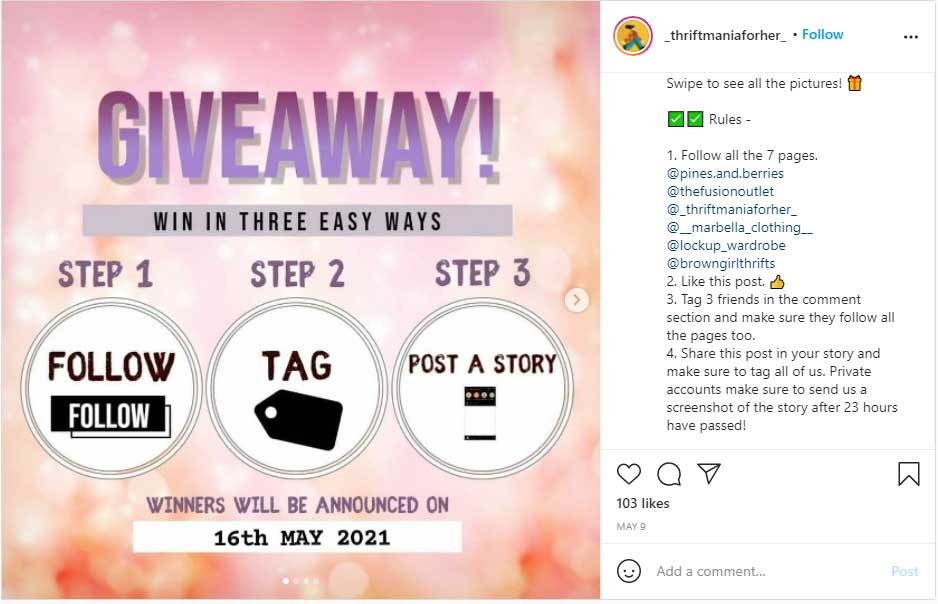 7. Use a regional hashtag to grab the attention of local Instagram users
Companies with physical store locations can use the virtual Instagram world to gain the attention of local customers. Use regional hashtags to pop into the feeds of local shoppers who follow the area's most popular hashtags. Ask fans to use your company's hashtag plus a local hashtag when they repost your content.
@mrsamericanpie76 ran a "free pie for PIE day" contest requiring the winner to pick up their free pie locally.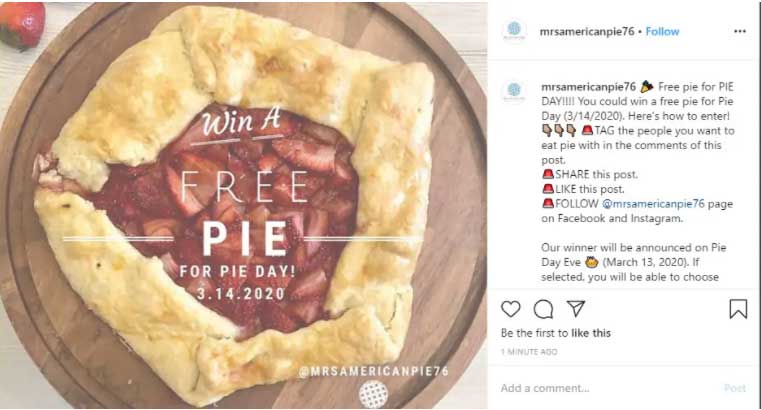 How to Make Memorial Day Giveaway Ideas Work for Your Company
Instagram giveaways are highly customizable, so feel free to get creative and choose the contest format that shows the most marketing promise for your company. Combine contests and strategies to make the most of the upcoming Memorial Day holiday weekend.
Here's a recap of the Memorial Day giveaway ideas presented here:
Free trip combined with free activities
Free luxury products from multiple brands
Free one-of-a-kind niche souvenirs
And the strategies you can use to launch your giveaway:
Tag-a-friend
Partner with influencer
Winner chooses their prize
Hashtag contest
Instant win promotion
Partner with other companies
Use regional hashtags
Remember to announce the winner of your contest, tag them, and post any relevant original content (with permission) from the winner. Giveaways as a marketing tool work simply because people love free stuff. Leverage your audience's desire to get a great (free) deal this Memorial Day and reach new potential customers while you grow your company's Instagram presence.
Ready to launch your Memorial Day Instagram giveaway campaign? Woobox is here to help. You can contact Woobox Support from 9 am to 5 pm PST, Mon. through Fri at 1-360-450-5200 and support@woobox.com