Contests are a powerful strategy to raise brand awareness, drive user-generated content, and increase sales. But, without a well-defined contest promotion plan, your contest might not drive the results you're hoping for.
So, how do you make the most of your advertising efforts and drive contest participation? With Facebook ads.
With an advertising audience of more than 2.74 billion, Facebook is an ideal platform to promote your contest and drive users to interact with your brand.
If you aren't sure how to make the most of Facebook ads, here's what you need to know.
Facebook Ads: The Basics
Facebook ads can help you reach the billions of users who sign into the platform every month. Before we dig into how to optimize Facebook ads, let's cover a few of the basics.
Where can you advertise with Facebook ads?
Facebook ads allow you to target your marketing message to Facebook and Instagram users from the Facebook Ad Manager. Here, you can select a goal, choose your audience, decide where to display your ad, set a budget, and design your Facebook ad.
Before creating an ad, you must create a Campaign, which outlines your goal, and an Ad Set Level, which defines your audience. Then, use Ad Level to design and launch your ad.
What type of ad formats does Facebook support?
There are multiple Facebook ad formats, including photos, videos, messenger ads, carousel ads (with multiple images or videos), slideshows, and collection, and playable ads. To promote your Facebook contest, photo or video ads are likely to be most effective.
(Side note: you can also choose to boost a post about your contest. This still lets you define the audience, and access other ad features.)
If you aren't familiar with Facebook ads, check out this beginner's guide to get started. But the Ad Manager will walk you through the whole process. Just make sure to start with a smaller ad budget (less than $100 will get you started) until you are comfortable with the platform.
5 Strategies to Optimize Facebook Ads for Contests
You've created a Facebook ad. What's next? Making sure your Facebook ad is driving results for your contest.
Here are five strategies to increase the effectiveness of your contest ads.
Use the Right Campaign Objective
Facebook ad objectives outline the goal or purpose of your ad. What do you want people to do when they see your ad? For example, a start-up company might want to drive brand awareness, while a brand promoting a contest wants to encourage users to enter or share the contest with their friends.
When creating your contest ad, Facebook provides three main types of ad objectives (each with several options), including:
Awareness: Increase brand awareness or the reach of your post.
Consideration: Drive traffic, engagement, app installs, views, lead gen, or connect with users on messenger.
Conversion: Encourage a specific action, such as registering for your contest or making a purchase.
The conversion objective is the most effective objective to drive contest registrations, but test the consideration objective to increase awareness of your contest.
Optimize Your Ad Schedule
Facebook allows you to define the time of day you want to show your ads. Consider turning off ads when your audience is likely to be asleep, working, or generally less active. Use data from past Facebook campaigns (if you have it) or from Audience Insights to select the times your audience is most likely to be active.
Here's how to set your ad schedule, via Facebook: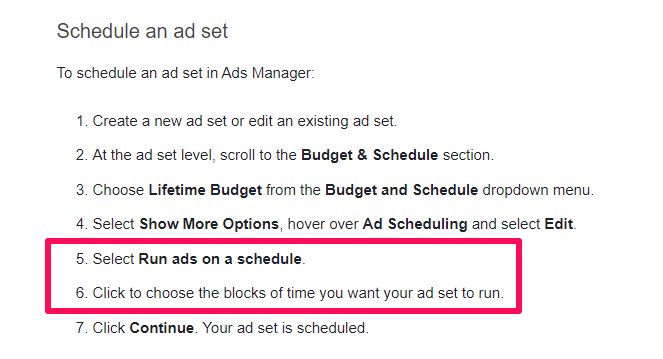 Test multiple times periods to see when your audience is most responsive to your ads. For example, you might avoid showing a contest for teachers during the school day.
Fight Ad Fatigue
When customers see the same ad repeatedly, it loses efficacy and can increase cost-per-click by as much as 50%. Which means your ad money isn't working for you.
To fight ad fatigue, don't run the same ad for more than a few days. If you notice contest sign-ups drop, change up your ad. Here are a few ways to fight ad fatigue and decrease CPC:
Rotate images in ads every few days
Choose new colors or text fonts
Change up ad copy
Use a different CTA (call to action)
Test different ad formats, such as images, videos, or carousel ads
Facebook also offers dynamic ads, which automatically changes ads based on users' interests. Just be sure to create a custom exclusion to avoid showing ads to users who already entered your contest.
Test CTAs
A CTA tells users what action you want them to take. For a contest, your CTA might encourage users to enter the contest or share with a friend. Catching the user's attention, however, can be a challenge. Try testing different CTAs using Facebook's integrated A/B testing tool. For example, you might try:
Click to enter
Get started
Submit your X (photo, video, etc.)
Enter to win
I'm in!
Save now! (for contests that offer a promo or discount code)
Here's how to create a split test in Facebook Ad Manager:
Use Retargeting
Retargeting (sometimes also called remarketing) allows you to target Facebook users who interacted with your brand in the past. It's highly effective–using retargeting can increase conversion rates by as much as 150%.
This strategy is ideal for contests because you can engage users who are already aware of your brand. You might target website visitors, current customers, or users that saw your contest ad but didn't engage.
To use Facebook retargeting, you'll need to install a Facebook Pixel, then use the "retargeting" option when creating your ad. Facebook also allows you to customize the number of days since the last action. For example, you could remind users who interacted with your brand in the last seven days to enter your contest.
Conclusion
Facebook ads are a powerful tool to drive engagement, contest sign-ups, and spread brand awareness. Without optimization, however, you risk wasting valuable ad dollars. To make the most of Facebook ads, try these optimization tips:
Use the right campaign objective
Optimize the time of day your ads run
Fight ad fatigue by switching up ad visuals and copy
Test different CTAs
Try retargeting to target people who've interacted with your brand
Need help setting up your contest? Woobox Support is available from 8 am to 5 pm PST, Monday through Friday at 1-360-450-5200 and support@woobox.com.