In the beginning, Instagram was a simple app for friends to share photos and explore cool filters.
Today, however, Instagram is a powerful marketing platform for brands of all sizes. Maybe you've seen big brands like Staples and Walmart on the app, but wondered if it's worth the effort for your small business.
It is.
According to Instagram, nearly 60 percent of people say they find new products on Instagram, and more than 200 million Instagrammers visit at least one business profile a day. Even as a small business, you can reach thousands of potential customers using Instagram.
But you can't just post a few photos and expect the customers to roll in. Instead, you'll want to use Instagram ads to reach exactly the right type of customers.
What are Instagram Ads?
Instagram ads are paid ads run on Instagram to a targeted audience. Similar to Facebook ads (you can actually run them from your Facebook ads manager!), Instagram ads allow you to promote content to a very specific audience.
For example, if you want to reach women between the ages of 24 and 35 who live within 10 miles of your local store, you can do that. Here's an example of what Instagram ads look like in users' feed: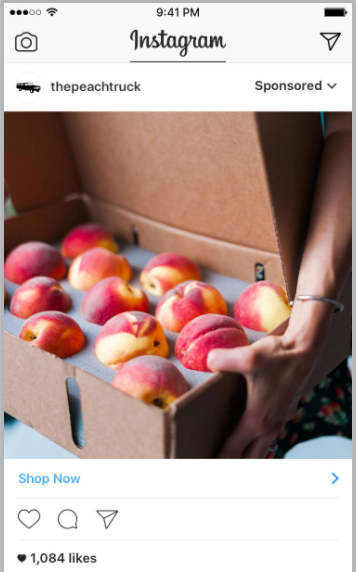 Instagram ads can be targeted based on location, demographics, interests, behavior, or previous interactions with your brand.
What are the different types of Instagram ads?
There are seven different types of Instagram ads, which I know might feel a bit overwhelming. It's actually not as complicated as it might seem.
Here are the different types of ads on Instagram.
Stories ads: Stories show up at the top of users' feeds and disappear after 24 hours. Stories have more creative features than regular Instagram posts and tend to get more engagement.
Photo ads: Photo ads look just like regular Instagram posts and appear in the normal Instagram feed with a "sponsored" tag. Since they blend in with other content, they are good for increasing brand awareness.
Video ads: Similar to photo ads, except a video rather than a photo. These tend to be more eye-catching.
Carousel ads: Multi-image ads that allow users to swipe through several images. These are great for product collections or to show off several angles of the same item.
Collection ads: Multi-image ads that include a cover image (or video) and three product images. These ads lead to a full-screen landing page called "Instant experience."
Explore ads: Explore is a page where Instagram curates content based on users' past behavior on the app. This allows businesses to target users with specific interests.
IGTV ads: IGTV is Instagram's long-form video content feature. Video ads are displayed alongside other engaging content.
Instagram Shopping ads: Shopping ads allow businesses to tag physical items in an ad. Users can click to purchase those items on a website.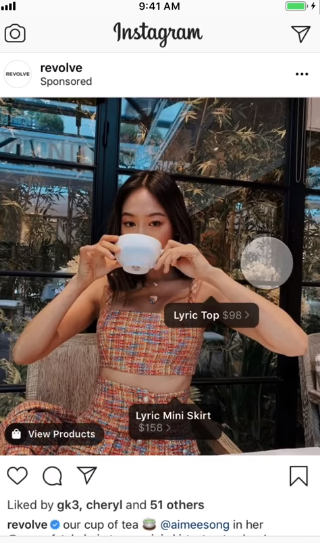 To get started with Instagram ads, you need to create an Instagram Business account. Make sure to optimize your profile and add as much detail about your brand as possible. Then, use the Ad Center to create your first Instagram ad.
How Much do Instagram Ads Cost?
Instagram ad cost varies based on the audience you want to reach and your industry. Highly targeted ads could cost you as much as $5 per click, but small businesses (and especially those in a less competitive industry) can expect to pay around 20 cents per click. You can set a budget to avoid overspending.
7 Ways to Use Instagram Ads to Grow Your Small Business
Instagram ads allow small businesses to reach highly targeted audiences. But what do you do with that attention once you get it? You'll need to decide what the goal of your Instagram ad is.
Here are seven ways to use Instagram paid ads to grow your small business:
Promote contests: Increase brand awareness and entries by promoting your contest on Instagram.
Launch new products/services: Reach a wider audience by using Instagram targeting to promote your product to your ideal buyer.
Encourage UGC: Instagram is ideal for encouraging user-generated content. Consider using a photo entry contest to reach an even wider audience.
Drive brand awareness: Boost a post or video to reach local customers or those with similar interests.
Build your email list: Email lists allow you to reach your audience directly. Use ads or promote a contest to gather email addresses and launch an email marketing campaign.
Drive sales: Using Instagram Shopping ads, small businesses can drive users to their website and make actual sales.
Local events: Instagram ad targeting allows you to target users by location. Consider using Stories or boosted posts to target local visitors and promote an in-person or digital event.
How to Optimize Instagram Ads
Now you know what Instagram ads are, how to create them, and what to use them for. But, you are just getting started. When it comes to paid ads, optimization is a never-ending process. Here are three ways to optimize your Instagram ads to keep costs down and clicks up.
Use Detailed Ad Targeting: Instagram allows you to target by location, demographics, interests, or behaviors. You can also use lookalike audiences, which targets people similar to your current customer base. Test different targeting options and pay attention to which bring in the best results.
Test Different Photos and Copy: Use A/B testing to see what photos and copy your audience responds to. You don't need a special tool, either. Facebook has a built-in testing tool for Facebook and Instagram ads.
Use Retargeting to Reach Warm Leads: Retargeting allows businesses to show ads to people who have interacted with their brand in some way. For example, they might have visited your website or liked a post. These people already know who you are, so they are more likely to convert. This post on Social Media Examiner walks you through how to create a retargeting campaign.
Integrating Contests & Giveaways
Instagram ads are a powerful marketing tool that can help your small business grow. Consider using them alongside other strategies, such as running contests, to engage a wider audience. Don't forget to optimize your Instagram ads by:
Using detailed ad targeting
Testing different images and copy
Leveraging retargeting to reach people who already know your brand
Ready to create an Instagram contest or giveaway? Create a free Woobox account and get started today. Need help? Our support time is available at 1-360-450-5200, and support@woobox.com from 8 am to 5 pm PST, Monday through Friday.