Selflessness. Sure, that's a nice sentiment, but it's not always applicable in the real world — especially when it comes to holding giveaways for your business. Think about it… why would you give a product away without getting something in return? That might sound cynical, but running an Instagram contest without first asking, "what's in it for me?" is a massive marketing fail.
Whether it's more engagement, brand awareness, or leads (glorious leads!), every Instagram giveaway needs a goal… but not every giveaway meets them. So if you're thinking about planning a contest for your followers, setting a goal should be one of the first things you do.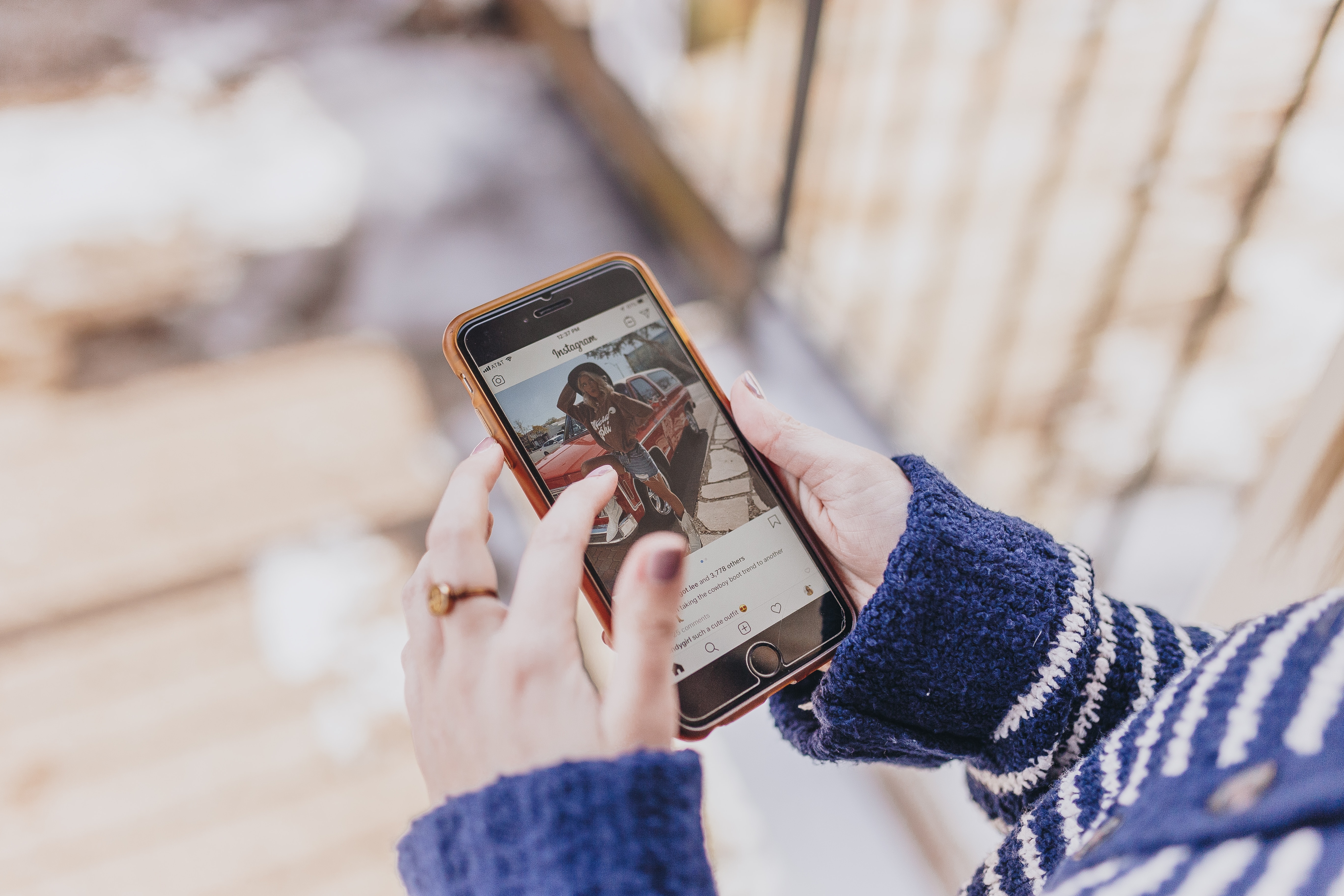 Photo by Kate Torline on Unsplash
To help you get started, we have three examples from popular brands below that are fueling their marketing goals with wildly successful giveaways. Plus, we've also got some best practices that'll help ensure your contest is a goal-smashing success.
Ready to ROI the crap out of your next giveaway? Let's dive in!
3 Goal-Centric Instagram Contest Examples That Will Inspire You
These brands know what's up. The following three examples will not only give you some great contest ideas but break down how each brand met their individual goals too.
1. Biossance's Niche-Audience-Attracting Instagram Giveaway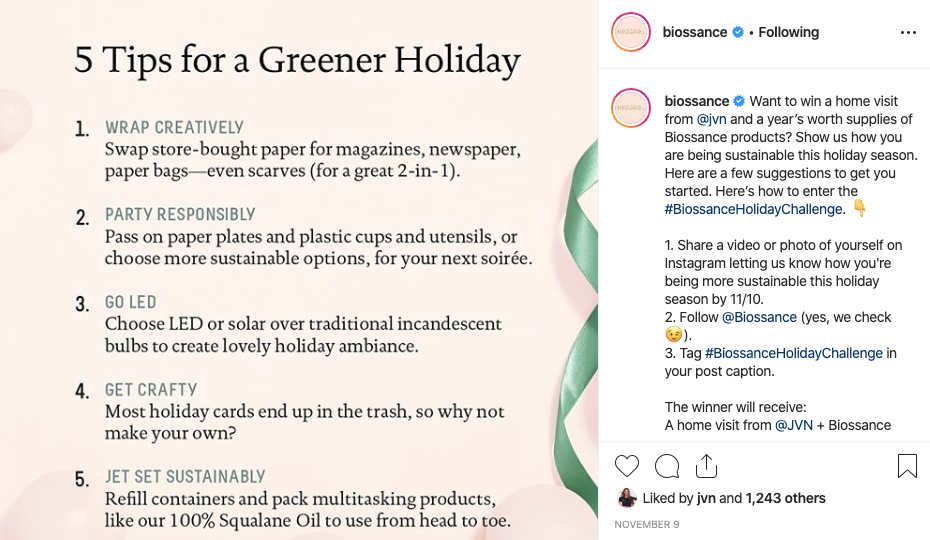 This holiday-themed contest from Biossance, a sustainable skincare brand, is a triple threat when it comes to marketing goals.
First, by asking followers to create a photo or video of them highlighting how they're being sustainable this holiday season, they immediately weed out anyone who isn't in their niche target audience. This contest will attract clean beauty fans (who will also tag like-minded buddies) making it a qualified-lead-generating jackpot.
Secondly, to enter, you have to follow Biossance's Instagram account, which means their follower count will likely skyrocket. (And the alluring prize of a home visit from Queer Eye's Jonathan Van Ness only enhances those odds.)
And last but not least, the user-generated content Biossance collected from this giveaway will be priceless exposure that can be repurposed across all social channels and in marketing emails and blog posts.
Why it worked: Biossance's purpose-driven contest hit a coveted three-in-one (aka the Instagram-goal trifecta): more leads, followers, and exposure. It will also help reinforce Biossance's company mission of the importance of creating — and using —skincare that doesn't harm the environment or animals.
2. Common's Brand-Awareness-Boosting Instagram Giveaway

What's a brand to do when they want more exposure but don't have a huge Instagram following just yet? Join forces with a bigger brand, that's what! Common, a community-driven residential company, partnered up with The Sill, a houseplant delivery company, to create an Instagram contest that boosted brand awareness.
The Sill's 600k+ followers gave Common access to an extensive audience they wouldn't have been able to reach otherwise. And since residential living and houseplants go hand in hand, Common's prize of a six-month houseplant subscription was a strategic and savvy choice that attracted their target audience.
Why it worked: The tag-a-friend contest tactic helped boost Common's brand awareness and maximized the benefits of collaborating with a larger brand.
3. Dollar Shave Club's Brand-Ambassador-Building Instagram Giveaway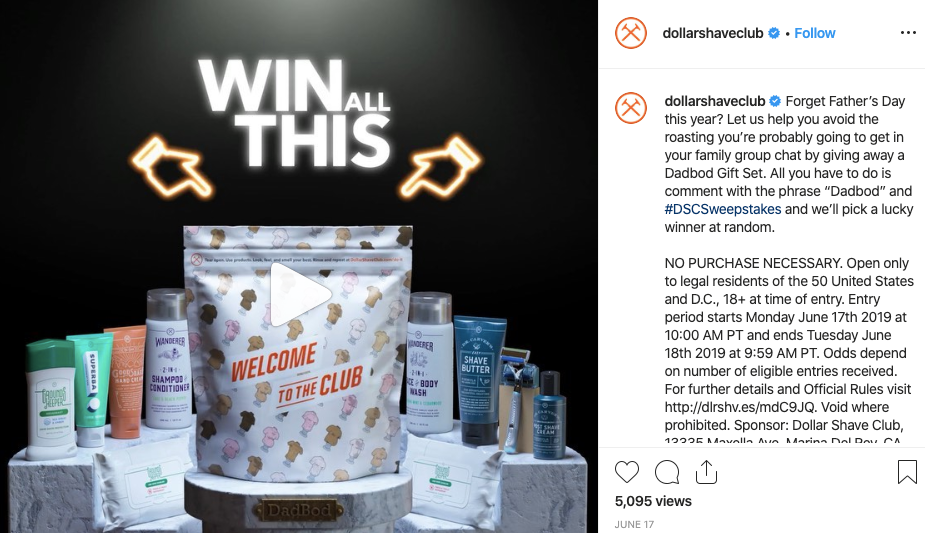 Loyal customers are crucial for any brand — especially one that offers a subscription service. Dollar Shave Club, a personal grooming product company, knows the power of creating brand ambassadors who sing your praises (and become repeat buyers).
Quality products aside, Dollar Shave Club's loyal audience can be attributed to the fact that they treat their customers like a friend. They use a buddy-to-buddy tone that is both approachable and hilarious. This is evident in their Father's Day contest where they asked fans to leave a quick comment of "Dadbod" along with the use of their custom hashtag, #DSCSweepstakes, for a chance to win.
Why it worked: With the funny and relatable tagline of "This Father's Day, we're celebrating DadBods of all sizes," Dollar Shave Club created an on-brand contest that ultimately hit two goals: more engagement and relationship-building. There were no hoops to jump through to enter — Dollar Shave Club simply rewarded their target audience for following them by giving away a product bundle. (While simultaneously reaffirming that they're worth following too.)
Instagram Giveaway Best Practices That Meet Marketing Goals
Now that you've seen some brands in action, let's get into some best practices so you can create a goal-slaying giveaway of your own!
Define Your Goal
A giveaway without a goal is like a cup of coffee without caffeine: disappointing, ineffective, and more than a little sad for the person holding it.
Here are some goals commonly used by brands:
Drive more website traffic
Attract your target audience
Increase followers
Gain qualified leads
Increase brand exposure/awareness
Get user-generated content
Create buzz for a new product or product launch
Increase engagement
Get immediate sales
Grow email subscribers
Build relationships/brand ambassadors
Create Official Rules
Every Instagram giveaway needs a set of official rules that not only protect your brand but ensure you meet Instagram's in-house guidelines too. Check out Instagram's official rules on promotions here.
Hootsuite also advises brands to check local laws and regulations for promotions in your area and make sure you clearly post your official rules where contest entrants can read them in full.
Focus on Value
Tag-a-friend and comment-to-enter giveaways show Instagram (and overlord Facebook) that your account offers value to your followers. That's why Stephanie Riel, founder and CEO of RielDeal Marketing, says value should always be one of your goals:
"With Facebook's ever-increasing focus on comments and community on their platforms, Instagram contests and giveaways are a great way to add value for your loyal audience. Contests can also help your brand build engagement from your followers in the comments."
Promote Like a Pro
The more you promote your giveaway, the greater the odds of reaching your goal, says Lauren Kemp, account lead of social media strategy at Social Tribe:
"Send an email to your marketing list, cross-promote it on your other social channels, write a blog post, have your employees share it with their networks. Get the word out about your giveaway — just because it's being held on Instagram doesn't mean all promotion should stay within that platform. (This can also help drive new followers to your channel)."
Always Be Closing
No matter what goal you've chosen for your giveaway, the overarching goal of your business will always be to sell. That's why Naomi Garnice, director of marketing at MicroAge, urges brands never to lose that focus.
"Tag your products and let people purchase them right now if they don't want to leave it up to chance," she advises. Tempt followers even further by throwing in a persuasive buy-it-now discount.
Join Forces to Further Your Reach
Why go after your goal alone when you can partner up with a complementary brand? As Riel notes, "Instagram contests are a great way to boost brand reach. We've seen success at RielDeal Marketing with brand collaborations for giveaways where you benefit from the power of two (or more!) brands at once."
Keep an Eye on ROI
Whether you choose to have followers leave a comment to enter or tag a friend for a chance to win, determining the entry points of your contest should be strategic and goal-focused.
As Garnice says:
"Instagram contests are the perfect tool for boosting brand visibility and increasing your followers online. They can also be a lot of work without a ton of ROI. Instead of having users repost your image and tag your brand account, make it easy to track results and bring new followers straight to your IG feed. Ask them to tag a friend or two who need your product in their life right in a comment on the post. Making the ask easy can fuel more contest momentum while hopefully upping your follower count in the process."
Get Creative
Instagram has features that make it easy for brands to go past the basic 'like-this-post-to-win' contest to achieve more measurable goals. That's why Riel suggests that brands should use Instagram Stories to their advantage when holding a giveaway.
"One unique marketing goal we've achieved recently from an Instagram giveaway is email capture/lead generation by leveraging Instagram Stories for a newsletter signup during the giveaway period," she says.
Go for the Goal
As you've seen in the examples above, giveaways can increase sales, boost engagement, grow awareness, and much more — as long as you keep your mind on your goal and your goal on your mind.
So, go ahead, be selfish when it comes to your next giveaway by confidently asking, "what's in it for me?" Doing so will ensure your giveaway is mutually beneficial to your followers and your business. And if that's not a win-win, we don't know what is.
TL;DR
Don't want to read the whole article? Hurtful, but we get it.
Here's a quick overview:
Common goals for contests are website traffic, engagement, followers, email signups, leads, etc.
Your contest must follow Instagram's rules.
Check local laws and regulations on promotions when creating your official rules.
Comment-to-win contests add value for followers.
Tag-a-friend contests help further your contest's reach.
Repurpose user-generated content on social, blogs, email, your website, and more.
Promote your contest everywhere: social accounts, email, blog posts, etc.
Collaborate with other brands to increase your odds of reaching your goals.
Use Instagram Stories to easily collect email addresses for newsletter signups.
Tag your products in giveaways and consider offering a buy-it-now discount to get immediate sales.
Looking for Support?
Woobox Support is available from 8 am to 5 pm PST, Mon. through Fri at 1-360-450-5200 and support@woobox.com.