As summer kicks into high gear, marketers for educational and student-related brands are already looking forward to the fall back-to-school season, when parents and educators spend an average of 27.6 billion dollars on notebooks, pens, electronics, backpacks, and other school supplies.
How can you make the most of your back-to-school season marketing strategies? Many brands rely on the power of social media marketing, but is that the most effective strategy for you?
Giveaways and contests on social media are quite effective at driving sales due to the number of people who regularly use the platforms. In fact, approximately two-in-three U.S. adults (68 percent) say they use Facebook, and roughly three-quarters of those users access the platform on a daily basis.
While social media remains popular for kids and their parents alike, the way people use social media is shifting — and social media platforms like Facebook are listening. In a recent conference, the leaders of Facebook and Instagram announced a shift towards privacy, mobile usage, creating connections, and leveraging the power of Facebook groups.
With the coming Facebook desktop and mobile UI/UX redesign and the pivot towards groups (and slightly away from the news feed, which will soon be located in a separate tab) it is particularly important to focus on leveraging brand-owned and community-owned groups for your back-to-school marketing plan.
So, how can you create giveaways that make the most of this new focus, but still give you the back-to-school sales and branding boost you need? Here are four strategies, with examples, to inspire the fall marketing strategy for your business.
4 Back-to-School Giveaway Ideas w/ Examles for Facebook & Instagram
Why are social media giveaways so popular? In the past, before Facebook updated their algorithm, they were a quick way to get lots of attention on your brand. But what about today, in 2019? Do they still work?
Contests absolutely still work; however, the purpose of contests have shifted. Customers are looking to build relationships with brands, so your contests should be about kickstarting a relationship, not just getting your name in front of as many people as possible. Focus on the quality of the connections you create, not the quantity.
Additionally, brands should expect most users will enter and interact with their content on a mobile device. Ensure forms are large and include links to make it easy to navigate from one platform to another.
With these shifts in mind, here are several examples to inspire you to create a successful social media giveaway that focuses on building relationships and leverages the new ways people interact on the largest social media platforms.
Host a Giveaway Live On Instagram
As Facebook moves away from a focus on the newsfeed, brands need to shift to cross-promoting contests and giveaways on multiple platforms to gain more traffic. For example, you could post about your giveaway in your Facebook group, then host the contest or announce the winner on Instagram. This will drive traffic from your Facebook group to Instagram, which has a higher engagement rate.
For example, Milana's Travels, a family travel blog account, posts giveaways in their Facebook group Tiny Globetrotters, which has more than 2,500 highly active members who gather to chat about the best cities to visit with kids. They also chat about what toys they should bring on long haul flights. Their giveaways direct users to like or comment on the Milana's Travels Instagram page, where content is more branded. This is an extremely effective way to drive users from a more community-based Facebook group to a branded Instagram account.
"This is an extremely effective way to drive users from a more community-based Facebook group to a branded Instagram account."
Additionally, you could post the giveaway on your blog, then host the giveaway live on Instagram, like Teacher Mood, a blog and Instagram account that shares teaching tips for elementary school teachers. Announcing the contest on their blog made the contest easy to create while going live to announce the winner helped create a more intimate relationship with followers.
Cross-promotional giveaways like the two examples above can help education and school-related brands make the most out of both platforms. And, while it might seem complicated to leverage both platforms, it doesn't have to be. Use an automatic winner selection tool, like Woobox's Winner Picker, which selects a winner based on users who like or comment on a specific post.
Giveaway a Large Prize
Giving away a small prize might seem like a safer bet, particularly if you're a smaller brand. However, larger prizes are more likely to gain more attention on social media. The more valuable a prize is, the more excited people will be. However, make sure to relate the prize to your brand in some way to ensure most entrants are from your target audience.
Partnering with another small brand or a much larger brand will allow you to split the cost of the contest but still gain the benefits of a large social media giveaway.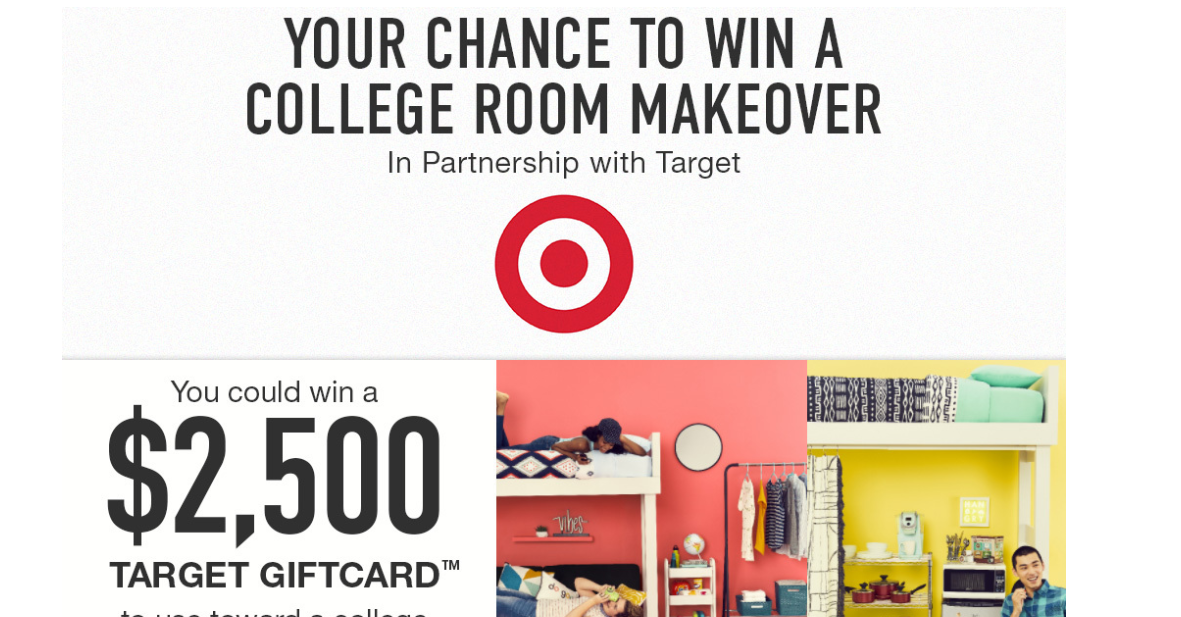 Keep in mind, large prizes don't necessarily have to be expensive prizes. For example, you could give away a free year to your subscription box, a bundle of several smaller products, or a rare product that often goes out of stock quickly.
For example, Ting, a mobile and internet provider, hosted a back to school giveaway bundle by asking followers to like, follow, and tag a friend in an Instagram post.
These prizes will help create a brand ambassador who will willingly tell their friends and family all about why they love your brand so much.
Just be sure to offer a prize that is highly valued, not necessarily one that costs you a ton of money. Remember, the long term goal here is to build a strong relationship, not just reach the most people.
Host a Photo Contest
Photo contests are an incredibly effective way to host giveaway contests because they encourage user-generated content, which is more effective than a brand promoting themselves. Plus, photo contests encourage entrants to ask their friends to like or comment on a specific photo — which can be powerful when combined with a highly active and engaged Facebook groups.
For example, National Business Furniture hosted a "May Makeover" contest where they asked workers to submit photos of their workplace, with most-liked photo winning the grand prize of $5,000 to make over their workplace. Many of the submissions came from teachers looking to replace or upgrade their classroom.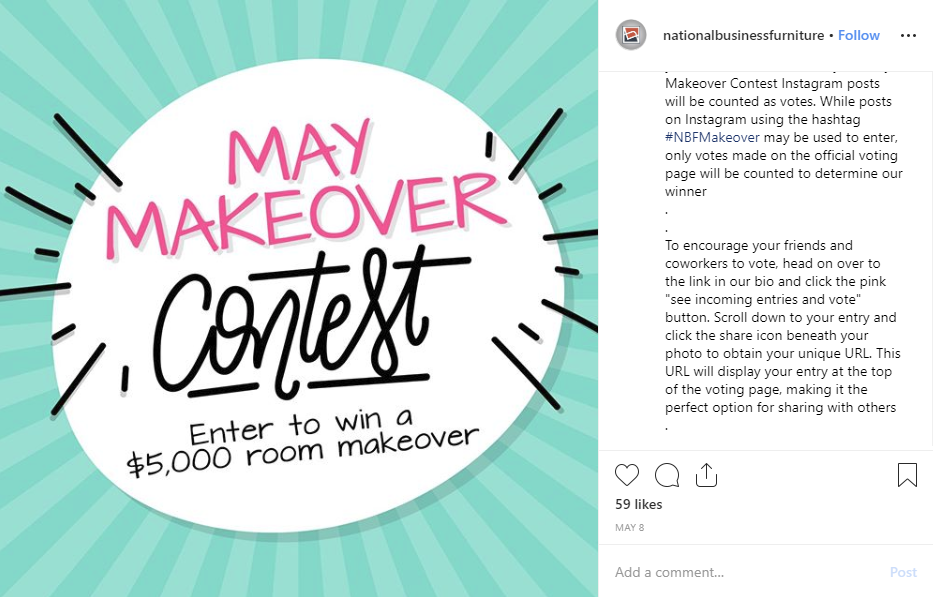 The winner, a teacher who wanted to use the money for her classroom, used the power of Facebook groups to ask her friends to like the photo and won with more than 26,000 votes.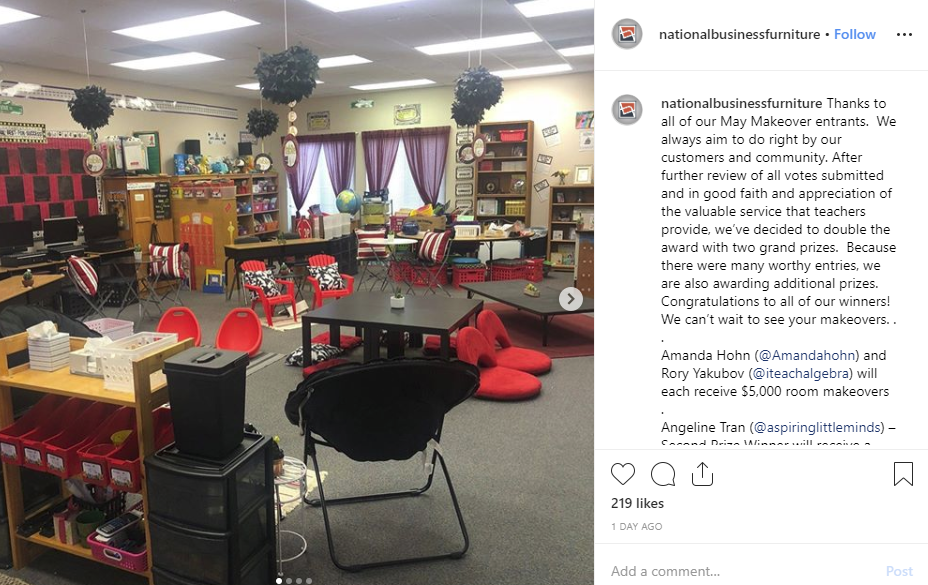 You can easily increase the reach of your contest by encouraging entrants to share it in their favorite mom, teaching, or parenting-related Facebook group.
Host a Do-Good Contest
A do-good contest involves finding a way to give back to the community. For example, you could 'adopt' a classroom for the year or donate a certain percentage of sales to an education-focused charity. Or, like this contest hosted by author James Patterson and book company Scholastic, you could give away books!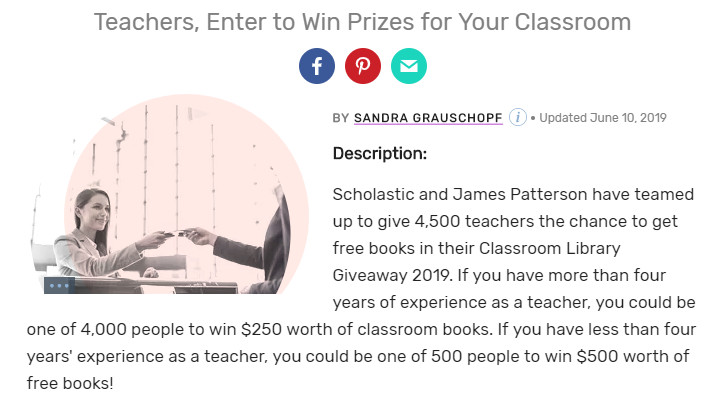 While most SMB brands likely don't have the budget to give away thousands of dollars in books, you could give away much-needed school and educational supplies to people or organizations in your community.
What if your brand isn't closely related to the back-to-school theme? You can still leverage the back-to-school excitement by hosting a do-good contest that gives money or resources to local teachers, classrooms, or students.
Closing Thoughts

Social media is still an incredibly effective method for promoting your business for the back-to-school season. However, the way people are using social media is changing. To be effective, you need to stay on top of these changes and adjust your strategy accordingly.
For giveaways and photo or video contests, that means viewing contests as the start of a relationship, not just a trigger for a one time sale. As Facebook users lean more towards groups and mobile use, brands should encourage users to share contests in groups and cross promote on several platforms. Finally, make sure your contests are easy to navigate on mobile, so you don't frustrate users. Using a contest hosting platform like Woobox can streamline the entrance process and make it easier than ever to choose winners.
Ready to get started creating your Woobox contest? You can create an account for free and start building your back-to-school contest now. If you need help, our Woobox support staff is available for help Monday to Friday from 8 am to 5 pm PST, at 1-360-450-5200 or support@woobox.com