On October 6, 2010, Kevin Systrom posted the very first photo to Instagram. Much like the first words spoken on a telephone, the first Instagram photo is underwhelming. It is a picture of Kevin's dog and part of his girlfriend's foot. The caption simply says "test."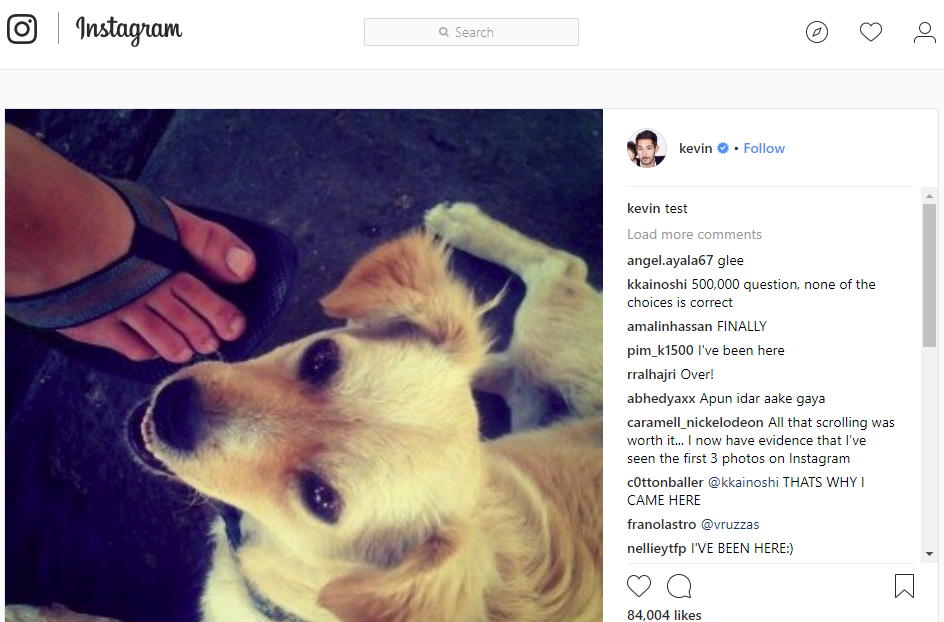 (For the record, the first words spoken into a telephone were " Mr. Watson, come here. I want to see you." Neil Armstrong, at least, seemed to realize the magnitude of his first words on the moon.)
However humble its roots, today Instagram boasts 800 million monthly active users who have shared an estimated 40 billion photos. To give you a sense of scale, if 40 billion standard 4×6 photos were laid side by side, they would circle the earth 152 times. That is a lot of photos!
"To give you a sense of scale, if 40 billion standard 4×6 photos were laid side by side, they would circle the earth 152 times."
It is clear that people love using Instagram. The good news is that they like businesses on Instagram, too. Instagram has estimated that 80% of Instagram users follow at least one business on the platform. Which is great news if you are part of the 7.6 trillion dollar tourism industry.
Instagram for Travel & Hotel Brands
The travel industry may be booming, but competition is higher than ever. Consumers are spending more time searching for good deals for their vacations, taking a longer path to conversion, and they tend to be less loyal to specific brands when they do buy. How does Instagram fit into the challenges facing the travel and tourism industry?
It all comes down to why we love photos so much.
Photos allow us to experience a moment, even one very far from our day to day lives. A sun-soaked Carribean beach with sparkling cerulean water. The thrill coursing through your body as you speed down a zip line over a tropical rainforest. Eyes closed, relaxing in a luxury spa, letting all the tension between your shoulders melt away.
As life gets busier, we crave adventure and escape. We can't always have those experiences 24/7, which is why even seasoned travelers enjoy seeing pictures about travel so much.
For many people, taking photos is an integral part of traveling, and Instagram helps us highlight the very best parts of our lives. For brands, Instagram allows you to share photos, videos, and stories that tap into the reasons why people love to travel, whether it is an ingrained wanderlust or a need to escape the daily grind.
5 Instagram Strategies for the Travel Industry
The visual nature of Instagram makes it an ideal fit for travel brands to share photos, connect with visitors, and cultivate a loyal following. You may have heard it is difficult to convert Instagram traffic, and that certainly can be true. But it doesn't have to be. Here is how to actually use the platform to build a strong following for your hotel or travel related brand.
Use Hashtags The Right Way
Simple, but important.
Do you want content to be discovered by users other than your followers? (Resulting in, hopefully, more followers!) Hashtags are the way to go. This is because many people use Instagram as a search engine and search hashtags to find content they are interested in. You can create your own hashtag by using the pound/hashtag symbol #, followed by any number of letters and numbers, but no spaces or punctuation.
For best results, you want to use a balance of popular hashtags related to your location or industry and more general travel-related hashtags. How do you find hashtags to use in your posts? Start by searching basic travel hashtags and then see what other hashtags are used on those posts.
For example, #travel has over 300 million photos. travelNYC is one of the first photos that showed up when I did a search on Instagram for #travel.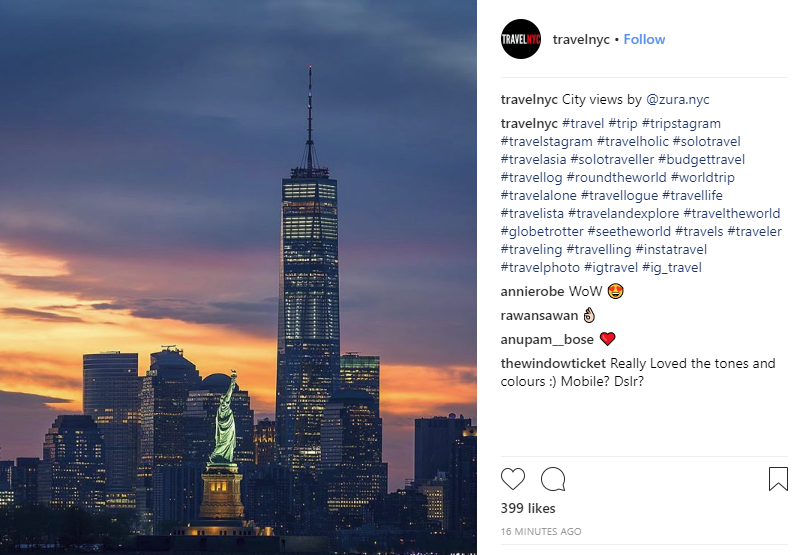 As you can see in their post, they also used #tripstagram (90k posts), #traveling (49 million posts), and #instatravel (67 million posts). Each of these hashtags is highly active and will help your content be discovered by travel lovers.
But keep in mind, more hashtags isn't always better. Instagram limits you to 30 hashtags, and research by TrackMaven indicates the perfect number of hashtags is four to five. After that, engagement actually drops a bit. However, some brands ignore that guideline to great success. Test to see what works for your brand.
Here are some of the top travel-related Instagram hashtags to try:
#traveladdict
#travelgram
#traveltheworld
#wanderlust
#igtravel
#travelgoals
#travelthursday
#travelporn
You will also want to use both location-based hashtags and branded hashtags, like the art'otel did in their post about Berlin. They use the branded hashtag #artotelvibes in all their social media posts and encourage visitors to do the same.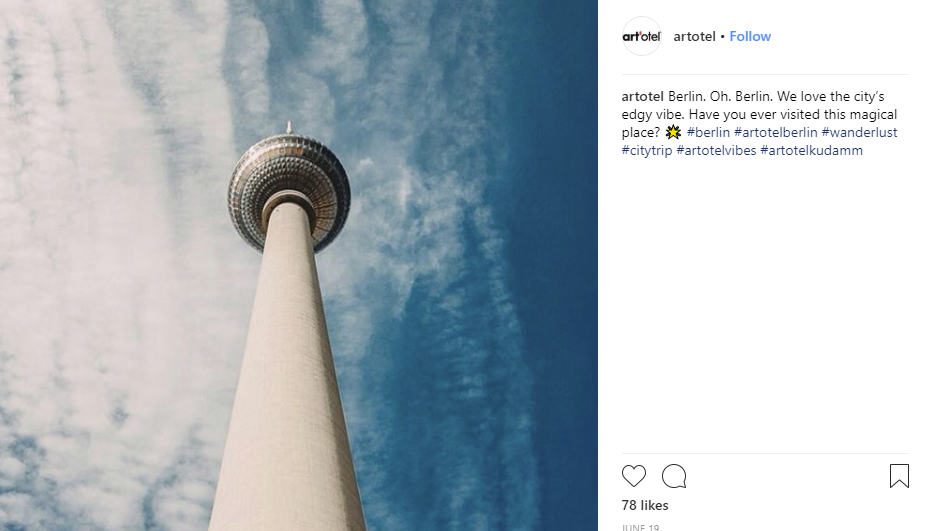 You can also use a tool like hashtagify to find relevant, active hashtags related to your industry.
Hashtag Best Practices for Travel Brands:
Make your content discoverable by using hashtags on Instagram.
Don't overdo it; use 4-5 hashtags on each post unless it makes sense to use more.
For best results, use a mix of popular travel hashtags, branded hashtags, and location-based tags.
Ask visitors to use your branded hashtag, and regram those photos (more below about regramming).
Regram Content From Followers or Visitors
Regramming is the practice of reposting content from other accounts on your own Instagram feed. It works a little different than the Facebook share button, which makes it easy to see when a post is shared, but it is very common on Instagram. Credit should always be given to the original poster, usually by tagging them adding a tag like #regram.
For example, allcapetown regrammed this beautiful photo of Cape Town, South Africa from user sentient4. It quickly garnered over 700 likes and several comments. All for just a few seconds of work to screenshot, tag the original poster, and write a quick caption.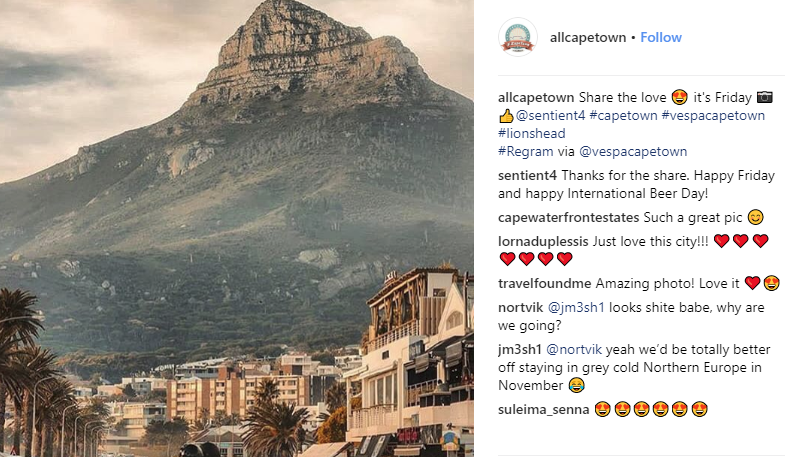 Regramming serves two purposes for brands. It allows you to share beautiful, often candid, photographs for a more active feed, and it helps build a connection with your audience. When you regram and tag them, they are more likely to engage with your brand. (See the thank you from the original poster in the regram above.)
Regramming Best Practices for Travel Brands
Only regram content you think your audience will truly appreciate.
Make sure to tag the original poster and mention the post is regrammed.
Encourage visitors to use your branded hashtag so you can easily search for content to regram.
Make the Most of That Bio-Link
For hotels and travel businesses, particularly global brands, getting the most out of links on Instagram is the simplest way to convert Instagram traffic.
The problem is, you only get one link on Instagram, which is your bio link on your Instagram profile. Which is why you will often see posts saying "link in bio." There is even a hashtag #linkinbio, as you can see in the example below. This works by updating the bio link to point to whatever product or blog post is mentioned in your newest Instagram post. Since the lifespan of most posts on Instagram is pretty short, this mostly works.
The problem is that if you are using hashtags well, your content might have a longer lifespan. For example, if someone searches for #berlin and finds a post from two weeks ago about the best places to visit in Berlin, the bio link might not send them to the blog where they can read more.
There are two workarounds for this. First, you can post links in Instagram Stories, which I give more detail about below. Stories only last for 24 hours, so that doesn't help with longevity. Or you can use a tool like LinkTree to maximize your bio link. It allows you to post one bio link and then you add all the content you want to direct followers to.
Instagram Linking Best Practices for Travel Brands:
The bio link is the only place you can link in your standard Instagram feed.
You can link in stories, so it pays to leverage that function. But stories only last for 24 hours. (more below)
Consider using a tool so you can send followers to multiple locations and increase the longevity of your posts.
Use Contests to Build an Engaged Following
Contests are a popular way to build followers on many social media platforms, but they are particularly effective on Instagram. This is because you can create contests aimmed specifically at your target audience, which helps to limit people who are just looking for freebies.
For example, look at the contest created by Benefits cosmetics below. By giving away products, they are attracting followers who are likely to be interested in their brand.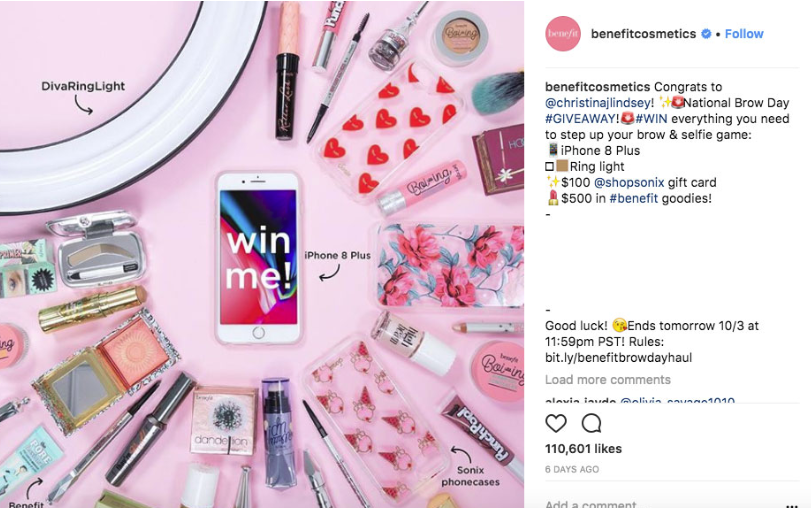 Berricle, a jewelry brand, recently created a contest aimed at encouraging their users to share photos of them wearing jewelry from Berricle. For the chance to win a $500 giftcard, customers were asked to share photos of themselves wearing jewelry from the brand with the hashtag #myberricle.
As of writing this, the hashtag had over 850 posts, each generating hundreds of likes and dozens of comments. Some posts on the tag are regrams from the brand themselves, like the photo below.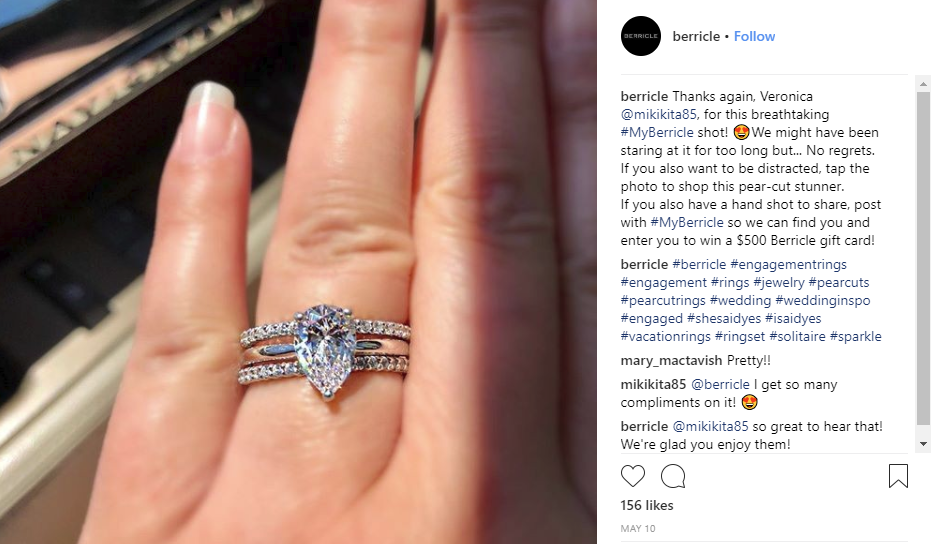 Photo contests like this one are very effective at driving engagement, which makes your posts show up more frequently due to the way Instagram's algorithm works. Plus, by using hashtags like #engaged, #wedding, #weddinginspo, etc., this contest is likely to attract users interested in Berricle's products.
This contest by tbexevents was aimed specifically at travel bloggers. By using a prize that travel bloggers would be interested in, they were able to limit freebie-seekers, and encourage user-generated content.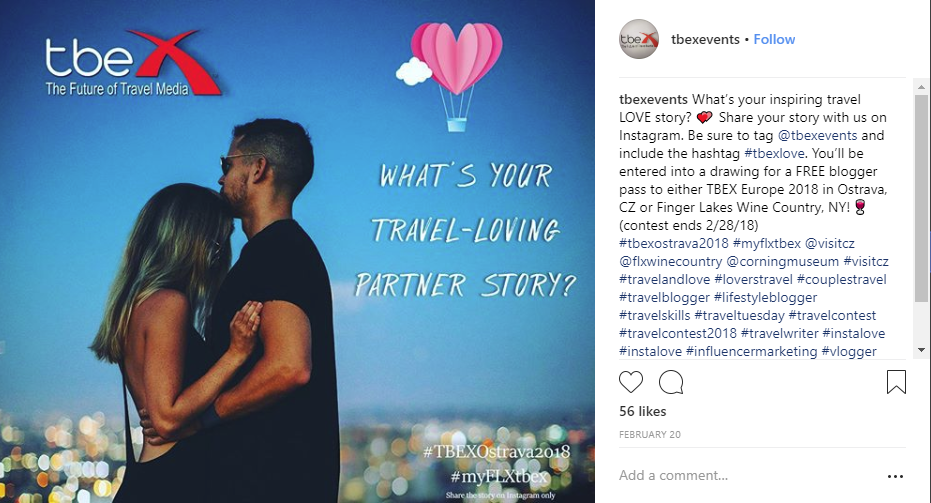 Takeaways About Running Instagram Contests
Contests are an effective way to engage current followers and attract followers in your target audience.
Contests also encourage user-generated content, which can be regramed for further engagement.
You can limit freebie seekers by choosing a specific prize or asking for pictures related to your product.
Leverage Stories
Instagram stories are a newer feature that allows users to upload photos or videos that vanish after one day. You can upload multiple times, so you might, for example, share a walkthrough of a new hotel or shots over the course of a whale tour. Because of their location, (and possibly due to the way the Instagram algorithm works), they tend to get a ton of engagement.
On desktop, the stories are located on the side under your profile pic. On mobile, they are located in a bar at the top of your Instagram feed.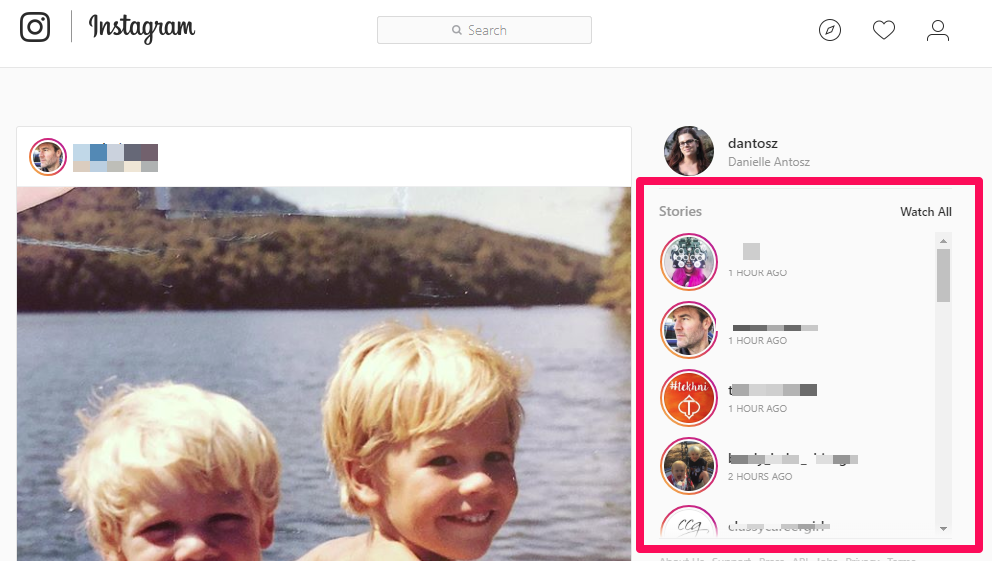 Instagram stories also let you edit photos, adding stickers, text, video, and other effects like Boomerang, which plays a video forward and backward on a loop. You can also include hashtags, polls, links (which is huge!), and location. They are very interactive and, because they are located at the top of the users' feed, they get a lot of engagement.
There are so many ways to use stories, really more than I can cover well here. I suggest reading this article by Hubspot, which covers most of the main features of Instagram stories, and this post by Later which shares tips for making stories that stand out.
Instagram Stories Takeaways:
Stories are a new-ish feature that allow you to share photos that disappear after 24 hours.
You can add more features to stories, including links and interactive elements like polls, stickers, etc.
Due to the location and possibly the Instagram algorithm, stories tend to get a lot of engagement.
Final Thoughts About Instagram & The Travel Industry
By now, it should be clear that Instagram and the travel industry are a match made in marketing heaven. For travel brands, there isn't a better social media platform. The strategies above will help you start building an engaged following who is interested in your brand. The next step is to convert them, using strategies such as links in stories and retargeting through Facebook.
Ready to start building an Instagram contest? Sign up for a free account from Woobox and you can begin customizing your contest right away. You pay nothing until you are ready to launch!