Pictures are powerful. They remind of us of who we are and how far we have come. They document our joy and sometimes our grief. They preserve the memories of significant moments in our lives.
It is no wonder, then, that one of the most popular social media platforms is Instagram, a photo-based social media platform. In fact, the company just announced they have reached 1 billion users worldwide.
You've likely heard of the platform, you might even use it. But are you getting the most out of it for your brand? Instagram is incredibly visual and tends to be more casual, and therefore more authentic, than other platforms. You can easily add text and stickers to your photos, share videos, share photos for a specific time period, or share a live video.
These differences come with opportunities and challenges for businesses looking to build an engaged following on Instagram. Before you dive into creating an Instagram contest to attract followers, get up to date on the most recent trends.
Scheduling Comes to Instagram
It is finally here! At the end of January 2018, Instagram finally released the (much anticipated) ability to schedule posts on Instagram through their API. Previously, there were pseudo-workarounds. For example, some tools would send you push notifications and remind you to post manually, but no functionality allowed you to be entirely hands off.
Now, tools like Buffer and Hootsuite make it simple to schedule your Instagram posts just like you do for Facebook, Twitter, and LinkedIn. There are a several benefits to this new functionality, particularly for brands.
You can now schedule posts from your computer or laptop, which means you can more easily use desktop-based editing software. If you are a Photoshop pro, this is great news. Instead of sending files back and forth from your phone to your desktop, you can focus on more important things, like learning what regramming is. (Don't worry, I cover that below!)
You may also save time by being able to schedule all your social media in one place at one time, rather than shifting back and forth between tools and platforms. There is also a good chance you will post more regularly to Instagram now that you can schedule it.
Scheduling posts also allows you to post content when your audience is most active, instead of just when you are awake or happen to have time. Posting when your audience is on Instagram is a simple way to get more engagement. And, since Instagram shows popular posts more often, the effect will snowball. It is also worth noting that there is no native scheduler in Instagram, so you will need to use a social media management tool to schedule posts on Instagram.
If you are planning to launch an Instagram contest, you can use the new scheduling feature to schedule out reminders for your followers to enter over several weeks.
What is Regramming? (& How to Use It!)
Regramming is when one Instagram user reposts a photo from someone else's account on their own. Proper credit is given to the original poster through tags, hashtags, and in the caption. If you've spent a lot of time making sure to source photos correctly, this might feel a little weird to you, maybe a bit like stealing. However, regramming is a very common and completely accepted practice. The purpose of regramming is to give a shout out to the original poster or share something you found interesting with your Instagram followers.
Here is an example of regramming done well: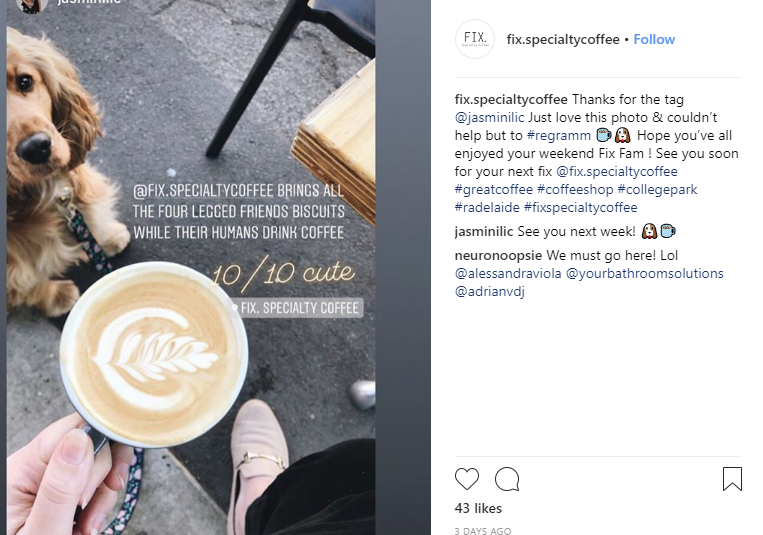 Australian coffee shop Fix reposted one of their customer's posts, making sure to tag that customer, use the hashtag #regramm, and made a thoughtful comment about the post. In just three days, the post garnered 43 likes and several comments.
If you are planning to create a contest, regramming contest submissions can be a wonderful way to re-engage entrants and encourage even more entries. From your phone, screenshot the photo, then crop, and repost on Instagram. Make sure to tag the original poster, make a comment about their photo, then add information about your contest.
Using Instagram Stories
Introduced in 2013, Instagram Stories is a feature that allows users to share snapshots that vanish after 24 hours. This is similar to SnapChat, where users can share images for a short period. Stories are usually several images long and can include tags, locations, videos, text, images, and more. Stories offer brands a more casual way to share content on a limited-time basis.
According to Instagram, over 400 million Stories are shared every day. For brands, stories offer a creative way to share unique, behind the scenes images. Just be aware these images do not get added to your regular Instagram feed. For example, a coffee shop might share several videos documenting the process of creating their signature drink. A leather artist might share the progress of a piece over a day. A marketing company might share a few photos from a popular marketing conference.
To create a story, log in to your Instagram account. You will see a bar at the top of your feed with profile pictures of a few of your friends. You should also see your profile image on the far left, with a small blue "add" button and "Your Story" written beneath it. Tap the blue button and you will be prompted to create your story.
On the bottom, there is a list of options you can use to customize your story. As of writing, those options are:
Type: Gives you a graphic background where you can type out a message
Music: Lets you search a huge library of music to add to your story
Live: Allows you to share live video with your followers
Normal: Just your camera
Boomerang: Takes a burst of photos that are used to create a looping video
Focus: Creates a depth-of-field effect so faces are clear and the background is slightly out of focus
SuperZoom: A video-like effect which super zooms in on a specific item
Rewind: Plays videos backward
Hands-Free: Allows you to record a video without holding down the record button, but is limited to 1 minute
You can also customize your story by tagging your location, adding stickers, drawing or adding text, adding hashtags, or even creating polls. Brands can use stories in a variety of ways, including to share behind the scenes images of your office or where your products are made. Since stories go away after 24 hours, you could share time-sensitive content, like announcing a new product or offering a sneak peek to your Instagram followers before the general public.
Important things to keep in mind: you don't have to add all your story images at once, you can add to more photos over 24 hours. And, by design, your images are generally only visible for 24 hours. Late last year, Instagram did release a feature that archives stories in a private location on Instagram profiles. Users can then choose to 'highlight' their favorite stories, which are displayed in a bar on your profile.
If you are getting ready to launch your Instagram contest, Instagram Stories is a great way to create step-by-step instructions or remind followers a day or two before the contest ends.
Hashtags
Hashtags allow users to search posts that use a specific tag or follow specific hashtags. Hashtags are created by using the pound/hashtag symbol (#), followed by letters and numbers. Hashtags cannot include spaces or punctuation. Hashtags are an integral part of Instagram and have a ton of uses. For example, to find the regramming post above, I searched #regramm.
Use hashtags to organize contest entries by requiring entrants to use a specific hashtag. You can easily see all posts by clicking on the hashtag. You can use related hashtags to help interested users find your brand, for example, a coffee shop might share a picture of a cappuccino with the hashtags like: #cappuccino #coffeeart #coffeeartgram.
Keep in mind, Instagram limits each post to 30 hashtags, and one study shows 9 is the perfect number.
What hashtags should you be using? Start by searching your competitors and seeing what they are using. Then, search those tags and look for related hashtags. You can also use tools like Hashtagify to find trending and popular hashtags.
Videos on Instagram
Looking for a way to stand out on Instagram? Video is the way to go. There are multiple ways to add videos, and tons of people are watching them. According to Instagram, users are spending 80% more time watching videos on the platform than they did last year. And the number of videos on the platform has increased by 4X.
Want to add a video? There are a few ways to do so. You can add videos to your Stories, like we covered above. You can share an in-feed video using the normal 'add' function and then choose 'video' to record a live video of up to 60 seconds. Once it is recorded, you can add filters, tag people, add a caption, and hashtags. Or, choose 'library' to share a video from your device. There are also several tools to edit your Instagram video before you upload it, including Biteable and InShot.
Instagram also recently released the new IGTV feature, which allows users to share videos up to a full hour long. It is designed to function similar to television, with each user having their own channel. This is still a very new feature but does represent massive opportunities for brands, allowing you to share longer how-to videos, interviews, tutorials, and more. Since it is a newer feature, many brands haven't started using it yet. That means there is an opportunity to get more views
When it comes to hosting contests, you can use videos in a variety of ways. For example, you could use IGTV to announce a contest winner. Or, you could live stream choosing a random winner.
Final Thoughts on Using Instagram
Instagram is the second most popular social media app. As an added bonus, users don't mind interacting with brands on the platform. According to Instagram, 80% of users follow a business on Instagram, and 75% of users take an action after seeing an Instagram post.
It is clear that Instagram can be useful for brands. However, in order to really be successful, you need to put all this brand new knowledge to good use. Start by creating an Instagram contest to increase your followers. Then, outline an Instagram posting schedule. Include information such as how often you will post, what hashtags to use, and what type of content you want to share. Once you create a schedule, make sure you post consistently. Finally, don't be afraid to try new features, such as the IGTV or Instagram Stories.
Ready to start building your Instagram contest? Create a free Woobox account and create your contest, giveaway, or quiz today. You pay nothing until you are ready to send your contest live.