Maybe sales are a bit slow this month or you have products that aren't moving fast enough to justify the shelf space. Perhaps you're thinking about having a sale or maybe sending out mobile coupons.
If you're targeting a certain demographic and you're concerned you won't reach them with coupons, there's good news here. Mobile coupons attract bargain hunters, which can help move your merchandise, but also attracts high-income shoppers.
In fact, when it comes to digital coupons, the highest use is among households with income exceeding $100k.  In a survey of more than 15,000 shoppers by the marketing research firm Branded, results showed that 53% of those surveyed used coupons while shopping and that households with income more than $100,000 are actually 20% more likely to use digital coupons.
Those same high-income households are twice as likely to use digital coupons as those earning less than $35,000.
Even shoppers in the top 5% of income, above $200,000 annually, search for deals. While consumers in this income level cite quality as the number one concern, price is a very close second, and can often be the determining factor of where they buy the product they want.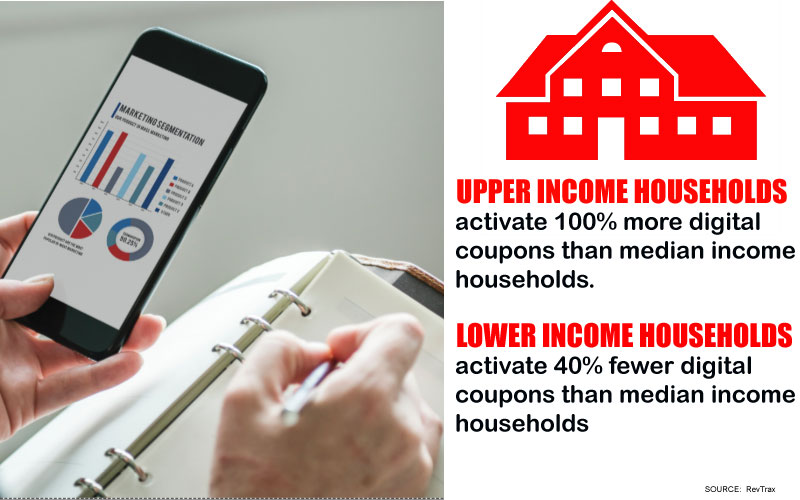 Everybody, it seems, loves a bargain.
The Advantages Of Digital Coupons
Digital coupons offer several advantages you might not immediately think about. While a coupon may provide discounts on some items, digital coupon use can increase overall customer spend. Coupons help create a sense of urgency able to quickly drive further sales. Customized coupons or vouchers can interact with different customer segments at different places in the buying journey. A coupon can even increase brand awareness, whether or not people redeem them.
Digital Coupon Use = Increased Spending
Not only does coupon usage increase purchase intent, but coupons also lead to increased spending by consumers, according to Forrester Research.  More than half of shoppers who used coupons when placing orders online or in-store spent more money than they had planned.
Here are other insights from the folks at Forrester:
68% of consumers believe coupons build brand awareness
68% of consumers believe coupons generate loyalty
More than 50% say they are more likely to buy a product or service at full price later from a business that offers digital coupons
Want to encourage shoppers to try a new product? Digital coupons can be very effective. 60% of coupon users report they will happily switch brands to use a coupon.
Creates A "Use It Or Lose It" Mentality
There is also that inherent urgency coupons create, especially if you include a limited time offer or expiration date. When undecided on a purchase, 78% of consumers report that coupons helped "close the deal" to buy.
Even a slight discount can affect a buyer's attitude, and cart abandonment rate for 2018 hovers around 75%. Online retailers know all too well the high incidence of shopping cart abandonment. Consumers are motivated to purchase products, clicking to place them in their digital shopping cart, but then stop short of completing the purchase.
Digital coupons also help with cart abandonment rates. 57% of shoppers report they made a purchase based on the availability of digital coupons. Without a coupon available, the shoppers reported they would not have completed the purchase.
Can Be Customized And Personalized
Mobile coupons can offer brands and retailers the ability to create highly personalized and targeted offers, attracting specific types of consumers depending on products and offerings.
It's important to know your goals when deciding what offers to make. Is your goal customer retention, overcoming shopping cart reluctance, new customer acquisition, or an immediate need to increase sales? Each case needs different digital coupon solutions.
Increases Brand Awareness
Even if the coupon recipient doesn't act on your offer, it still serves as advertising for who you are and what you do. The offer can put you on the radar for consumers who were otherwise unaware of your business, product, or service.
The majority of shoppers, especially those online, search for coupon codes, digital coupons, and deals before making a purchase. 85% of online consumers look for coupons prior to visiting a retail site.
Providing a digital coupon means new customers may find your business and consider shopping with you even without knowing about your business or brand beforehand.
Digital Coupon Strategies For High-Income Consumers
Depending on where you're trying to reach new customers on their buyer's journey, here are the strategies that work best when it comes to high-income earners:
Keep offers simple. A coupon redemption code or a specific offer is easy to act on. The more complex an offer becomes, the more likely it will be ignored.
Set expiration dates to create urgency and protect yourself from offering a "permanent discount" to shoppers.
Loyalty vs. Discoverability: Encourage social sharing for generic promotions. If you're customizing a digital coupon toward repeat shoppers or high-value consumers, you probably want to avoid spreading them around. However, your generic promotions or digital coupons intended for new customer acquisition work best when spread far and wide.
Integrate digital coupons into your re-targeting strategy. Few shoppers make a purchase decision the first time they visit your website. Re-targeting allows you to track data and make an "offer to return" to the visitors that already know your brand.
Make sure to reinforce your brand, logo, and a brief value proposition about your business.
Finally, make sure you create a colorful and eye-catching digital coupon that people will notice.
Help With Digital Coupons
Here's the good news. Using Woobox to create and distribute digital coupons is really easy. With total control over both appearance and delivery method, you can create digital coupons and publish on mobile, email, blogs, websites, Facebook, Landing Pages, as Pop-Ups, and more.
Woobox coupon features:
Create email campaigns
Instant delivery after filling out a form
Distribute unique codes for each user
Restrict participation
Limit coupons to one use
Limit the total number of coupons redeemable

Comprehensive metrics allow you to track redemption by user, social actions, conversions, visitor metrics, and more.
In addition, email campaigns are fully compatible with other mail marketing services such as Mailchip, Zapier, or Constant Contact.
At Woobox, it is free to create your own custom digital coupons. You only pay if you decide to use it.
Key Takeaways
Digital coupons attract high-income, upscale shoppers
Those using digital coupons spend more and are more loyal
Digital coupons help you avoid shopping cart abandonment
Digital coupons increase brand awareness as well as sales
How to use Woobox to create custom digital coupons is easy