Bonus entries are a great way to ramp up your online contests, creating additional touch points for your marketing campaigns.
You can award bonus entries for just about any action they take online. Bonus entries encourage entrants to share your campaign and rewards them for taking action.
How to Easily Setup Contest & Giveaway Bonus Entries
Taking just a few simple bonus entry setup steps can supercharge your campaigns. This tutorial will walk you through how to set up bonus entries for any of your campaigns.
Giveaways, Sweepstakes, & Pinterest Pin-to-Win
Are you doing a Giveaway / Sweepstakes or a Pin-to-Win Pinterest campaign?
You can set up you Bonus entries by turning on the setting under "Form Entry" from "No" to "Yes"':

You can also pick how many bonus entries entrants get as well as which actions give them bonus entries. For bonus entry types, you can choose from Facebook, Twitter, Pinterest, Google+, email, or all of them.

By encouraging social sharing, you can expose more people to your campaigns. Each share will have a unique URL that is created to track action. When someone clicks on the social share and enters your contest or campaign, the unique tracking URL allows for the person who shared the campaign to receive bonus entries. After entering, the new entrant can share it as well and get their own custom URL. This encourages even more social sharing and more participation. The more they share, the more chances to win! The more engagement you get.
Bonus Entries for Facebook Visits
Prior to 2015, you could "fan-gate" your Facebook page by requiring campaign entrants to like your page before entering. While Facebook no longer allows that practice, there is a way you can still reward people for visiting a client Facebook page.
You can award bonus entries for visiting a partner's Facebook page by setting up a special tab on the partner's Facebook page. First, click on Advanced>Bonus Entries on the left side of the navigation menu.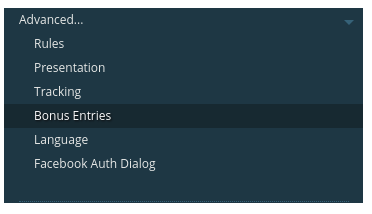 Then click the green button next to the Partner Codes section. Fill out the form by adding in your partner's Facebook page URL, decide how many bonus entries to award, and what entrants will see after they take action.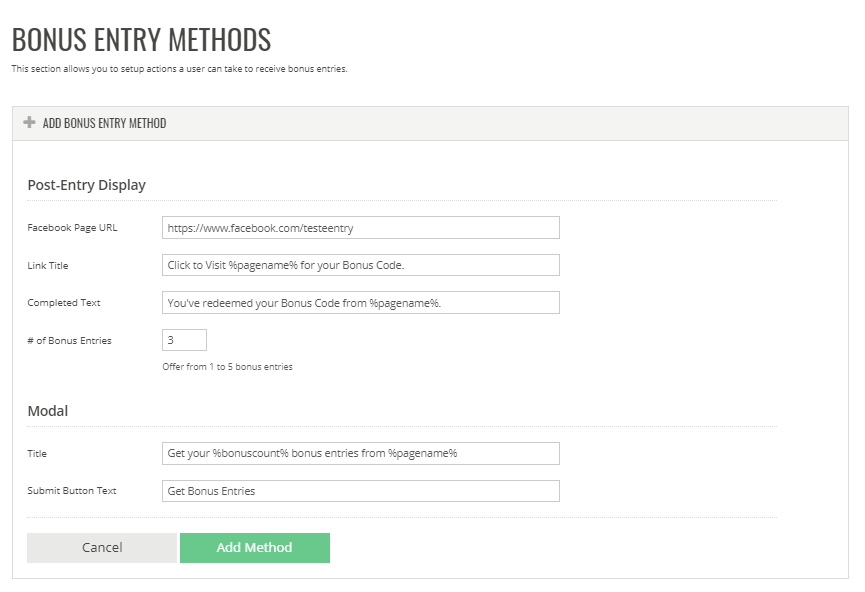 Hit the green Add Method button to continue.
Before this will be active, however, you will have to add a special tab on your partner's Facebook page. Don't worry. It's simple to do! Have the admin of your destination Facebook page click on this link: http://woobox.com/install/partnertab.
When they do, they will see the below dialog box. Pick the right page from the pull down menu and click the blue Add Page Tab button.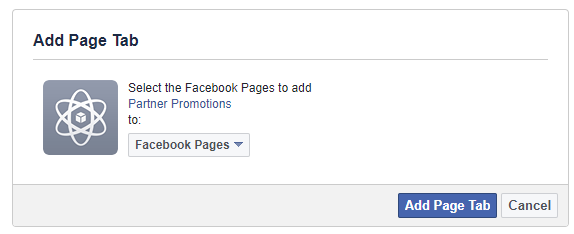 That's all there is to it.
Once the entrant visits the Facebook page, they will land on the Partner Promotions tab and be given a "Bonus Code."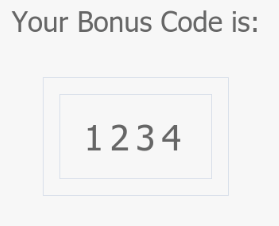 When they return to the promotion, they can enter to code to get bonus entries.
Twitter Bonus Entries
Look for Customize on the left-hand navigation menu. Then, click on the location in the form where you want the element to appear and click the Settings menu.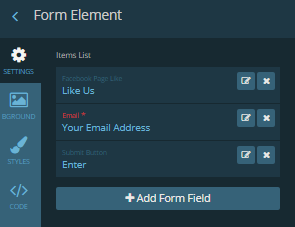 By clicking on the + Add Form Field, it will call up the "Add a Field" menu. This calls up the menu of options.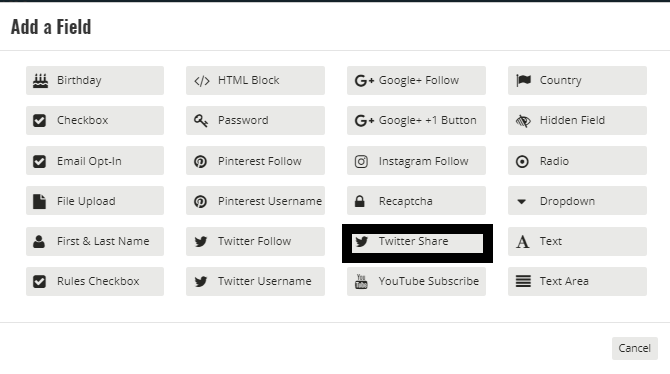 Click on Twitter Share. From there, select the Verification Method and how many bonus entries to award.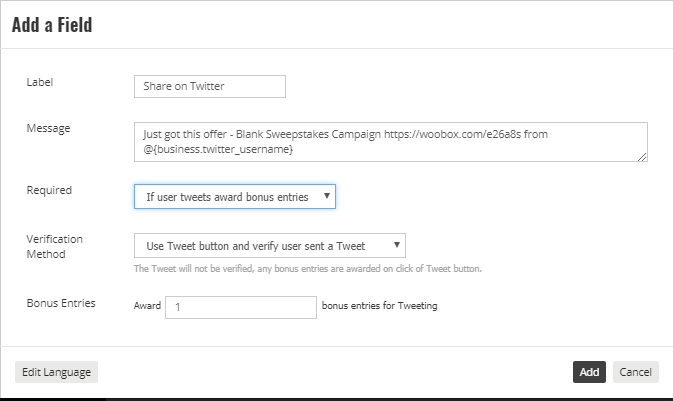 Click on the black Add button and you're done!
Woobox Makes Adding Bonus Entries Easy
Following these easy methods can get your bonus entries set up in no time! The more people that use them, the bigger your campaign will grow.
There's nothing better than getting other people to promote your campaign to their friends and spread your message far and wide… without any additional cost! The more people that enter allow you to increase your email database and provide post-campaign offers. That's a bonus for sure!
With Woobox, you can create an account and build as many campaigns as you want for free!
What is Woobox?
Call us contest software, a contest app or just a digital marketing platform. Woobox enables you to create social and landing page marketing experiences that each include templates with full customization.
Woobox's easy to use design and publishing tools make creating your marketing campaigns a quick and easy process. Creating campaigns is 100% free.
Woobox Support Help
Our support team is available to help you get started from 8 am to 5 pm PST, Monday through Friday at 1-360-450-5200 or support@woobox.com.