Instagram continues to be a social media powerhouse, especially since Facebook acquired them a few years ago. Because you can now use the Facebook Ads platform to run Instagram ads, more and more companies are jumping onto the platform to grow engagement and conversions through this visual platform.
In addition to ads, having contests and giveaways can help you increase your online following, which usually coincides with more online sales. Because Instagram has so many active users (about 66 percent of users are on Instagram daily) and the platform is all about images and video, holding contests with user-generated content (UGC) is a fun way to engage your audience. Below are three examples of brands that are making a significant impact with their UGC contests on Instagram, all with a slightly different style.
Benefit Cosmetics
This cosmetics company regularly does big giveaways on their Instagram profile, often with total prize packages worth over $1000.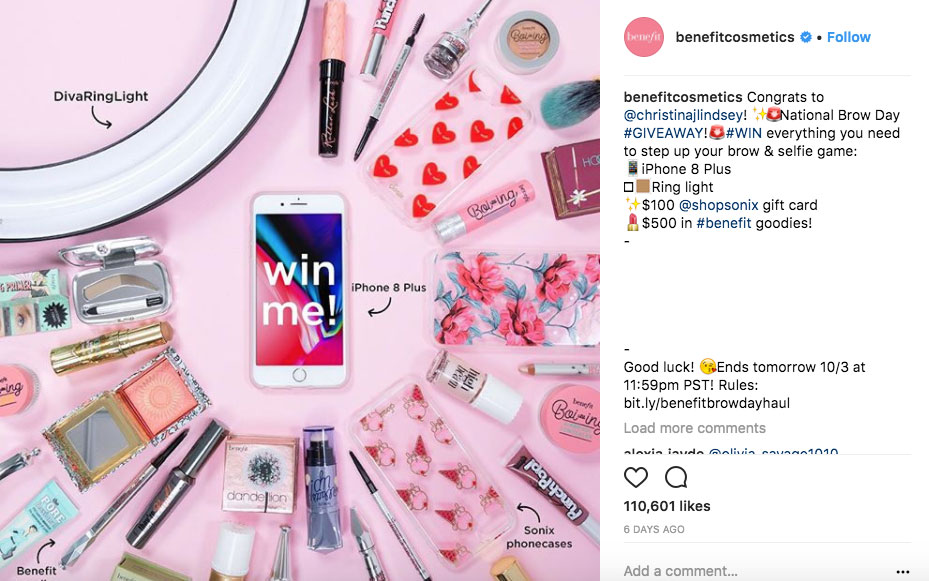 In their most recent contest, they gave away a new iPhone, ring light, and $500 worth of their product. All users had to do was like the post. While this isn't as in-depth of entry requirements as other contests, it still required users to participate in some way.
Does your company have low or no bandwidth to sort through hundreds of more in-depth entries? Require users to engage with a post. This most recent post had over 110,000 likes, and Benefit Cosmetics has 7.2 million followers. Once the contest is over, and a winner is chosen, they edit the contest post to reflect the winner's name. That way everyone knows when it's over. Announcing the name also makes the contest more genuine, because the brand is following through with what they promised.
RailEurope Travel Contest
The major European railroad, RailEurope, does an annual contest called "Tales on Rail." It asks users to submit a photo they've taken during their travels using the hashtag #TalesonRail and #TalesonRail2017 (for this year) for a chance to win a one week trip around Europe by train, which they will cover for RailEurope's blog. Users share in the caption why they feel like they deserve to be one of the chosen "Artists in Residence" of the railroad during the trip, which usually picks two winners. The tour goes through different countries each year, allowing RailEurope to showcase some of the many beautiful destinations their routes go through around the Europe.
This contest is an excellent example of user-generated content. There are two reasons: it allows users to submit photos and stories of their previous travels, a shared passion between themselves and RailEurope (building brand sentiment) and the prize itself creates videos, photos, social media posts, and blog posts for RailEurope, as the winners are tasked with writing about their experiences.
Tone It Up Challenge
Tone It Up is a fitness and lifestyle brand, headed up by two trainers, Karena and Katrina. In addition to protein powder, DVD workouts, and other products, they do weekly exercises for their followers and annual bikini series challenge that gives their audience a chance to win fitness and technology prize packages.
To be considered to win, users must post regular photos or videos of their workouts and meals. It's not required to post everything, but the most posts you do, the higher chances you have to win the grand prize, which is usually a vacation for the winner and a friend.
The hashtag changes each year, but #TIUbikiniseries2017 is a lovely example of posts. Karena and Katrina also request that you tag their main Instagram profile as well, which is giving them more visibility to their audience's followers.
Tone It Up leverages their social community in a significant way because posting online about your healthy habits has been shown to increase the likelihood you'll stick with it (because you feel more accountable). It's also generating thousands of content about their workouts and products, thus reaching many more users than they would have if they were only sharing from their own profile.
These three brands are good examples of how you can use your existing user base to grow your audience while also giving back to users through prize packages. Instagram campaigns with user-generated content don't have to be hard.
By using tools like the User Generated Campaign tool from Woobox, you can have an online dashboard of your content and plan your strategy for making it a success. If you have questions about the feature, email us at Woobox support.
Screenshots were taken October 2017.