Links are important. If you host a contest or publish an ad, you must include links so potential customers can find your website, e-commerce site, or app and enjoy your products or services. And that's why it's also important to know where and how to add links to your Woobox campaigns.
Rules Links: You may already know that if you add rules to your offer, the disclaimer at the bottom of the page ends in the underlined words "Official Rules" which when clicked, open the rules page:

Beyond that, if you add an "Official Rules Checkbox" to the form fields section, it will also include a blue hyperlink to the offer's rules page:

You can also add more links to the rules page with the URL "woobox.com/offers/rules/123abc" (the six characters at the end will be specific to your campaign).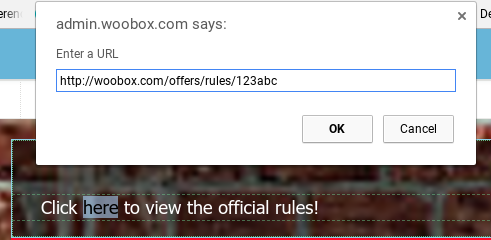 Text Links: It's now simpler than ever to add a link to any text element, on any page of your offer! In the Customize section, just highlight text that you have already typed into the text element, click the "chain" icon at the top of the screen, and enter the destination URL. The highlighted text will turn blue, and voila! You just added a link.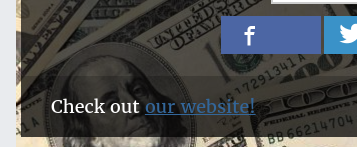 Image Links: Another option (and my personal favorite) is using an image element as a link. If you hadn't noticed before, when you upload a picture, there is also a "URL" field just under the file upload button. Adding a URL to this field will turn the entire image into a clickable link! This is an excellent way to present entrants with eye-catching creative that invites them to visit your website for more information, or maybe a link to an exclusive offer available only to those who have entered this one.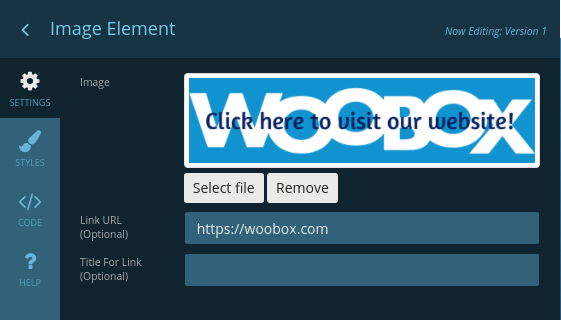 We hope this short guide on adding links to your campaigns has been helpful and enlightening. If you have any questions, comments, or ideas you would like to discuss, feel free to email us at support@woobox.com. Happy linking!