Are you representing your brand at an expo, business fair, or other event and want to run an engaging contest right there at the booth? Now it's easier than ever!
In each app, there is now a "Kiosk mode" switch in the Advanced Settings menu (the 'gear' or 'cog' icon in the Customize screen). The Kiosk mode button will disable the cookie settings in the promotion, so you don't have to switch cookies off in the browser. After someone enters your contest, just click the 'Enter' navigation in a Photo, Video, or UGC Contest or you can add an image component or HTML link to the offer's main URL on the post entry page to reload the entry page for the next entrant.

NOTE:
Your promotion will not work offline. You will still need an internet connection at the event site. Many newer cell phones and mobile devices can be used as a WiFi hot-spot if needed in a pinch.
Kiosk mode will only work with no entry restrictions, or with the once-per-email-address restriction (so you can still prevent duplicate entries). Of course you can also make any of the form fields required for entry.

TIP: Don't require too much information for entry! People at an event may not have enough time to fill out a lengthy form, or they may not feel comfortable providing a lot of personal information on a stranger's device.
If you're bringing along a projector or additional monitors to display the gallery page of your onsite Photo or UGC contest, use the settings mentioned above, and be sure that the gallery page as well as the entry page are active. Then, go to Advanced Settings (gear/cog icon in the Customize section) and select "Gallery" for the Default (landing) page. Now you can display the offer's gallery page on the larger screen and entrants can navigate to the entry page on the laptop/tablet by clicking "Enter." Don't forget to refresh the display device every once in a while to display new submissions.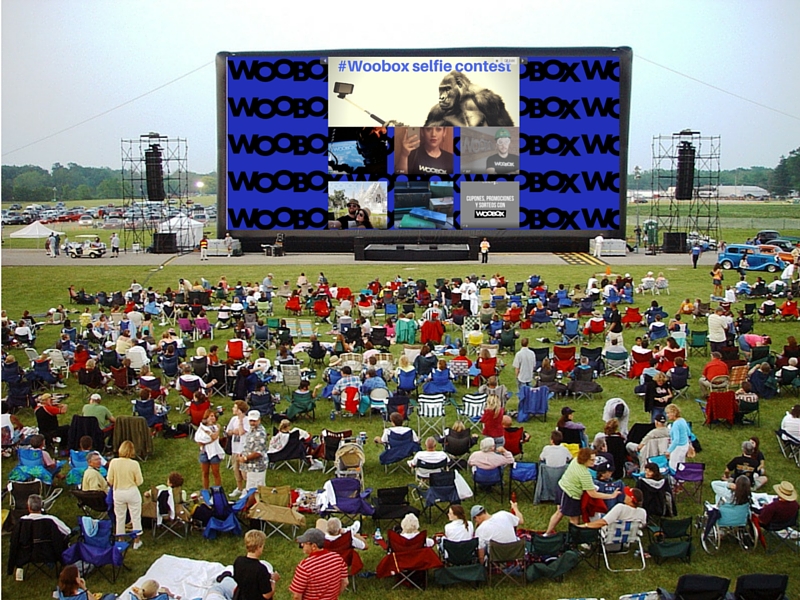 With our new tool, it's easier than ever to create an on-site promotion, so get started now! Have questions? Email us at Support@woobox.com