Social media is truly a blessing for musicians and bands. It has opened up a whole new world of networking, booking, and promotion previously unavailable to an unsigned/DIY project. But how can you get more engagement, more likes, and more fans from your band's Social Media pages?
Static Tabs
If your band has social media accounts across different networks, keep them all nice and tidy with Facebook static tabs. You can create tabs that display your Twitter feed, redirect to your website, link to your Instagram or Pinterest boards of all your cool hairstyles, or even your YouTube channel with a video of your choice prominently featured where your fans (or soon to be fans) can watch your videos without ever leaving your Facebook page. If you are familiar with coding, you can create completely customize HTML tabs and go crazy! (Pssst, these are free)
Poll Posts:
Want to know who your fans thought wore the leather pants better at last night's gig? Settle that argument with a Poll Post! Poll Posts are a fun and easy way to get your fans involved and visiting your page. Setup is quick and simple, and your fans can vote by commenting with a predefined hashtag: "Whose leather pants looked better? Vote #Johnny or #Chad!" These polls are posted to your timeline and all the action happens right on the post. (Pssst, this is free too)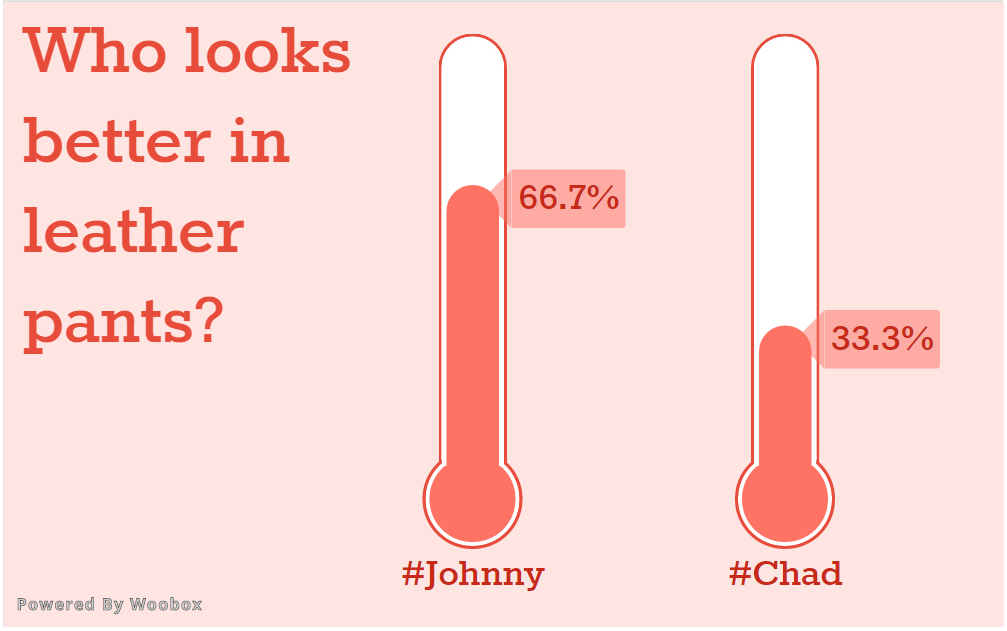 But what if you want more? A Woobox paid-plan allows you to post and promote any of our apps to get your fans involved and sharing so you can grow your fanbase.
Polls:
Similar to the Poll Posts we just covered, but here you can enable a Fangate, customize the appearance, add up to 50 different Vote Choices, make the Vote Choices images or text, create a Facebook Page Tab, and even collect users' information.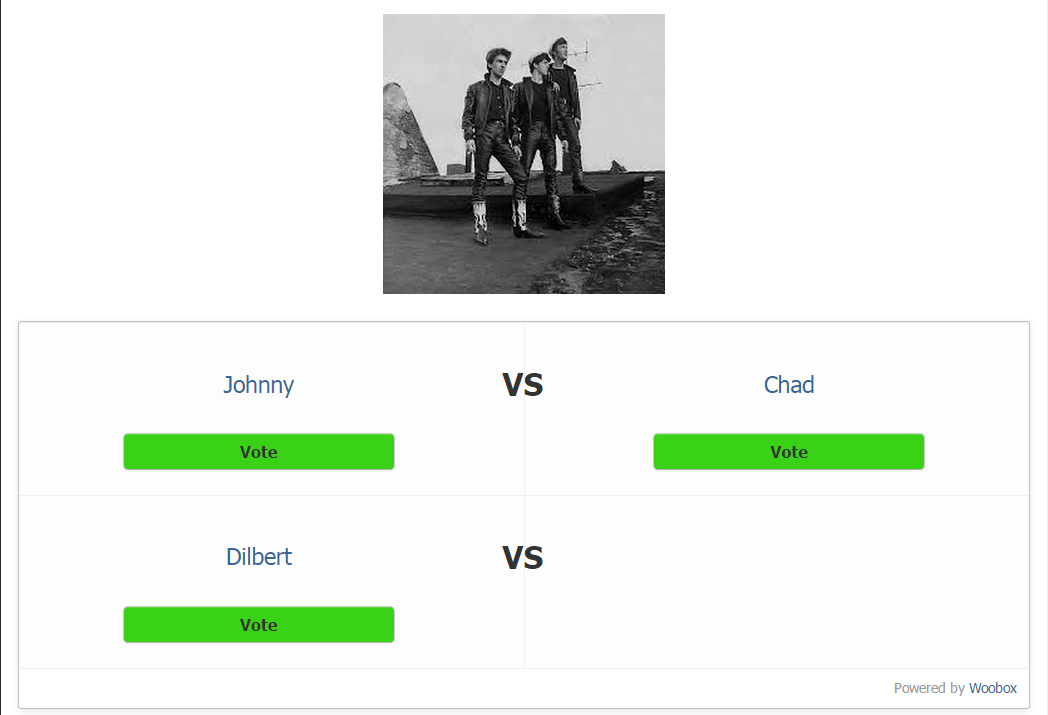 Sweepstakes:
Get your fans engaged and sharing on their own timelines by giving away a grand prize and awarding bonus entries for sharing. Give away a really tempting prize like tickets to the show, a music and merch bundle, an instrument signed by the band, or the drummer's personal phone number! When fans see that they can receive bonus entries by sharing the link and getting  their friends to enter, your promotion could very well go viral. Sweepstakes are easy to set up, fun for users, and are great for expanding your reach. Enable your Fangate to get more Likes, and integrate your email management service to have all of your entrants' email addresses automatically added to the mailing list.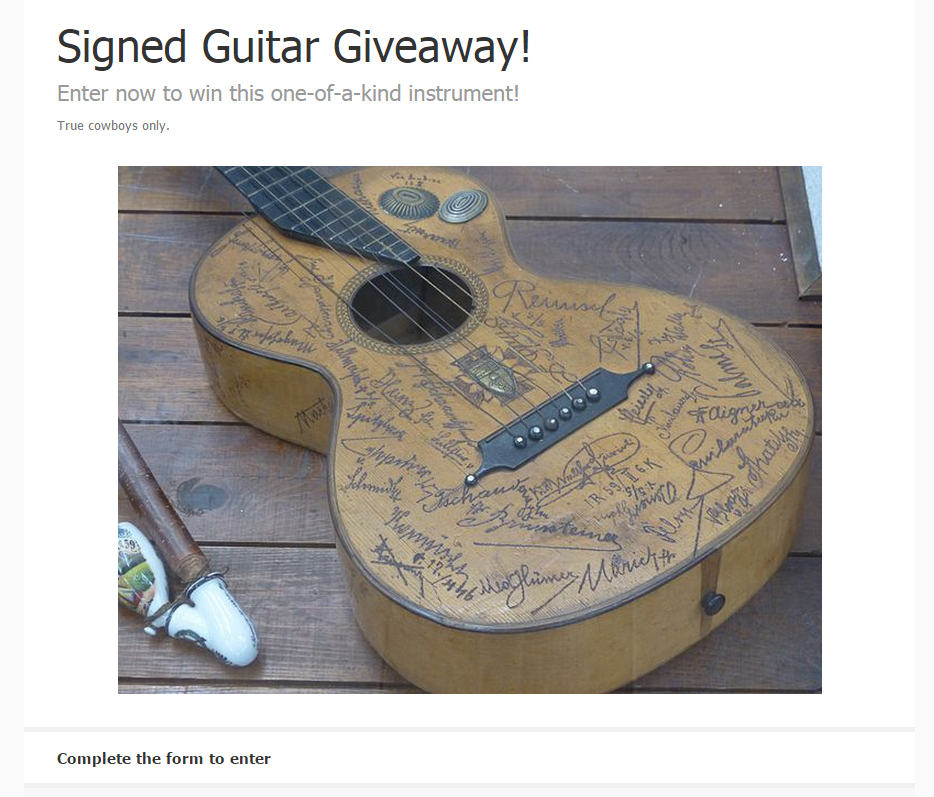 Photo Contests:
The possibilities with a photo contest are almost limitless! Why not ask your fans to submit a pic of themselves in your band's t-shirt, then open up the gallery for public voting to determine who will win a dinner-date with the guitarist? Or maybe you'd like to upload your possible new logo designs to the gallery and let the fans vote on which one will be on the next album cover. You can even use a photo contest to accept text-only submissions and run an essay competition like "Why should you be our next roadie?" or "Tell us how our music has upset your neighbors for a chance to win a chewed-up guitar pick!" You can even accept Hashtag entries through Twitter and Instagram.

Video Contests:
With a video contest, you have all of the same customization options as a photo contest, but here you can have your fans submit videos of themselves twerking to your hottest new beat using YouTube, Instagram, and Vine! Don't forget to enable the fangate and get those likes, G!

 Instant Win:
Have some leftover merch or download cards laying around? Well, scribble your autograph on them and get more engagement with an Instant Win contest! These are fun and exciting promotions for your fans because there's no waiting for results. The user enters their information, clicks the button, and is instantly notified whether or not they've won! You get to set the total amount of vouchers, the odds of winning, the time until the user can re-enter, if and when the voucher expires, and how long the voucher is visible to the winners.
How to create an Instant Win Contest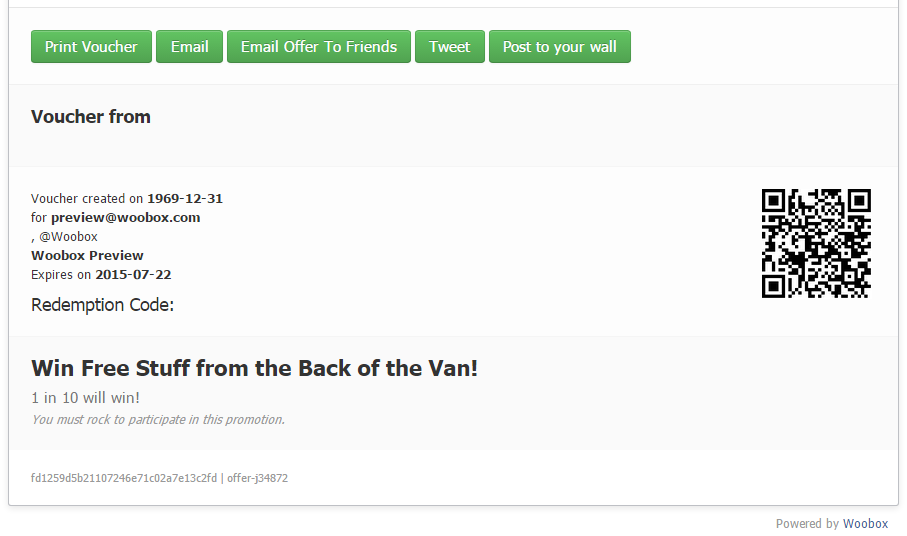 You don't need a marketing team to create a successful promotion, just be creative!
Have you run a creative promotion on your band or artist page? Leave us your ideas below. If you haven't already, Sign up for a Free account and get your promotion started today! Have Questions? Leave them in the comments or drop us a line at support@woobox.com.