As part of our on-going series introducing you to our new suite of ad tools, Woobox is proud to provide an effective way to reach a highly relevant audience on Facebook: your website visitors! A Website Custom Audience (WCA) allows you to create a Facebook Ad for your posts or offers that is targeted at Facebook users who have visited your website.
The concept is called Remarketing, and the idea behind it is that users who have visited your website have indicated that they are already interested in your product or services, and they are more likely to buy from you in the future if they see an offer from you on Facebook. Makes sense, right? At the very least, they are interested in what you have to say and are ripe for increasing your fan engagement levels.
With Woobox's Website Custom Audiences, you can create an audience based on all visitors to your site, or you can create multiple custom audiences based on the specific page they visited – perfect for retailers who want to create target audiences by product category or brand! You can then create Facebook posts and offers to reach a very targeted segment of the Facebook Universe – fans who may like your brand but possibly not be a fan of your Facebook page.
Website Custom Audience set-up is available for all Woobox paid customers at no additional cost, and you can save your custom audience for as long as you have a paid account. First, go to your dashboard and click on the "Ads" tab:
Don't click on "Create A New Ad" just yet – you need to set up your Website Custom Audience first! Click on the link in the navigation bar on the left titled "Web Visitor Remarketing." It will take you to this page:
This is where you set up your website to generate Website Custom Audiences (WCAs). Once you install the code snippet to your website, new visitors to those pages will automatically be added to your custom lists.
After you add the code to your website, you simply need to name your new custom audience by clicking on the link titled "Create WCA". Here you can give your custom audience a name and add the filter that identifies which URL you want to associate with that audience: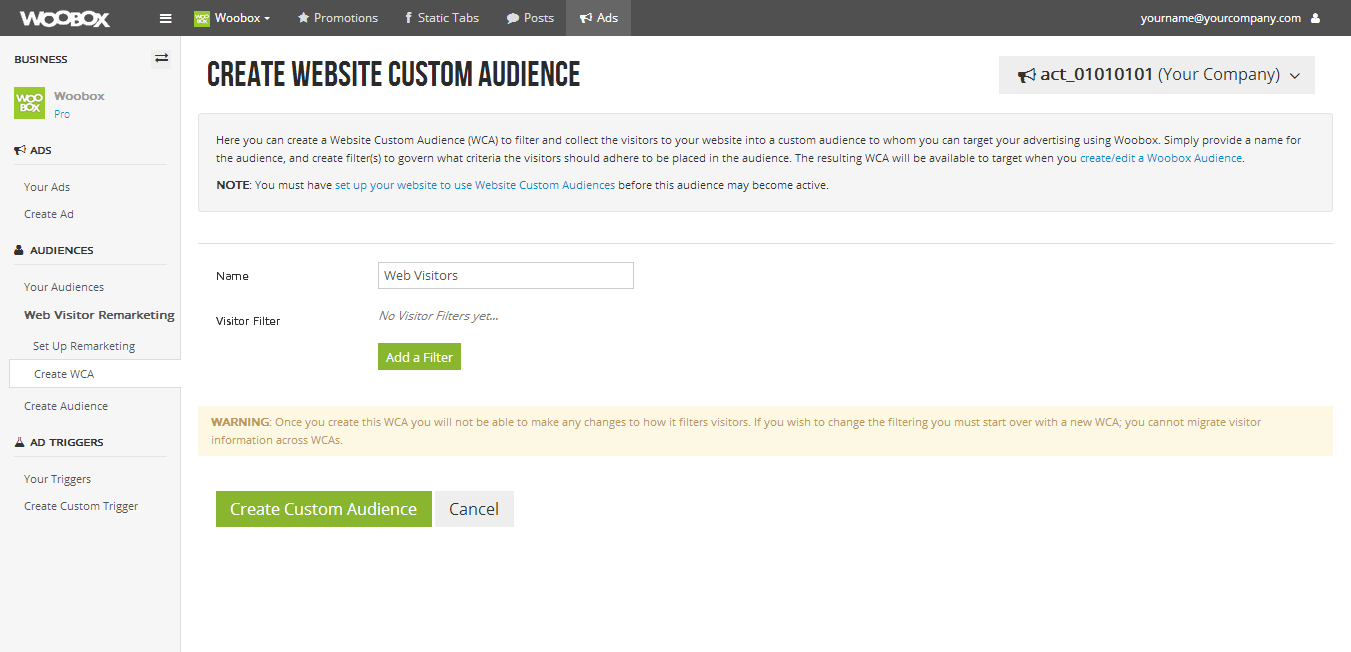 Once created, your new Website Custom Audience will appear in your list of audiences when you promote a new post or offer, and will remain there until you remove the custom audience:
There are numerous ways to use Website Remarketing to target your fans with Facebook Promoted Posts:
Target your promoted post to only Facebook users who have visited your website, instead of just your fans.
Set up a WCA for visitors who made it to the check-out page, but then abandoned their cart. You can create a promoted post that only they will see that offers a discount, free shipping, or other incentive to complete their order.
Create a unique WCA for a brand or product category (i.e. a broad category like men's jeans, or a specific brand like Levi's, Joe's, etc.) and create a promoted post that includes a special offer for that category or brand.
Restaurants can set up a WCA for a specific menu page, and target a post or offer with a special message or discount for that menu (half-off dinner appetizers or a two-for-one lunch special).
Website visitors to hotel and resort properties are often visiting because they are dreaming about their next vacation, but may not be ready to book it. Give them an incentive to come stay with you! Set up a WCA based on a specific hotel property and combine your WCA custom audience with a targeted audience limited to a city or a region and geo-target your post!
Select a date range and only target web visitors that have visited in the past 6 months, 6 weeks or 6 days. You set the date range and the system will do the rest!
Combine your website visitor Audience with the many other targeting options available through our Audience Management tool to target only the most relevant users for your campaign.
There are many more possibilities and combinations you can use to micro-target your message to your web visitors! We'd love to hear your success stories and any tips you may have for other Woobox users! Feel free to leave your comments and suggestions below.
For more information on how to set up a Facebook ad for a post or offer using Woobox's Ad Platform, you can check out our tutorial.